My Favorite Sour Cream Coffee Cake
Easy45 min
Between my three-and-a-half years of college, three summer internships in between, traveling and playing out with our band on the weekends, and apartment-hopping with friends for years after college — I feel like I lived with a record number of roommates during my twenties. But one of those roommates was an extra-special kindred spirit:
My friend, Natalie.
She and I lived together during my final semester at our tiny Midwestern college, where I was wrapping up a degree in classical vocal performance (yes, opera) and she was studying the world of non-profit management. And while our worlds looked very different during the days, there was one thing we both looked forward to in the evenings — cooking together. And specifically — cooking together for friends.
Both of us were just learning how to cook at the time, and our repertoires were pretty limited. But the good news about learning how to cook in college is that there were always plenty of hungry and willing taste-testers nearby, our other roommates being two of them. I was the expert in the house on how to make egg drop soup and pasta galore (which we loved to toss on the ceiling back then to see if it was done ?). And Nat was the expert on casseroles and desserts and all things "comfort food" (for which she credited her small-town Kansas roots). We had so much fun together that year experimenting and feeding our friends all of our hits (and definitely a few "misses"). But without a doubt, my most delicious take-away from that year was learning Natalie's recipe for how to make the most amazing sour cream coffee cake.
Oh my goodness, you guys. This coffee cake.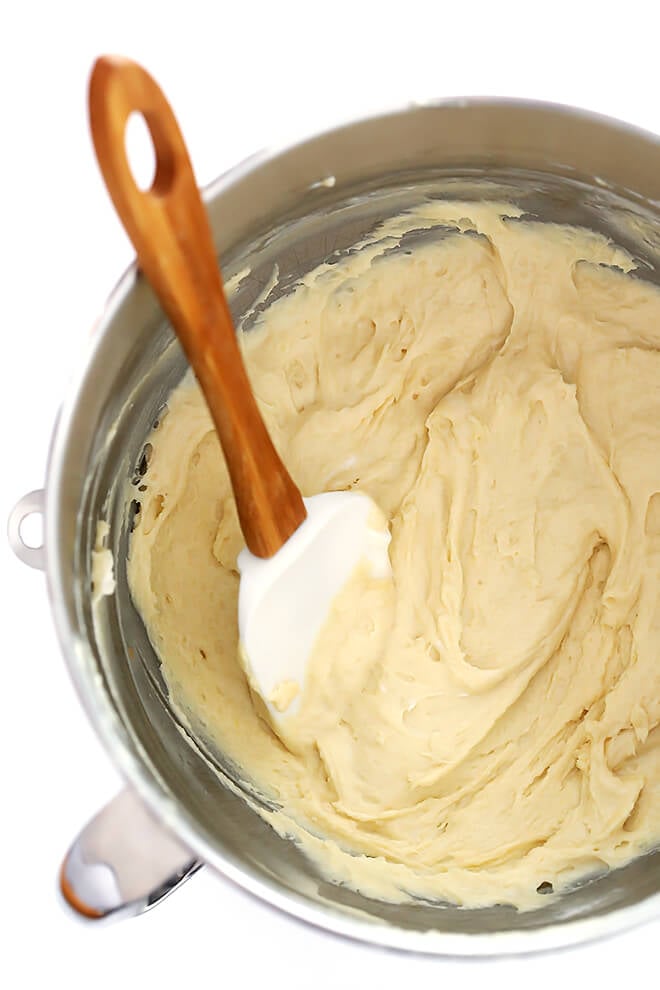 Many of you already experienced how life-changing this coffee cake can be, since this was actually one of the very first recipes I shared on the blog back in 2010. But when I made it again recently, I realized how far down it was now buried in the recipe archives and that too few of you seemed to know it existed. So for a bit of a #ThrowbackThursday post, I thought I would bring it back to the front page of the blog again to share with you.
Because if you love some good ol' fashioned coffee cake, I'm telling you, this recipe is the absolute best.
And it also happens to be incredibly easy. (<– Trust me, if we could make it back in those days, anyone can make it.) ?
Just mix up a simple sour cream cake batter…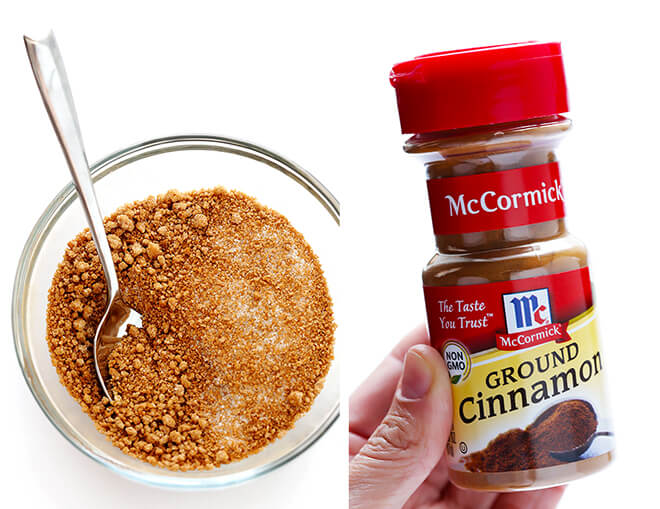 …and then whisk together a simple cinnamon-sugar topping. (I used McCormick Ground Cinnamon, which has been doing good work in my kitchen this holiday season. I've already gone through two bottles! ?)

Then you just layer half of the cake batter in a baking dish, sprinkle on half of the cinnamon-sugar mixture, repeat with the remaining cake batter, repeat with the cinnamon-sugar…and then bake to delicious perfection.
(Pro tip on the batter-spreading though: Since the batter is fairly sticky, it can be a little difficult to spread. So I recommend adding it to the pan in small clumps, then spreading it around with a rubber spatula until smooth and even. And if the batter is sticking to your rubber spatula too much, just spray it with some cooking spray!)
Then, if you're really feeling indulgent, you probably should go ahead and drizzle on a quick and easy glaze. I mean, you definitely should.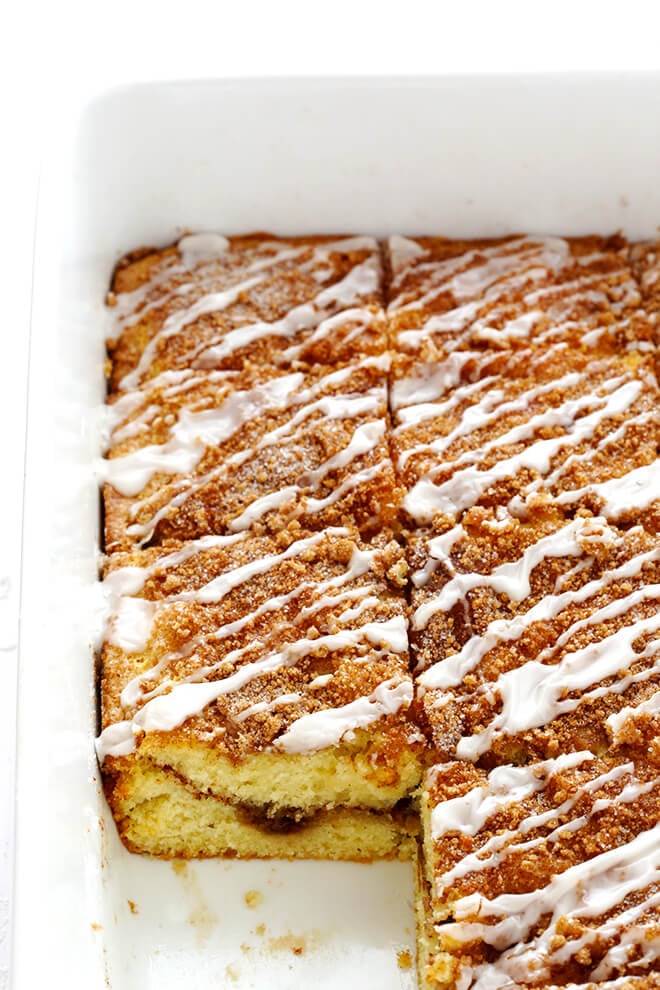 Then, this gorgeous coffee cake will be ready to serve and enjoy. (And yes, that yummy line of cinnamon sugar baked into the middle of the cake is the best.)
Seriously, I've made this coffee cake recipe dozens and dozens of times since college, and it never gets old. And it's always a crowd favorite.
And I love that every time I make it, I'll always think of Natalie. ? Thanks for the good memories and good recipe, sweet friend!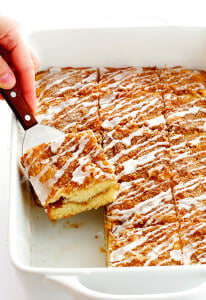 Yield: 15 servings
Sour Cream Coffee Cake
This is my all-time favorite sour cream coffee cake. It's decadent, and so delicious.
Ingredients:
Coffee Cake Ingredients:
1/2 cup (1 stick) butter, room temperature
1 cup granulated sugar
2 eggs
2 cups all-purpose flour
1 teaspoon baking soda
1 teaspoon baking powder
1/2 teaspoon salt
1 1/2 cups (12 ounce) reduced-fat sour cream
1 teaspoon McCormick Vanilla Extract, homemade or store-bought
Cinnamon-Sugar Topping Ingredients:
1 1/2 teaspoons McCormick Ground Cinnamon
1/4 cup granulated sugar
1/4 cup brown sugar
1 cup chopped pecans or walnuts (optional)
Optional Glaze:
1/2 cup powdered sugar
1-2 teaspoons milk
Directions:
To Make The Coffee Cake:
Preheat oven to 350°F. Spray a 9 x 13-inch baking pan with cooking spray, set aside. Prepare the cinnamon-sugar topping (see below), set aside.
In the bowl of a stand mixer, cream together butter and sugar on medium-high speed for 2 minutes until light and fluffy. Add eggs to the mixture, one at a time, beating well after each addition.
In a separate bowl, whisk together the flour, baking soda, baking powder and salt. Add half of the dry ingredients mixture to the butter mixture, and mix on medium-low speed until just combined. Add in half of the sour cream, and mix until combined. Repeat with the remaining half of the dry ingredients mixture, followed by the remaining sour cream.
Pour half of the batter into the prepared baking pan, and spread it around so that it covers the bottom of the pan in an even layer. Sprinkle half of the cinnamon-sugar topping evenly on top. Spread the remainder of the batter on top in an even layer (<– although note that the batter will be sticky and difficult to spread, so I recommend adding with a spoon in little clumps, and then use a rubber spatula to help spread it out in an even layer). Sprinkle the remaining cinnamon-sugar topping evenly on top.
Bake for 30 minutes, or until a toothpick inserted in the middle of the cake comes out clean. Remove from the oven, then drizzle with the glaze if desired (see below).
Serve warm. Or let the cake cool to room temperature, then cover and keep for up to 3 days.
To Make The Cinnamon-Sugar Topping:
Whisk all ingredients together in a small mixing bowl until combined.
To Make The Glaze:
Whisk powdered sugar and milk together until smooth. Add more milk if you'd like to thin out the glaze, or more powdered sugar if you'd like to thicken it.
Recipe from my friend Natalie.

Difficulty: Easy

If you make this recipe, be sure to snap a photo and hashtag it #gimmesomeoven. I'd love to see what you cook!
This post was sponsored by McCormick Spices, maker of the yummy ground cinnamon used in this recipe. Thank you for continuing to support the brands I love who help make this site possible! ♥