Cherry Oatmeal Bars-tart cherries are spread between buttery oatmeal layers to create a delicious dessert. If you like cherry pie, you will LOVE these easy bars.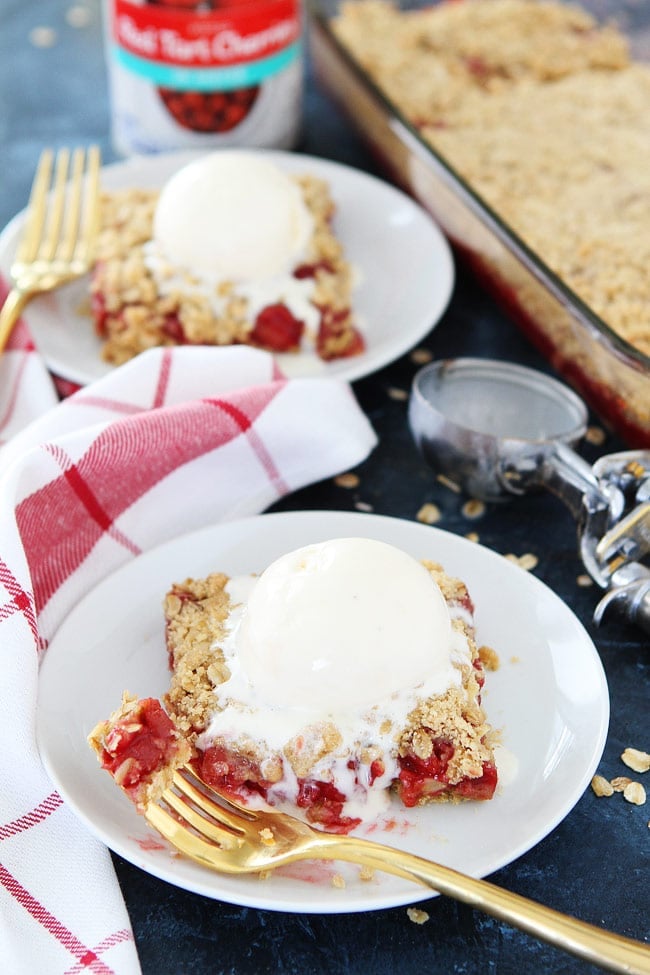 Happy President's Day! I can't believe we are getting to the end of February. This month is flying by!
To celebrate President's Day and Washington's birthday, I am sharing a dessert from my childhood, Cherry Oatmeal Bars, also known as Cherry Dessert. Our good friends, who we consider family, made these easy cherry bars every February to celebrate George Washington's birthday and I was always happy to help them eat them. Cherry dessert became a dessert staple in February and was often requested later in the year. Everyone loves these bars!
So why cherries and George Washington? You know, because of the whole chopping down the cherry tree story. George Washington will always be associated with cherries. I am sure he would be more than ok with with these Cherry Oatmeal Bars for his birthday dessert. They are delicious!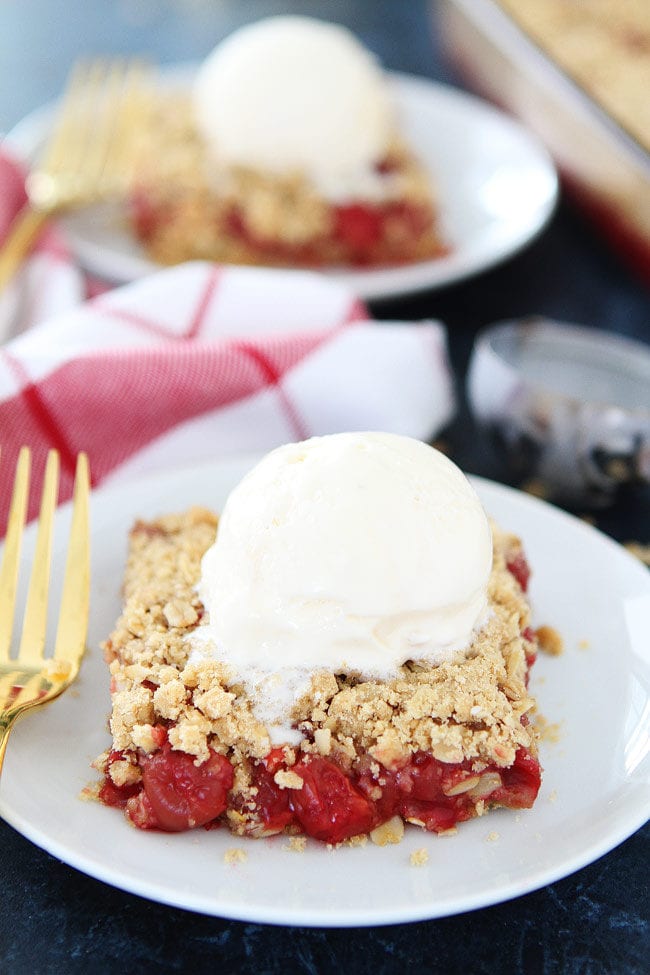 Our friends recently came to visit us and I asked if I could have the famous Cherry Dessert recipe and they happily shared it with me. Yay! I made the bars and they are just as good as I remembered.
If you like cherry pie, you are going to looooooove these bars! I think they are even better than pie because they are super easy to make and the bars have an oatmeal crumb crust AND topping!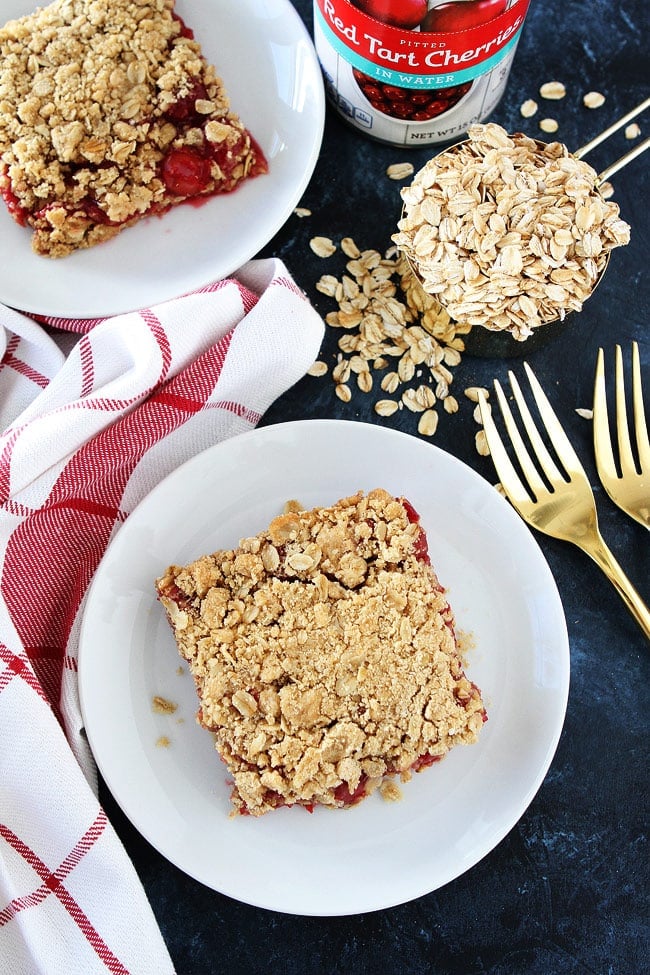 The cherry filling is made with tart cherries, not cherry pie filling, so make sure you buy canned cherries and not pie filling. You cook the tart cherry juice on the stove with flour and sugar until it thickens. Remove from the heat and stir in the cherries. If you want the cherries to be bright red you can stir in a few drops of red food coloring. I also stir in a little vanilla extract.
Make the oatmeal mixture and press half of it into the pan, top with the cherry filling, and top with the remaining oat mixture. Bake until golden brown.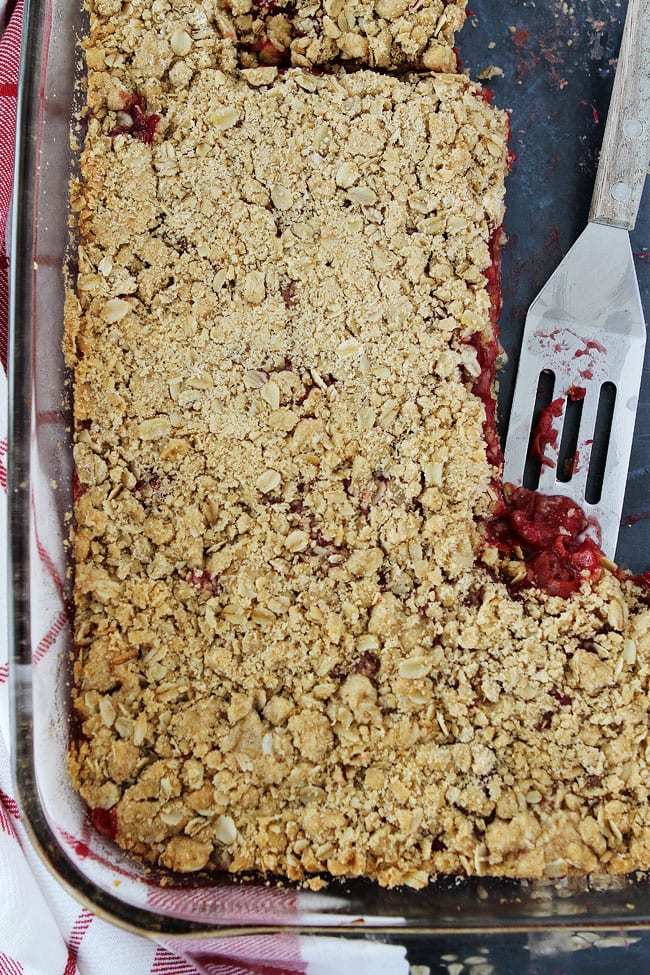 We like to serve the bars warm with vanilla ice cream. The tart juicy cherries surrounded by buttery oatmeal crust and topping with creamy vanilla ice cream….soooooo good!
These Cherry Oatmeal Bars remind me of my childhood and will always be one of my favorite desserts. I am so glad I have the recipe! I am going to make them all of the time, not just in February:) But make sure you make them this week to celebrate George. I am glad he cut down that cherry tree because it means we get to eat cherry dessert in his honor:)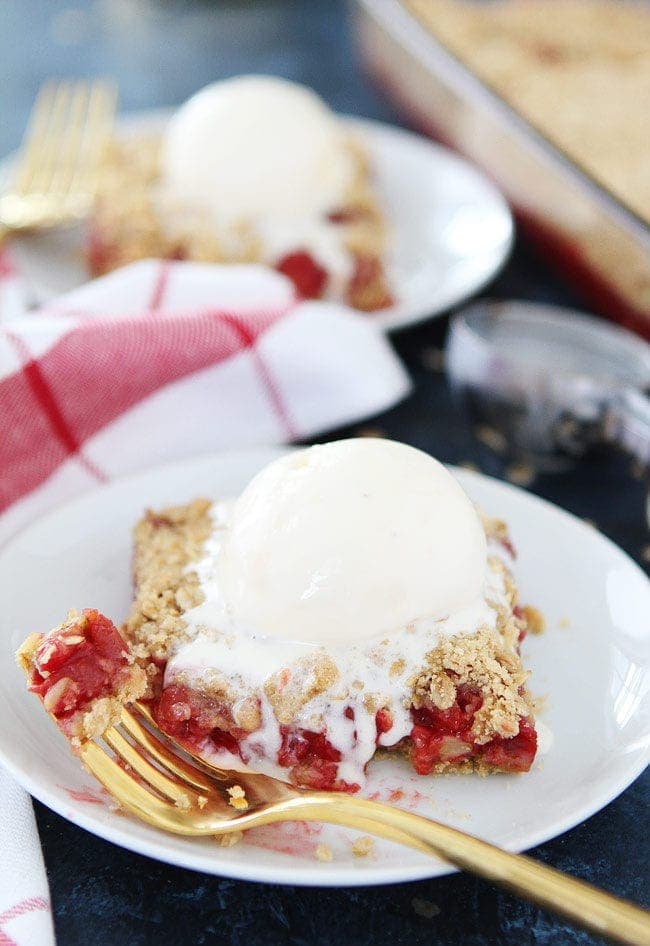 Cherry Oatmeal Bars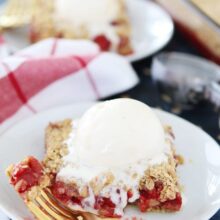 If you like cherry pie, you will LOVE these easy bars. We like to serve them with vanilla ice cream.
Yield: Serves 16
Prep Time: 10 minutes
Cook Time: 25-30 minutes
Total Time: 40 minutes
Ingredients:
For the Filling:
1/3 cup all purpose flour
1 cup granulated sugar
2 (14.5 oz) cans red tart pitted cherries in water (not cherry pie filling)
1 teaspoon vanilla extract
Red food coloring, optional
For the Oatmeal Crust and Topping:
1 1/2 cups all purpose flour
1 teaspoon salt
1/2 teaspoon baking soda
1 cup firmly packed brown sugar
1 1/3 cups old fashioned oats
10 tablespoons cold unsalted butter
Directions:
Preheat oven to 350 degrees F. Spray a 9×13 pan with nonstick cooking spray and set aside.
To make the filling, combine flour and sugar in a medium saucepan. Add the liquid from the cherry cans, setting the cherries aside. Cook over medium heat until the mixture bubbles and thickens to the consistency of pie filling, stirring constantly. Remove from heat and stir in the cherries, vanilla, and red food coloring, if using. Set filling aside.
In a large bowl, combine flour, salt, baking soda, brown sugar, and oats. Cut in the cold butter until particles are the size of small peas. Press half of the oat mixture into the bottom of the prepared pan. Spread cherry filling evenly over the mixture.Cover gently with remaining oatmeal mixture. Smooth with hands so no cherry filling shows through.
Bake for 25-30 minutes or until bars are light golden brown. Remove from oven and let cool to room temperature. Cut into bars and serve.
Note-we like to serve the bars with vanilla ice cream. The bars will keep covered in the refrigerator for up to 3 days.
Follow twopeasandpod on Instagram and show us what recipes you are making from our blog! Use the hashtag #twopeasandtheirpod! We want to see what you are making in your kitchen!