Easy and healthy sheet pan honey balsamic chicken & brussels sprouts dinner is ready in 30 minutes with a finger-licking good sweet and tangy glaze.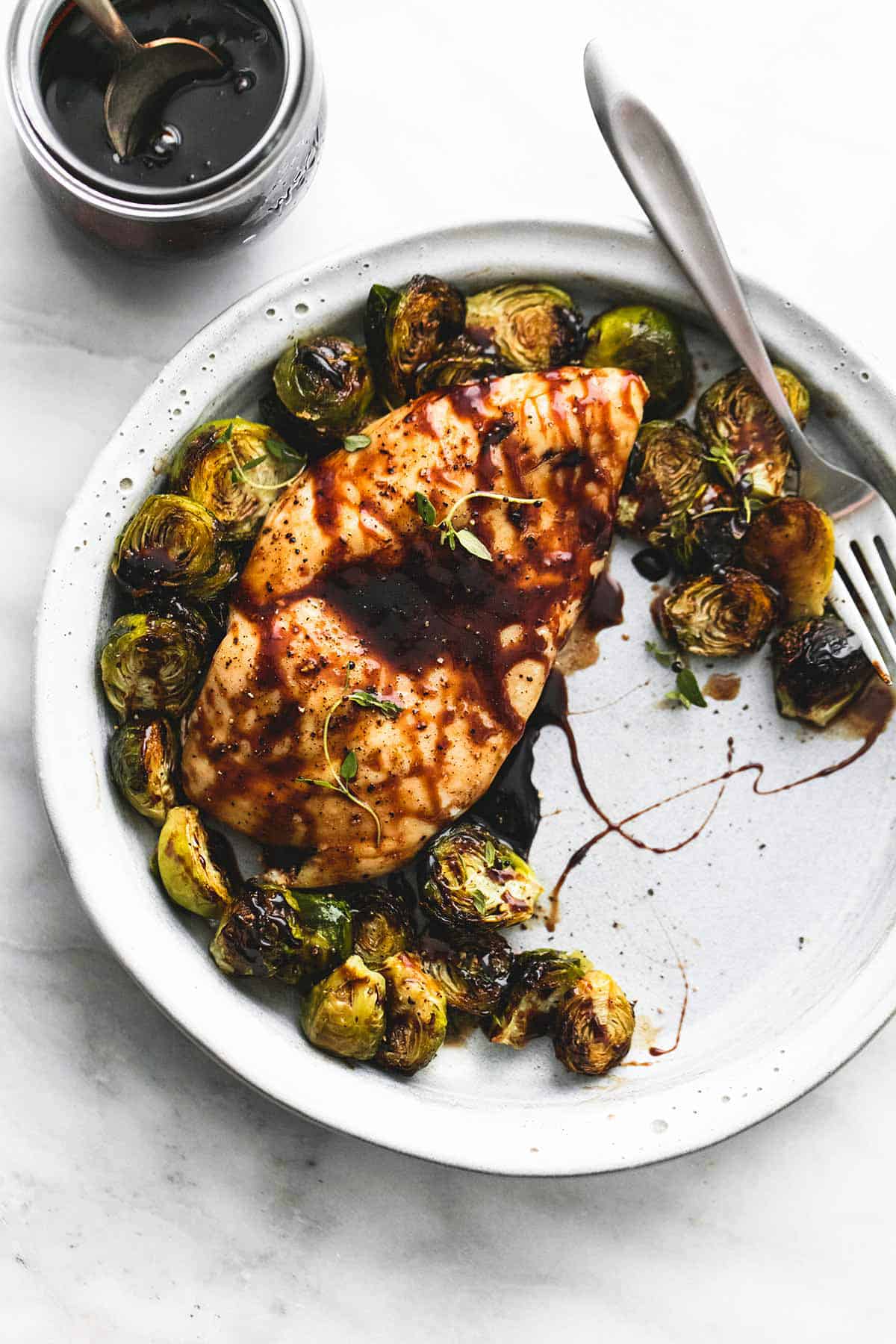 Gosh it's Sunday again already?? This week I tell ya…. I have no idea where it went. Most of it is a blur but I do vividly remember our pleasant and totally uncharacteristic of February pre-Spring weather being sabotaged by a three-day storm that kept us bunkered inside watching the green lawn become white again. I mean I knew it was coming, because it's February in Utah, but I don't know I guess part of me got swept away in the sunshine anyway. It's okay though, it'll melt soon. That's how it goes around here. And thank goodness because I am beyond done with this Winter.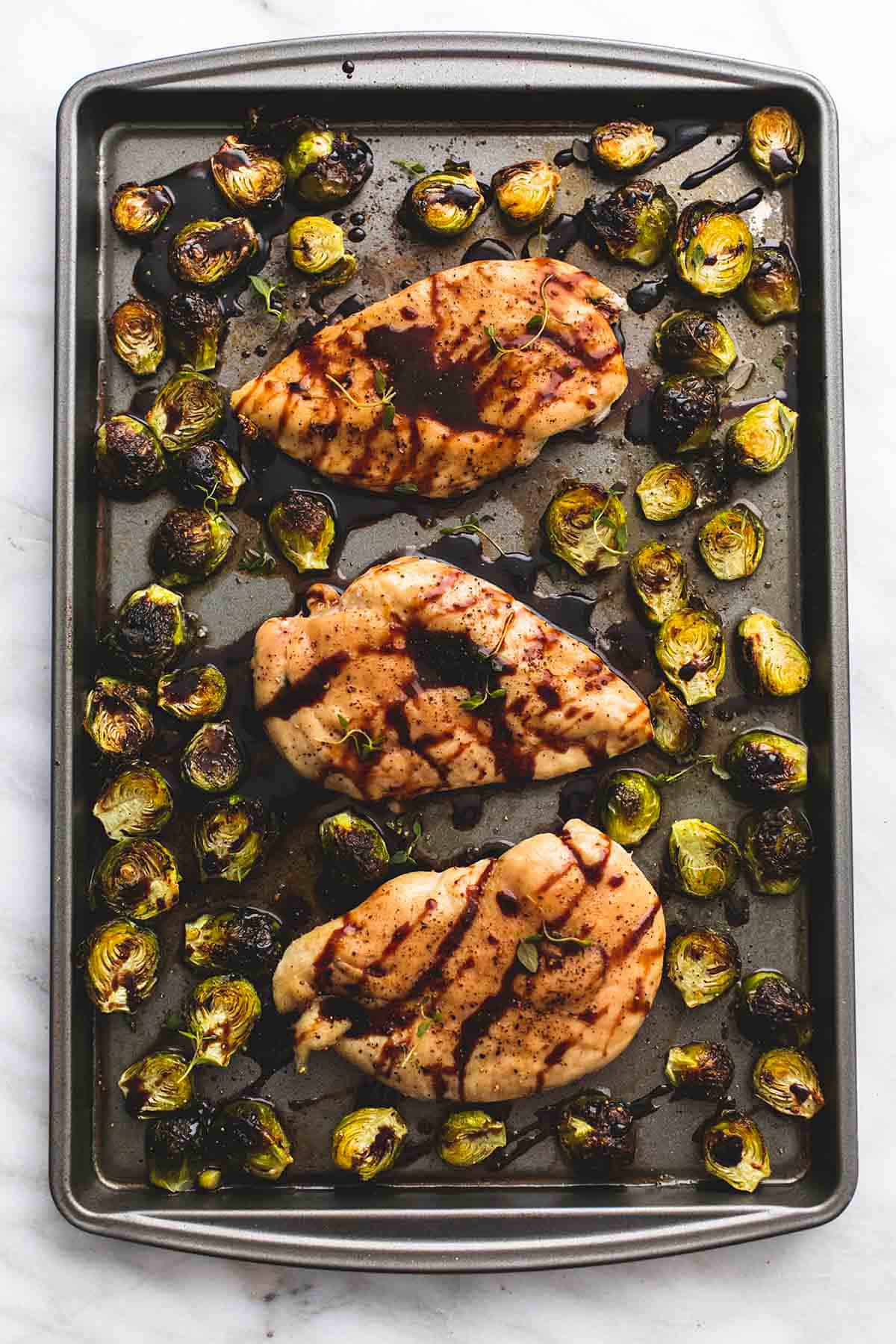 I hope you don't mind but I am in the middle of what seems to be a sheet pan dinner thing and it's a thing that probably won't be ending any time soon. For me I have no problem planning main dishes for the upcoming week but by the time I get all of that in order, I blank when it comes to planning side dishes. I go to the same old side salad time and time again, sometimes nights in a row – and don't get me wrong, I LOVE SALAD, but sometimes you need to switch it up. A sheet pan meal with a main dish and a side all made together on one pan is a dream come true.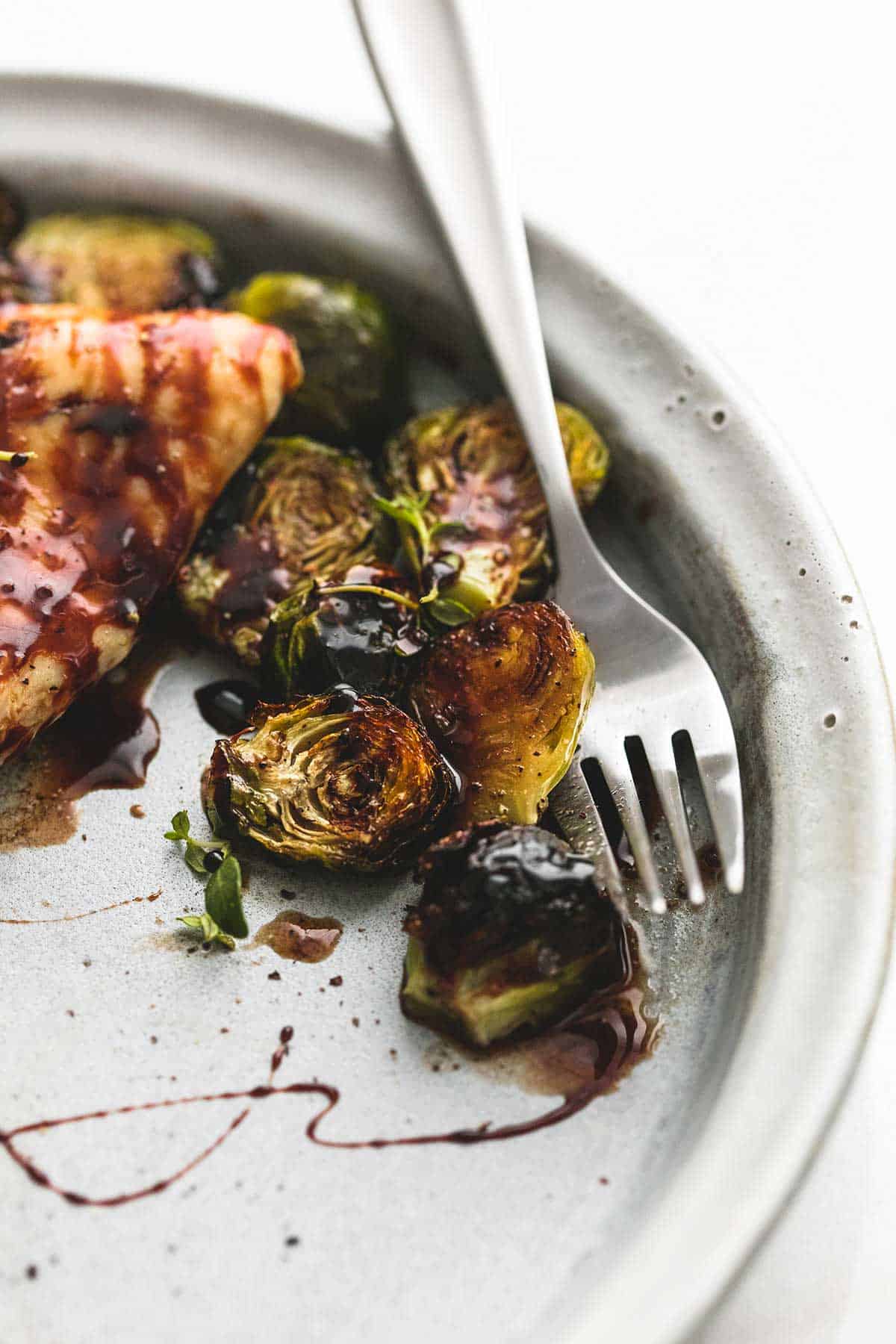 You will absolutely fall in love with this sweet and tangy honey balsamic glaze. I swear it could make dirt taste good. Not that I've tried it, but this glaze is seriously that delicious. This dish is the easiest thing to make but it is a 5 star meal, no question. Amazing enough to impress guests – and I can attest to that – but simple and quick enough to make on any random, busy Tuesday night. I promise, you're gonna love this easy baked sheet pan chicken recipe.
Sheet Pan Honey Balsamic Chicken & Brussels Sprouts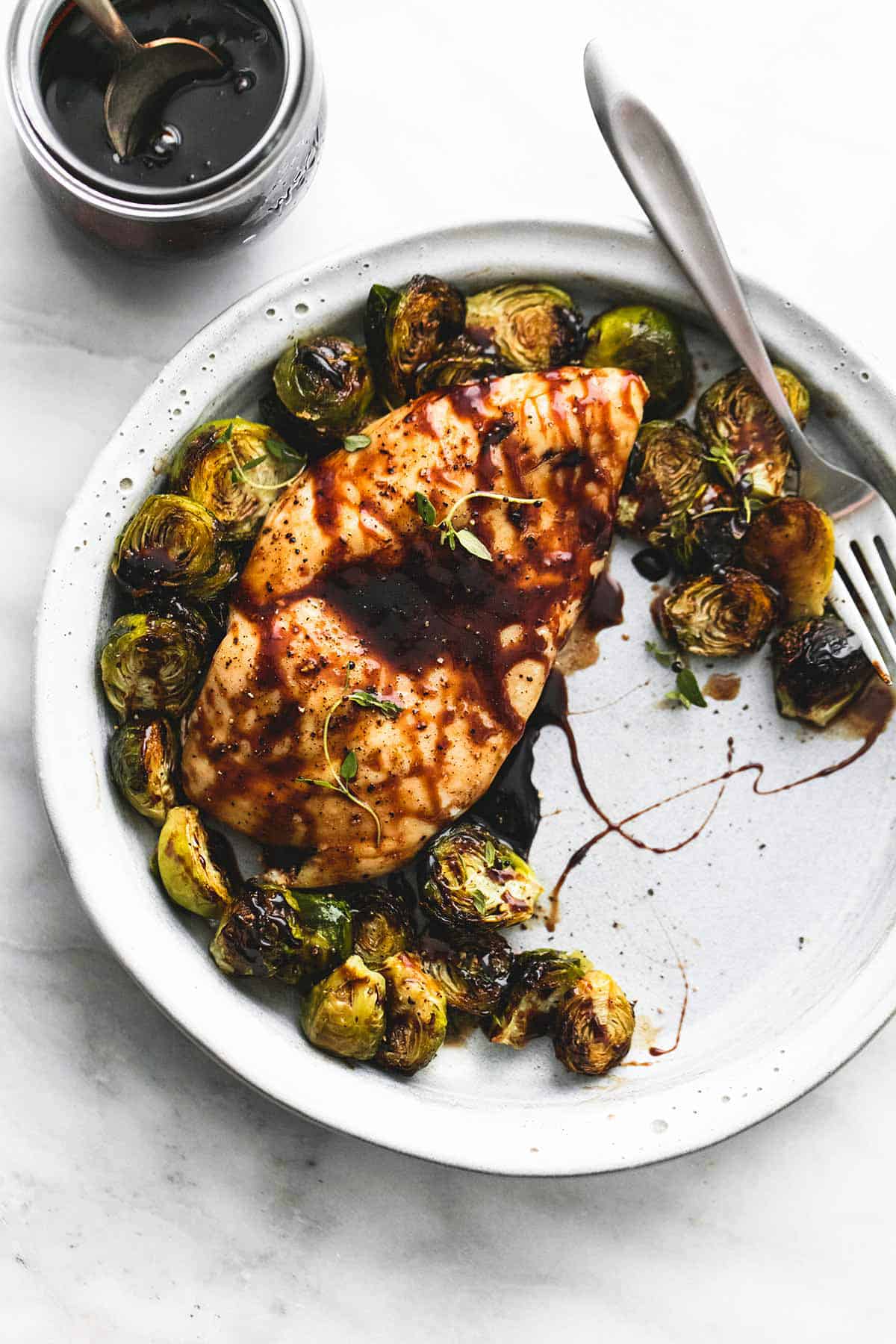 Easy and healthy sheet pan honey balsamic chicken & brussels sprouts dinner is ready in 30 minutes with a finger-licking good sweet and tangy glaze.
Author: Tiffany
Recipe type: Main Dish
Cuisine: American
Serves: 4
Ingredients
3-4 boneless skinless chicken breasts
1 pound brussels sprouts, cut in half lengthwise
3 tablespoons olive oil
1 teaspoon Italian seasoning
salt and pepper to taste
1 cup balsamic vinegar
4 tablespoons honey
¼ teaspoon garlic powder
¼ teaspoon salt
Instructions
Preheat oven to 400 degrees. Pound chicken breasts to even thickness less than 1 inch. Combine chicken and brussels in a bowl, drizzle with oil, and toss to coat. Arrange chicken and brussels sprouts on sheet pan. Season with Italian seasoning and salt and pepper to taste. Transfer to oven and bake for 10-15 minutes or until chicken is cooked through and brussels sprouts are just barely fork-tender. Meanwhile prepare the glaze.
Add balsamic vinegar to a medium sauce pan. Bring to a boil over medium-high heat and boil for 6-8 minutes until reduced to half the original volume. Remove from heat, stir in honey, garlic powder, and salt. Transfer to a bowl and allow to cool while the chicken finishes cooking.
After chicken and brussels have baked for about 15 minutes, switch to broil for 2-4 minutes (watch carefully so the brussels sprouts don't burn). Remove from oven, drizzle with the balsamic glaze, and garnish with cracked black pepper and fresh thyme if desired and serve.
3.4.3177
Related