These easy Baked Chicken Taquitos are stuffed with chicken and cheese and make a great appetizer or meal.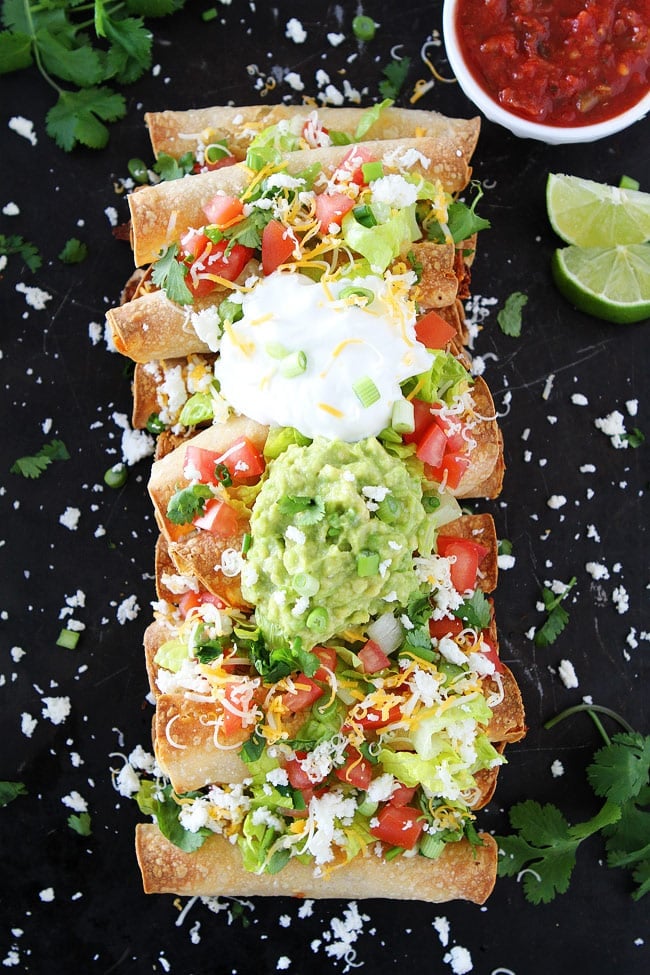 Baked Chicken TAQUITOS! Our boys love yelling TAQUITOS! It is a fun word to say so I don't blame them. Plus, they love eating them so every time we make them, they get super excited. And I don't mind making them because they are actually fun to make. Sometimes, I even sing a little song when I make them…"Rolling, rolling, rolling, get those taquitos rolling!" I don't whistle while I work, I sing while I cook:)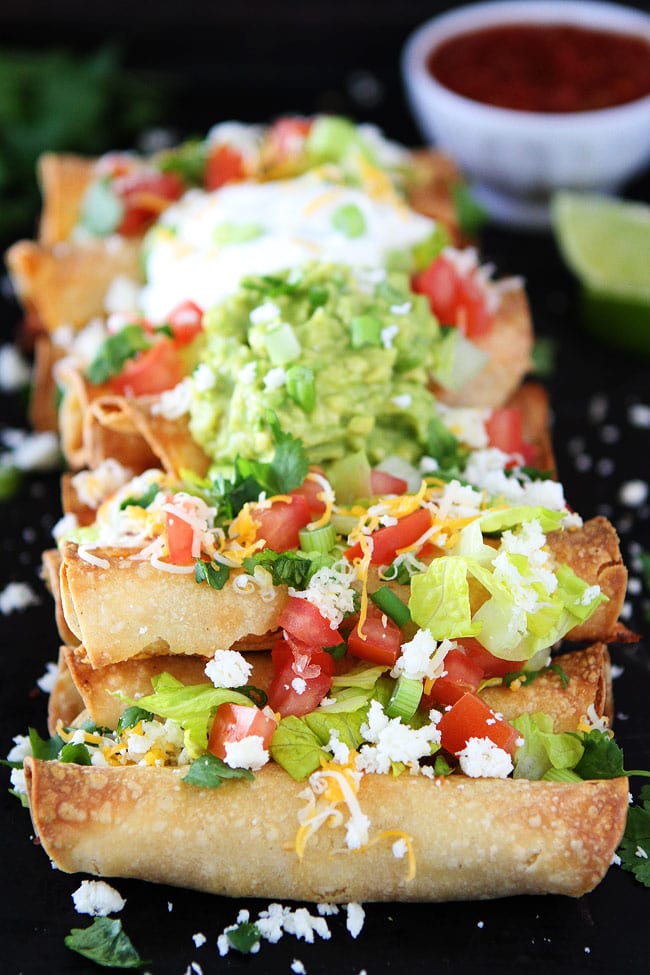 Taquitos are basically rolled up tacos, which is a very good thing. We start with corn tortillas, add shredded chicken and cheese, and roll them up. To keep things on the healthier side, we bake them in the oven. Don't worry, you won't miss the frying, they still get nice and crispy in the oven.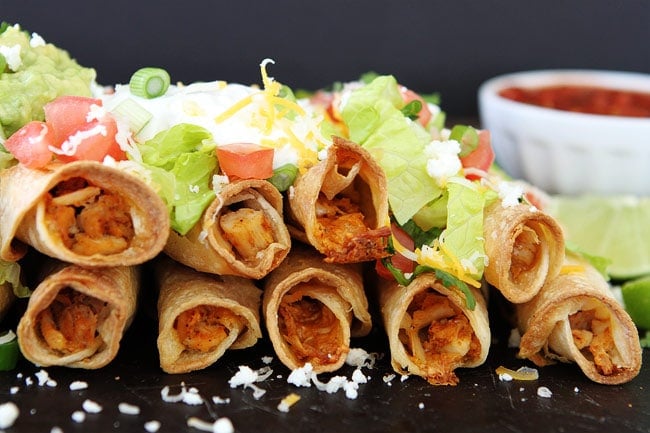 When the taquitos are done baking, we top them with all the toppings…shredded cheese, lettuce, diced tomatoes, sour cream, guacamole, cilantro, and queso fresco. We also serve them with salsa for dipping. The boys love dipping their taquitos, it is all part of the fun!
The taquitos can be served as an appetizer or as a meal, it just depends on how many you eat:) They are perfect for parties because you can make them in advance and put out all of the toppings for your guest to enjoy. We are going to make them for Cinco de Mayo, which is right around the corner. I can't wait!
A few Baked Chicken Taquitos tips:
We like to use rotisserie chicken for this recipe to keep it easy peasy. This is also a great recipe for using up leftover chicken. Just shred it and you will be ready to go!
Before you roll up the taquitos, place the corn tortillas in between damp paper towels and heat them up in the microwave for 20-30 seconds. This will make them easier to roll and keep them from tearing.
The taquitos can be made in advance. You can reheat them in the microwave or the whole pan in the oven after they have been baked. You can even freeze the taquitos before you bake them. Place the taquitos on a baking sheet and freeze. When frozen, place taquiotos in a freezer bag and freeze for up to one month. When ready to bake, preheat the oven to 425 degrees F and place frozen taquitos on a large baking sheet. Spray with nonstick cooking spray. Bake for 15-20 minutes.
Are you guys ready to make some TAQUITOS? Come on, yell it with us! It's TAQUITOS time:) Enjoy!
If you like these Baked Chicken Taquitos, you might also like:
Baked Chicken Taquitos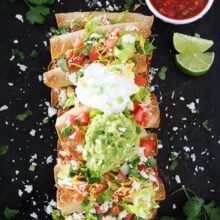 These easy oven baked taquitos make a great appetizer or meal! We like to serve them with sour cream, guacamole, salsa, lettuce, tomatoes, and cheese!
Yield: 20 tacquitos
Prep Time: 15 minutes
Cook Time: 25 minutes
Total Time: 40 minutes
Ingredients:
For the Taquitos:
2 cups shredded chicken (we use rotisserie chicken)
1/2 teaspoon ground cumin
1/2 teaspoon ground chili powder
1/2 teaspoon kosher salt
1/4 teaspoon garlic powder
1/4 teaspoon paprika
2 teaspoons fresh lime juice
1 cup shredded cheddar or Mexican blend cheese
20 corn tortillas
For the Toppings:
Directions:
Preheat the oven to 425 degrees F. Spray a large baking sheet with nonstick cooking spray and set aside.
In a medium bowl, combine the shredded chicken with the cumin, chili powder, salt, garlic powder, paprika, and fresh lime juice. Stir until chicken is well coated with the seasonings. Stir in the shredded cheese.
Get two paper towels damp and place two tortillas at a time in between the paper towels. Place in the microwave for 20-30 seconds. Remove from the microwave and roll up the taquitos.
Place a heaping tablespoon of the chicken and cheese mixture in the center of the tortilla and roll it up tightly. Place the tacquito, seam side down on the prepared baking sheet. Continue rolling taquitos until the tortillas and filling are gone. You should have about 20 taquitos.
Spray the taquitos generously with nonstick cooking spray. Bake for 15-20 minutes or until taquitos are golden brown and crispy. Remove from the oven and serve warm with desired toppings.


All images and text ©Two Peas & Their Pod.




Follow twopeasandpod on Instagram and show us what recipes you are making from our blog! Use the hashtag #twopeasandtheirpod! We want to see what you are making in your kitchen!