This STRAWBERRY BACON SALAD with LIME HONEY BALSAMIC VINAIGRETTE is utterly delicious and oh so flavorful. You won't believe how the mint pops! Salty and sweet at its best!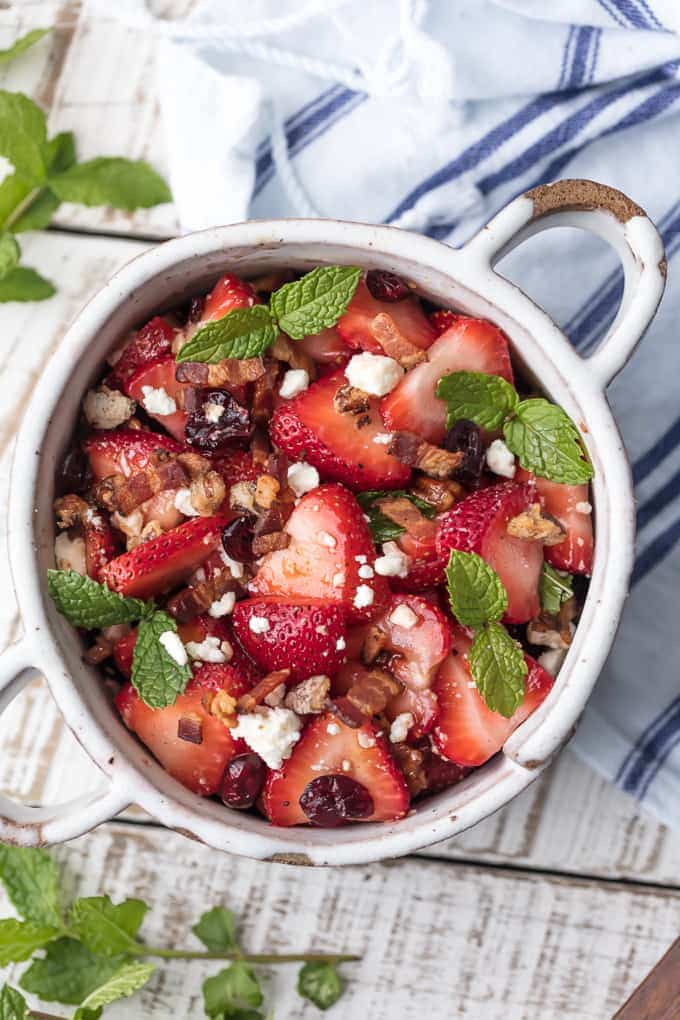 It's hard to decide which salad I've posted this week I love best, this Strawberry Bacon Salad or Monday's Peach Tomato Corn Salad. Both scream Summer, have bright and fresh Summer flavors, and are topped with easy and flavorful dressings you can make at home. I wish you could taste them side by side like I did, fork in hand and stomach getting fuller by the minute. I ate SO MUCH salad that day, and it was so worth it. This Strawberry Bacon Salad has it all…fruity, salty, sweet, fresh, the list goes on and on. Topped with dried cranberries, honey pecans, feta, and mint…the combo is out of this world!!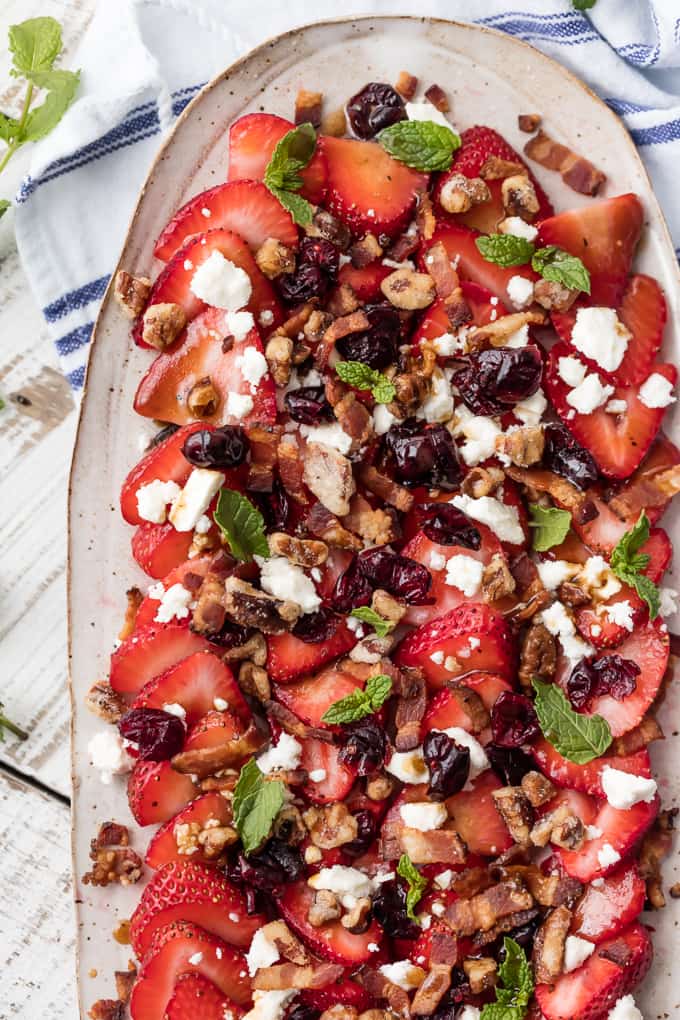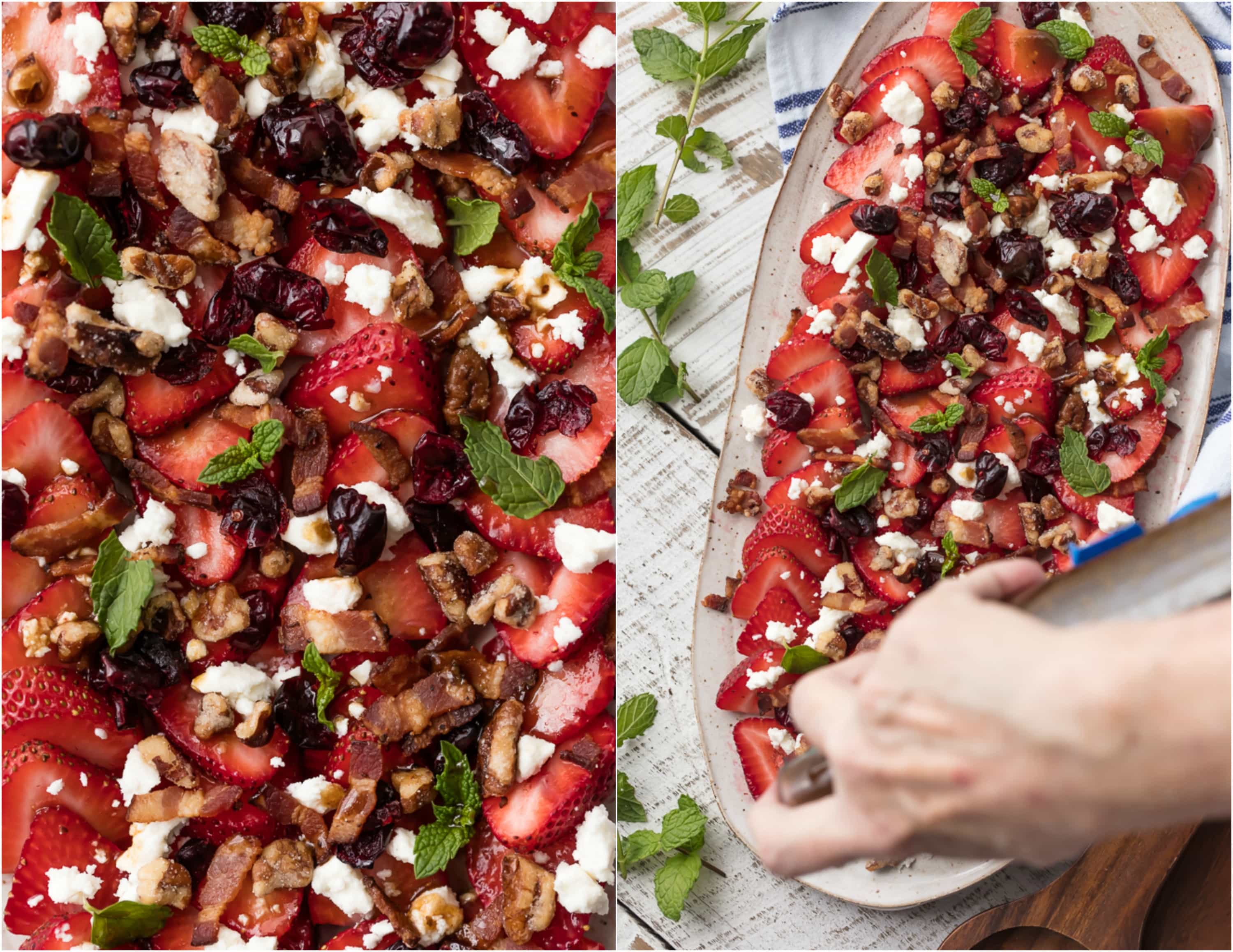 Who knew crispy bacon would taste so amazing paired with strawberries. And by so amazing I mean OUT OF THIS WORLD. The great thing is even though this salad definitely feels and tastes like Summer, you can make it year round. Sure the farmers market strawberries are where it's at, but trust and believe I'll be making this this winter as well.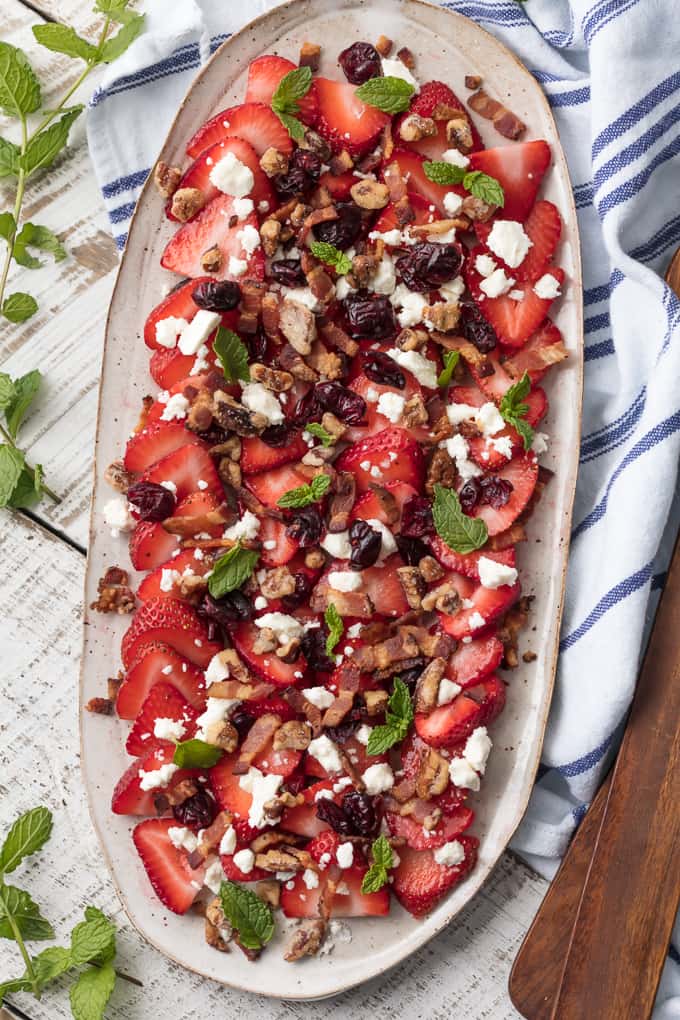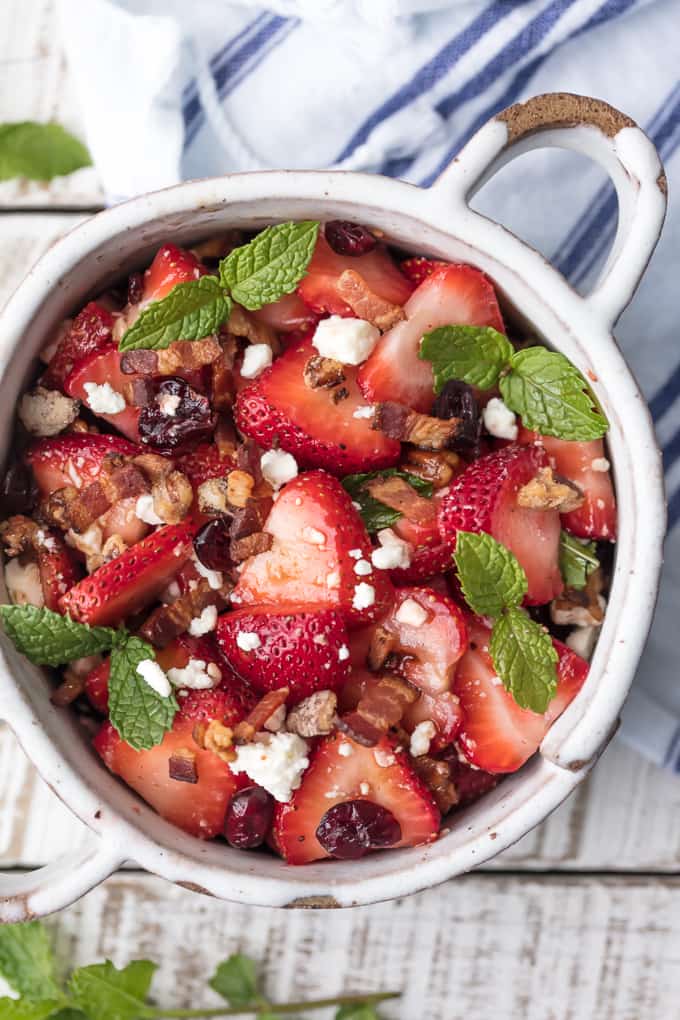 Mom and I waffled over which herb to add to this Strawberry Bacon Salad at the end. We thought about basil…and although that would be super tasty as well, MINT was a game time decision. YOU GUYS. Such a good decision. It adds such a pop of flavor and just the perfect amount of zip. Fresh mint is a MUST in this recipe. You can't beat it!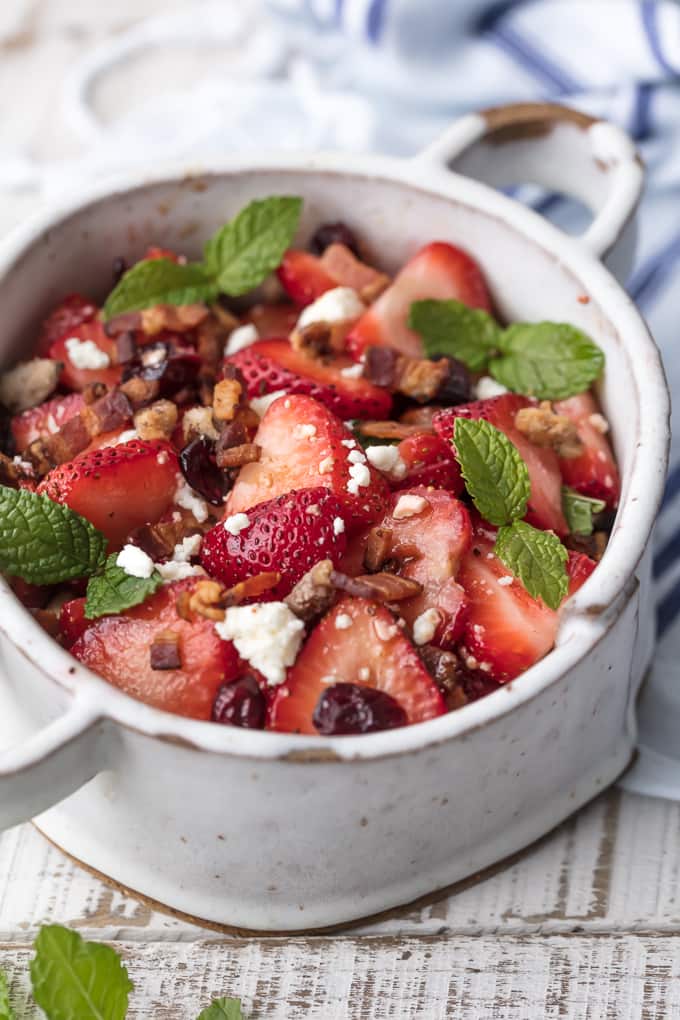 I hope this salad makes you feel like Summer is rockin year round. I cannot wait for you to try it. Let me know what you think! And give that Peach Tomato Corn Salad a try while you're at it. Enjoy!
Ingredients
Ingredients for the Balsamic-Honey-Lime Vinaigrette:

Juice of 1 lime (2 tablespoons)
Zest of ½ lime
2 tablespoons good balsamic vinegar
3 tablespoons honey
½ teaspoon kosher salt
¼ teaspoon freshly ground black pepper
½ teaspoon smoked paprika
¼-½ teaspoon red pepper flakes
½ cup extra virgin olive oil

Ingredients for the Salad:

1 pint strawberries, hulled & sliced
¼ cup goat or feta cheese, crumbled
½ cup dried cranberries
4 slices bacon, crisped & crumbled
¼ cup pecans, honey roasted or toasted
1-2 tablespoons mint leaves, rough chopped
Instructions
For the Vinaigrette:

Place all vinaigrette ingredients EXCEPT the olive oil in a medium bowl and whisk until well incorporated. Then, while whisking vigorously, drizzle in the olive oil. Whisk until the oil and vinegar mixture has emulsified. (If preferred, whisk all vinaigrette ingredients together and then whisk or shake it immediately before using.) Refrigerate until ready to serve.

For the Salad:

Arrange the sliced strawberries on a small serving plate or platter. Sprinkle the strawberries with the feta cheese, cranberries, bacon and pecans. Drizzle the vinaigrette over the salad and sprinkle the pecans on top and garnish with small mint leaves.
Enjoy!
*NOTE: For early prep: make the vinaigrette, cook and crumble the bacon, wash & dry the strawberries then keep these ingredients (along with the cheese) refrigerated until ready to plate the salad.
7.6.4
2429

JOIN OUR MAILING LIST
TO GET COOKING!
Subscibe to recieve all the latest, greatest, and EASIEST recipes sent straight to your email inbox. If we post something yummy, you'll be the first to know.