Every Fall party needs SKINNY CARAMEL APPLE DIP! This lightened up version of our favorite sweet snack is gone in minutes every time.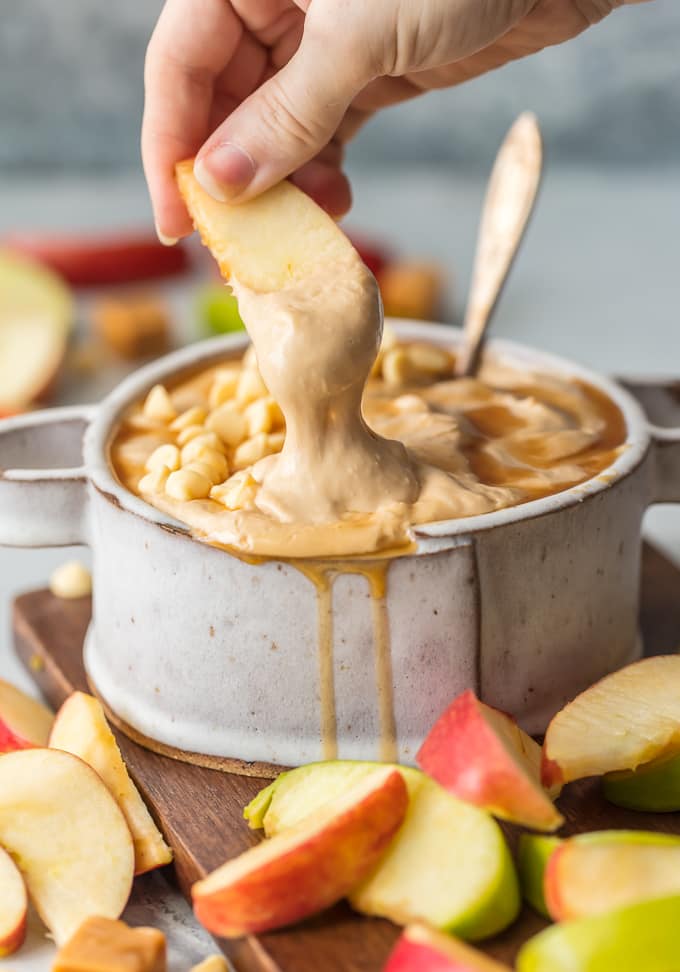 This post was originally published in August 2014, but we loved it so much I gave it a facelift! It's a favorite recipe that deserved pictures that looked as good as it tastes. Enjoy!
When I was younger, one of my very favorite after school snacks was caramel dip with apple slices. I could literally lick the container clean. So delicious. As an adult, I still love that flavor combination. This easy dip is thrown together in minutes and will please the pickiest eater, adults and kids alike! (Relatively) Guilt-free snacking is always the best! Yes I know this still has caramel in it and therefore…it's not "healthy". But it is lightened up and better for you than traditional caramel dip. And that's always a win!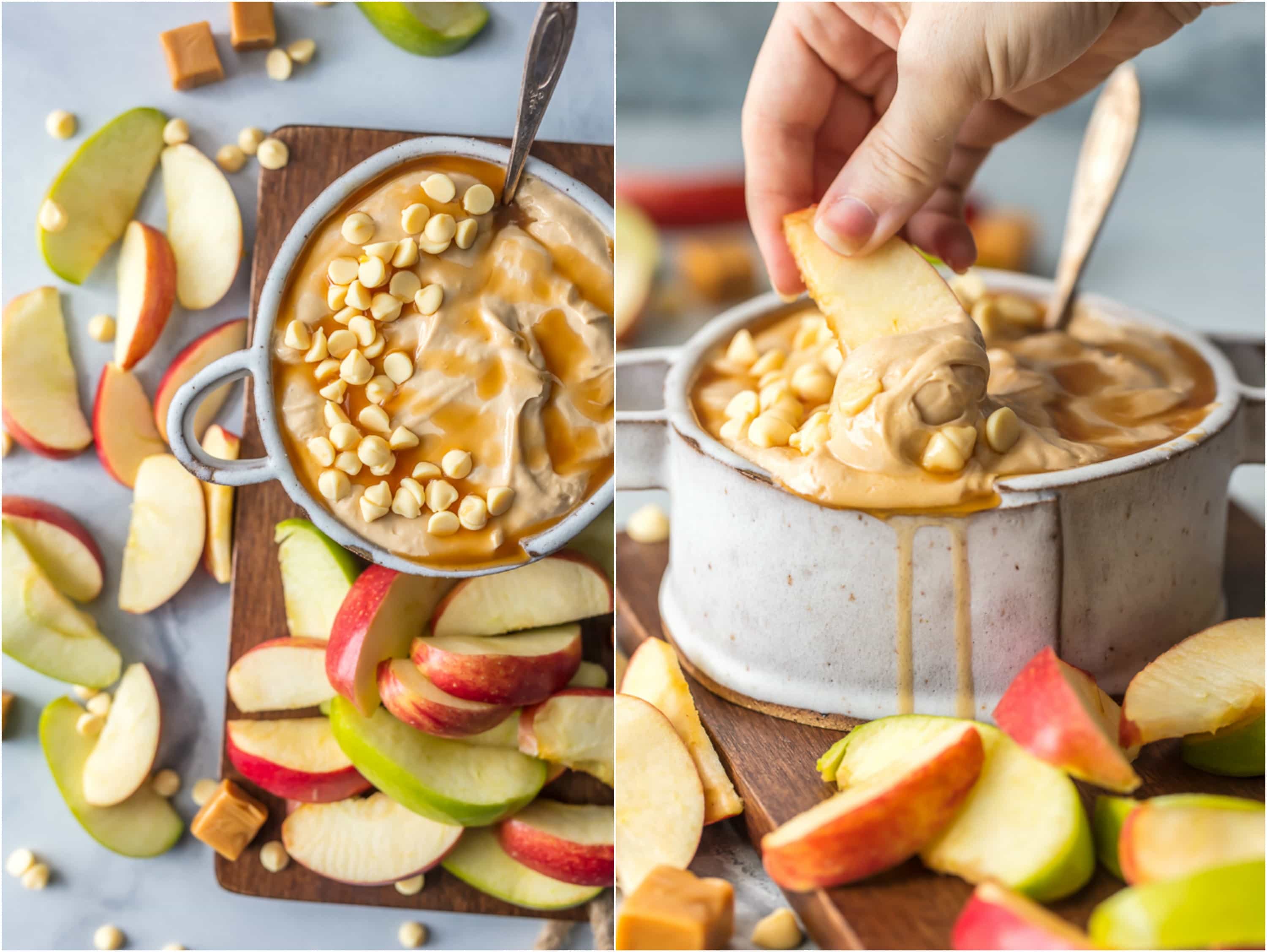 I originally wrote this recipe in preparation for babysitting my then 2 year old niece Desdi. Reading the post made me smile…reading about how she still loved the movie Frozen and was all sass and personality. Actually she is still all sass and personality, but she has moved on from Frozen. She is in Kindergarten now and more into Jurassic Park. 🙂 She still would love this Skinny Caramel Apple Dip I bet!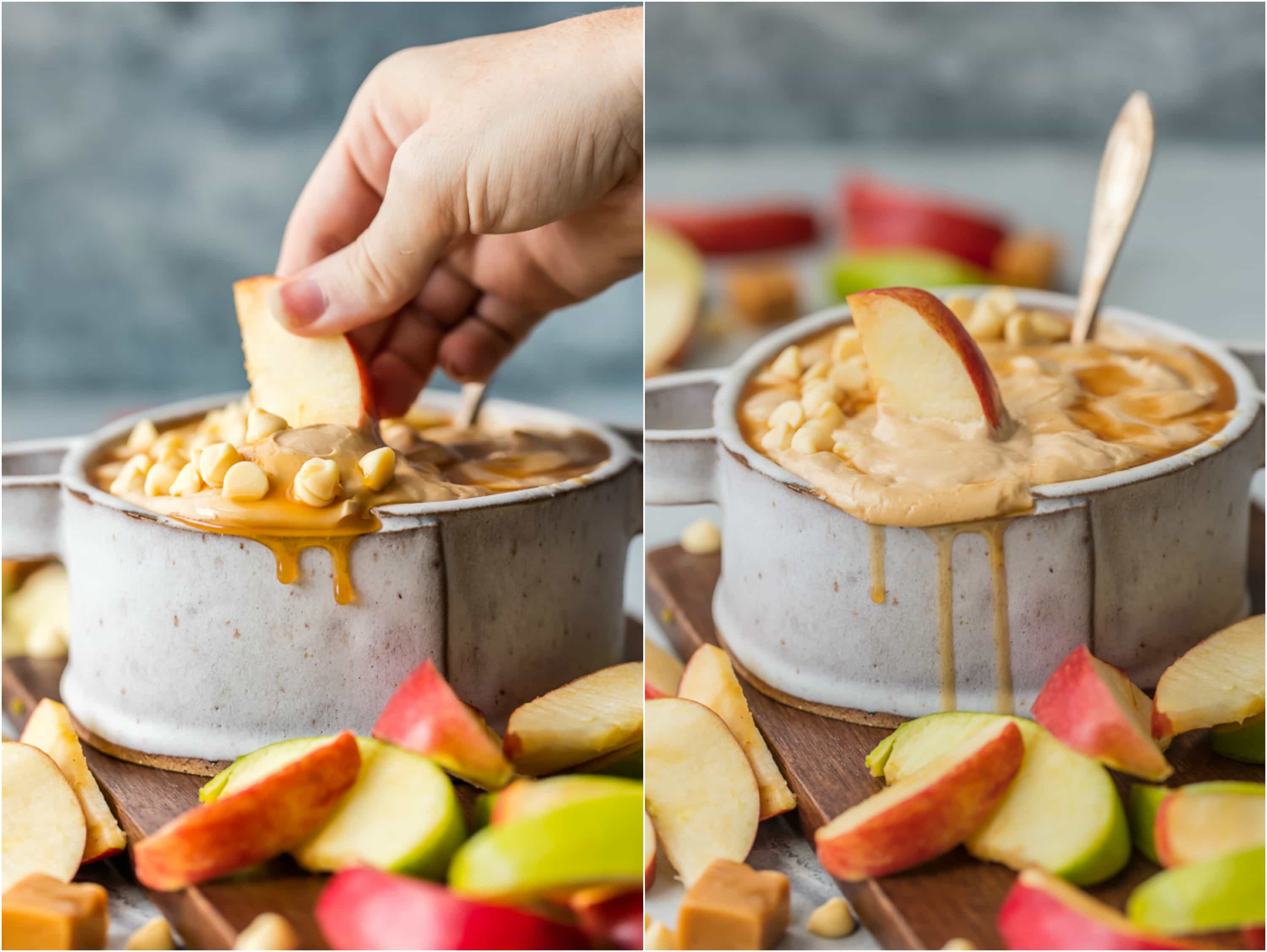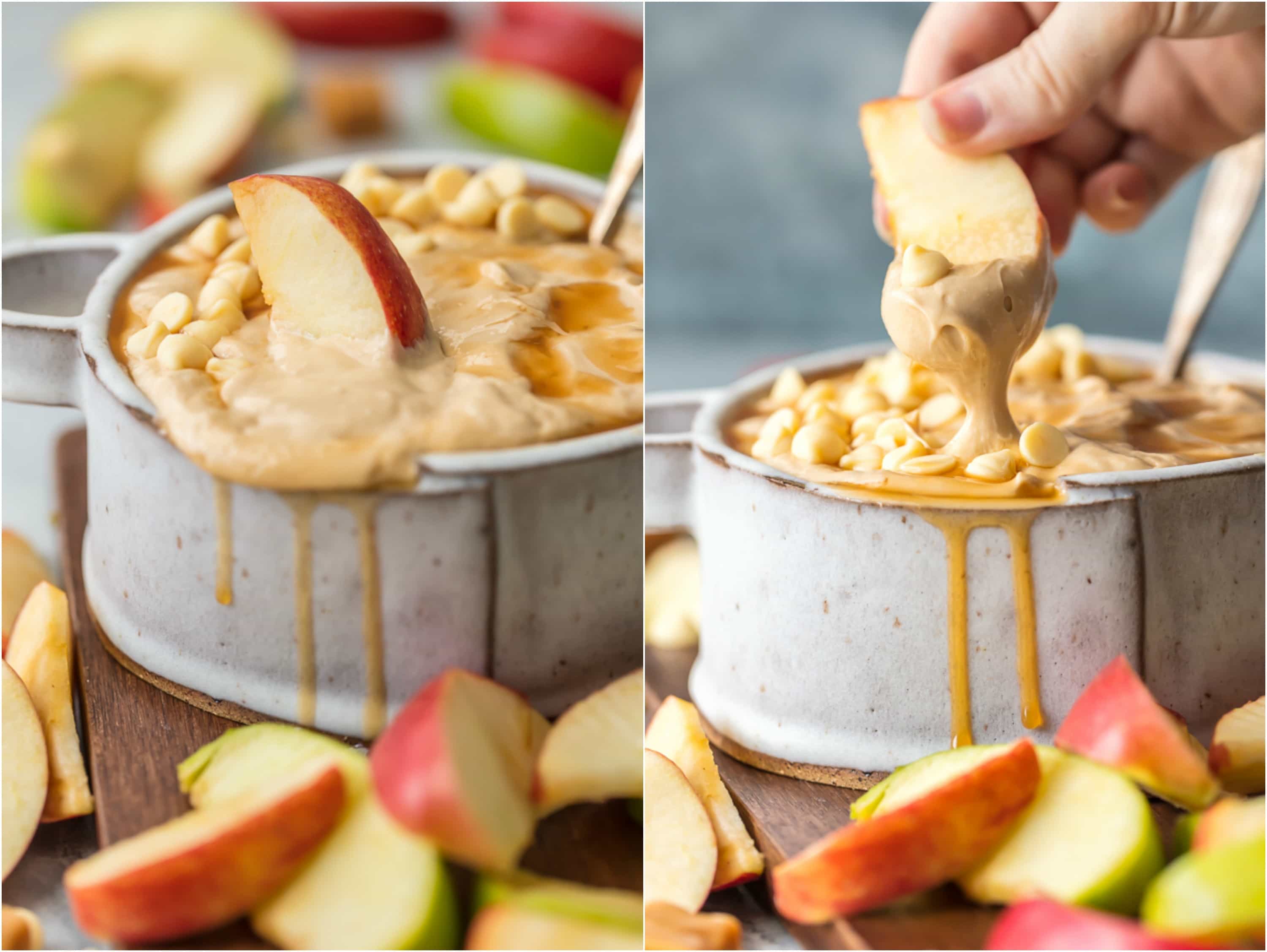 This Skinny Apple Dip still has it all. It's creamy, dreamy, and just a little lighter on the calories and sugar. It's my go-to for holiday parties when I'm in a pinch. I hope you'll love it as much as we do! It's always gone in minutes when we make it. Something about caramel and apples. They just go together!! If the weather is getting cool you better believe we are making this dip.
the cookie rookie
Yields 12
Skinny Caramel Apple Dip
Skinny Caramel Apple Dip is the perfect appetizer or dessert! Loved by kids and adults alike. Yum! I adapted this recipe from a great one I found on Simple Farmstead Cooking . Such a fun site!
5 minPrep Time
5 minTotal Time
Ingredients
8-ounce package fat free cream cheese, softened
1/2 a tub (about 6 ounces) fat-free or light Cool Whip
1/2 cup white chocolate chips (optional…feel free to leave out for less calories)
1 16 ounce jar of your favorite caramel sauce (Sugar Free Caramel Ice Cream Topping by Smuckers is great. Walden Farms makes a Calorie Free version!!!)
Apple slices, for dipping
Instructions
In an electric mixer, blend cream cheese, Cool Whip, and caramel sauce until well combined.
Mix in white chocolate chips
You can eat immediately, or refridgerate for about an hour to allow to firm up a bit. Serve with apple slices.
Recipe Type: dessert
7.6.4
1690

JOIN OUR MAILING LIST
TO GET COOKING!
Subscibe to recieve all the latest, greatest, and EASIEST recipes sent straight to your email inbox. If we post something yummy, you'll be the first to know.