Every great cook needs an amazing SWEDISH MEATBALLS recipe. Eat them as an appetizer for the perfect party snack or over noodles for a delicious meal. This sauce is everything!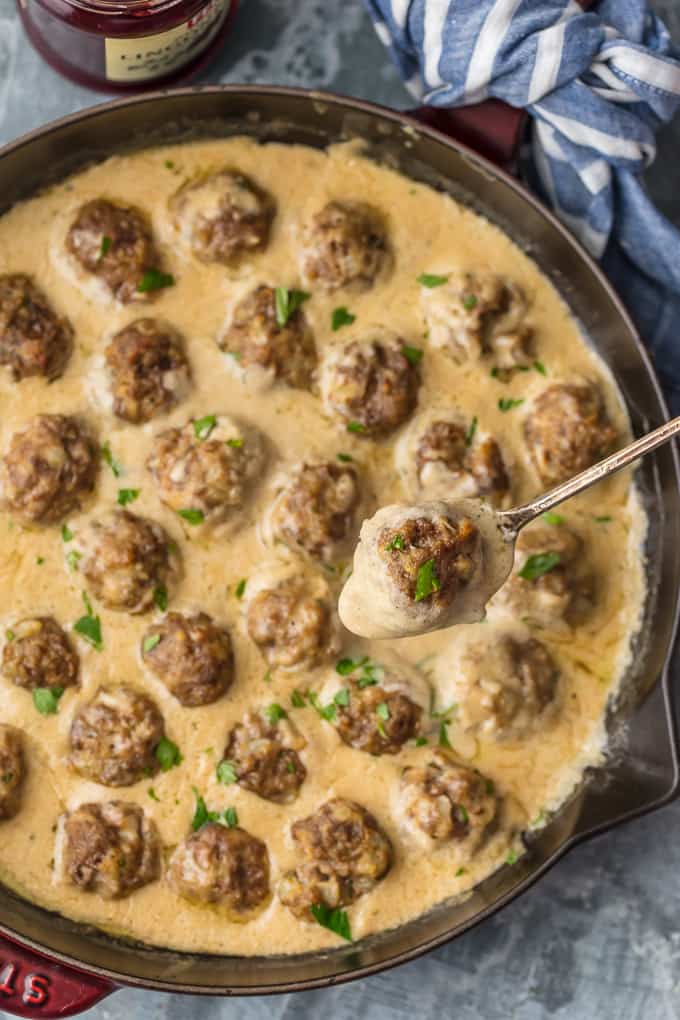 Can you believe I'm 35 years old and had never had Swedish Meatballs? Yep. I'll admit it. And boy was I missing out! This classic recipe is one that I've needed to learn for YEARS and I'm so glad I finally did. They're great for gameday, but also amazing served over pasta for a full meal. Just try not to pop them all in your mouth while cooking. That's the biggest hurdle you have to overcome. They're just too delicious with that SAUCE!? What to even call that sauce? Swedish Meatball Sauce. I wish it came bottled. Ooooh la la so tasty.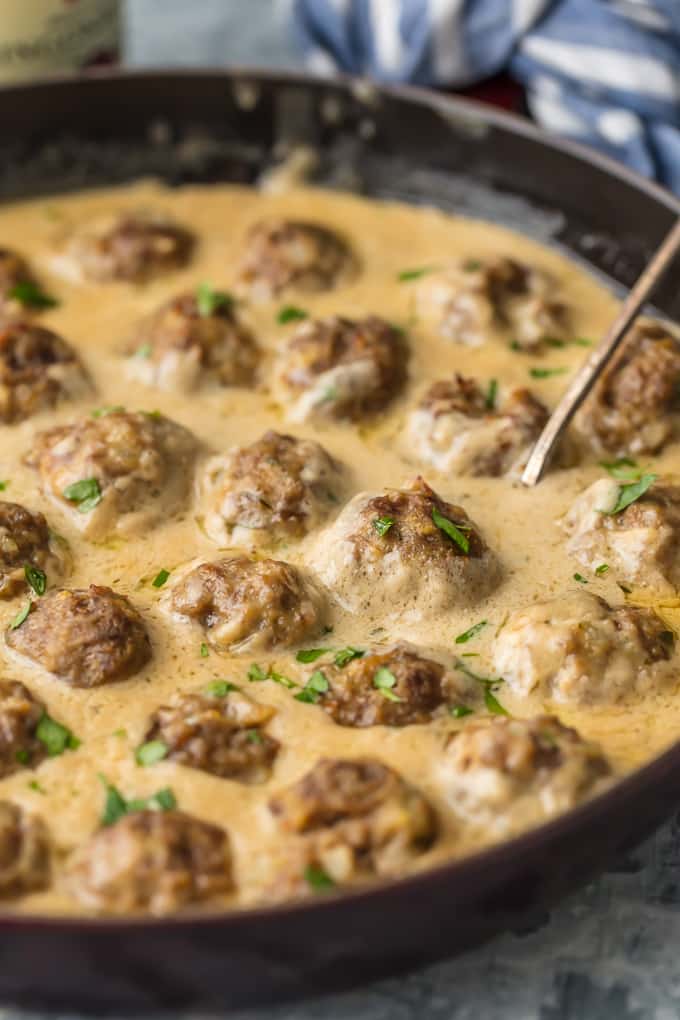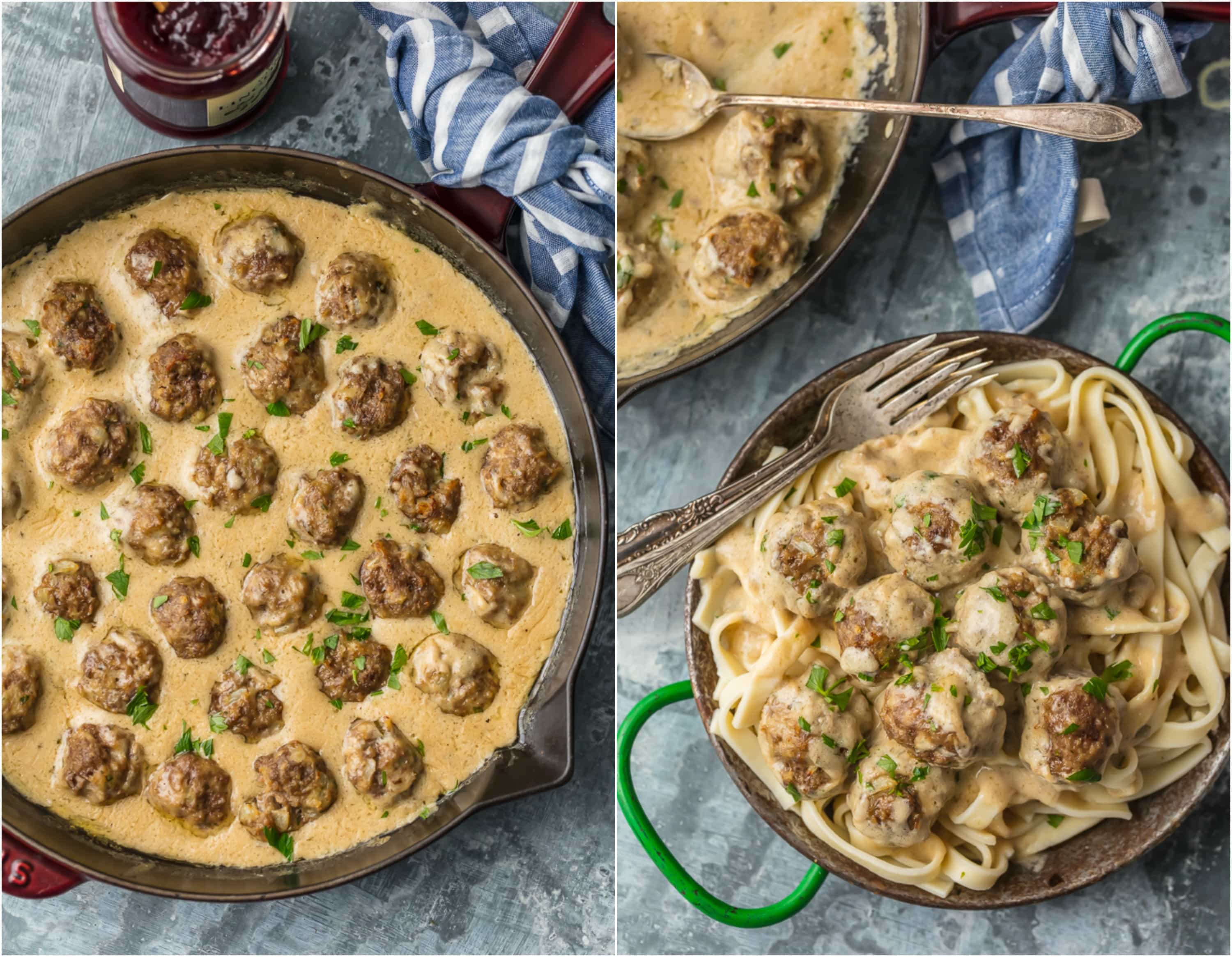 I've always kind of avoided meatballs because they seem like so much work. Honestly, they're not. Yes you have to roll up your sleeves and roll them into shape (it was a challenge finding a way to put that into words and not write something that sounded disgusting), but it's truly not that bad. Meatballs are about 10 minutes more work than my recipes normally require, but since all the recipes on here are intentionally EASY, that's not saying much. You can do it, and your family will thank you. These Swedish Meatballs can't be beat!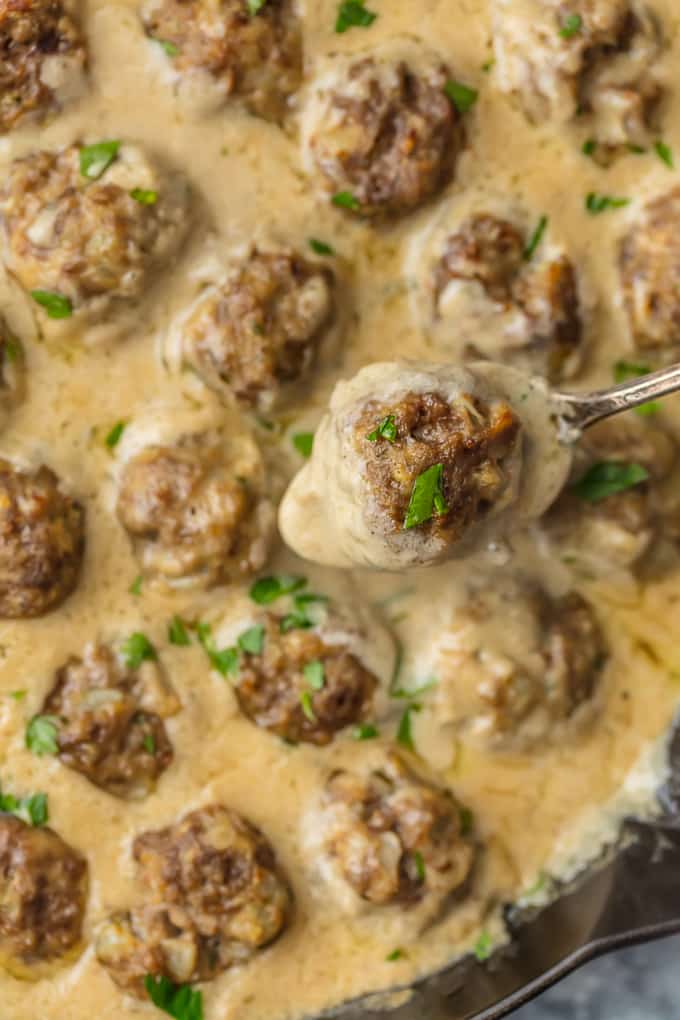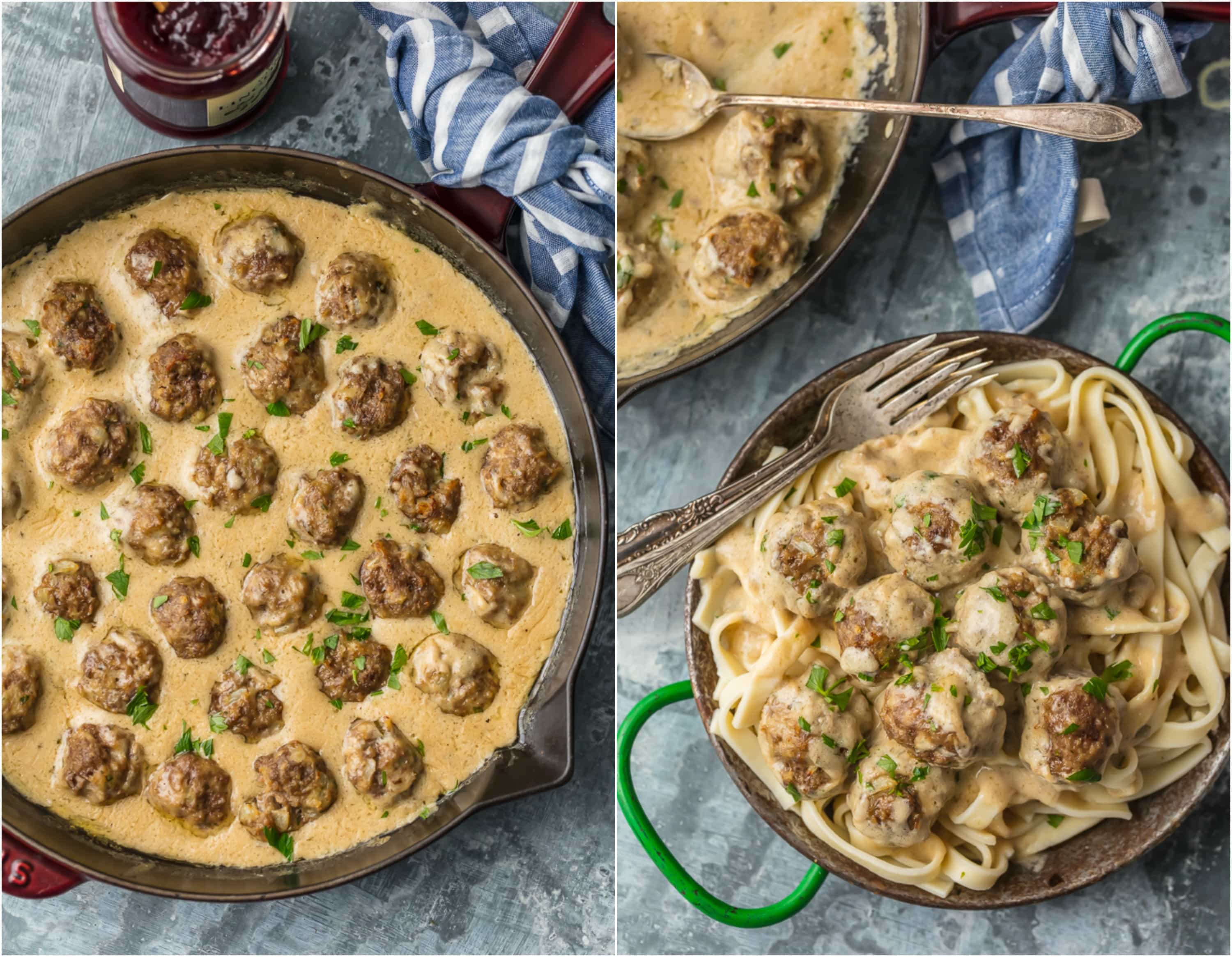 Apparently traditional Swedish Meatballs are served with Lingonberry Jam. So of course we tried it! It was SO tasty! We will definitely serve our tailgating meatballs with this tasty jam going forward. If you can't find it, we thought cranberry sauce or jelly would be equally as delicious! A fun little twist to this delicious meal.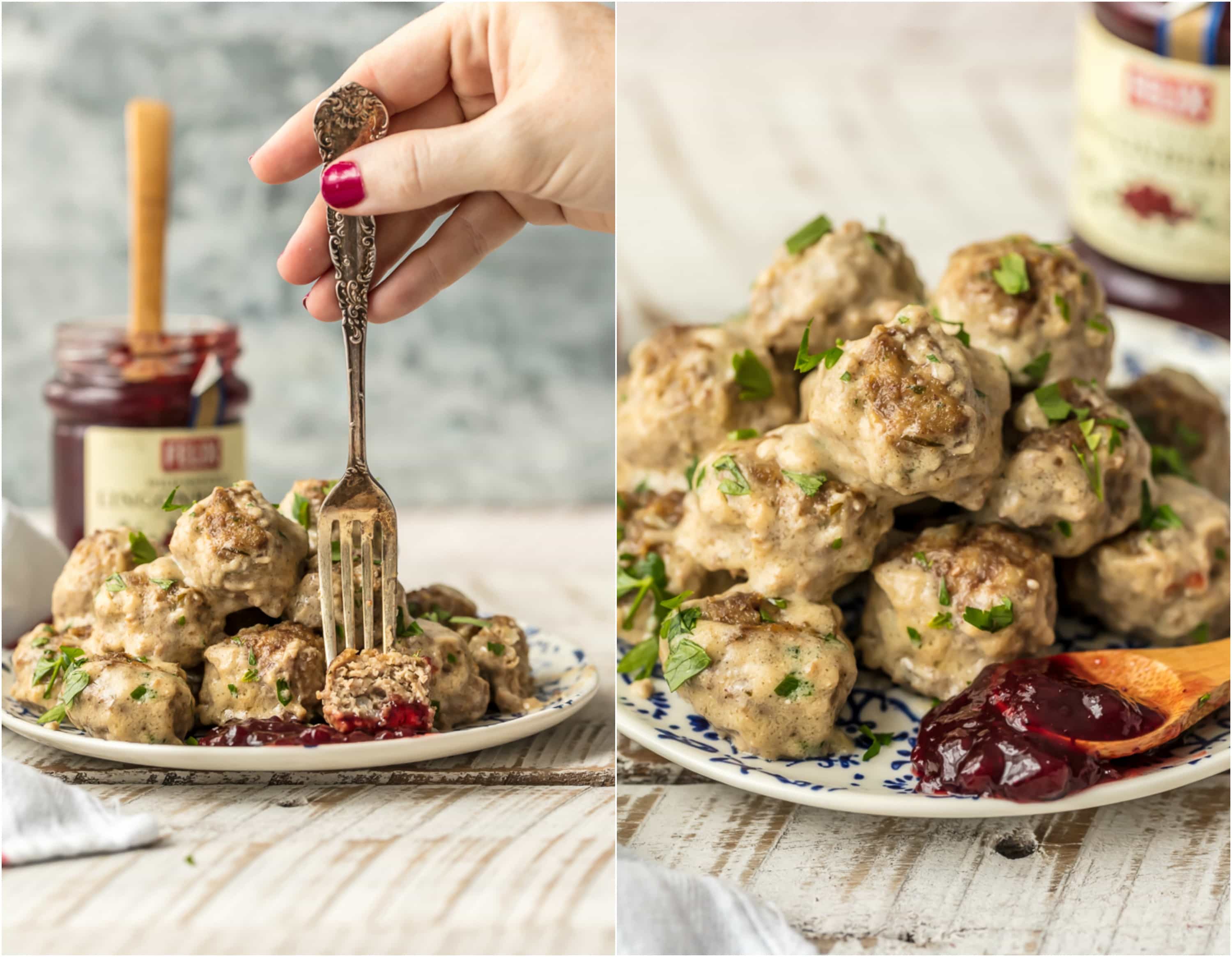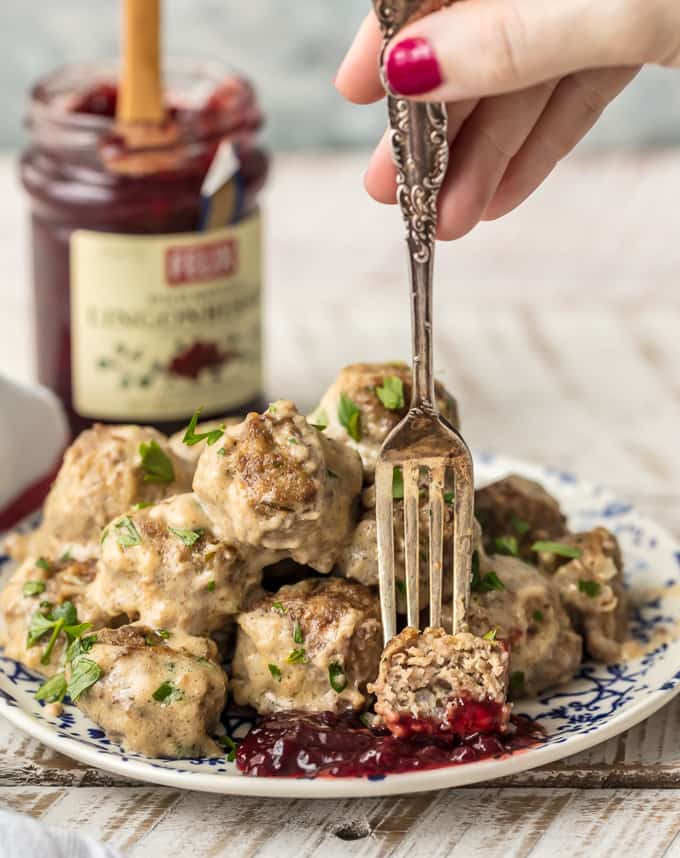 If you're like me and haven't tried Swedish Meatballs, now is your chance. If you have an are looking for a new version to try, here it is! Hope you love this recipe as much as we do.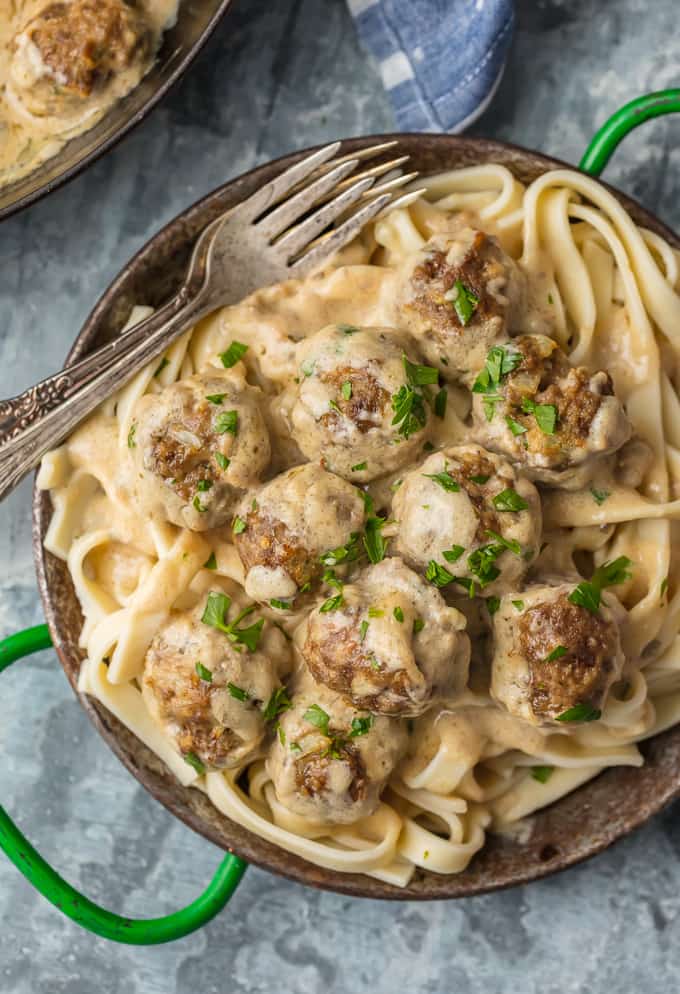 Enjoy!
Ingredients
For the Meatballs:

1/3 cup regular breadcrumbs (I use Progresso Plain)
½ cup milk
2 tablespoons cream
1 large egg
½ teaspoon kosher salt
¼ teaspoon freshly ground black pepper
¼ teaspoon allspice
¼ teaspoon nutmeg
1 tablespoon minced fresh parsley
1 tablespoon butter
1 tablespoon oil
½ medium yellow onion, minced
1 large clove garlic, minced
1 pound ground chicken or pork
1½ pound ground chuck

For the Sauce:

6 tablespoons butter
1/3 cup all-purpose flour *See NOTE for an optional thickener.
1 (14.5 oz) less sodium beef broth
1 (14.5 oz) less sodium chicken broth
1 cup heavy cream
¾ cup sour cream
1 teaspoon Beef Instant Bouillon Granules (I use Wyler's)
1 tablespoon low-sodium soy sauce
1 teaspoon Dijon mustard
1 teaspoon cider vinegar
1 tablespoon granulated sugar
½ teaspoon freshly ground black pepper
Salt, if needed. Taste first.
1-2 tablespoons minced fresh parsley
Optional: Lingonberry Jam or Cranberry Sauce
Instructions
For the Meatballs:

Cover 2 large cooking sheets with foil and spray the foil with cooking spray. Preheat oven to 400F.
In a large bowl, combine breadcrumbs, milk, cream, egg, salt, pepper, allspice, nutmeg and parsley. Set the mixture aside to allow the milk to soak into the breadcrumbs, at least 10 minutes.
Heat 1 tablespoon butter and 1 tablespoon oil in a medium skillet over medium heat. Add the minced onion and sauté until translucent. Add the minced garlic and sauté 30 seconds. Transfer the onion/garlic mixture to the breadcrumb mixture.
Once the breadcrumb mixture is ready, add the ground chuck and chicken. Mix well using a wooden spoon. Roll meat into 1½-inch balls (or use a 1½ inch scoop) and place on the prepared sheet pan 1 inch apart. Cook 20 minutes or until no longer pink in the center.

For the Sauce:

While meatballs are cooking, prepare the sauce.
**See NOTE before reading further
Melt the butter in a large skillet. Add the flour to the butter and whisk well. Cook over med-low heat until mixture turns a little darker. Whisk often. Add beef broth, chicken broth, cream, sour cream, soy sauce, Dijon mustard, cider vinegar, sugar and black pepper. Taste, then season with salt, if needed. Bring to a boil over medium heat, then reduce heat to low and add the meatballs. Simmer, stirring gently & often, until gravy has thickened. Add chopped parsley and stir gently.
Serve over egg noodles, mashed potatoes or macaroni.
If eating Swedish Meatballs without noodles or a side dish, serve with a teaspoon of Lingonberry Jam or Cranberry Sauce on the side, optional.
Enjoy!
*NOTE: For an optional thickener: Before adding the meatballs, mix together 1 tablespoon cornstarch and 2 tablespoons milk or cold water and add it to the sauce, stir over low heat until mixture thickens.
7.6.4
2442

JOIN OUR MAILING LIST
TO GET COOKING!
Subscibe to recieve all the latest, greatest, and EASIEST recipes sent straight to your email inbox. If we post something yummy, you'll be the first to know.