This CREAMY WHITE WINE DIJON CHICKEN with rosemary is sure to make the weekly rotation on your dinner menu. Utterly delicious, easy, and sure to please.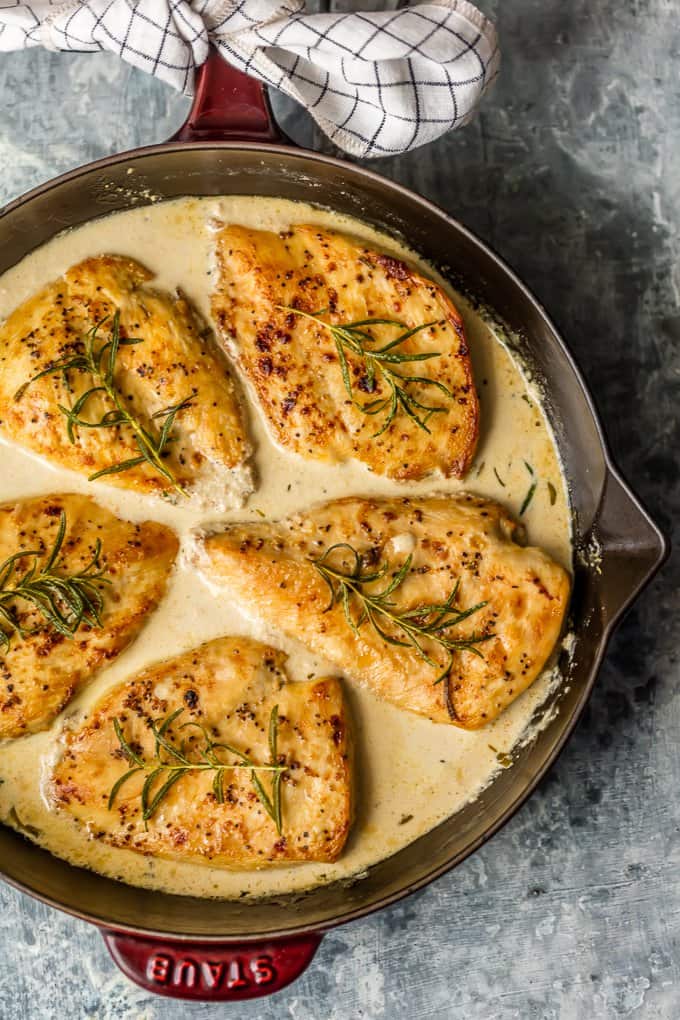 This simple and delicious recipe for CREAMY WHITE WINE DIJON CHICKEN is a staple at our house. Its delicious over rice, pasta, or by itself. The sauce has so much flavor and so little fuss, just the type of recipe that I LOVE! It couldn't be simpler, but I know you'll be just as addicted as we are as soon as you taste it. If you can get through making this without breaking out a spoon to eat the sauce on its own, you're a better person than me!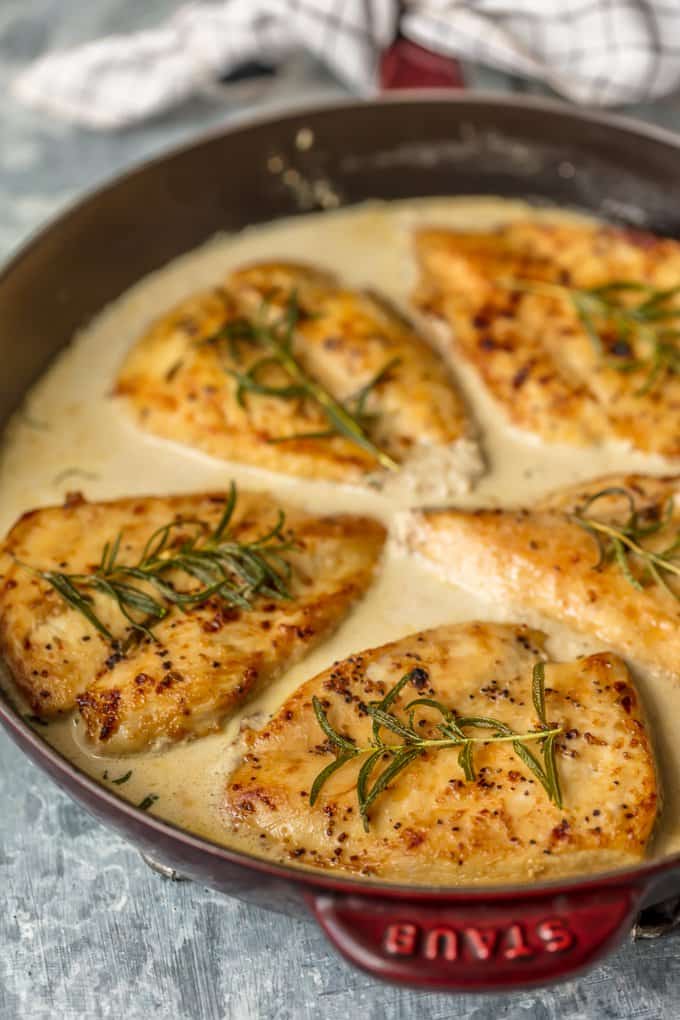 The other thing I love about this White Wine Dijon Chicken is how great it is reheated. It's the perfect delicious lunch to send with your loved one to lunch the next day. DELICIOUS!!! Just looking at the pictures is making me flash back to how it tastes. Looks like I know what I'm making for dinner tonight!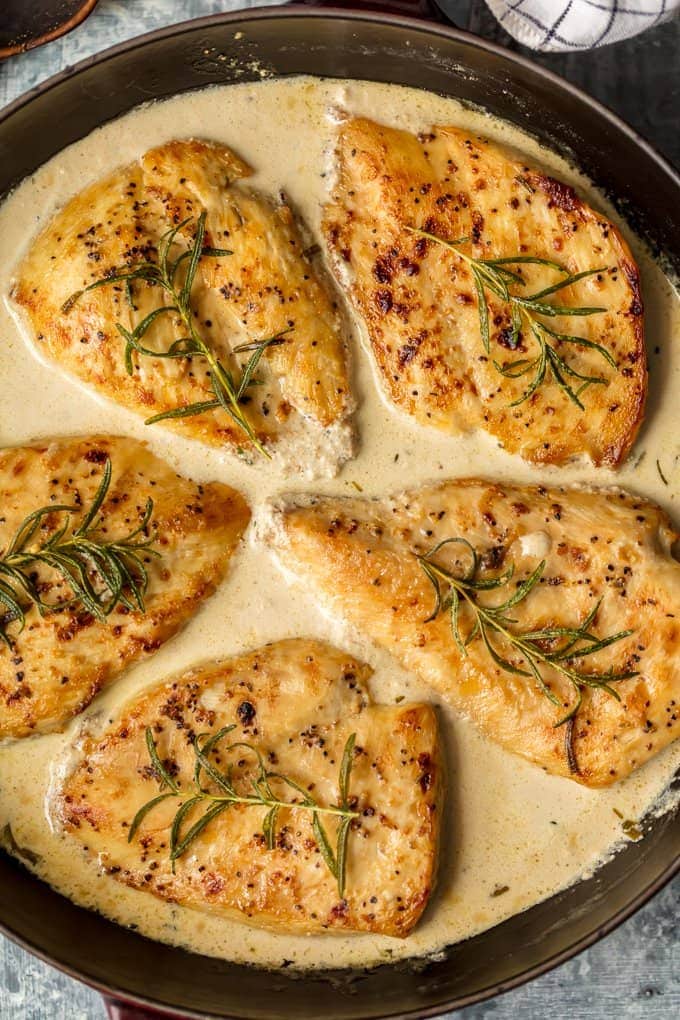 This simple Creamy White Wine Dijon Chicken is sure to become a constant on your dinner rotation. I hope you love it as much as we do!
Enjoy!
Ingredients
2 tablespoons olive oil
2 tablespoons butter, unsalted
4 cloves garlic, minced
6 sprigs fresh rosemary, (needles removed from 2 of the sprigs)
2 boneless, skinless chicken breasts
½ cup white wine (wine that is enjoyable to drink)
2 tablespoons Dijon mustard
1 tablespoon Worcestershire Sauce
1 cup heavy whipping cream
¼ cup plain Greek yogurt
Instructions
If using large chicken breasts, butterfly (cut in-half lengthwise) then pound (with a meat pounder) until even in thickness. If using small-ish breasts, just pound to an even thickness.
Heat olive oil and butter in a large skillet over medium heat. Add the rosemary needles, rosemary sprigs and sauté for 15-30 seconds (just until crisp but not brown). Transfer rosemary to a paper towel and turn the heat to medium-high.
Season chicken with salt & pepper and place in the pan. Cook 4 minutes per side. Transfer chicken to a plate. Reduce heat to low.
Deglaze the pan drippings by adding the wine to the pan while scraping it with a spatula. Turn heat to medium-low, add garlic and sauté the garlic for 30 seconds. Add in the mustard, cream and yogurt and stir until smooth. Cook the sauce 5 minutes, and add the chicken breasts. Cook an additional 10-15 minutes until sauce is thickened and chicken is no longer pink in the middle. A meat thermometer inserted in the thickest part of the breasts should read 160°F (165° max).
Garnish the chicken with the fried rosemary sprigs.
Serve with mashed, baked potatoes or pasta.
Enjoy!
7.6.4
2446
https://www.thecookierookie.com/creamy-white-wine-dijon-chicken/

JOIN OUR MAILING LIST
TO GET COOKING!
Subscibe to recieve all the latest, greatest, and EASIEST recipes sent straight to your email inbox. If we post something yummy, you'll be the first to know.