Chicken Pot Pie Soup-this easy, creamy chicken pot pie soup is made from scratch and the ultimate comfort food. Enjoy a bowl for lunch or dinner! 
Our chicken pot pie is one of our family's favorite recipes and you guys are loving it too! We love reading all of your comments about how much you love the recipe. YAY!
We decided to take our famous chicken pot pie recipe and turn it into a soup. You are going to love this creamy and comforting Chicken Pot Pie Soup. It tastes similar to our chicken pot pie, but in soup form, making it the perfect meal for fall and winter. It is on regular rotation at our house right now because it is a great quick and easy weeknight meal.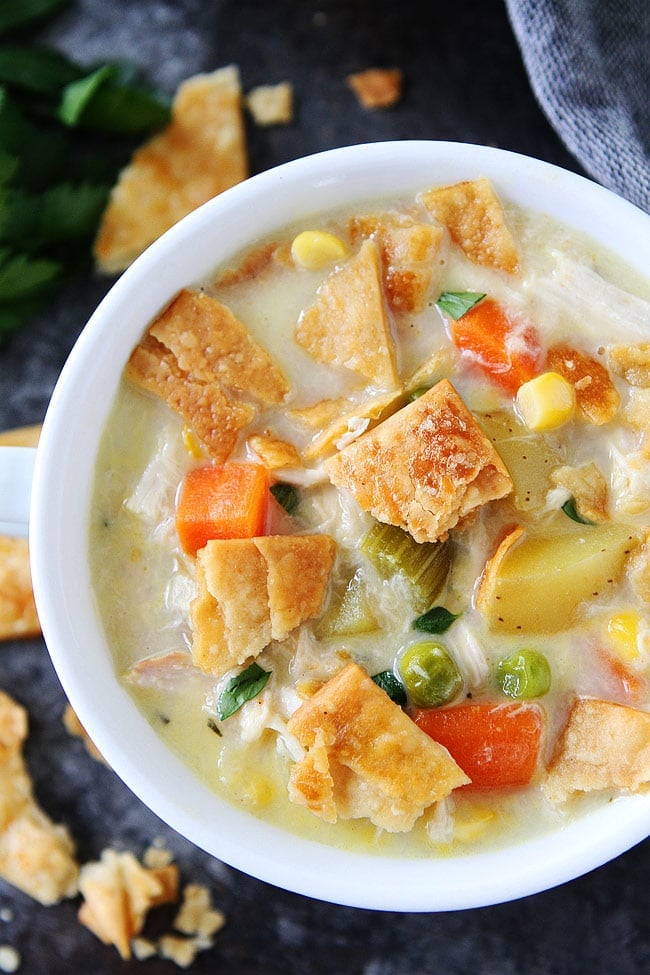 OTHER RECIPES
This soup tastes like chicken pot pie, but with half the effort. It is made in a big pot on the stove and can be eaten in bowls. Kids and adults love this hearty and comforting soup! It is always a chicken dinner winner.
Tips for Making Chicken Pot Pie Soup
To keep it easy, use shredded rotisserie chicken. You can also use leftover turkey and make turkey pot pie soup. This is a great recipe for using up leftover Thanksgiving and Christmas turkey.
We use milk instead of heavy cream to keep the soup a little lighter. Don't worry, it is still really, really creamy!
The soup is loaded with carrots, celery, potatoes, peas, and corn. Lots of kid friendly vegetables:) If you want to throw in mushrooms or green beans, go for it. They would be good too!
If you don't have fresh thyme, you can use dried thyme, but only use 1/2 teaspoon because dried herbs are stronger than fresh herbs.
We like to serve the soup with pie crust crackers. They are easy to make, see instructions below. You can also serve the soup with crackers or homemade biscuits.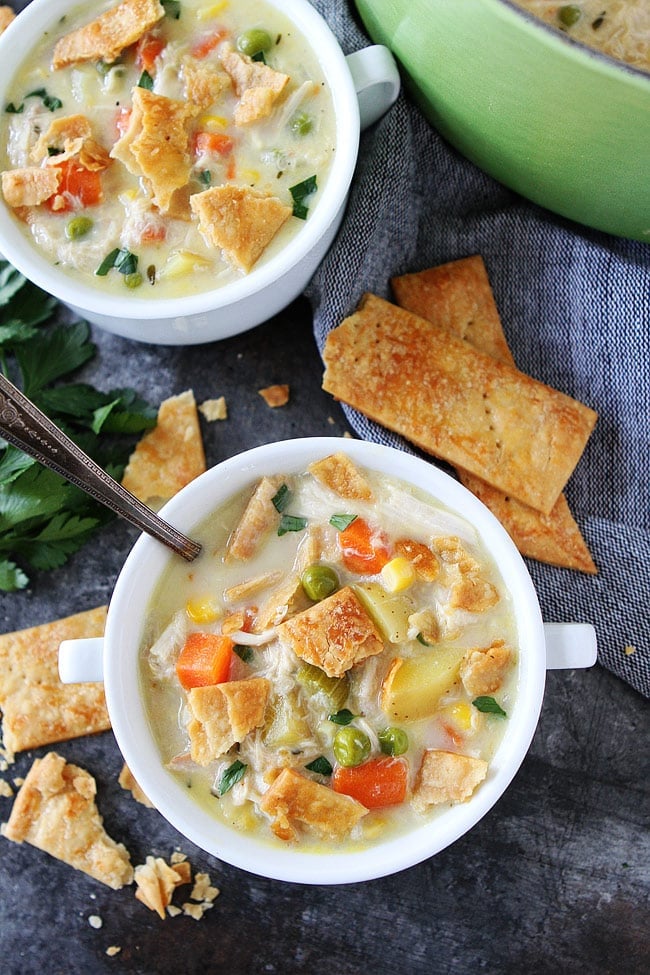 Fill a bowl with chicken pot pie soup and get cozy! This easy soup is guaranteed to be a family dinner favorite! Enjoy!
If you like this chicken pot pie soup recipe, you might also like: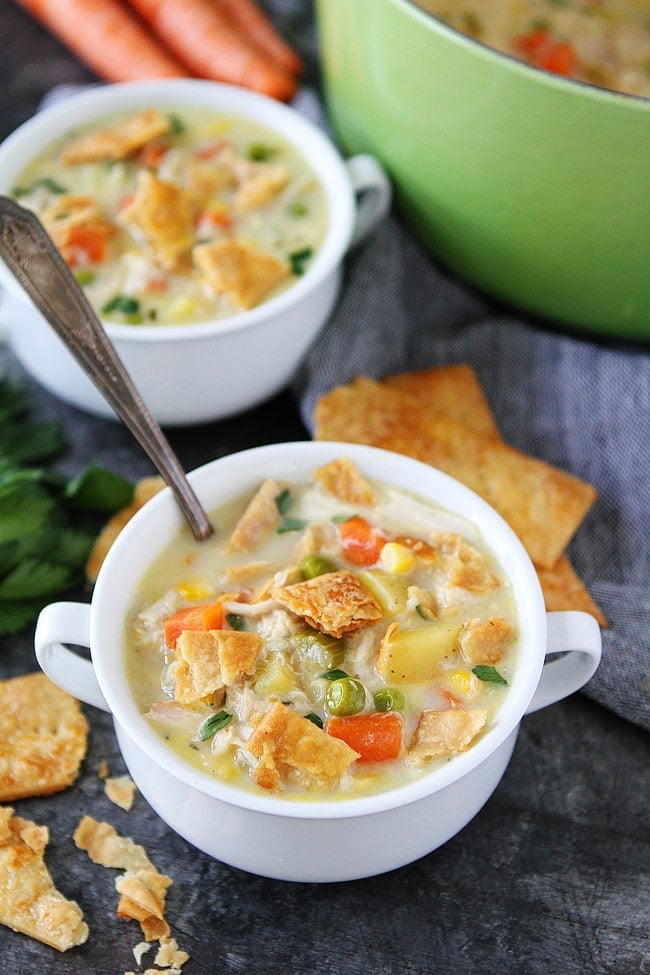 Chicken Pot Pie Soup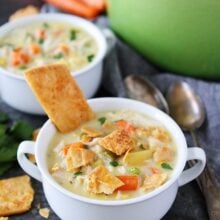 This easy, creamy chicken pot pie soup is made from scratch and the ultimate comfort food. We like to serve the soup with pie crust crackers, which are fun and easy to make. Enjoy a bowl for lunch or dinner!
Yield: Serves 6
Prep Time: 15 minutes
Cook Time: 35 minutes
Total Time: 50 minutes
Ingredients:
4 tablespoons unsalted butter
1 small yellow onion
2 celery stalks, chopped
2 carrots, peeled and chopped
3 cloves garlic, minced
2 bay leaves
2 medium Yukon gold potatoes, diced
1/4 cup all-purpose flour (can use gluten-free flour)
3 (14 oz) cans chicken broth
1 1/2-2 cups milk (we use 2%)
1 1/2 teaspoons chopped fresh thyme
2 cups shredded chicken (or leftover turkey)
1/2 cup frozen peas
1/2 cup frozen corn
Kosher salt and black pepper, to taste
1 tablespoon fresh chopped parsley
Pie crust, optional for making pie crust crackers, see note
Directions:
In a large soup pot, heat the butter over medium heat. Add the onion, celery, carrots and cook until tender, about 5 minutes. Add in the garlic, bay leaves, and potatoes. Sprinkle with flour and stir until veggies are coated and flour starts to dissolve.
Add in the chicken broth, 1 1/2 cups milk, and fresh thyme. Stir and reduce the heat to low. Let the soup simmer for 20 minutes or until the potatoes are tender.
Stir in the shredded chicken, peas, and corn. Season with salt and pepper, to taste. Let the soup simmer for another 10 minutes. If the soup is too thick, add the additional 1/2 cup of milk.
Stir in the parsley and remove the bay leaves. Ladle the soup into bowls. Serve with pie crust crackers, if desired.
Note-to make the pie crust crackers, preheat the oven to 375 degrees F. Roll out your favorite pie crust, store bought is fine. Carefully transfer pie crust to a large baking sheet that is lined with a Silpat baking mat or parchment paper. Brush the pie crust with a little melted butter and sprinkle with a little salt. Cut into thick strips with a pizza cutter or knife. Bake for 12-15 minutes or until pie crust crackers are golden brown and crispy. Remove from the oven and let cool to room temperature. Break into pieces and serve with the chicken pot pie soup.


All images and text ©Two Peas & Their Pod.




Follow twopeasandpod on Instagram and show us what recipes you are making from our blog! Use the hashtag #twopeasandtheirpod! We want to see what you are making in your kitchen!