Cheesy Garlic Sweet Potatoes are the perfect side dish OR snack! Warm Mozzarella cheese and parmesan top these tender garlic butter smothered sweet potatoes! 
With Thanksgiving fast approaching for a lot of my readers, I need to get my stuffing onnnn and pump out some recipes to help you guys out! Now, I know most of you guys LOVE your sweet stuff smothered and topped with sugar, pecans, more sugar, maple syrup, and did I mention sugar? Something like this Sweet Potato Casserole — all lightened up, which by the way, AMAZING and now I'm loving them like you do too! BUUUHT I'm here to give you guys THIS amazing option!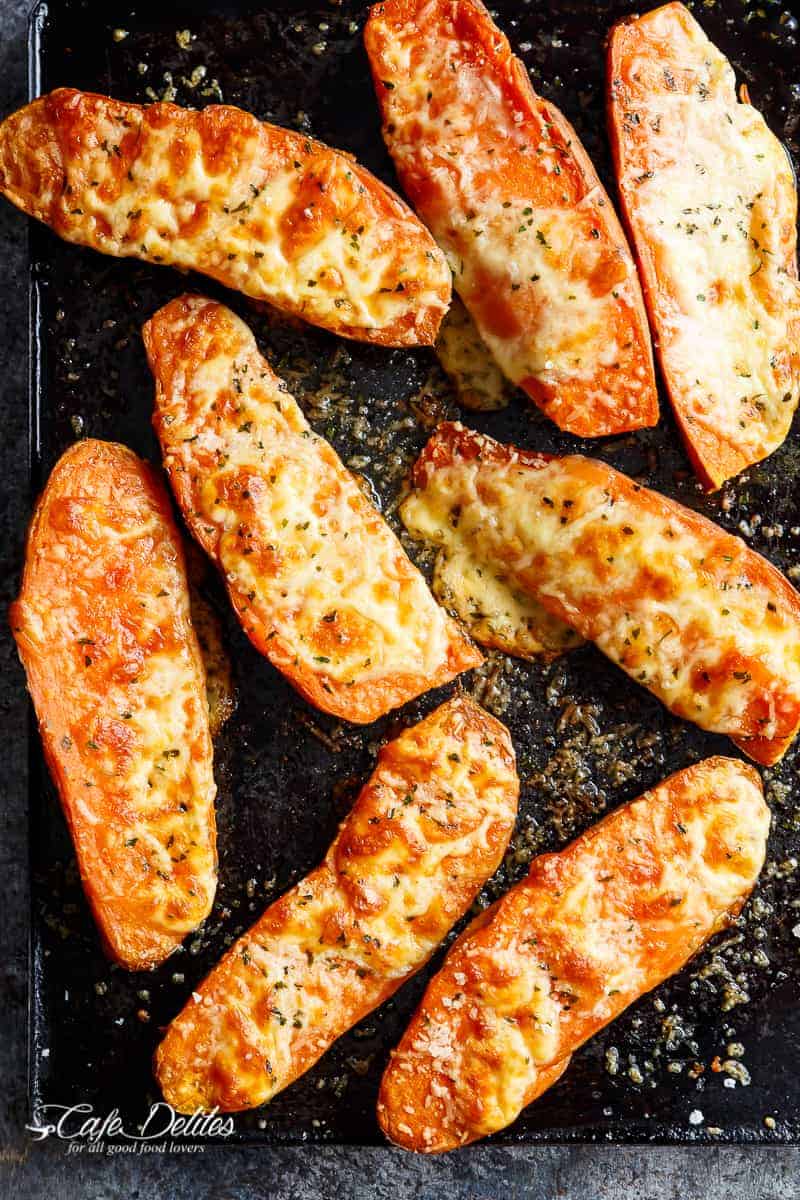 I turned some fine looking sweet potatoes INTO some delicious, sexy looking cheesy garlic sweet potatoes.
YES I DID.
You may (or may not) be asking WHY and HOW?! Well over here in Australia, we love our sweet potatoes smothered in garlic, olive oil or butter and herbs, and roasted next to a nice and juicy Roast Lamb or a gorgeous piece of Prime Rib. Having said all of this, I ALSO know that the whole entire world LOVES garlic bread. ESPECIALLY cheesy garlic bread.
So THIS is an epic hybrid of THOSE TWO loves turned into one!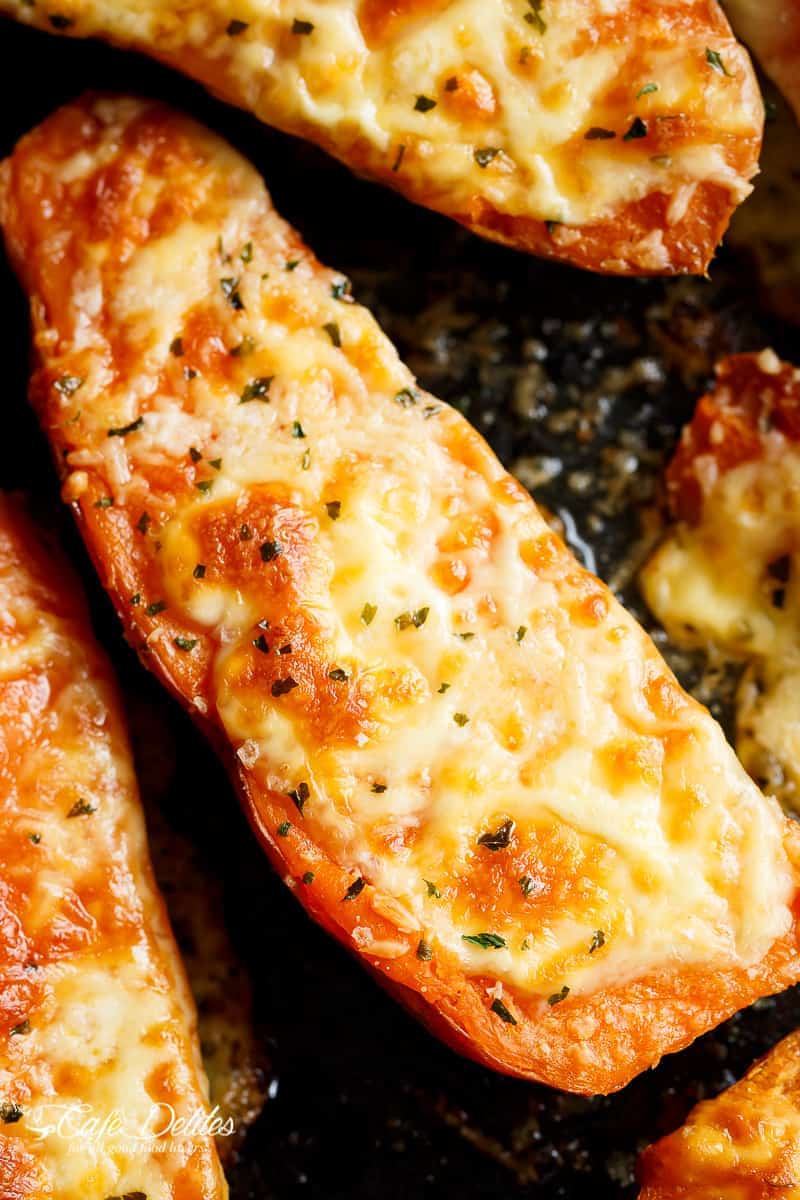 How To Make Cheesy Garlic Sweet Potatoes
You can go crazy with his recipe. Use Gouda cheese, or Gruyere, or Swiss, or Cheddar! Whatever rocks your boat. We personally love the mozzarella and parmesan combo, but you can do whatever you like!
I use this EASY garlic butter recipe, melt it and go to town on these sweet potatoes with it. You can halve the recipe or use the entire amount. If you love BUTTER, go the whole amount ;)? I won't tell.
The next steps are so super simple, they don't even need directions. Just halve, roast, smother, sprinkle, EAT!
I top mine with parsley, but you can use dried thyme or rosemary.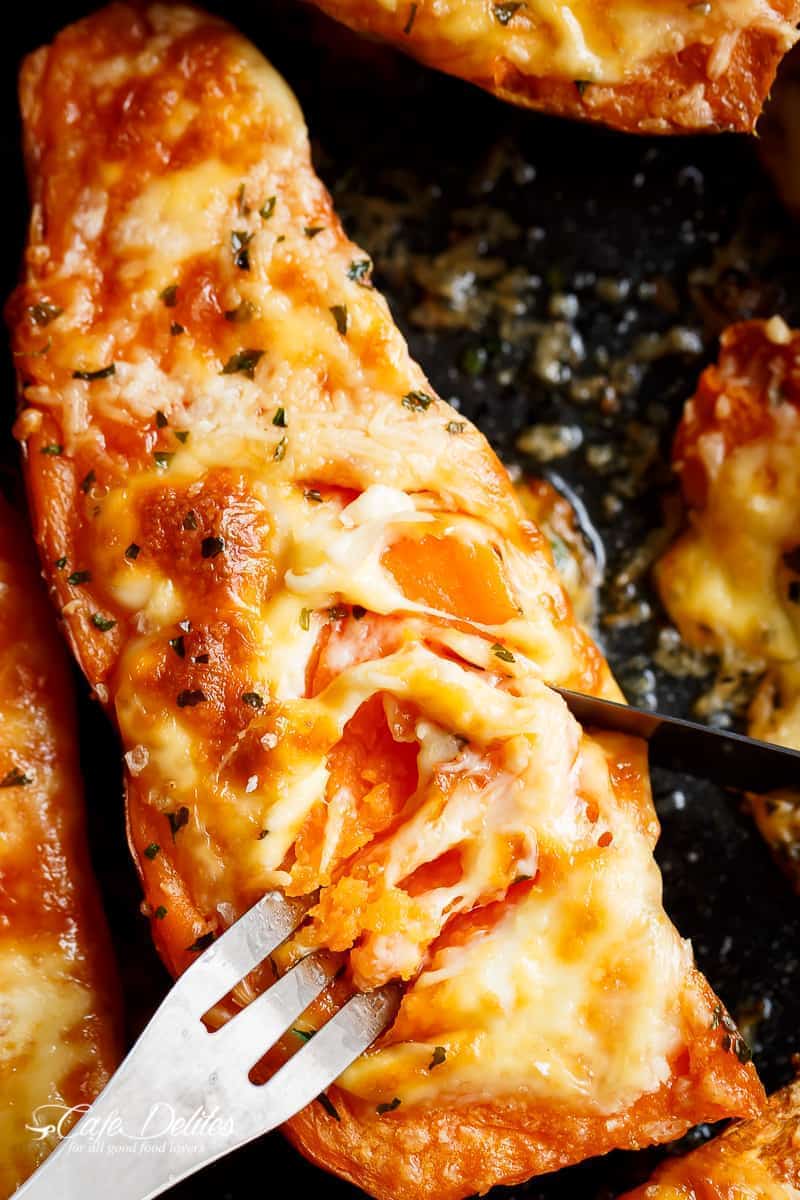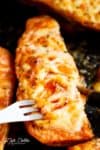 Print
Cheesy Garlic Sweet Potatoes
Cheesy Garlic Sweet Potatoes are the perfect side dish OR snack! Mozzarella cheese and parmesan top these tender garlic butter smothered sweet potatoes! 
Course: Side Dish
Cuisine: American
Servings: 8 people
Calories: 162 kcal
Author: Karina
Ingredients
4

small or medium sized sweet potatoes

halved lengthwise (ends trimmed)

1/4

cup

Garlic Butter

melted

Sea salt

to taste

Black pepper

to taste

3/4

cup

shredded Mozzarella cheese

1/2

cup

Parmesan cheese

fresh grated

2

tablespoons

dried or fresh chopped parsley
Instructions
Heat oven to 220°C | 425°F. Brush the potatoes with the garlic butter and season each potato with salt and pepper. Arrange cut-side down on a lightly greased baking sheet until golden brown and the flesh is tender (about 20-30 minutes, depending on your oven).

Remove them from the oven, flip them cut-side up (skin side down) and top with the mozzarella, parmesan and parsley.

Change oven settings to broil on low or medium heat and broil until the cheese is golden and melted (about 2 minutes). Sprinkle with more salt and pepper, if desired. Serve warm.
Nutrition Facts
Cheesy Garlic Sweet Potatoes
Amount Per Serving
Calories 162 Calories from Fat 81
% Daily Value*
Total Fat 9g 14%
Saturated Fat 6g 30%
Cholesterol 27mg 9%
Sodium 252mg 11%
Potassium 232mg 7%
Total Carbohydrates 13g 4%
Dietary Fiber 1g 4%
Sugars 2g
Protein 5g 10%
Vitamin A 190.4%
Vitamin C 1.9%
Calcium 14.8%
Iron 2.7%
* Percent Daily Values are based on a 2000 calorie diet.
MORE SIDES BELOW!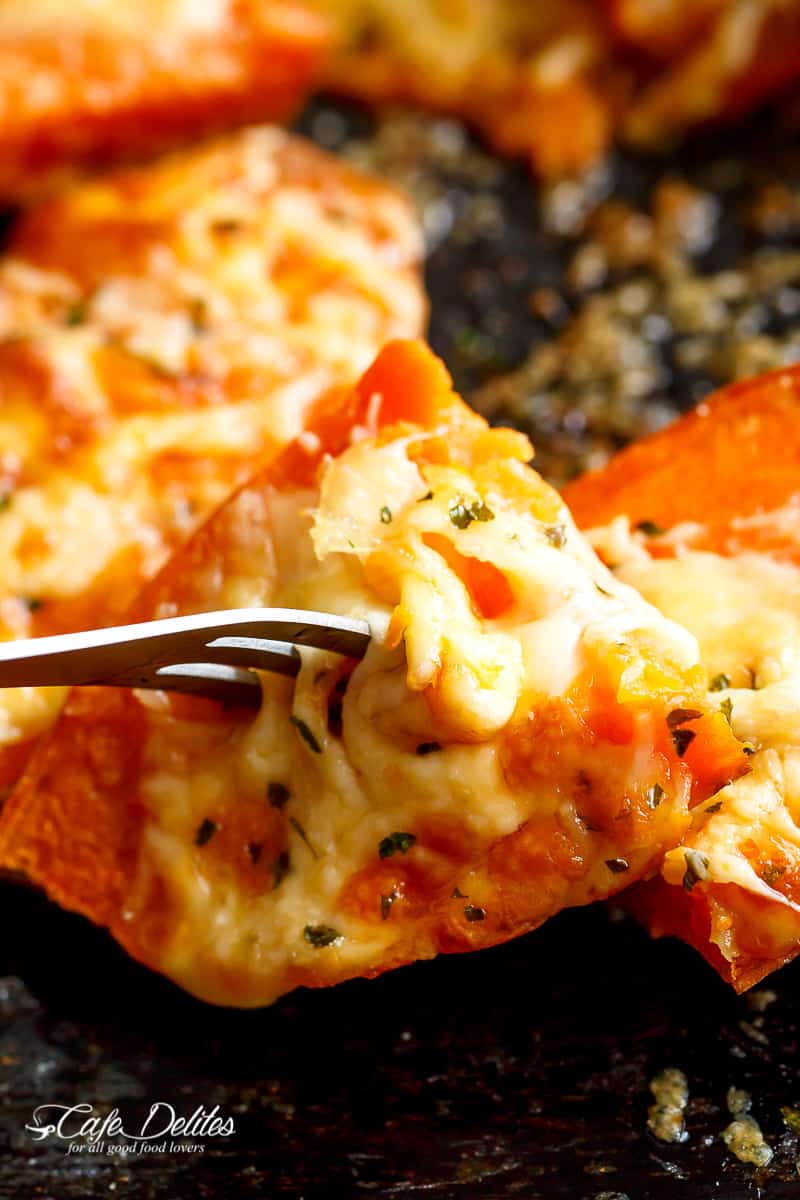 Garlic Parmesan Mac And Cheese
Stove Top Green Bean Parmesan Casserole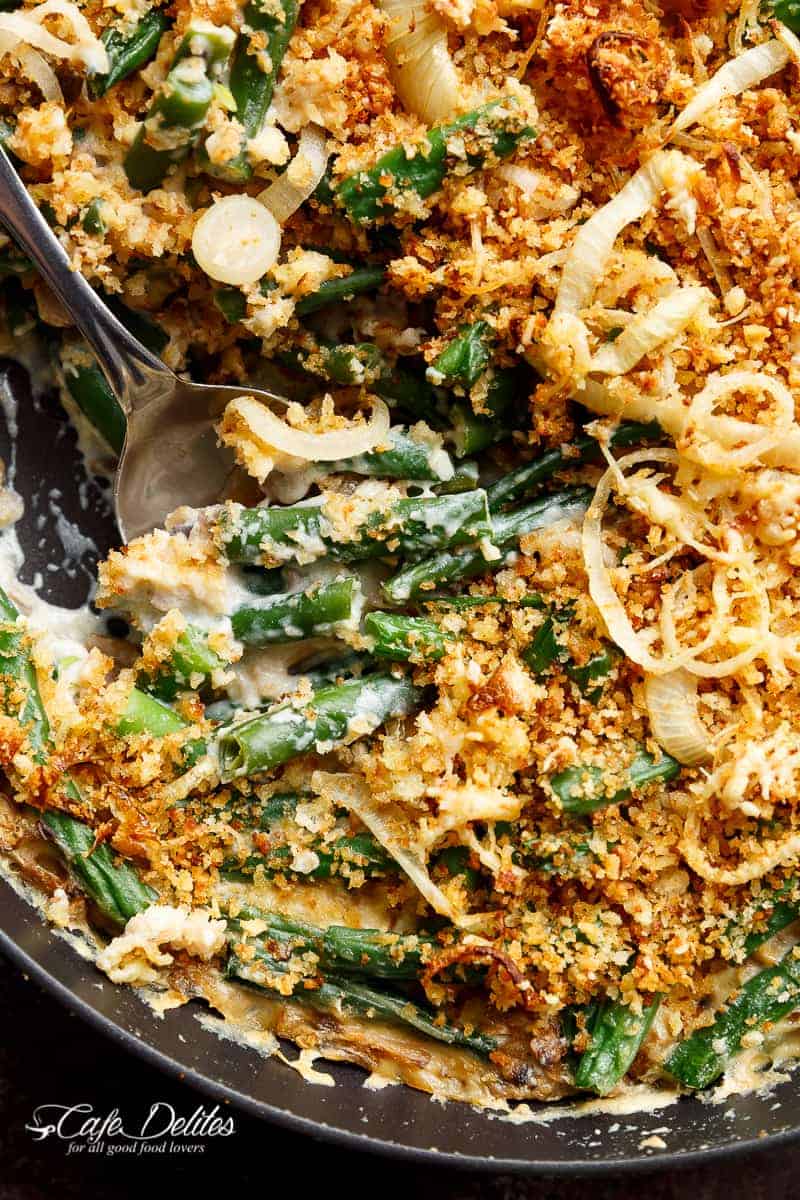 Crispy Garlic Butter Parmesan Smashed Potatoes