These Chocolate Sour Cream Sugar Cookies are super soft and smothered in chocolate cream cheese frosting — it's everything a chocolate cookie should be! Includes a step by step recipe video.
*You'll find the giveaway on this post down below the recipe!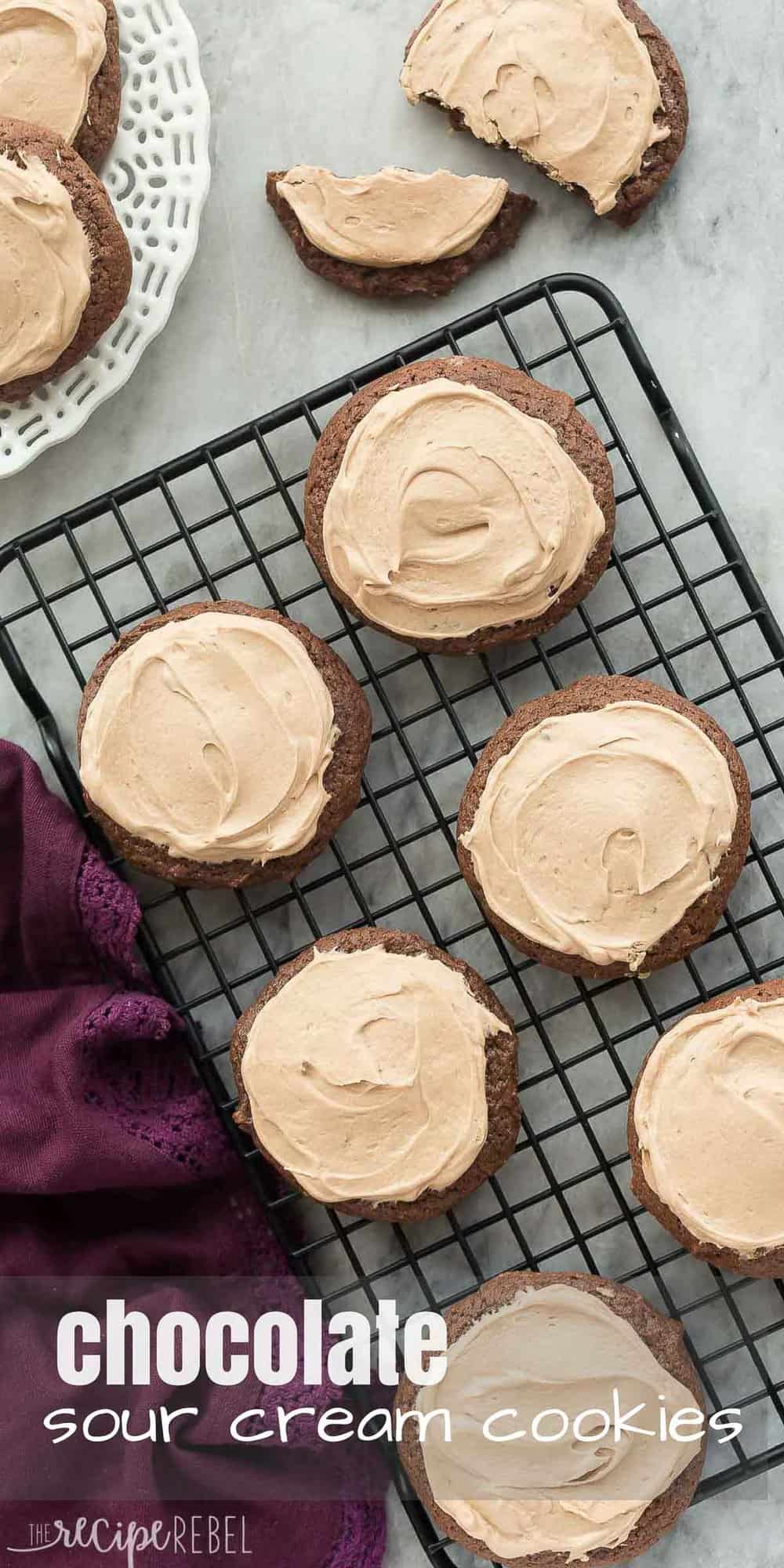 Remember these  Sour Cream Sugar Cookies and these Lemon Sour Cream Sugar Cookies? You're not sick of cookies yet, are you?
Because we're back with one of my favorite variations yet: CHOCOLATE.
The all caps are totally necessary, friends.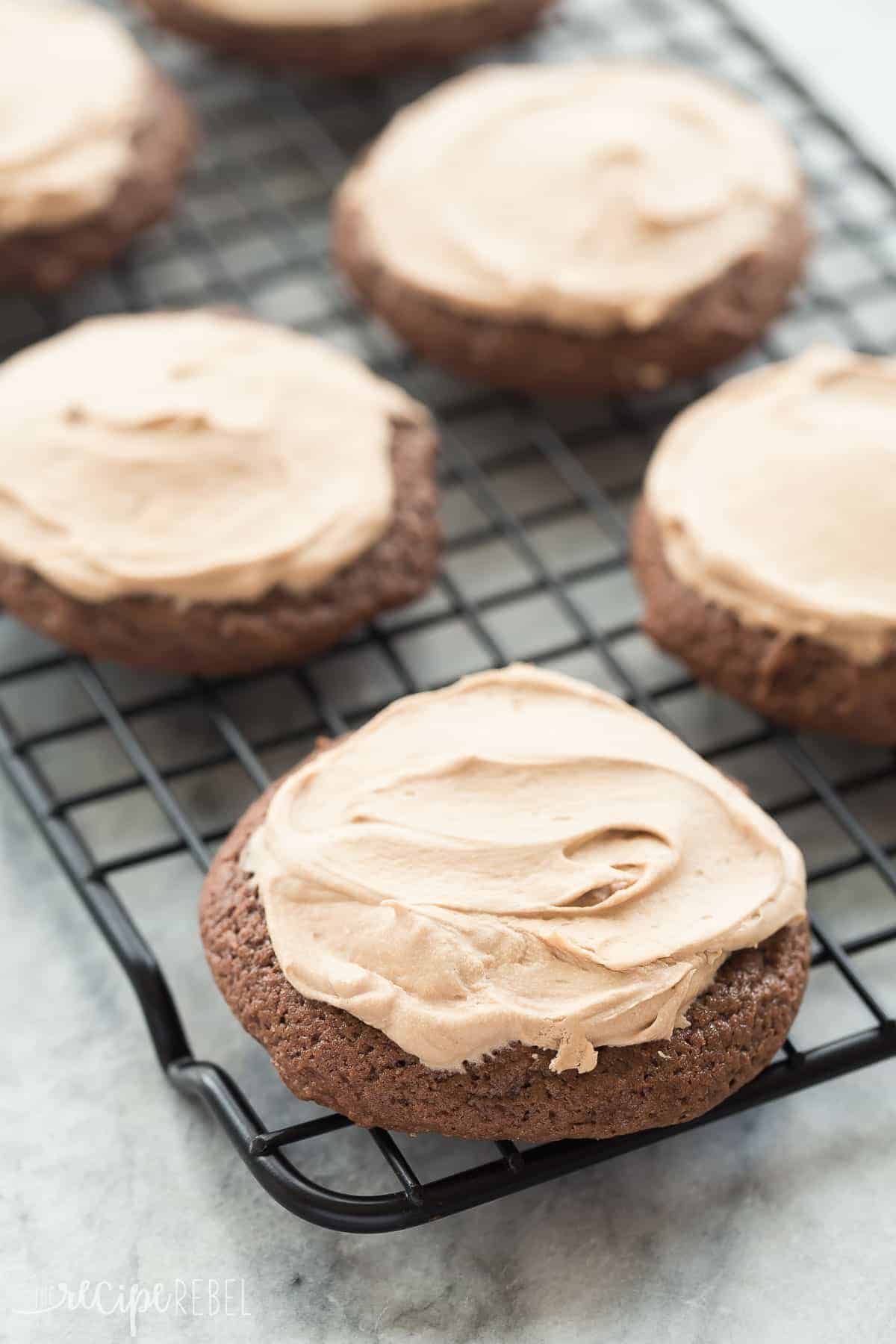 Over the last year or two I have become a total cookie fanatic. I think the right cookie could nearly "take the cake" as my favorite dessert pick. The only problem is I can't seem to stop at one… or two…. or….
But, hey — it's November which means we're in full on Christmas baking season and I won't apologize.
For this twist on my Grandma's cookie recipe, I'm smothering these beauties in chocolate cream cheese frosting. It's rich and tangy and it just goes so perfectly with these soft cookies.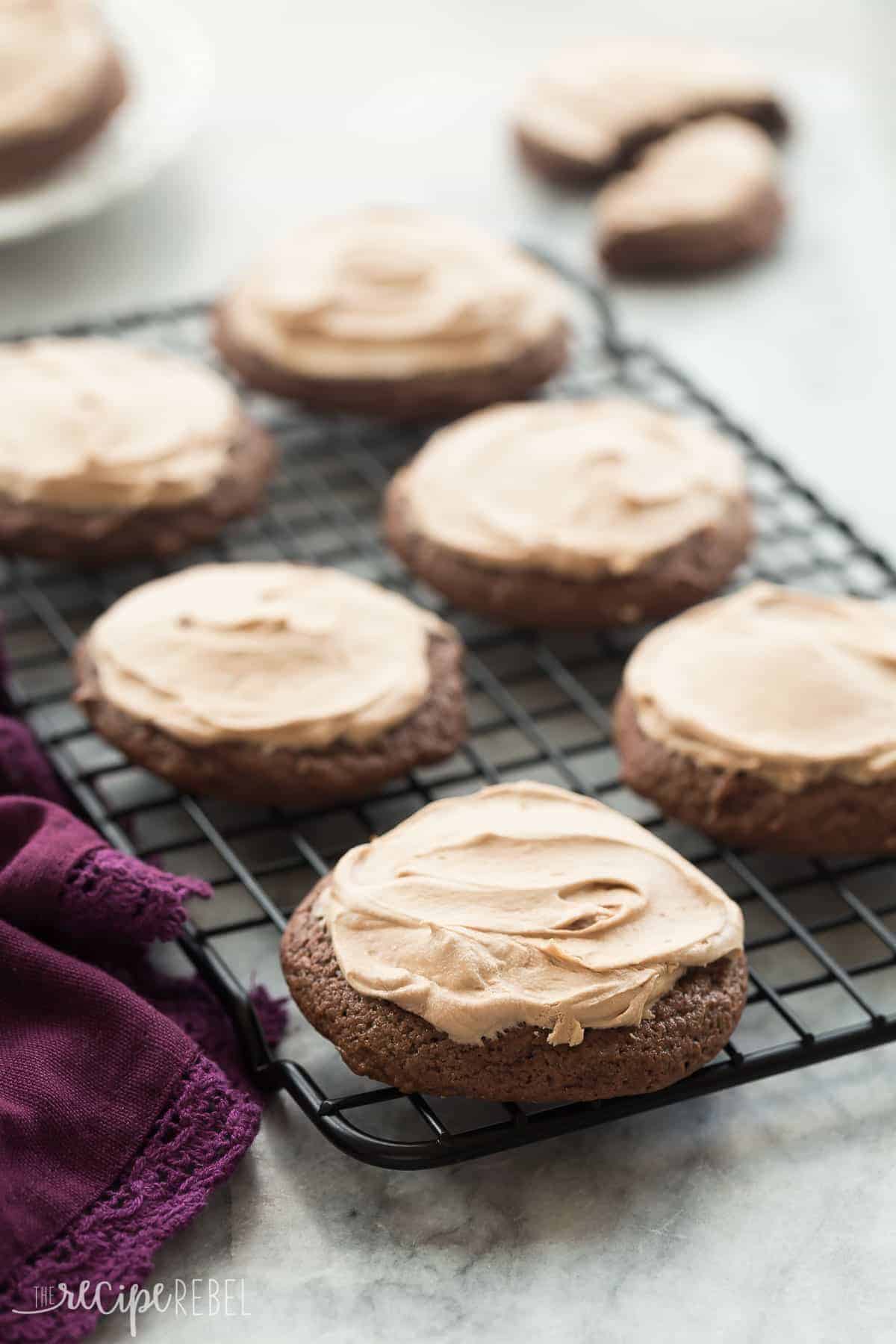 Tips and Tricks for Making these Chocolate Sour Cream Sugar Cookies:
These sugar cookies are tender and cakey and they melt in your mouth — you won't want to roll these out, because the dough is quite sticky. Resist the urge to add flour or you will probably end up with hockey pucks!
I haven't tried refrigerating the dough overnight, so I can't say how they will turn out. I tried refrigerating for 1 hour, and I still liked them better baked right away.
The cookies themselves are not overly sweet. I do this because they are a frosted cookie. If you are planning to skip the frosting, understand that your end result won't be super sweet.
You can use a regular chocolate buttercream frosting (or vanilla, or mint, or peanut butter — the options are endless!) if you don't want to do cream cheese.
24 cookies
adjust servings
Chocolate Sour Cream Sugar Cookies Recipe + VIDEO
Preparation
15 mins
Prep Time
Cook Time
10 mins
Cook Time
Total Time
0:25
Total Time
These Chocolate Sour Cream Sugar Cookies are super soft and smothered in chocolate cream cheese frosting — it's everything a chocolate cookie should be! Includes a step by step recipe video.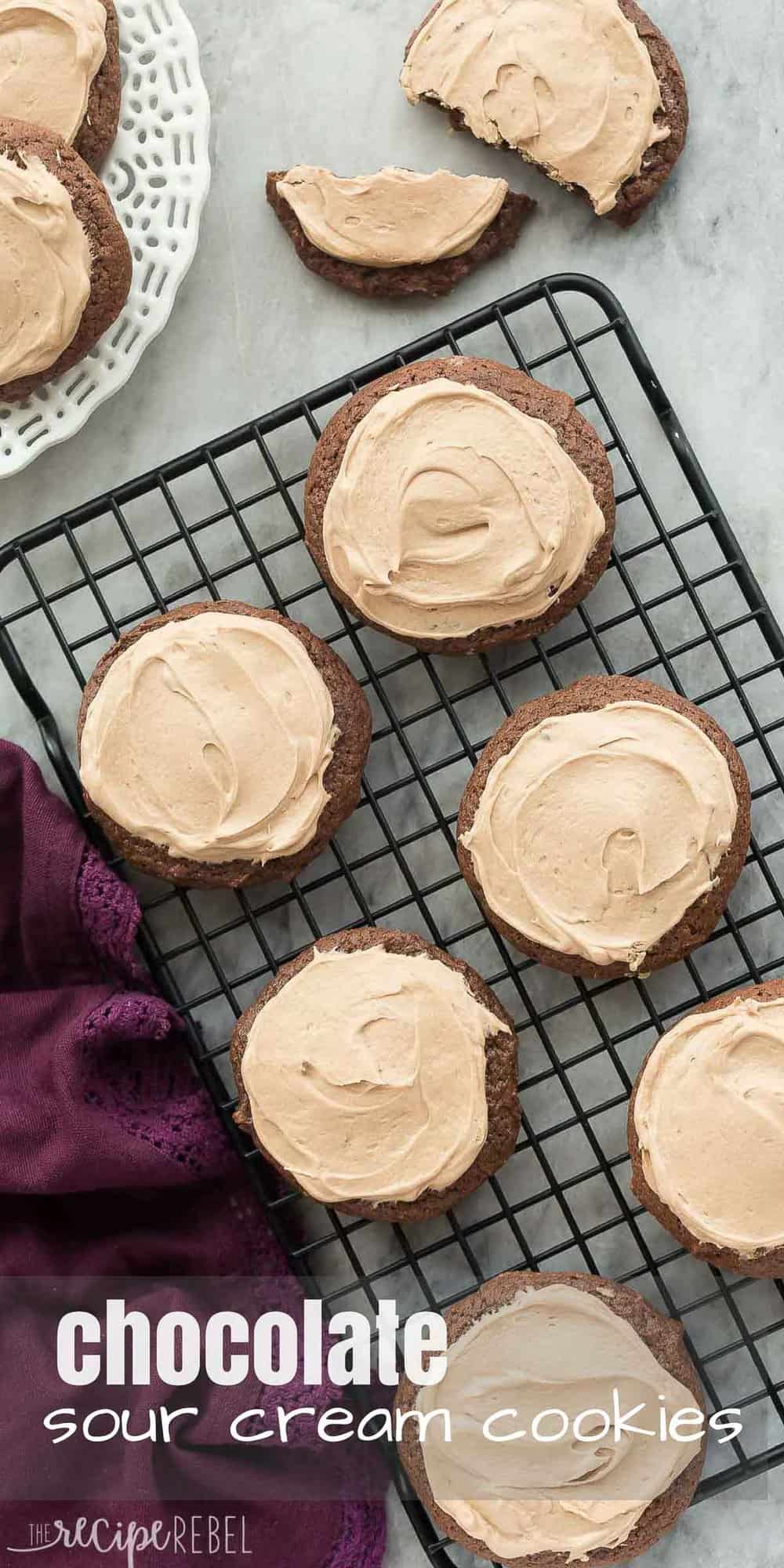 Ingredients

1/2

cup butter, room temperature

2

cups (400g) sugar

1/2

cup sour cream

3

large eggs

1

teaspoon vanilla

3 1/2

(435g) cups flour

1/2

cup unsweetened cocoa powder

1/2

teaspoon baking soda

2

teaspoons baking powder
Chocolate Cream Cheese Frosting

1/2

cup milk chocolate, chopped

2

tablespoons cream

4

oz (125g) cream cheese, room temperature

1/4

cup butter, room temperature

1 1/2

cups powdered icing sugar
Instructions
In a large bowl with an electric mixer, beat butter and sugar on high until combined.
Add sour cream, eggs and vanilla, and beat until smooth.
Add flour, cocoa, baking soda and baking powder and beat on low until combined — dough will be soft, almost like thick cake batter. Do NOT add flour.
Preheat oven to 350 degrees F and line baking sheets with parchment paper. Drop by heaping tablespoonfuls (or a 2 TBSP cookie scoop) onto baking sheets 2-3 inches apart and bake for 9-11 minutes, until edges are golden and centers are set.
Make the frosting:
In a small microwave-safe bowl, combine chocolate and cream. Microwave on high in 10-20 second intervals, stirring well each time, until chocolate is melted. Set aside.
In a large bowl, beat cream cheese and butter until smooth. Add the melted chocolate and powdered sugar and beat until smooth and creamy, 2-3 minutes. Spread over cooled cookies and serve or refrigerate to set the frosting. Store in the refrigerator for up to 4 days or in the freezer (I recommend freezing in a single layer before stacking) for up to 3 months.
Watch the recipe video and see how easy they are to make!

HOLIDAY BAKING GIVEAWAY!
In case you didn't know, the uber-talented Katherine Penfold is my BFF from high school (whaaaat?!? I know you didn't know I was that cool). She has just released a new Christmas album (yes, I'm going there), so we've teamed up to bring you some of my favorite holiday baking things plus some great tunes to keep going through the sugar cookies, butter tarts and chocolate truffles.
Here's what you'll get: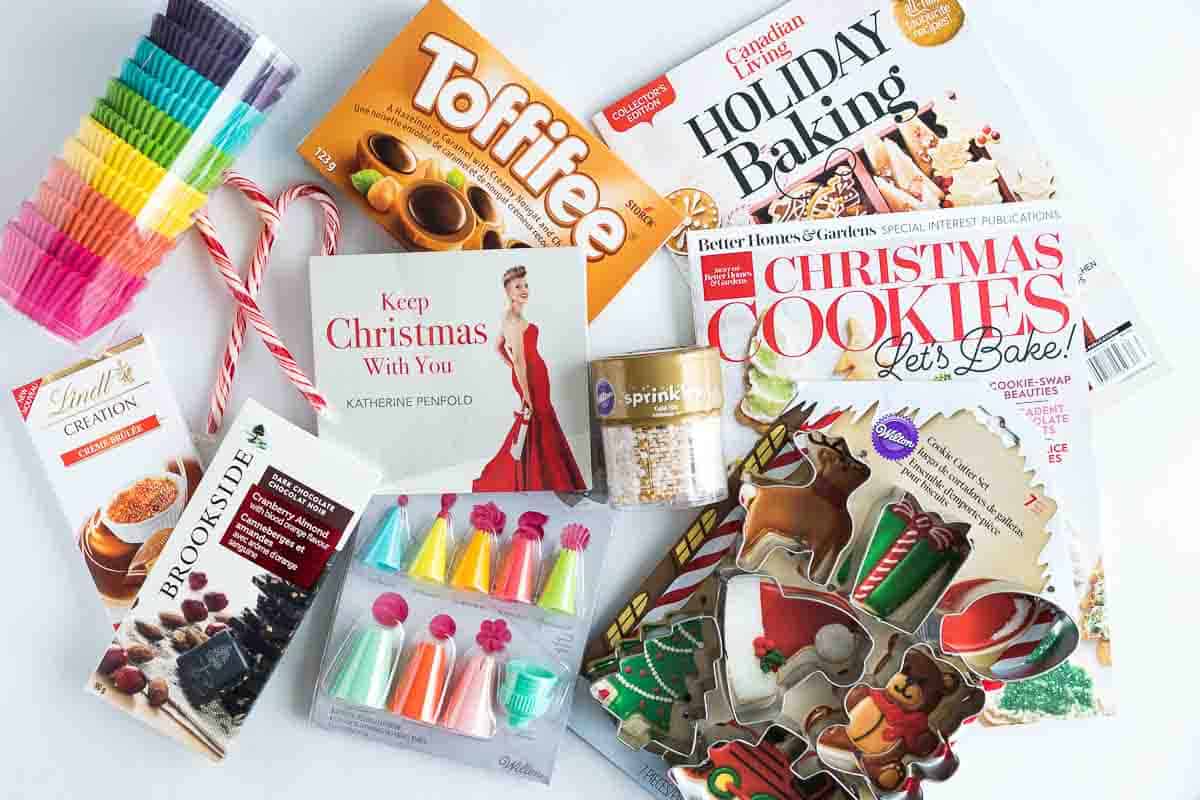 Cupcake liners
Piping tips
Christmas-themed cookie cutters
Sprinkles!
Canadian Living's "Holiday Baking"
Better Homes and Gardens "Christmas Cookies"
Goodies for munching as pictured ?
"Keep Christmas With You" from Katherine Penfold
TO ENTER:
Leave me a comment below telling me your FAVORITE thing to make or bake around the holidays — what are your favorite holiday treats??
Giveaway is open to Canadian or U.S. residents over the age of majority. The giveaway starts NOW, November 6, 2017 at time of posting and goes until November 11th at 11:59 pm CST. A winner will be chosen and notified by email within 24 hours, provided I am not camped out in the maternity ward of a nearby hospital (yes — that's a possibility!). In that case, give me a few days ;). Winner must respond and answer a skill testing question within 48 hours or a new winner will be chosen.  Prize is as pictured and will be shipped via Canada Post so please allow a reasonable amount of time for shipping.