Mashed Sweet Potatoes are an easy, healthy, and delicious side dish for Thanksgiving, Christmas, or any meal.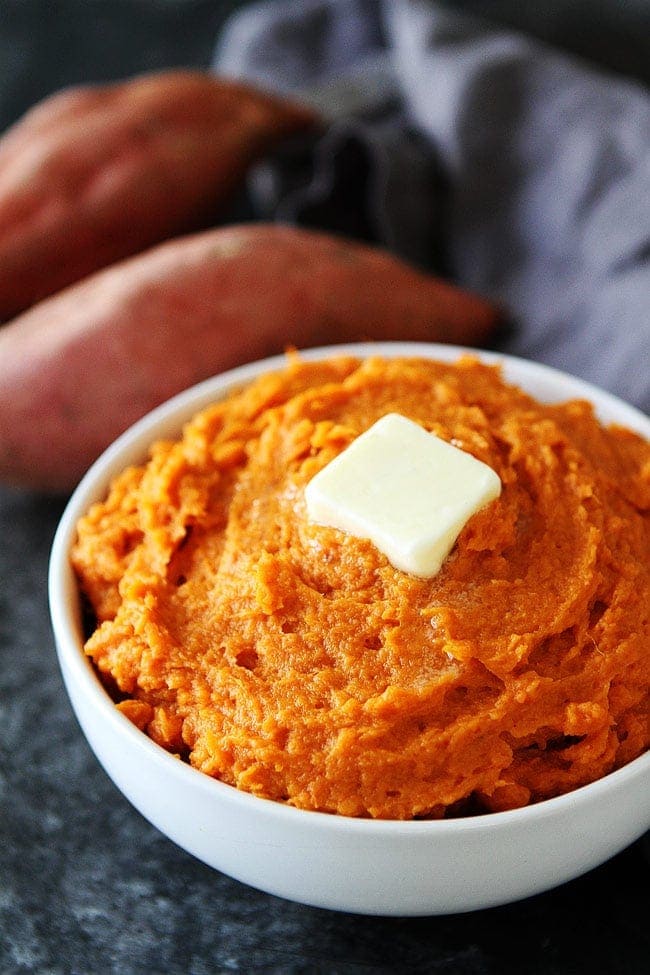 I think Mashed Sweet Potatoes are underrated. Regular old mashed potatoes tend to get all of the attention. Sure, I like mashed potatoes, but I think mashed sweet potatoes are much better than the classic side dish.
So today, I am putting the spotlight on Mashed Sweet Potatoes. They deserve some attention and I really think you should add them to your Thanksgiving menu. I make them every year and they are always a hit!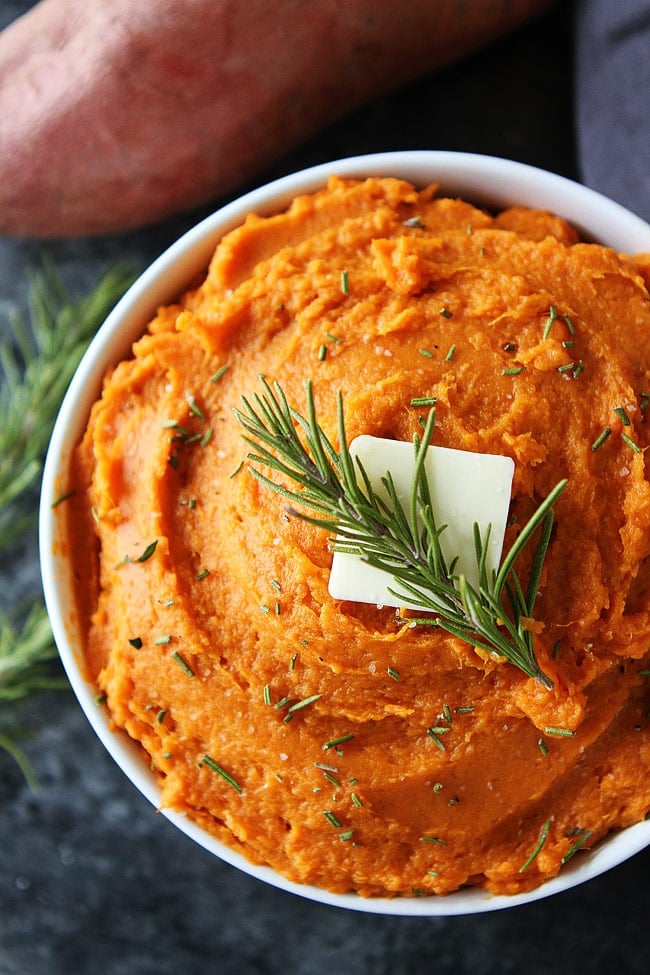 OTHER RECIPES
How to Make Mashed Sweet Potatoes
You can roast the sweet potatoes and then mash them, but I prefer to boil the sweet potatoes because the oven is always occupied on Thanksgiving and Christmas. Plus, boiling the sweet potatoes is so easy and always creates creamy potatoes.
I always peel the potatoes. If you like a chunkier mash, you can leave the skins on.
After you boil the potatoes, make sure you drain them well in a colander.
I like to use a potato masher to mash the sweet potatoes. You can use a hand blender if you wish.
For best results, mash with milk and butter. If you need them to be vegan or dairy free, you can use coconut milk or almond milk and coconut oil.
Season with salt. Salt is a must!
I love basic mashed sweet potatoes with a little butter and salt, but there are lots of ways to serve up mashed sweet potatoes. If you want to jazz them up, here are a few ideas:
Serve with brown butter or honey butter
Top with candied pecans or toasted pecans
Sweeten with pure maple syrup or brown sugar
Sprinkle in ground cinnamon and/or nutmeg
Add in fresh rosemary and roasted garlic
Stir in Parmesan cheese, Gruyere cheese, white cheddar cheese, or even a little blue cheese
Spice them up with chipotle peppers
Mashed sweet potatoes aren't boring! My favorite way to serve them is with brown butter, a little pure maple syrup, a dash of cinnamon, AND candied pecans on top! The combo is amazing!
And if you have leftover mashed sweet potatoes, you can make our favorite Sweet Potato Rolls. I usually make extra mashed sweet potatoes so I HAVE to make the rolls, ha!
Add Mashed Sweet Potatoes to your holiday menu this year! Enjoy!
Looking for other holiday side dishes?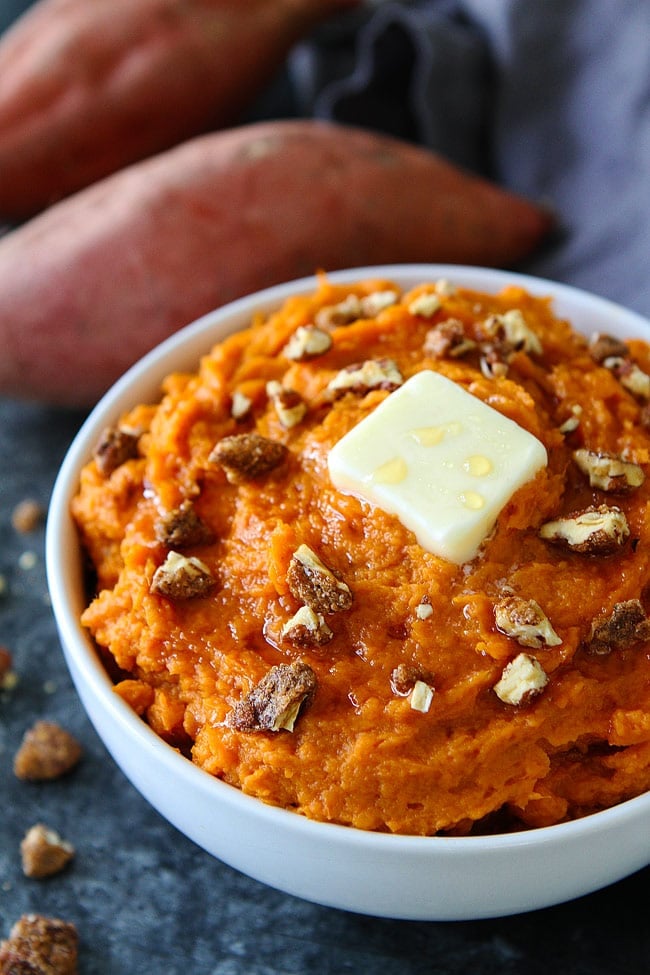 Mashed Sweet Potatoes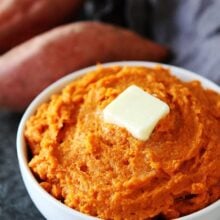 Mashed sweet potatoes are easy to make and a great side dish to all of your holiday meals.
Yield: Serves 6
Prep Time: 5 minutes
Cook Time: 15 minutes
Total Time: 20 minutes
Ingredients:
2 lbs sweet potatoes, peeled and cut into 1-inch pieces
1/4 cup to 1/3 cup milk
2 tablespoons salted butter
1/4 teaspoon Kosher salt or sea salt
Directions:
Bring a large pot of salted water to boil. Carefully add the sweet potatoes. Reduce heat to medium and cook, uncovered, for 15 minutes or until sweet potatoes are fork tender.

Drain the sweet potatoes in a colander, shaking to remove all of the water. Place the sweet potatoes in a large bowl and add 1/4 cup milk, butter, and salt. Use a potato masher or hand blender and mash the potatoes until smooth. Add additional milk, if necessary. Serve warm. 
Note-see the post for different ways to flavor and spice up mashed sweet potatoes.


All images and text ©Two Peas & Their Pod.




Follow twopeasandpod on Instagram and show us what recipes you are making from our blog! Use the hashtag #twopeasandtheirpod! We want to see what you are making in your kitchen!