This BEST EVER SKILLET STEAK is smothered in a Peppercorn Cream Sauce fit for a king. This restaurant style steak is so easy to perfect right in your own home. The only way we cook filet mignon!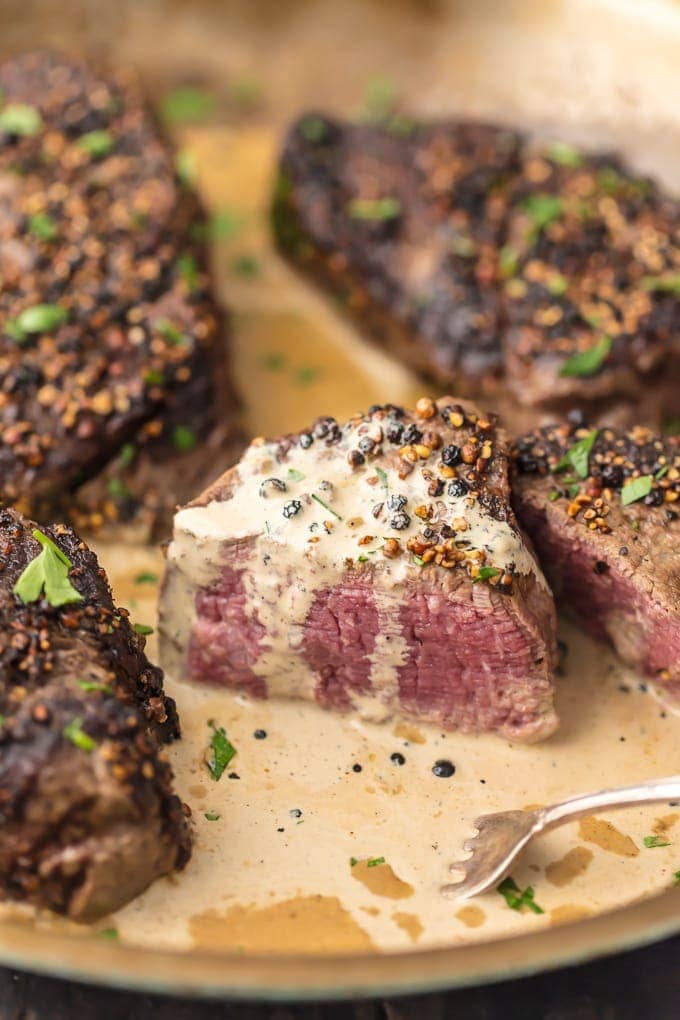 YOU GUYS. I'm completely in LOVE with today's recipe…The ultimate, perfect, BEST EVER SKILLET STEAK crusted with peppercorns and doused in a utterly insane Brandy Cream Sauce. Rarely have I been this proud of a recipe, and I cannot wait for you to try it for yourselves! A great steak via stovetop isn't possible without amazing cookware, so I'm also oh so excited to talk to you about my new fave, Made In Cookware!
Black Friday Deals are going on RIGHT NOW (20-35% off the entire site) so stock up for Christmas, Weddings, and most importantly, YOURSELF.
So many heart eyes over both this meal and the cookware…today is a great day. Buckle up!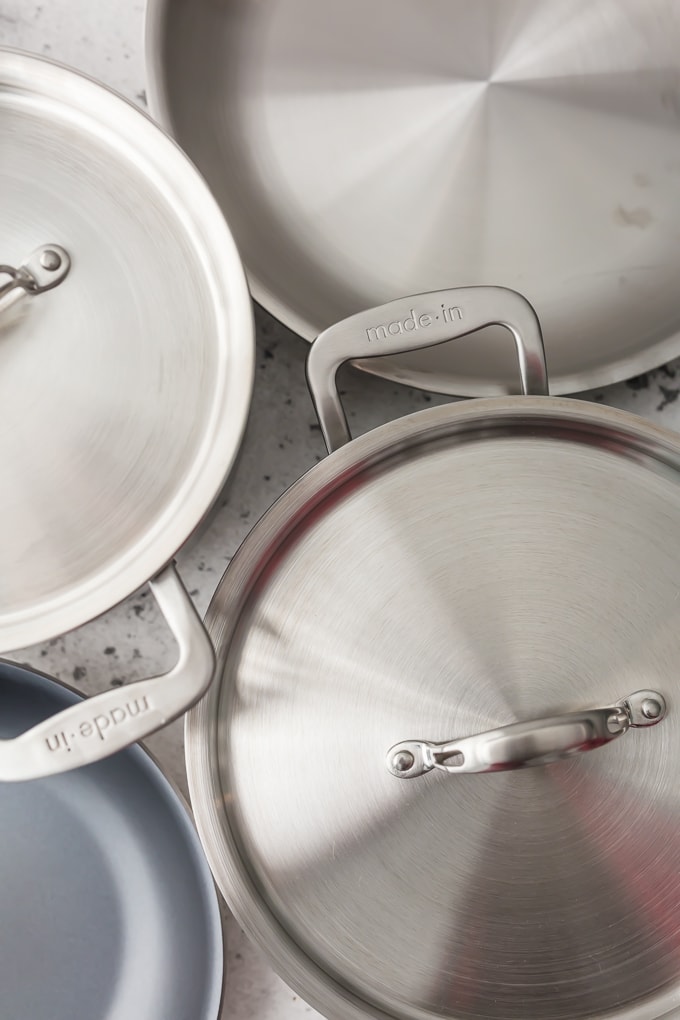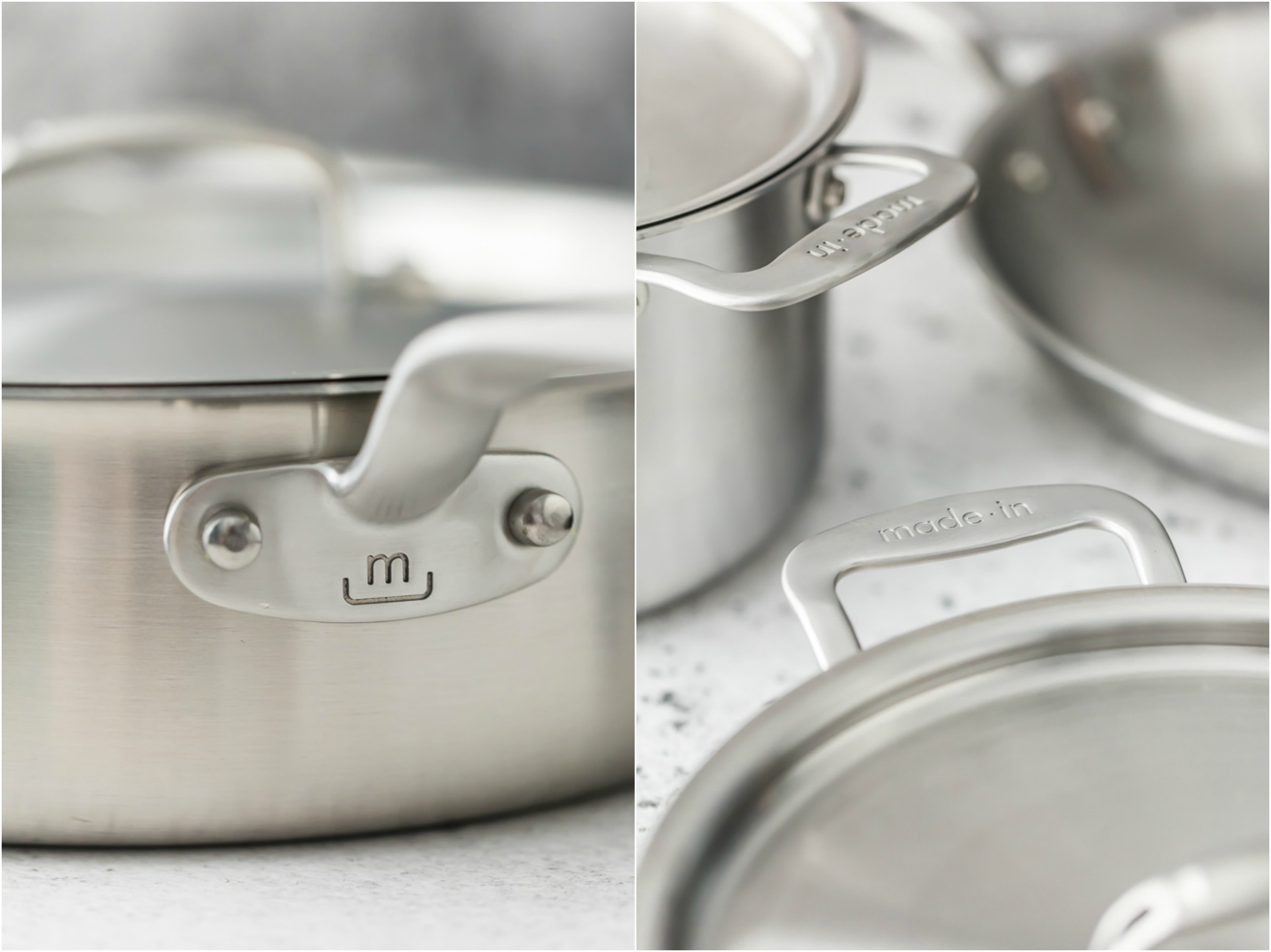 I get to work with a lot of amazing brands for The Cookie Rookie, but rarely are they non-food items. That makes today especially exciting. I got to test out these AMAAAAZING Made In Cookware items and…all I can say is wow. The price point is affordable, the quality is INSANE, the look is just right, and they're perfect for every lifestyle. I love that Made In believes in great cooking experiences for EVERYONE, and that starts with great cookware. Pat and I received a different cookware set for our wedding. At the time I wasn't blogging and had never cooked a day in my life. I had no idea what to register for. Within a year, the nonstick was flaking and the other items were stained and burned.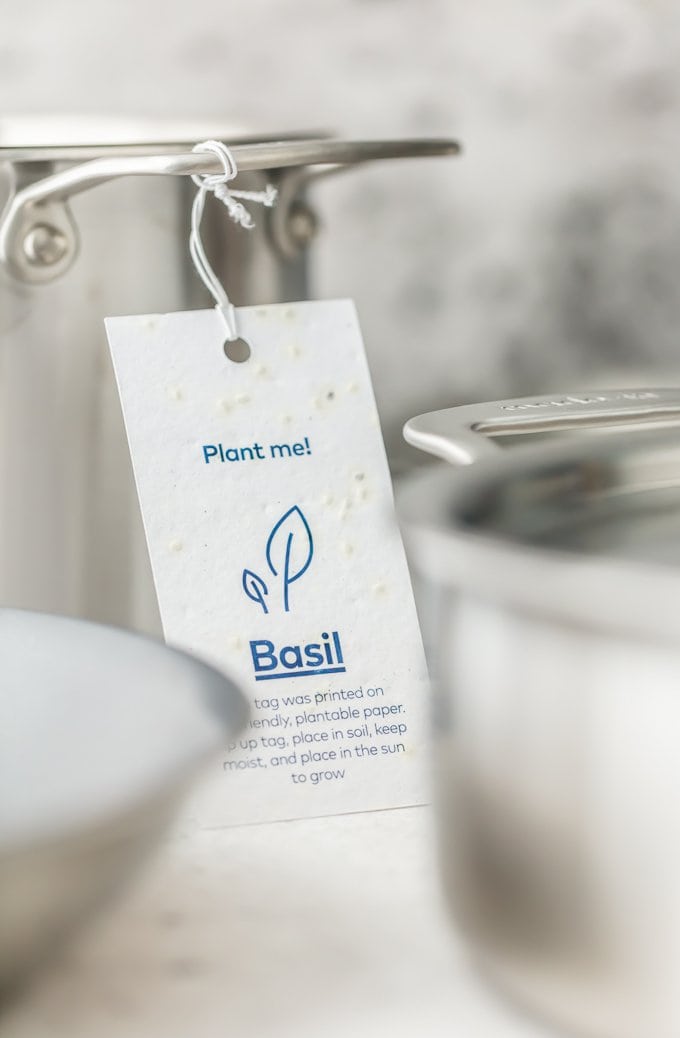 I wish I would have done a little research and registered for something like this Made In Cookware Core Set. It has everything you need to make amazing meals in the kitchen. A Stainless Steel Fry Pan, Saute Pan, Sauce Pan, Stock Pot, and also a Nonstick Skillet. It's the ultimate gift for someone you love or especially for yourself. You can guarantee the perfect sear EVERY time, just like on these Perfect Skillet Steaks. I am beyond pleased with the quality of these products. With Black Friday today, enjoy 35% off ALL WEEKEND. Run, don't walk! What are you waiting for!? Click HERE to see all the Made In Cookware products I love.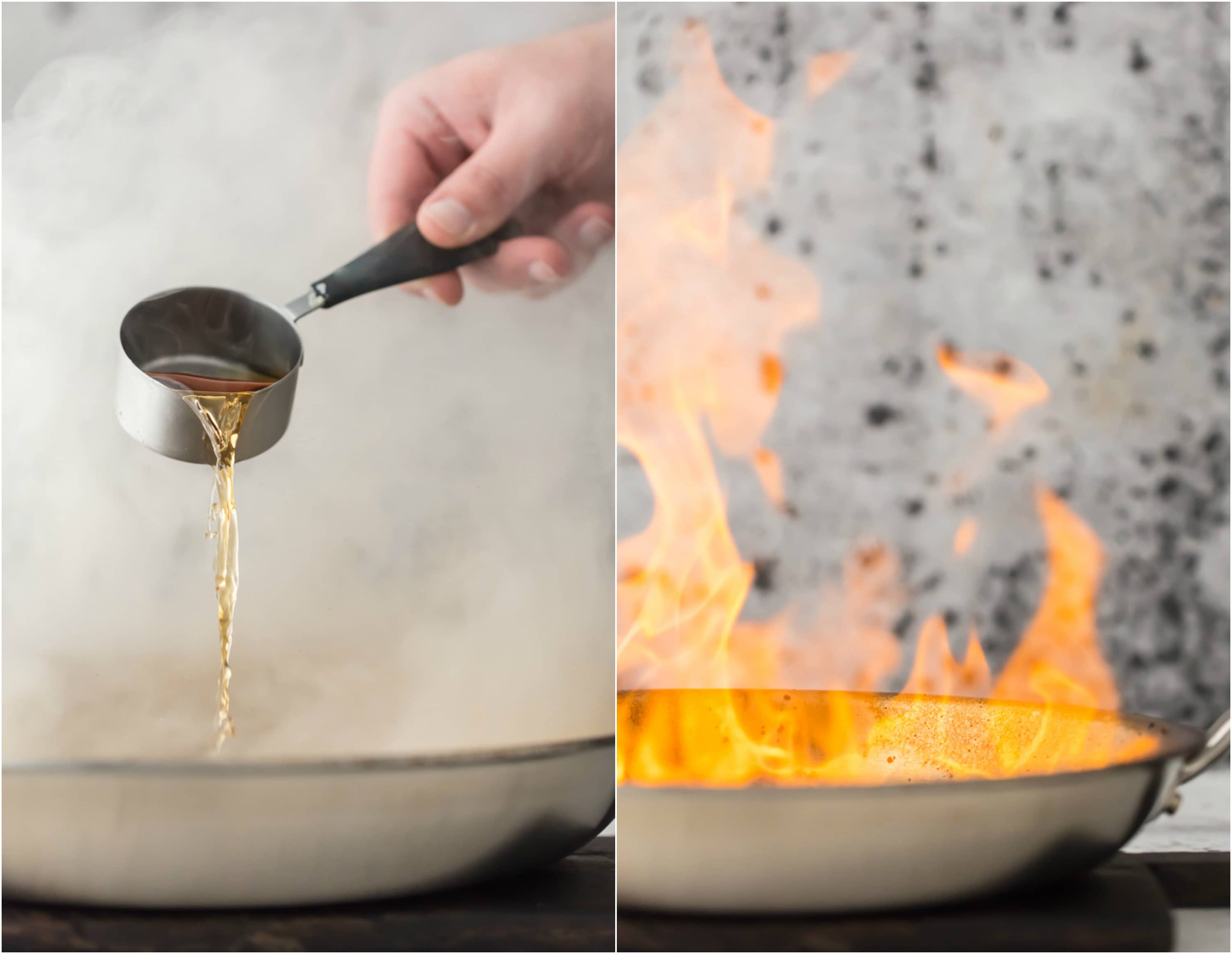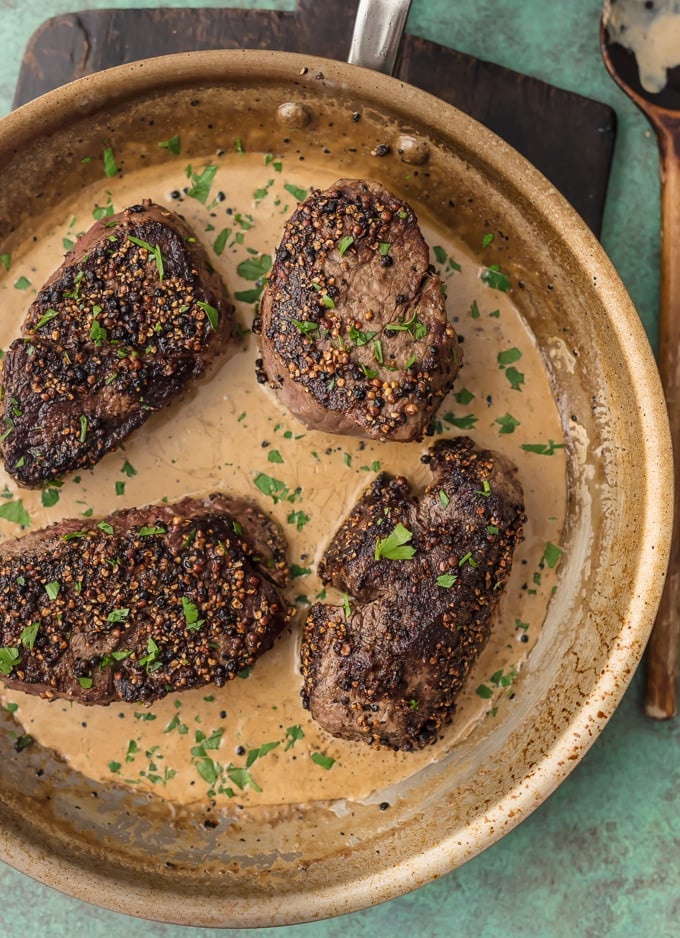 Now that I have the perfect cookware, I plan to make stovetop steaks more often. I was always scared before because the sear would never come out as expected. The middle was never the right color. They were always a disappointment. You can tell that today was a success…we are eating good and I don't even care that we stuffed our faces for Thanksgiving yesterday. SO WORTH IT.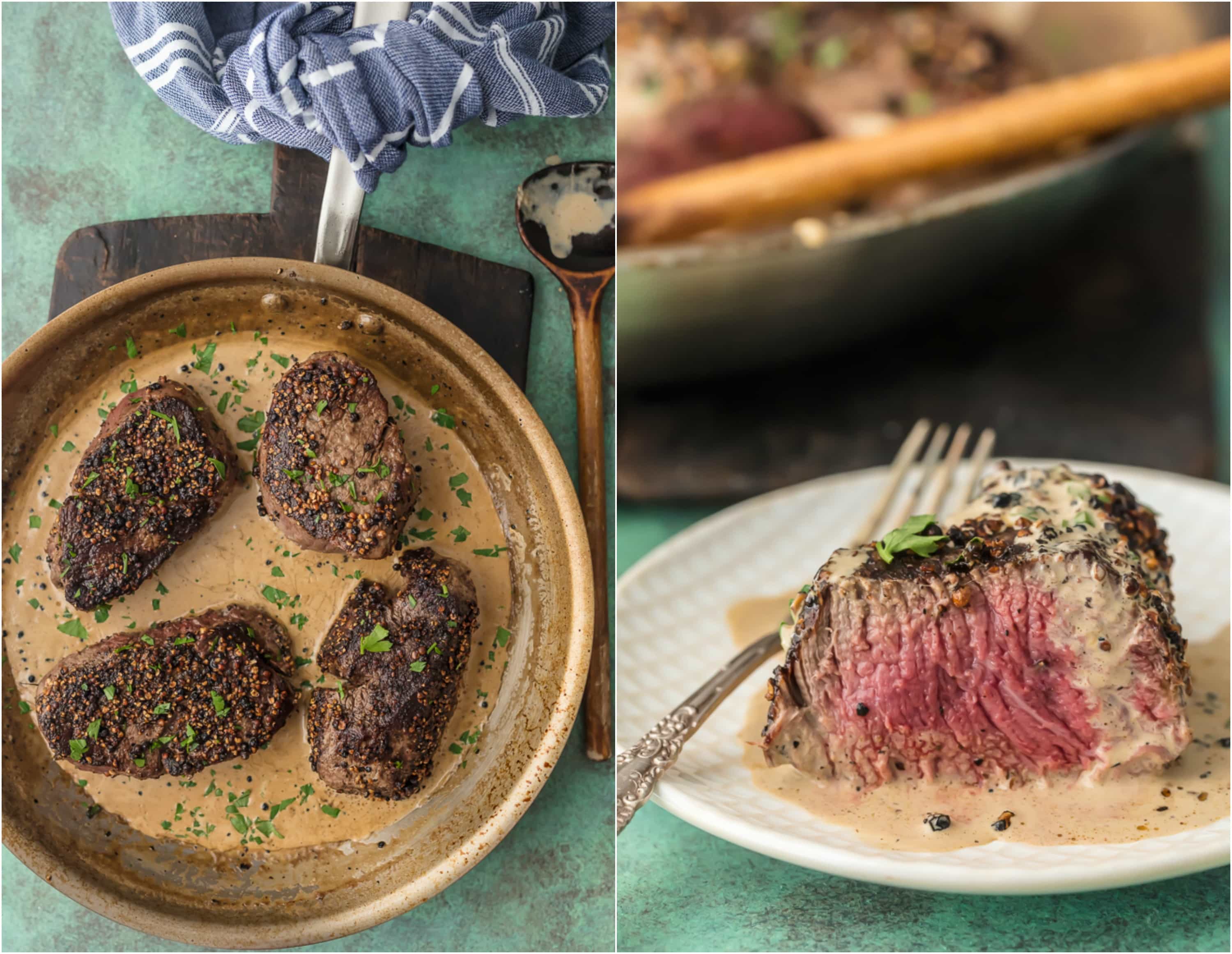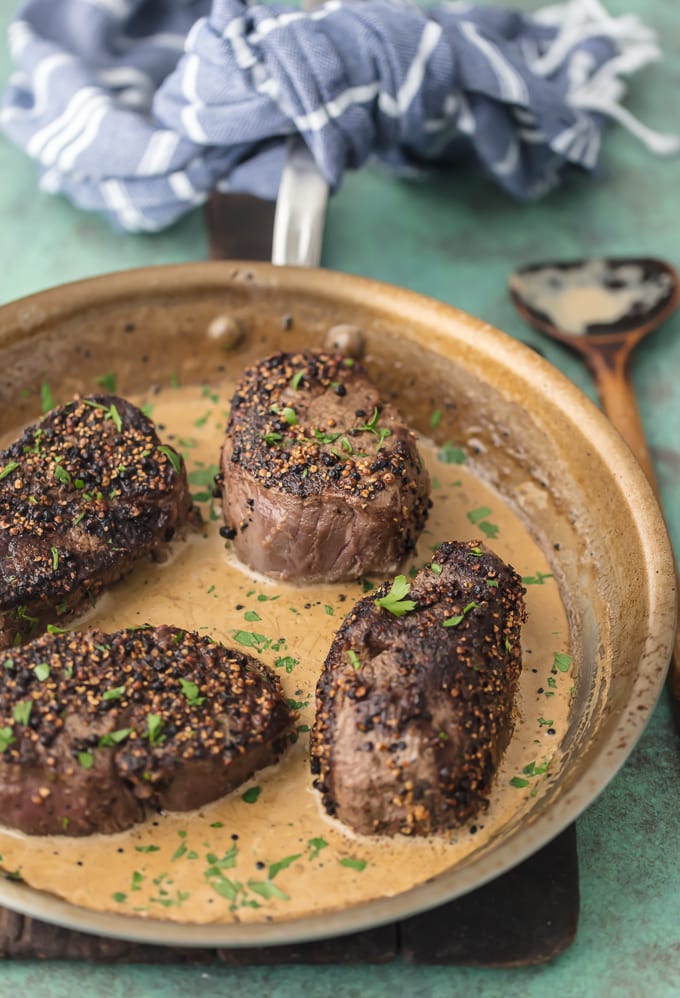 When you're done cooking anything in this Made In Cookware, even burnt on creamy sherry sauce, you can rest assured that your stainless steel skillet will go right back to it's original glory. Look at how well the cleaner made things shine again. I almost had to edit my reflection out of these pictures!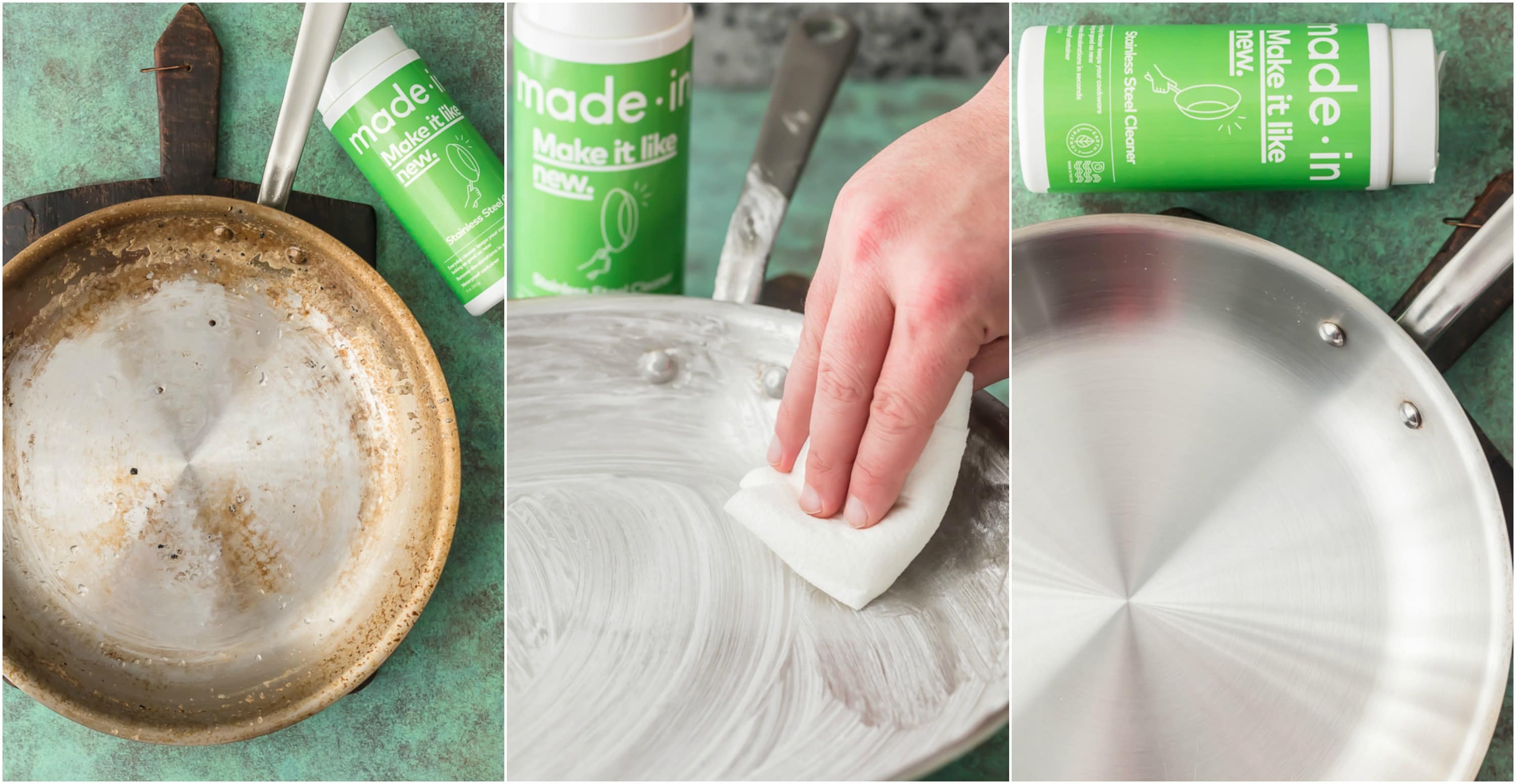 I just know you're going to love this Best Ever Skillet Steak as much as we do. Pat's already requested I make it again next week. I have a feeling we will spending a lot of money on good steak this Winter! It's just wayyy too delicious not to have over and over again.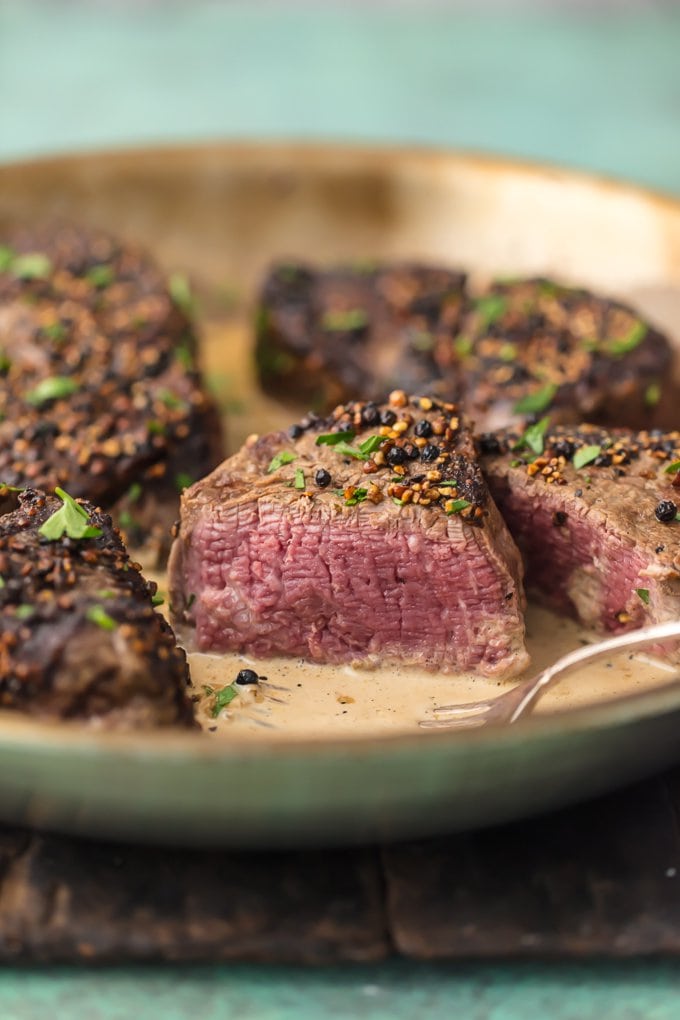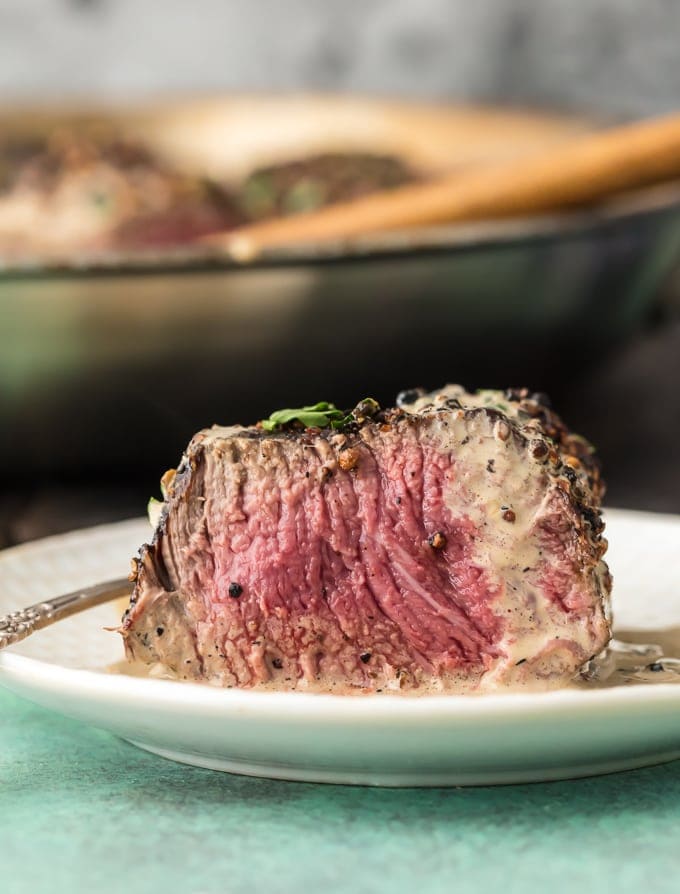 Be sure to hop over to Made In Cookware to check out all of their products and sets. It's the ultimate gift to others or yourself this holiday season. I recommend their products 100%!
Enjoy!
Best Ever Skillet Steak with Peppercorn Sherry Cream Sauce with Made In Cookware
This BEST EVER SKILLET STEAK is smothered in a Peppercorn Cream Sauce fit for a king. This restaurant style steak is so easy to perfect right in your own home. The only way we cook filet mignon!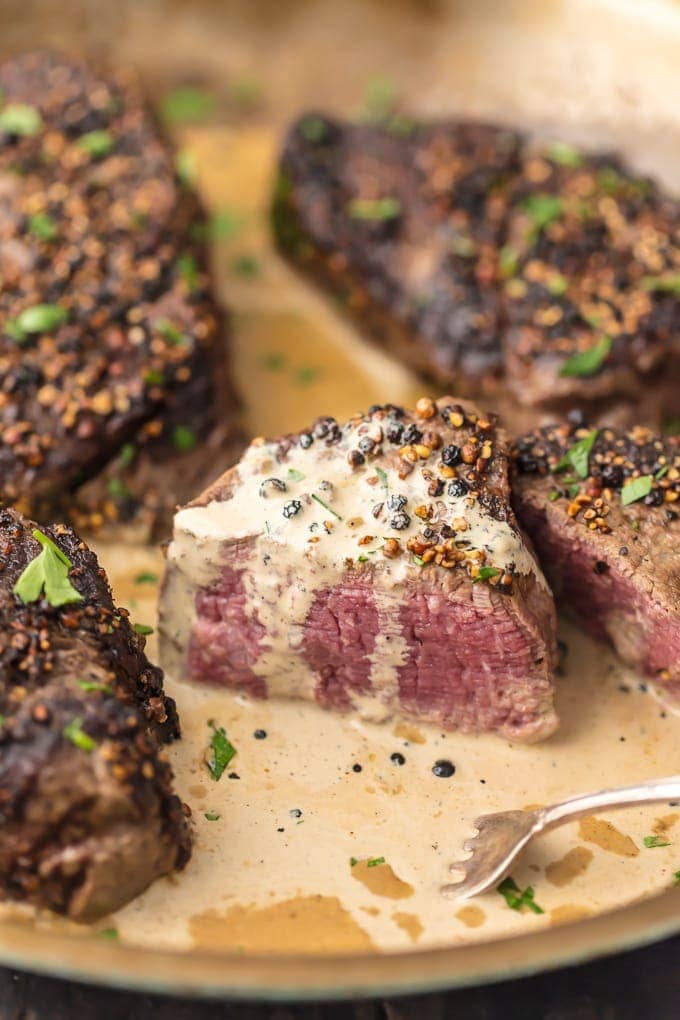 Ingredients
4 6-8 ounce filet mignon steaks, cut 1 1/2 inch thick at the most, room temperature
coarse sea salt
2 tablespoons whole peppercorns (black or tri colored)
1 tablespoon butter
1 tablespoon olive oil
1/3 cup brandy (the alcohol will cook out)
1 cup heavy cream
fresh chopped parsley for garnish
Instructions
Remove the steaks from the fridge 1 hour before preparing and allow to come to room temperature (important step!)
Season each filet with course sea salt. Grind the peppercorns in a mortar and pestle or crush with a mallet. You want them cracked but not fully ground. Place them on a plate in a single layer. Press both sides of each steak into the peppercorns to fully crust both sides.
Heat you Made In Cookware Stainless Steel Skillet over medium high heat. Add the butter and olive oil and allow to fully melt. Coat the entire bottom of the pan.
Add the steaks to the pan and cook for 4 minutes on each side, not moving the steaks while they cook. This is for medium rare. If you prefer rare, 3 minutes on each side should be good and medium, 5 minutes on each side. The thickness of the steak will come into play so watch your steak carefully. Typically you remove a steak from the heat at the following temperatures for wellness: (130-135 for rare, 140 for med rare, 155 for med, and 165 for well done)
After 4 minutes on each side, transfer the steaks to a plate and tent with foil. Pour the excess oil from the pan but do not scrape the pan or clean it out.
***Remove the pan from the heat and pour in the brandy. Immediately light with a long match or firestick (CAREFULLY…READ NOTE BELOW). Shake the pan lightly from side to side until the flame dies out.
Return pan to medium high heat and stir in the cream. Whisk until the cream boils and then reduce to a simmer. Simmer for 5-6 minutes or until thickened to your liking.
Return the steaks to the sauce and pour sauce over steaks.
Serve immediately, garnished with fresh chopped parsley.
Enjoy!
***NOTE: Use EXTREME caution when lighting the brandy. Make sure you've removed the pan from the heat and nothing around or above the pan could catch fire. Have your hand far back when you ignite. Gently swirl the pan to reduce the flame. You can skip this step if desired and just allow the brandy to come to a boil before adding the cream to cook out the alcohol.
7.6.5
2484
https://www.thecookierookie.com/skillet-steak-peppercorn-brandy-cream-sauce/
Did you make this recipe?