It doesn't get more comforting than LOADED BAKED POTATO SOUP. Creamy hearty soup loaded with bacon, potatoes, cheese, sour cream, and so much more. Warms the soul.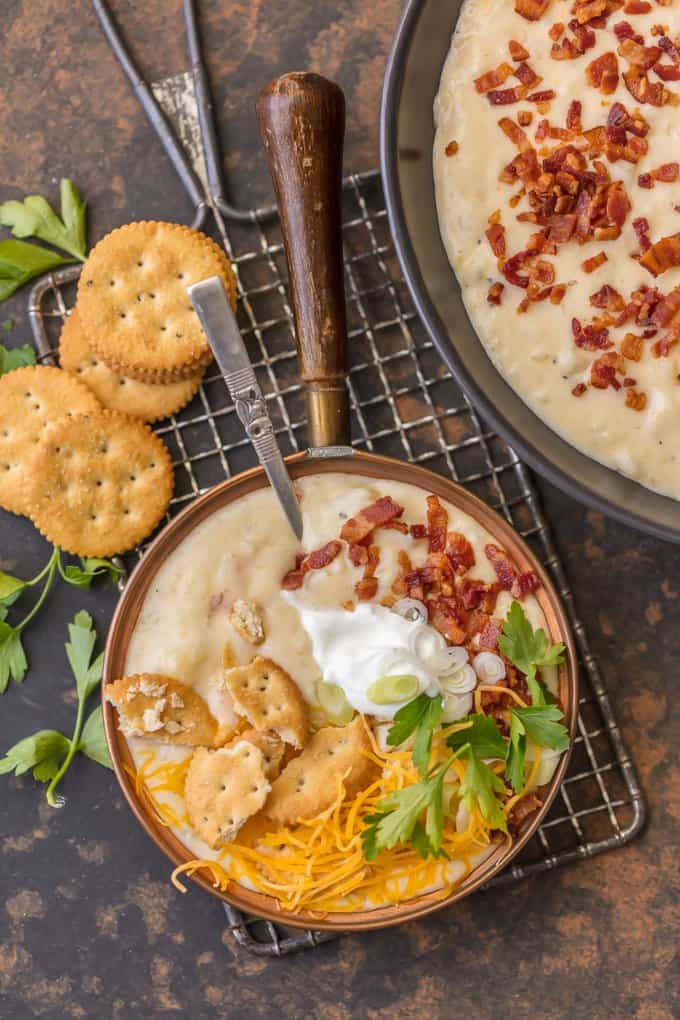 Can you believe Thanksgiving just came and went in a serious hurry?! How is 2017 already coming to an end. Honestly when I look down and see that I have an almost 9 month old I'm in SHOCK and cannot believe it. WHAT IN THE WORLD? Wasn't it just yesterday I was starting this blog? (No…it was about 1000 recipes and 5 years ago!) C-razy. Proof that we need to slow down, enjoy life, and savor our FOOD.
This Loaded Baked Potato Soup is everything I want from comfort food this time of year. Creamy, dreamy, hot, AMAZING! I have lots and lots of soups on this blog, ranging from Creamy White Chicken Chili to Skinny Chicken Tortilla Soup. I love them all, and this one fits right into the mix. An instant winner!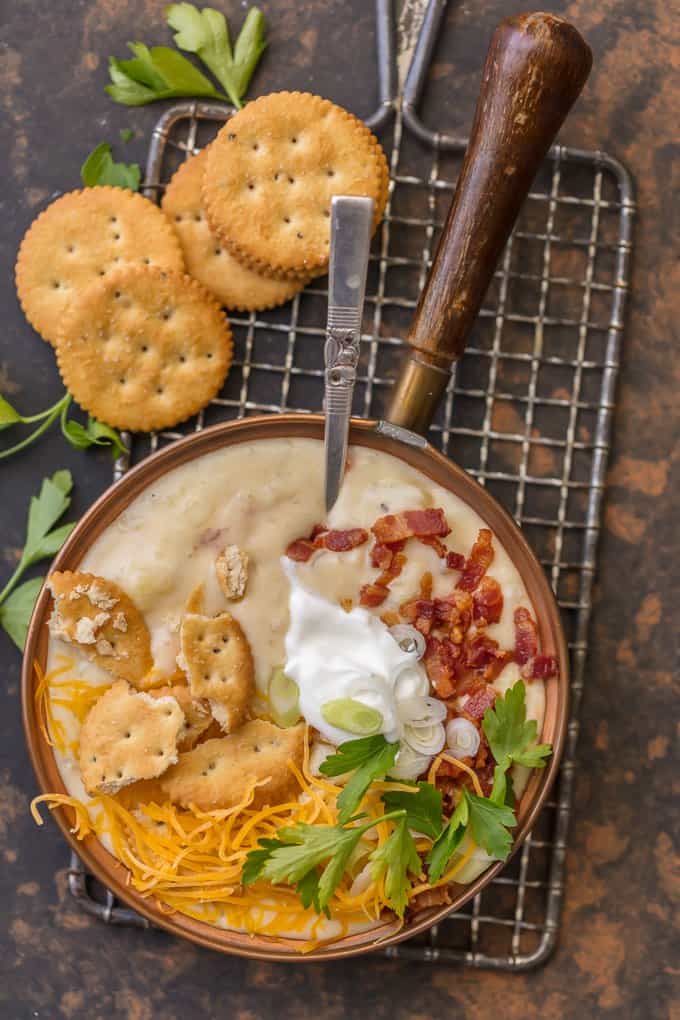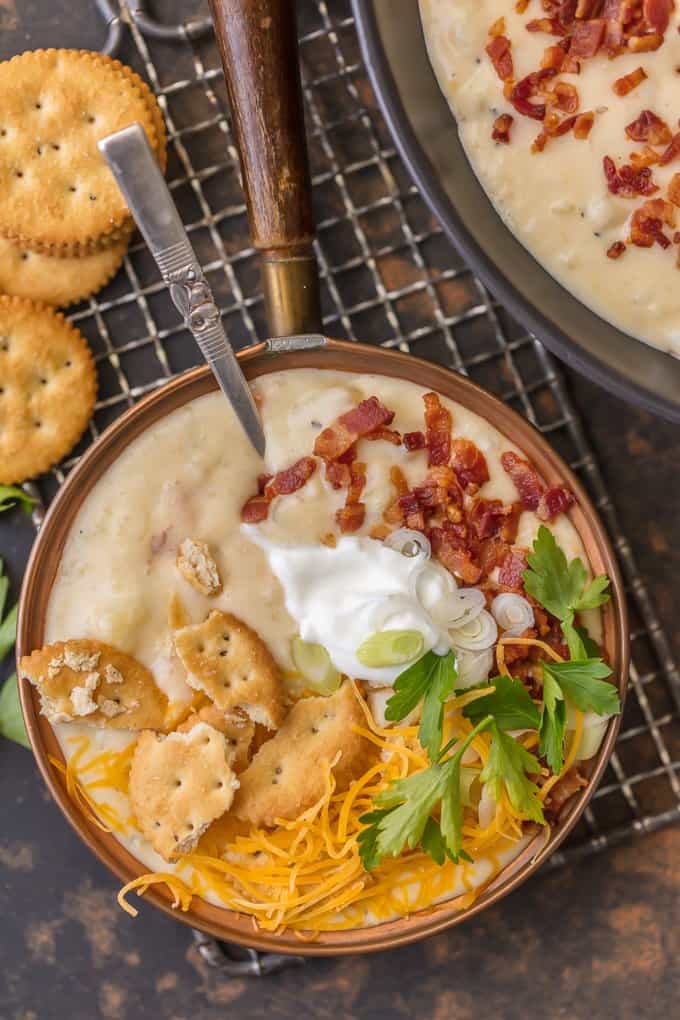 This Loaded Baked Potato Soup has everything you'd expect from…loaded baked potatoes :). Bacon, sour cream, cheese, onions, everything! It's nothing ground breaking but dang is it delicious. You don't mess with amazing flavors if you don't have to. People have loved these flavors for years and years for good reason. I know you'll love this as much as we do!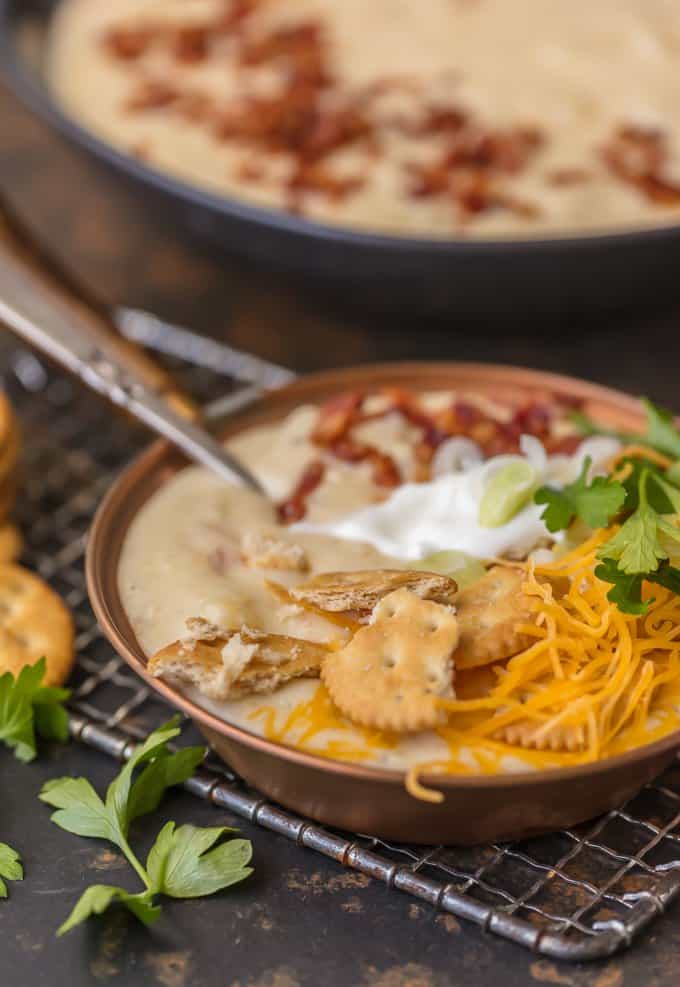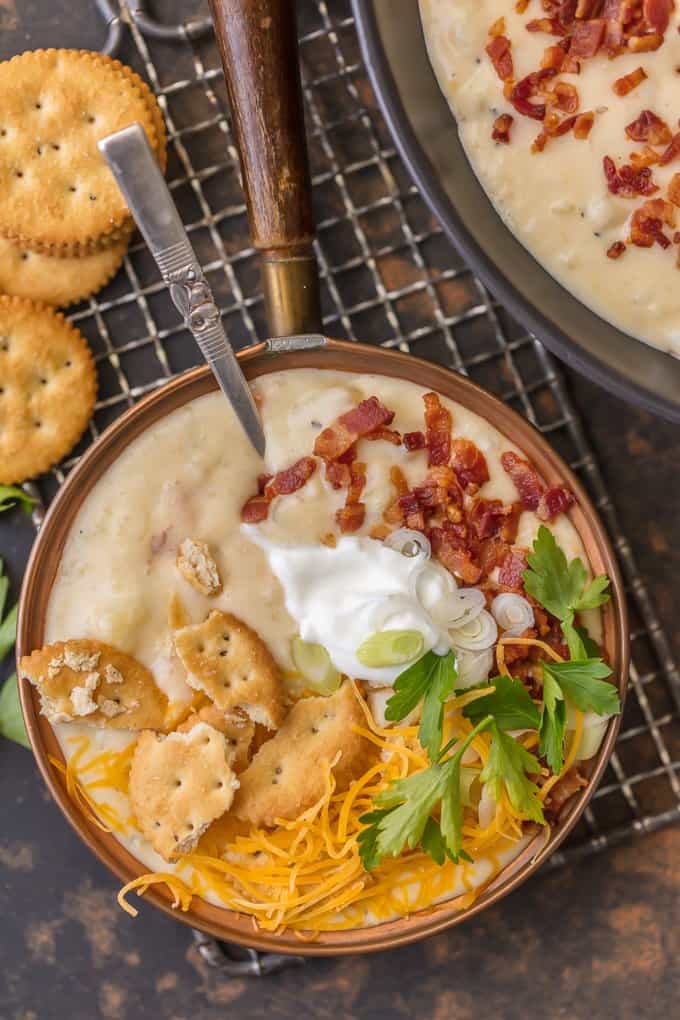 It's been a while since I've made this so writing about it has me CRAVING it. I guess I know what I'm making for dinner tonight! Pat, if you're reading this (he gets in trouble for never reading this…so I'm quite sure he's not), get excited for coming home from work! I think even Henry might like a little taste. (I love that he's enjoying more and more foods lately. So fun to watch him experience all the foods we love) Such a great soup for the entire family to scarf down.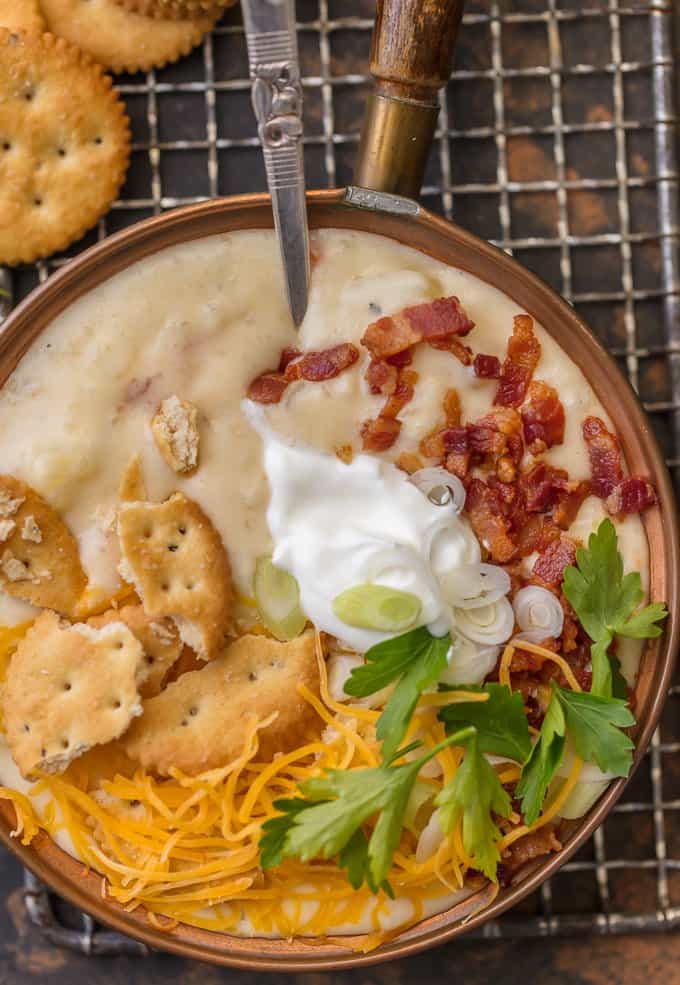 Enjoy!
Loaded Baked Potato Soup
It doesn't get more comforting than LOADED BAKED POTATO SOUP. Creamy hearty soup loaded with bacon, potatoes, cheese, sour cream, and so much more. Warms the soul.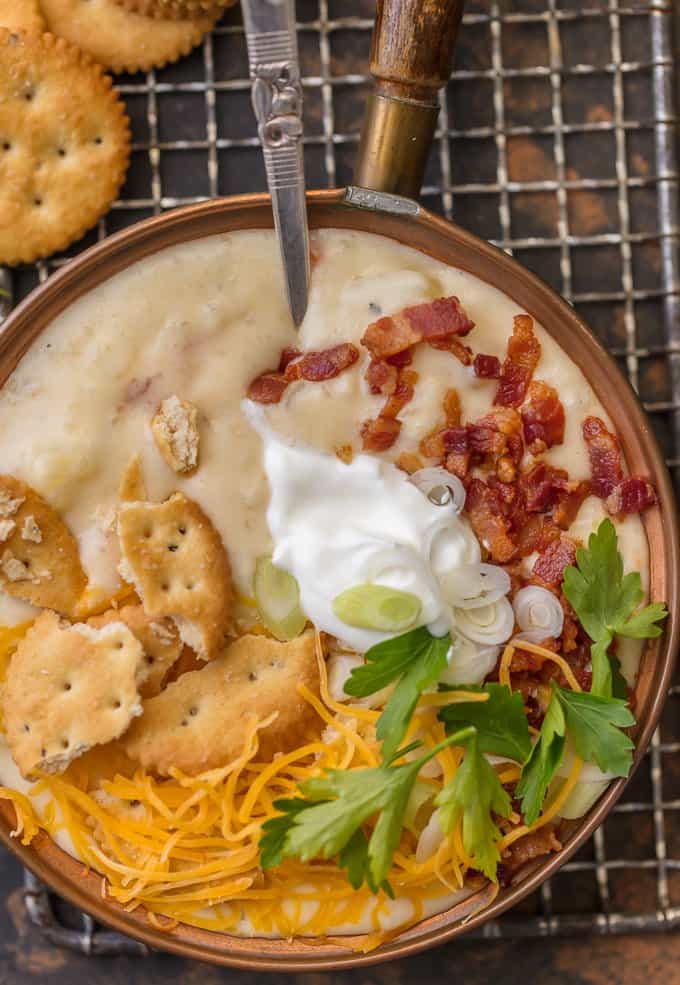 Ingredients
4 large baking potatoes (Yukon Gold or Russet)
8 strips bacon, cut into 1/4" strips & cooked crisp
4 tablespoons butter, divided into 2 tablespoons & 4 tablespoons
2 carrots, peeled & diced, optional
1 sweet yellow onion or yellow onion, diced
2 cloves garlic, minced
5 tablespoons all-purpose flour
1 teaspoon favorite herb blend (basil, thyme, rosemary, red pepper flakes)
6 cups milk
2 cups vegetable or chicken stock
2 cups shredded sharp cheddar cheese
8 ounces sour cream
½ teaspoon kosher
½ teaspoon ground black pepper
Garnishes: Shredded cheddar cheese
Crumbled cooked bacon
Sliced green onions
Instructions
Heat oven to 425°F. Clean the baking potatoes and pierce each with a fork. Cover in foil and bake for 1 hour or until tender when pierced with a fork. Remove from the oven and cool to touch. Peel the potatoes. Roughly mash two of the potatoes, and dice the other two potatoes. Set the potatoes aside.
While the potatoes cook, place the sliced bacon in a large skillet and turn the heat to medium-high. Cook the bacon until just crisp and transfer to a paper-towel lined plate. Reserve 2 tablespoons of the bacon grease and save the rest for later use. (Be sure to refrigerate the excess bacon grease, if any.)
Add 4 tablespoons butter to the bacon grease and turn the heat to low. When grease/butter mixture is just hot, add the diced carrots and cook (covered) for 3 minutes. Cover and stir every 1 minute. Add the onions, cover and cook for and additional 3 minutes, stirring every minute.
When the carrots are tender, turn the heat to low, remove the lid and add the minced garlic. Cook 1 more minute.
Sprinkle the sautéed vegetables with the flour, stir and cook over low heat 1 minute. Stir constantly.
Add the milk and vegetable broth while stirring/whisking continuously.
Turn heat to medium, and whisk continuously while adding the milk and vegetable stock. Cook and whisk until the mixture comes to a boil. Reduce heat to low and cook until mixture thickens, 10-20 minutes.
Stir in the potatoes, cheese and sour cream. Taste, then season with salt & black pepper.
Garnish with your favorite baked potato toppings:
Crispy bacon, extra cheese, butter, sliced green onions, crushed crackers, cooked sausage, sour cream, Greek yogurt, chopped jalapenos, chopped cilantro, cooked cubed chicken, cooked ground beef.
Serve immediately.
Enjoy!
Note: If soup becomes too thick, add more vegetable stock. If it is too thin, cook until it becomes the desired consistency.
7.6.5
2485
Did you make this recipe?