These MINI CHICKEN AND WAFFLES ON A STICK are so fun and perfect for celebrating! Whether its the holidays or game day, these will wow any crowd. So delicious!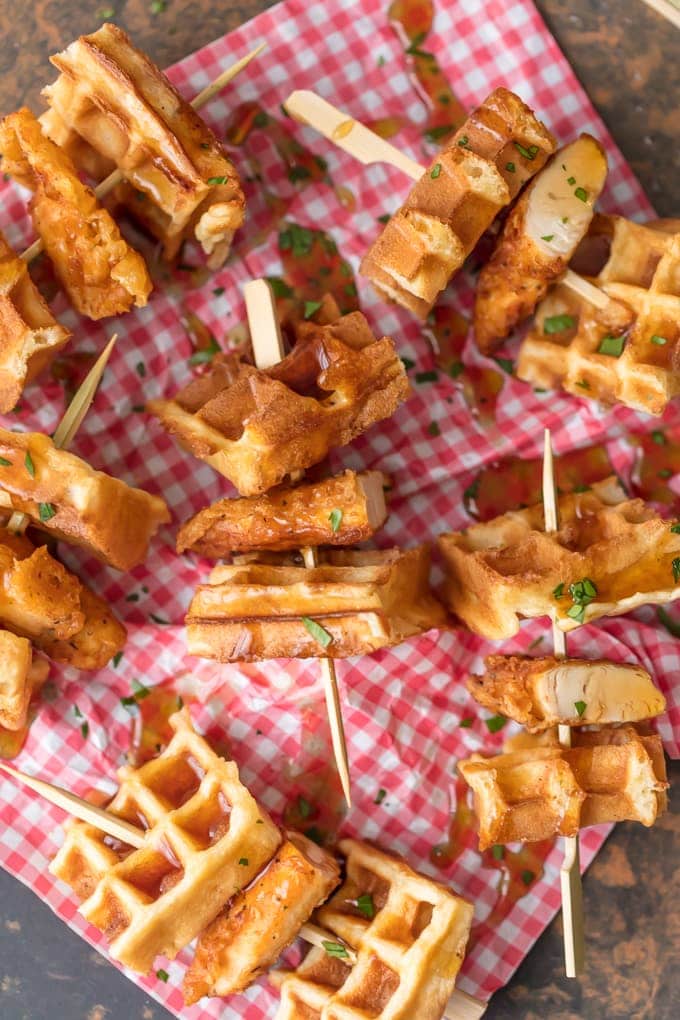 I can still remember the first time I had chicken and waffles. I was living in Jacksonville Florida and there were so many good restaurants. Chicken and Waffles are the ultimate brunch recipe…toasty waffles layered with crispy chicken and smothered in syrup. I mean just describing it makes me hungry and happy. This fun play on a classic is one of my favorite ways to celebrate. These Mini Chicken and Waffles on a Stick are the ultimate way to ring in the New Year, cheer on your favorite team in the big game, or have with friends and family for a Summer BBQ. Literally a year round favorite!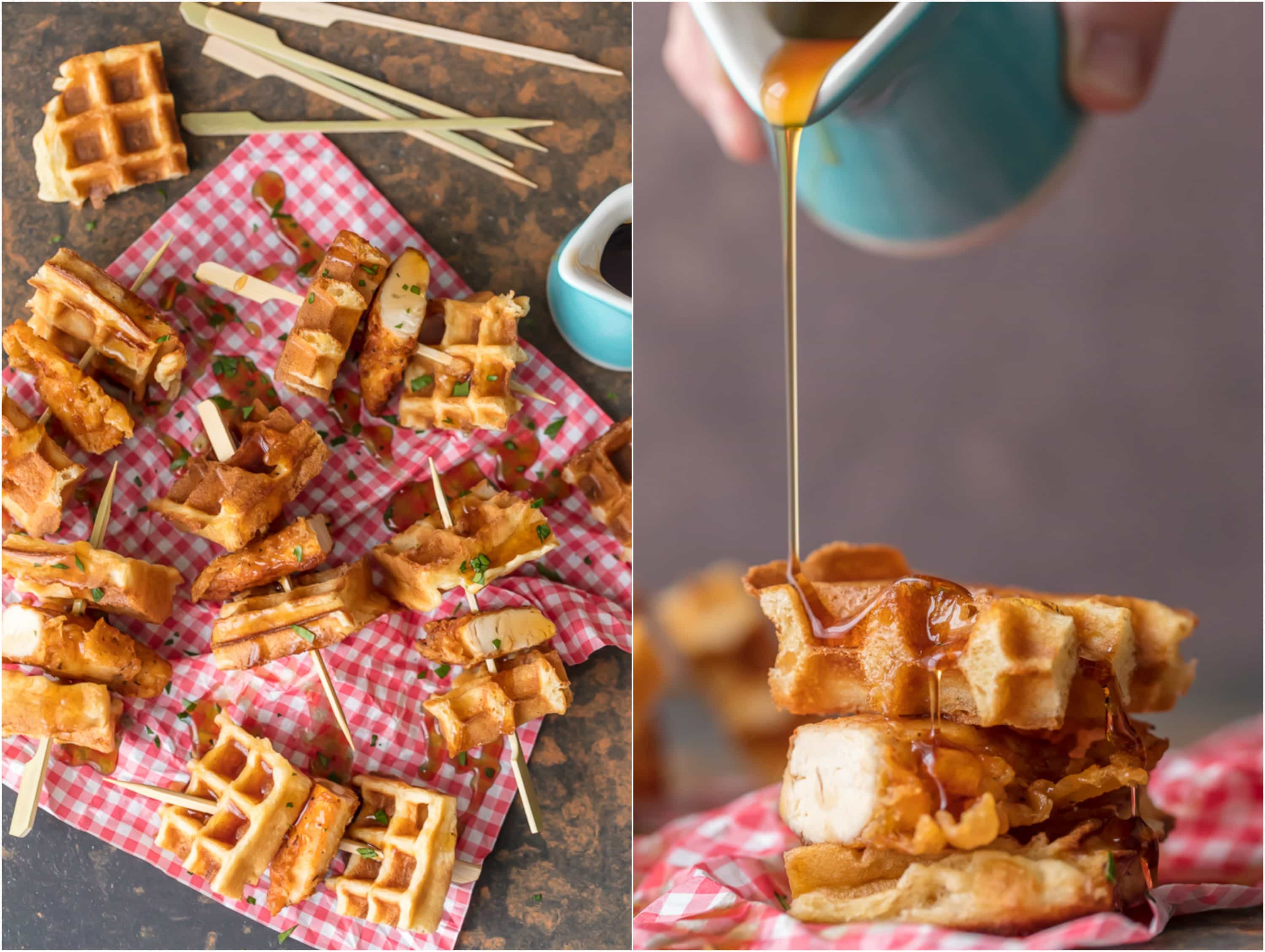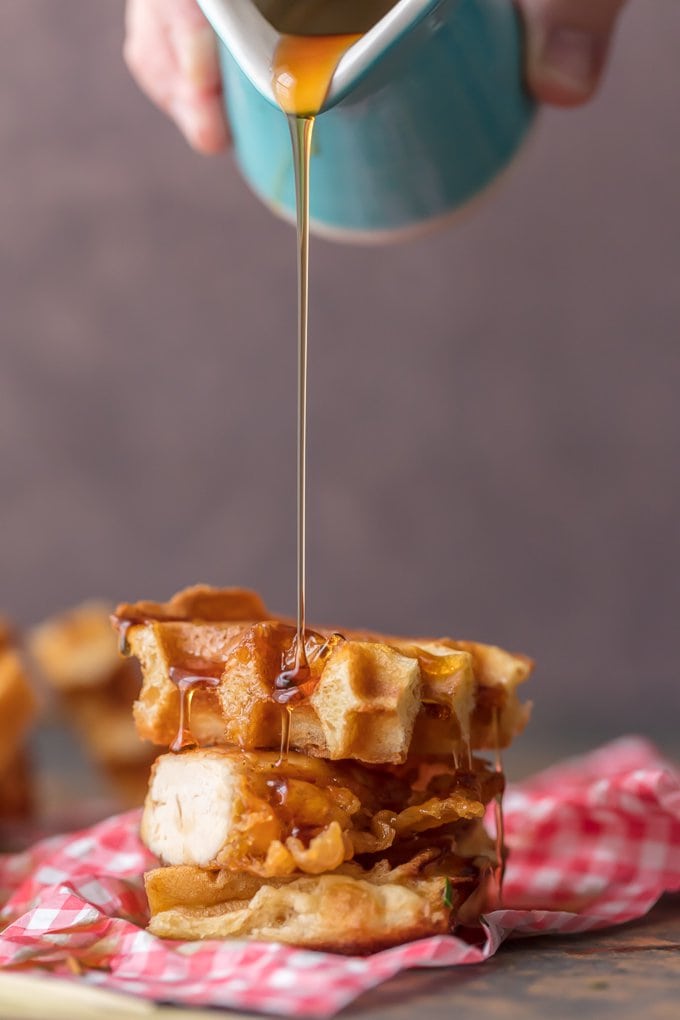 We did a quick and easy batter for the fried chicken, and it's so much easier than I ever though it could be. Fried chicken has always been a little intimidating…but there's no reason for all that. If I can do it, you can do it. This chicken is juicy, flavorful, and has just the right amount of crunch! Just look at that syrup drip. The more the better if you ask me!!!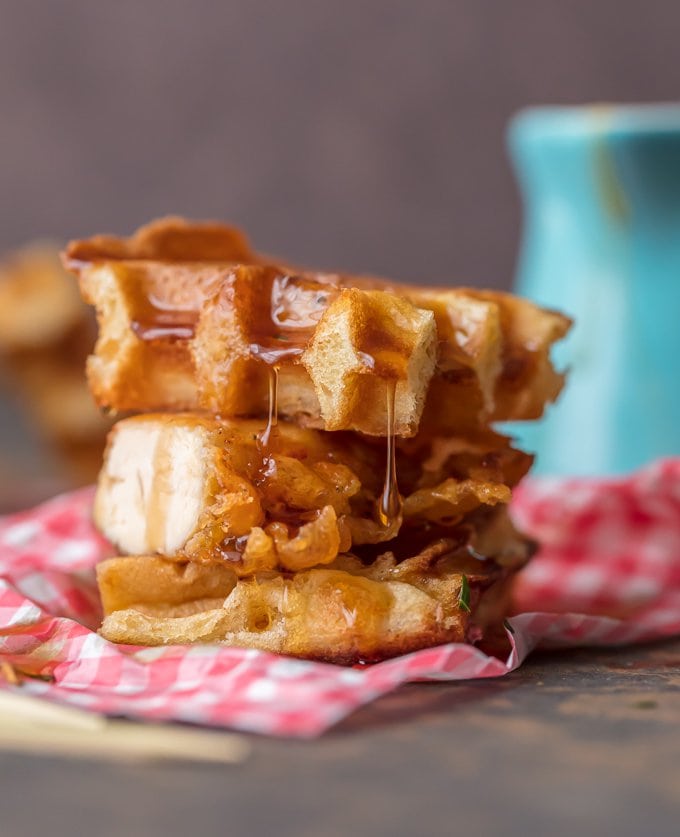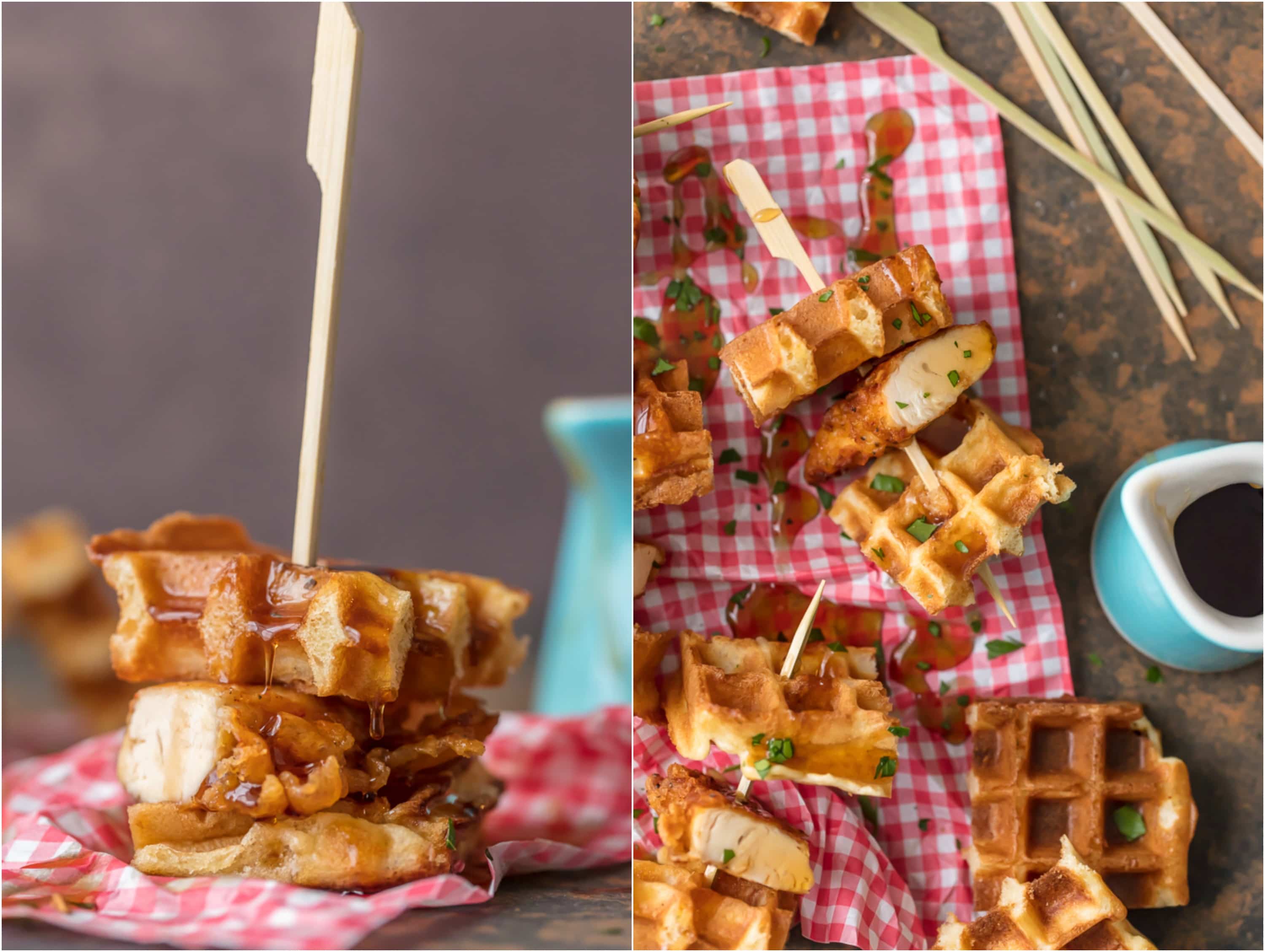 Wouldn't these be so cute to serve at a child's birthday party or a girls brunch? I'm obsessed. I love the flavor combo and judging by the way this is popping up on menus left and right I'd say a lot of people do. Have you tried it?! I know it sounds weird but give it a chance. It's so fun and delicious. We are big fans. Plus it's cute to boot. I love food on a stick!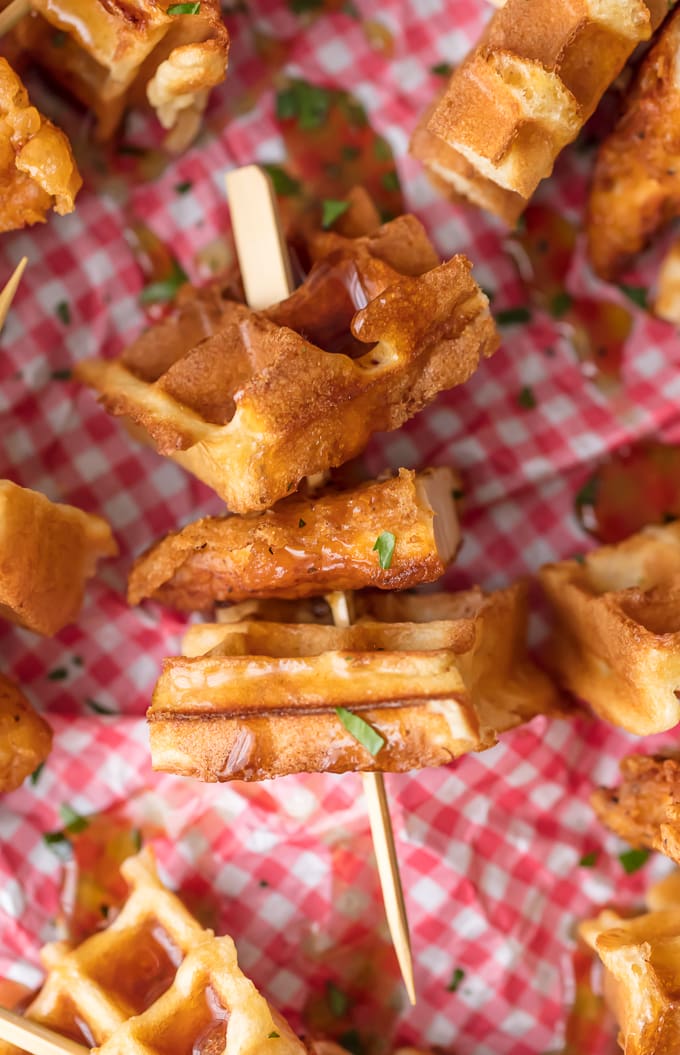 Break out the skillet and fry up some of these babies. Too fun. Enjoy!
Mini Chicken and Waffles on a Stick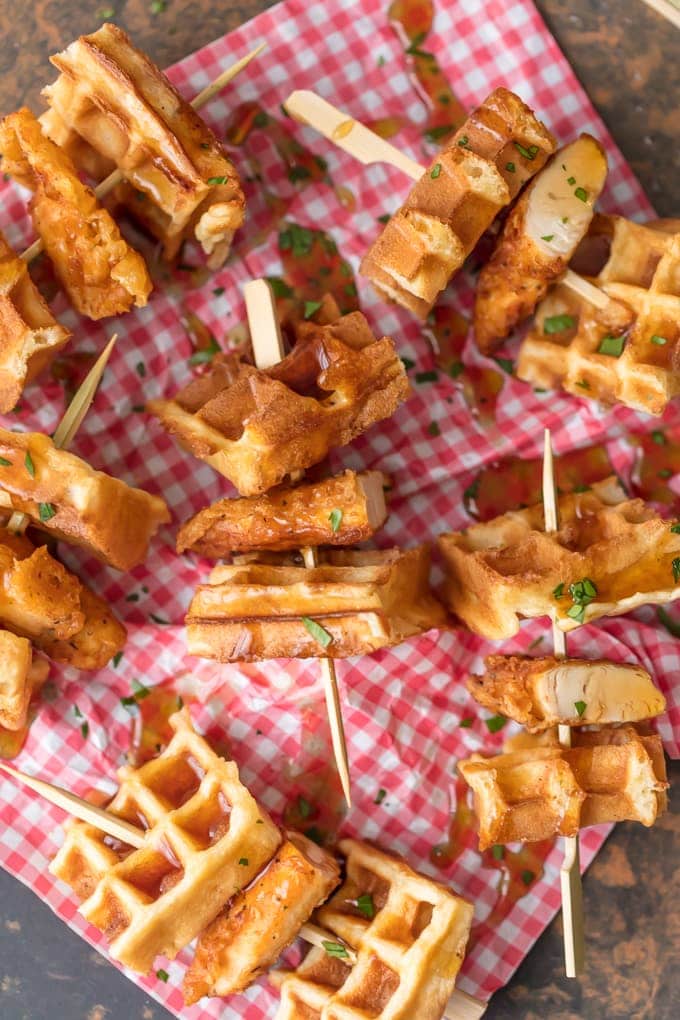 Ingredients
For the Waffles

1 2/3 cup all-purpose flour
½ cup powdered sugar
¾ teaspoon kosher salt
¾ teaspoon baking soda
¾ teaspoon baking powder
2 cups cultured lowfat buttermilk
¼ cup (4 tablespoons) unsalted butter, melted
3 large egg whites
2 teaspoons vanilla extract

For the Chicken:

*Note: The cold soda water keeps the batter light and crispy.
Canola, Peanut or Vegetable oil for frying
1 teaspoon kosher salt
½ teaspoon freshly ground black pepper
4-6 chicken breast tenders, skinless & boneless
½ cup all-purpose flour
1 teaspoon mustard powder
¼ teaspoon ground garlic or garlic powder
½ teaspoon sweet paprika
1/8 teaspoon cayenne pepper
¾ cup cold soda water (or sparkling water)

For Serving:

Maple syrup for dipping or drizzling
Instructions
For the Waffles:

Set waffle iron to MEDIUM temperature.
In a large bowl, whisk together flour, powdered sugar, salt, baking soda and baking powder. Add buttermilk, melted butter, egg whites and vanilla extract. Whisk until smooth.
The waffle iron is hot enough when the waffle iron indicator is red (on my machine anyway).
For a 9-inch waffle maker, use about half of the batter. (Follow the instructions per your waffle maker.) Close the lid and cook until waffle golden brown and still steaming.
Repeat with remaining batter.

For the Chicken:

Place a cooling rack over a baking sheet.
Heat 2 cups of oil in a heavy skillet to 375°F.
Season the chicken, on both sides, with salt & pepper.
In a medium dish, whisk together flour, mustard powder, garlic powder, paprika and soda water.
Dredge the chicken in the batter and let the excess drip off.
Fry until chicken is golden brown on one side then flip the chicken, using tongs, and fry on the other side until it is golden brown and cooked through. Internal temperature should read 160°F. (The chicken breasts will continue to cook after removing from the heat.) Transfer the chicken to the cooling rack to drain.

To Serve:

Cut each waffle square into fourths. Cut each chicken tender into fourths.
Skewer one piece of chicken between two mini waffle squares onto an appetizer skewer.
Serve immediately with a side of maple syrup (or drizzle the syrup over the chicken waffle appetizers).
Enjoy!
7.6.6
2503
Did you make this recipe?