Easy20 minsQuick
This truly is the BEST stovetop mac and cheese recipe!  It only requires one pot (no extra pot to cook the pasta), it's ready to go in about 20 minutes from start to finish, and it's perfectly creamy and cheesy and delicious.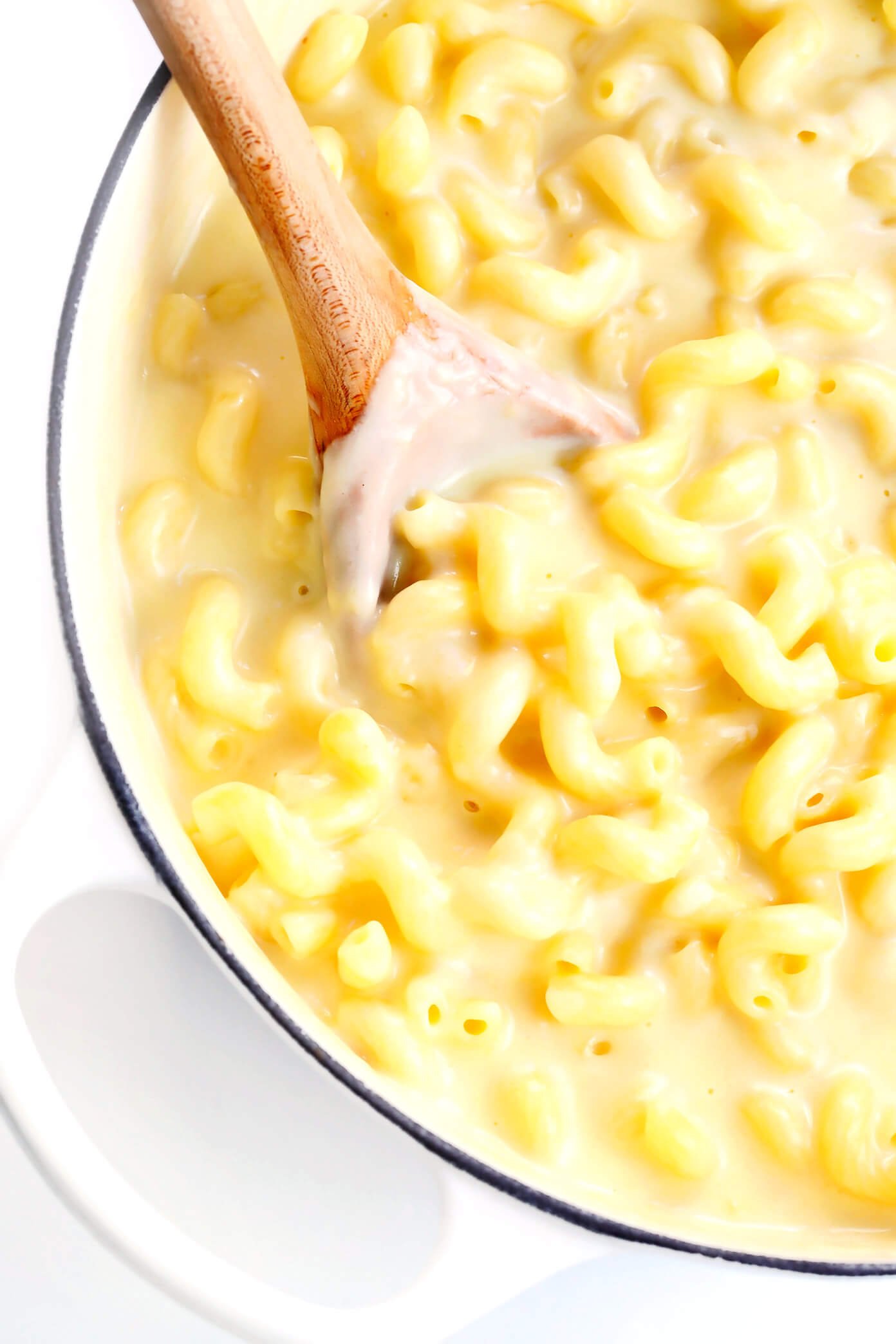 This weekend, Barclay and I went to a food festival here in Barcelona that was fabulously, deliciously, entirely devoted to CHEESE.
And it was just about the best thing ever. ? ? ?
Literally everywhere you turned, ooey gooey cheesy dishes were being served.  And you'd better believe we took full advantage of them.  From freshly-scraped raclette toasts, to the most amazing Korean-inspired mushroom grilled cheese sandwiches, to Spanish (slightly different than French) onion and smoked cheese soup, to vegan Mexican cheesy quesadillas, to the best ricotta I've ever sampled, to the most dreamy Italian gyoza-ish dumplings filled with potato and cheese and served in a pecorino-sage sauce…the day was all of our cheesiest dreams come true.  And we left feeling so happy.  And soooo full, ha.
That said, there was one dish notably missing at the festival.  But, it just so happens that I've been on a mission this month to nail down my all-time favorite recipe for it.  So yesterday, we decided to round out our cheesy weekend by taste-testing a final version of this recipe.  And ohhh guys, I think we've got it.  I'm humbly calling it…
The Best Stovetop Mac and Cheese recipe.  Ever.  ?
I should probably say right now that this recipe is the real deal.  Because on the special occasions when I indulge in creamy mac and cheese, I'm not interested in healthy shortcuts.  Gimme all the carbs + all the cheese, please.  ?
Even better?
Let's talk about this delicious recipe that's ready to go in about 20 minutes from start to finish (seriously!) and only requires one pot.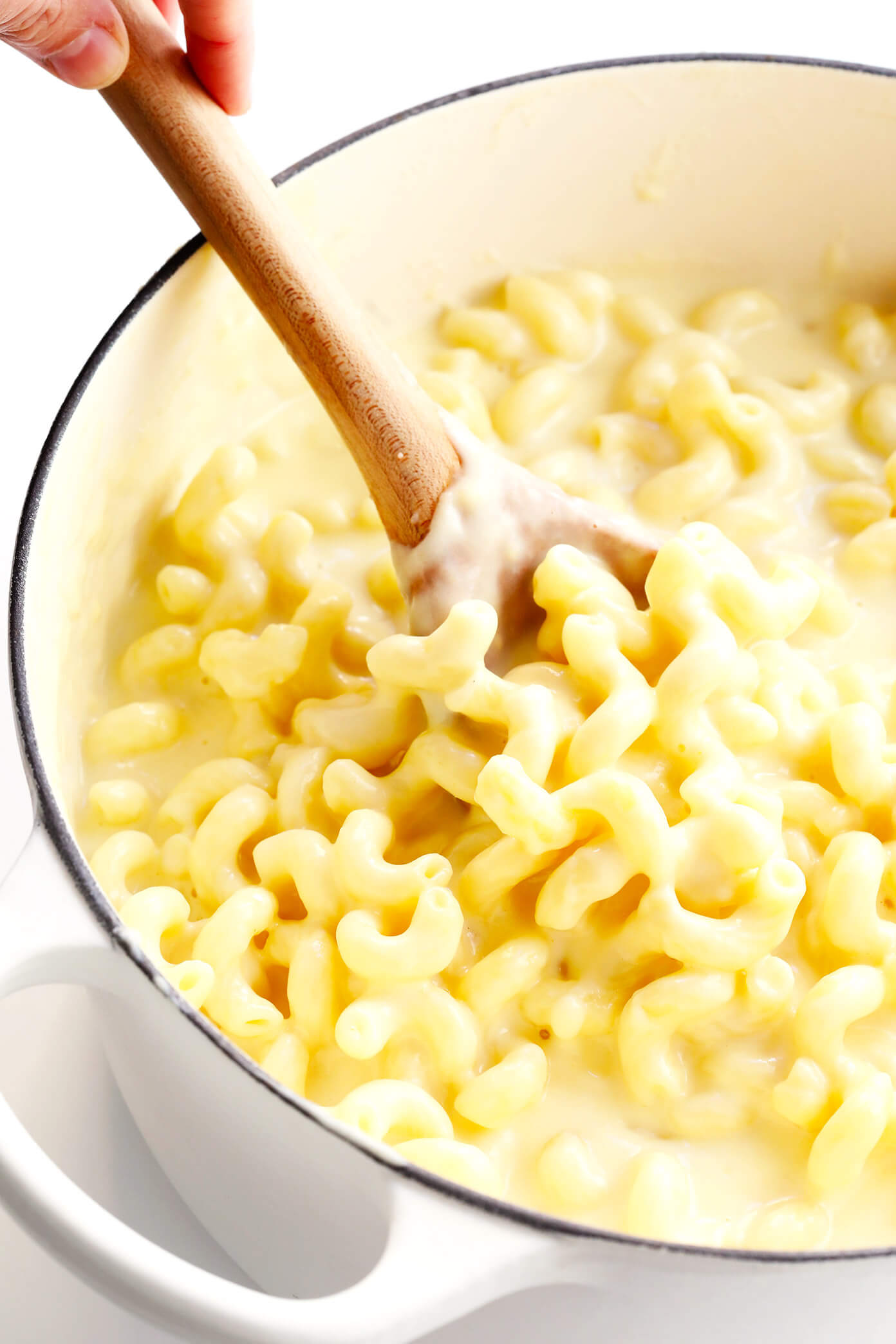 For most of my homemade mac and cheese making life, I've always done the two-pot method — one for cooking the pasta, and one for making the cheesy sauce — which totally works!  But dishes have always been the bane of my existence.  AND when I started posting on Instagram about my macaroni and cheese recipe experimenting this month, I heard from many of you who recommended the one-pot method.  Because apparently cooking the pasta in the sauce itself releases all of those starches into the sauce…which makes it extra creamy…and also helps bind the sauce to the pasta even better.  Also, the entire process only takes about 15 minutes to cook.  And also, no need to wash the extra pan.
Sounded like a win-win-win…win…win to me.
Sure enough, after testing a few batches, I'm now a total convert to the one-pot camp.  Works like a cheesy charm!  ?
Also, let's talk about your cheese options here.
I kind of feel like mac and cheese is the savory equivalent to chocolate chip cookies when it comes to people's Very Strong Food Opinions.  Everyone seems to have their cheese of choice (or blend of cheeses) that they prefer with their mac and cheese!  So if you have a strong preference here, this recipe is totally flexible when it comes to cheeses, so I say go for it.
As for me?  I have always fallen firmly in the sharp cheddar camp.  Sharp…because extra cheesy flavor is always a win in my book.  And cheddar…because it's my nostalgic favorite when it comes to mac and cheese.  Nowadays, I usually opt for extra sharp white cheddar, mostly because it's affordable and awesome at Costco (and also at Lidl, our ALDI-ish favorite grocery store here in Barcelona).  But feel free to use your favorite brand.
Also, if you want an even creamier mac and cheese, you're welcome to use half cheddar, and half gouda or fontina (two of my other creamy faves).  But 99% of the time, I keep things simple with straight cheddar (plus a handful of Parmesan) and never regret it.
??? That said, I do have one non-negotiable tip that goes for all types of cheeses — always, always, always use freshly-grated cheese for mac and cheese.  Most all of the pre-shredded cheeses at the store have a coating on them that prevents them from melting smoothly.  So while it's a bit of extra work, be sure to buy block cheese at the store, and then shred it at home just before using. ???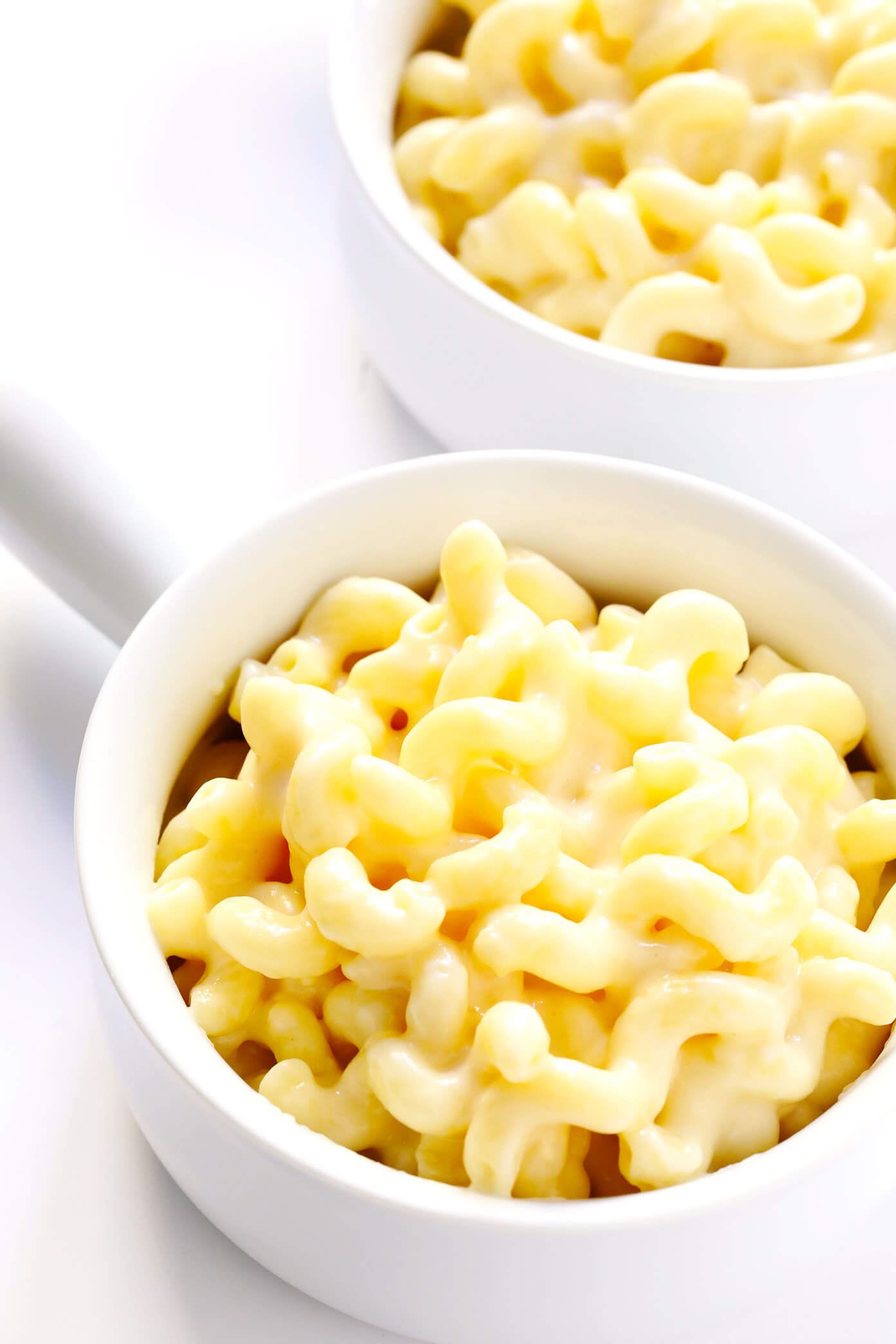 As always, feel free to stir in any of your desired mix-ins as well if you'd like, such as:
Proteins: cooked chicken, bacon, shrimp, etc.
Veggies: I'm obsessed with adding roasted veggies to my mac and cheese!  Also, greens like baby spinach, or sun-dried tomatoes, or artichokes are delish.
Nuts: Pine nuts, toasted almonds, etc.
Seasonings: Some faves include Cajun seasoning, Italian seasoning, a sprinkle of za-atar…you name it.
The sky's basically the limit here.
But if you're on the hunt for an irresistible, cheesy, creamy, classic homemade mac and cheese recipe, here you go.  Enjoy, everyone!
Yield: 8 servings
The BEST Stovetop Mac and Cheese
This truly is the BEST stovetop mac and cheese recipe!  It only requires one pot (no extra pot to cook the pasta), it's ready to go in about 20 minutes from start to finish, and it's perfectly creamy and cheesy and delicious.
Ingredients:
2 tablespoons butter
2 tablespoons flour
3 cups water
4 cups milk
1 pound uncooked pasta (I used cavatappi)
1 teaspoon Kosher salt
1/2 teaspoon garlic powder
1/4 teaspoon ground mustard
4-5 cups (16-20 ounces) freshly-shredded* sharp cheddar cheese (I used sharp white cheddar)
1/2 cup freshly-shredded* Parmesan cheese
Directions:
Melt butter in a large stockpot over medium-high heat.  Add flour, and stir until combined.  Cook for 1 minute, stirring occasionally.  Then pour in 

1 cup

of the water, and stir (or whisk) until the mixture is completely smooth and begins to thicken.  Gradually pour in the remaining water and milk, stirring until evenly combined.
Stir in the pasta, salt, garlic powder, and mustard until combined.  Then continue cooking, stirring occasionally, until the mixture just reaches a simmer.  (Btw, I recommend grating your cheese while the pasta cooks to save time!)  Reduce heat to medium-low to maintain the low simmer.  Continue cooking, stirring occasionally, for about 9-10 minutes, or until the pasta is al dente.  (Be careful not to overcook the pasta!)
Remove from heat, and stir in the cheeses until melted.  Taste, and season with additional salt (and black pepper, if you'd like), as needed.
Serve immediately, and enjoy!!
*Be sure to always purchase block cheeses for this recipe, and then grate/shred them at home.  Store-bought shredded cheeses usually have a coating on them (to prevent them from clumping) which prevents them from melting smoothly.  So I know it's a bit of extra work, but it's worth it to shred them yourself…which I recommend multi-tasking while the pasta is cooking.
Also, feel free to use half-cheddar, half-fontina (or gouda) if you would like a creamier mac and cheese.
Difficulty: EasyCategory: Quick


All images and text ©Gimme Some Oven
If you make this recipe, be sure to snap a photo and hashtag it #gimmesomeoven. I'd love to see what you cook!