We LOVE these PHILLY CHEESESTEAK SLOPPY JOES. This simple recipe elevates a classic loved by both kids and adults alike. You can't go wrong with a sloppy joe night!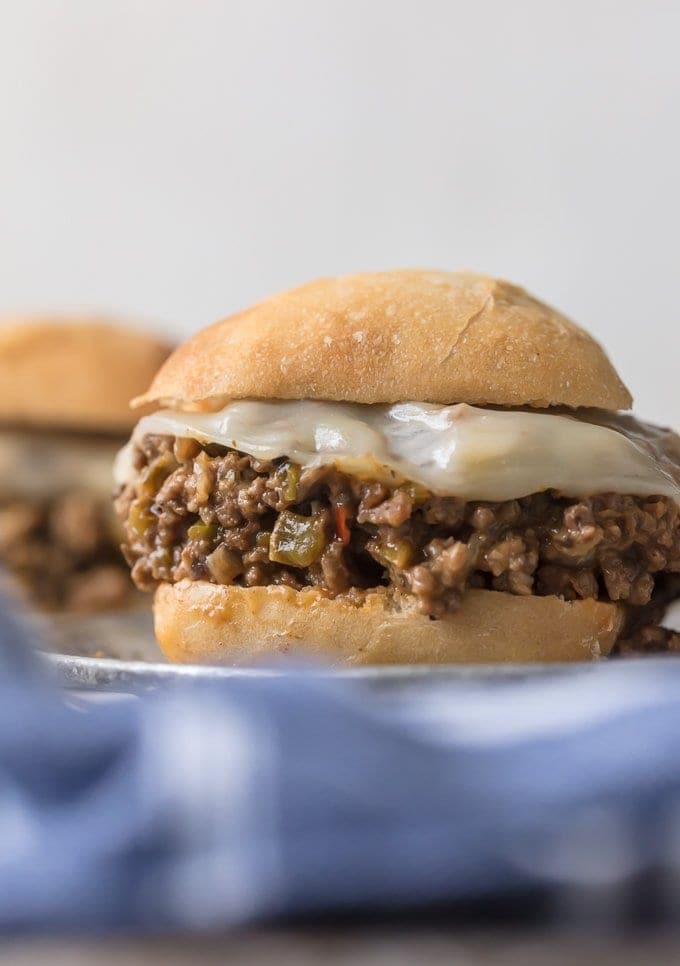 Well, Christmas is finally over. Has everyone recovered? Henry got to experience his first snow (picture below lol) and it was not a success. He was like WHAT in sam hell are you guys doing to me?! It was all okay because he also got his first xylophone, and as you can see (picture below) he was more than a fan. I hope if he is ever a famous musician this picture comes back to haunt his every move. Maybe it can be an album cover. Just saying. ANNYWAYYY…As we recover from all the hustle and bustle, easy recipes are a MUST. These Philly Cheesesteak Sloppy Joes are sure to please the family whether you're having a quiet dinner at home or watching the Super Bowl. They're almost as delightful as a first ever xylophone.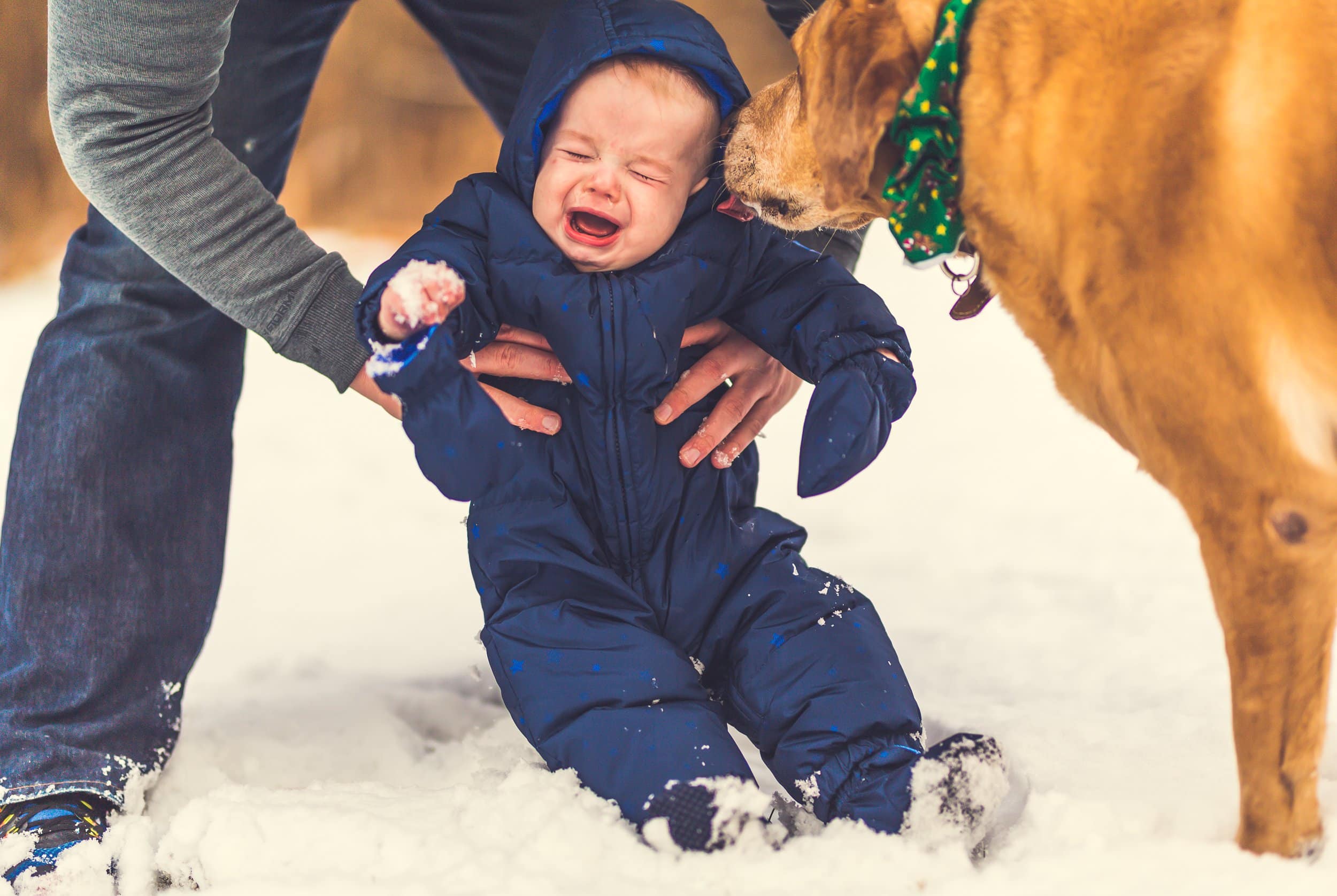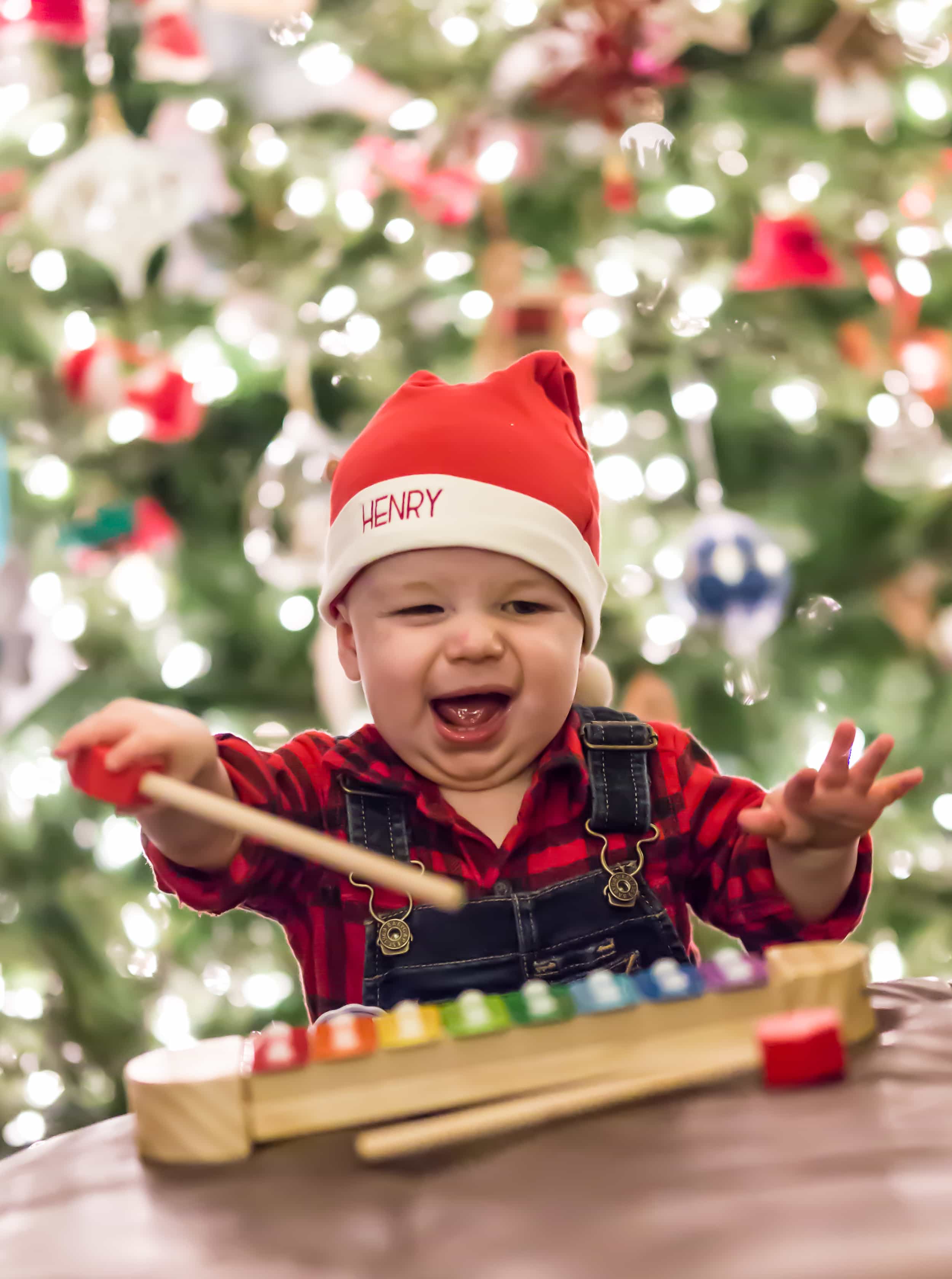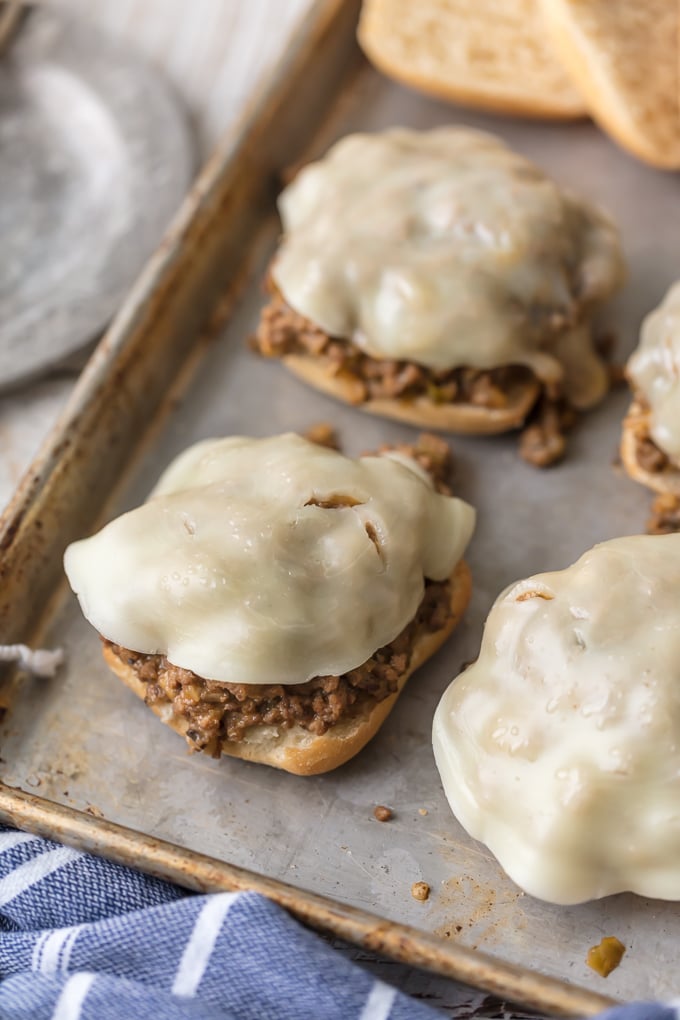 Although Henry isn't quite ready to tear into a full blown sloppy joe…he loved tasting these. This is his favorite week of life so far. 🙂 Pat was a big fan as well, these are just too tasty. Cheesy, easy, comforting…you name it. Philly Cheesesteak Sloppy Joes for the winter win! Don't you want to eat one or three? I know I do. How am I still hungry after all the food around the holidays?? I'll never know. I guess it comes with the job.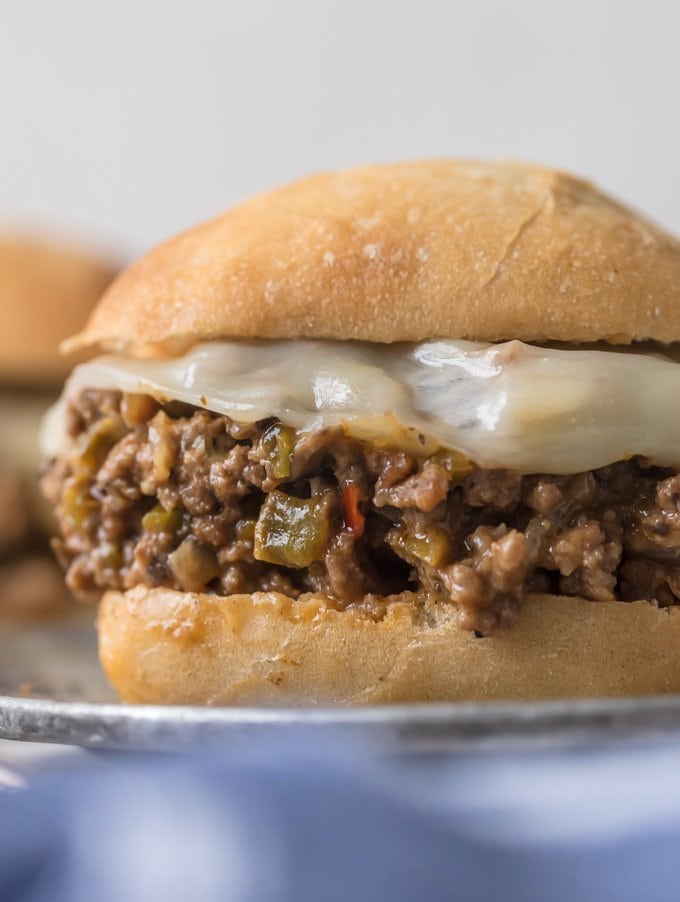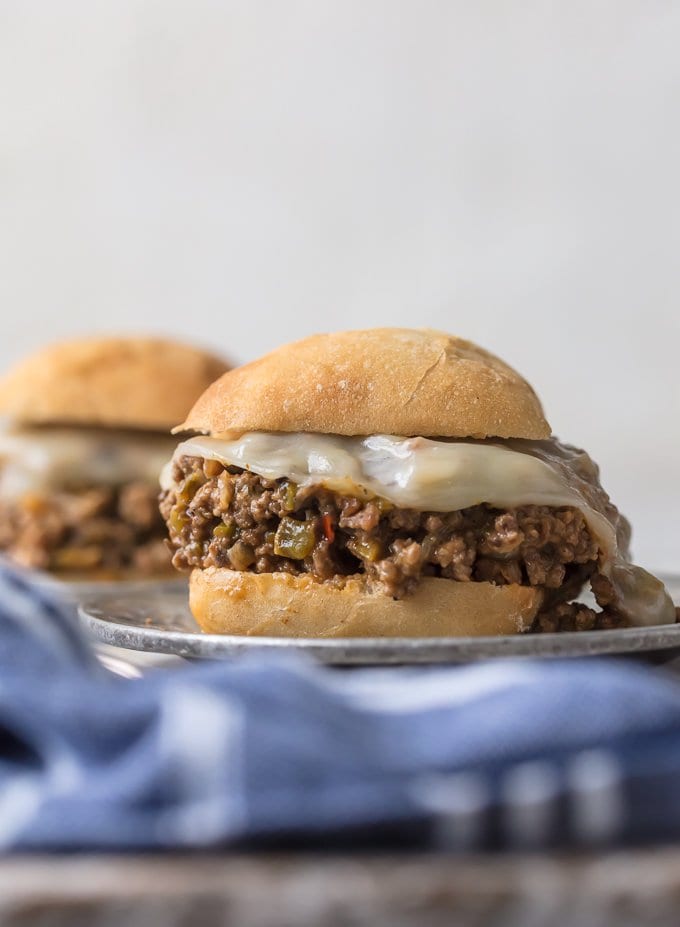 If you're looking for the perfect recipe you can make in under an hour (30 minute cook time and most of that you can be doing your own thing!) and then serve to a very happy family, these Philly Cheesesteak Sloppy Joes are IT! You probably already have all the ingredients you need to make them. I know you wanna try them.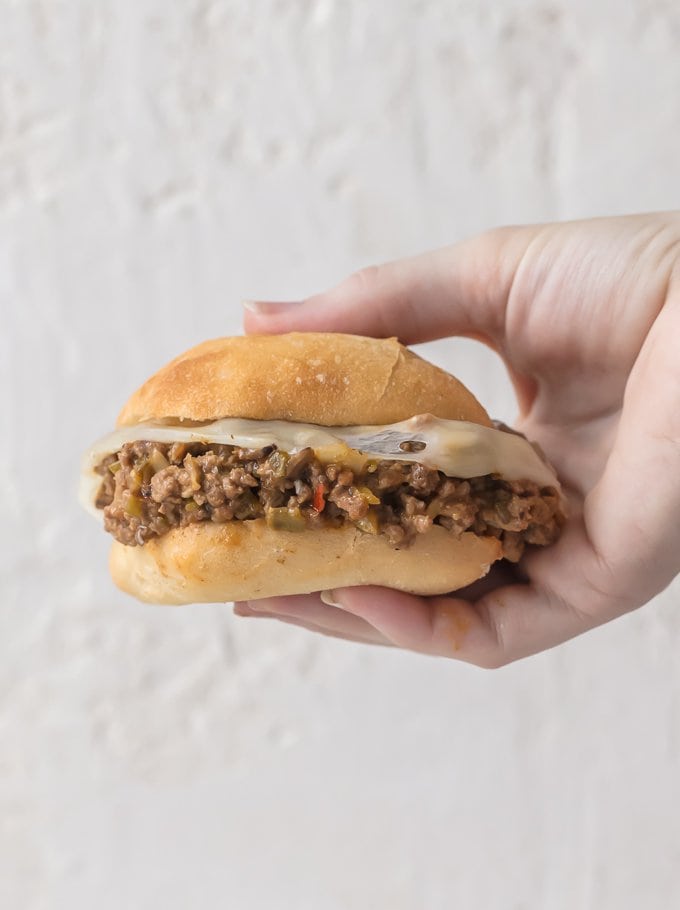 Yay yay yay! Enjoy 🙂
Philly Cheesesteak Sloppy Joes
We LOVE these PHILLY CHEESESTEAK SLOPPY JOES. This simple recipe elevates a classic loved by both kids and adults alike. You can't go wrong with a sloppy joe night!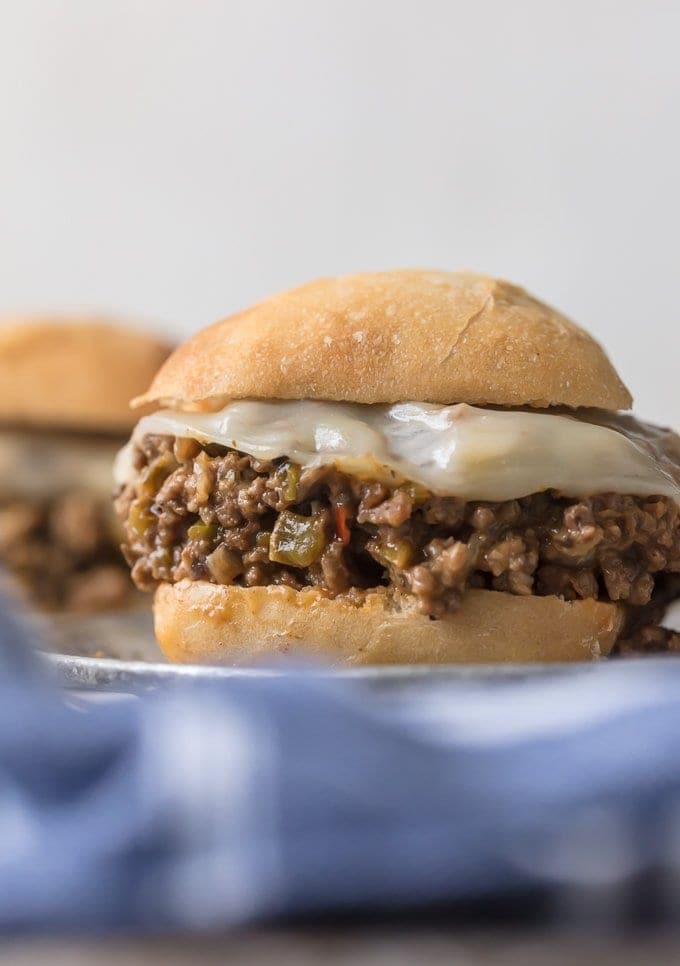 Ingredients
1 pound ground beef or chuck (I use 80/20, lean/fat ratio)
2 tablespoons butter
1 medium yellow onion, diced
1 large green bell pepper, stems & seed removed, diced
½ pound brown mushrooms, minced
1 tablespoon cornstarch
1 cup beef broth
1 teaspoon cider vinegar
2 tablespoons ketchup
2 tablespoons Worcestershire Sauce
½ teaspoon kosher salt
½ teaspoon freshly ground black pepper
¼ teaspoon red pepper flakes, optional
2-4 tablespoons soft processed cheese. Velveeta works well.
4-8 slices Provolone cheese (depending how cheesy you want)
6 brioche or other great bun. Something with a crispy(ish) shell and soft interior works well – similar to Italian bread texture.
Instructions
In a large cast iron skillet, place the ground beef and cook, over medium-high heat, until the crust is seared to a dark brown. Stir the beef and continue cooking it until about 50% of the beef is seared. Place a strainer over a large heat-resistant bowl and strain the beef. Set the beef aside.
Add two tablespoons of the beef fat and butter to the skillet. Add the chopped onions, green pepper and mushrooms. Cook, over medium heat, for 1-2 minutes then stir. Cook another 2 minutes until vegetables are just tender.
Add the beef to the vegetables and stir.
In a small mixing bowl, whisk together the cornstarch and beef broth.
Add the beef broth mixture, cider vinegar, ketchup, Worcestershire Sauce, salt, pepper and red pepper flakes to the beef/vegetable mixture.
Bring to a boil, over medium-high heat. Reduce heat to low and simmer until the mixture has thickened, 5-10 minutes.
Heat oven to broil and while the mixture thickens; butter and toast the insides of the buns. Place the buns, buttered side up, on a foil-lined cooking sheet and broil the insides of buns until golden brown. Transfer the buns to a cooling rack.
When the beef mixture has thickened, remove from the heat add the processed cheese. Mix until the cheese has incorporated. Season to taste, if needed.
Remove the top buns from the cooking sheet.
Place a large scoop of the meat mixture on top of each bottom bun and cover with 1-2 slices of Provolone cheese. Broil the sloppy Joes just until the cheese melts and transfer the tray to a cooling rack.
Replace the top buns and serve.
Enjoy!
7.6.6
2508
https://www.thecookierookie.com/philly-cheesesteak-sloppy-joes/
Did you make this recipe?