Easy15 minsGluten-Free
This Healthy Curry Chicken Salad recipe is quick and easy to make, and full of feel-good ingredients and mega-delicious flavor.  It's also naturally gluten-free and perfect for meal planning!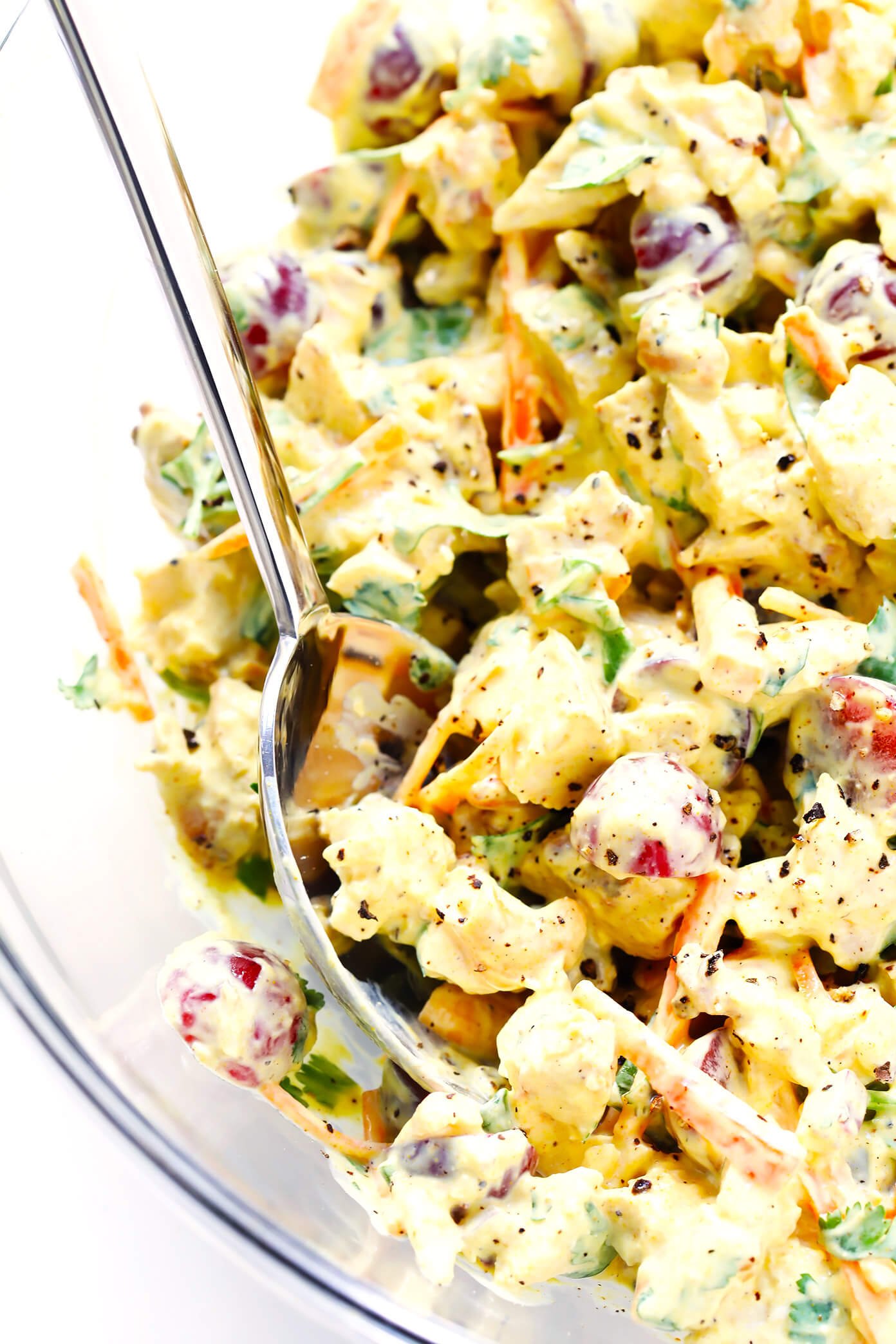 Just a few weeks before we moved to Barcelona, my friend, Maureen, got me totally hooked on Trader Joe's curried chicken salad.  Like, find-extra-excuses-to-swing-by-the-store-multiple-times-a-week-just-to-casually-throw-a-tub-in-my-basket kind of hooked.  I freaking loved that stuff.  And as delicious as our three months here have been, I've gotta admit, I'm still missing that dang chicken salad like crazy.
So I did what I should have done three months ago…and finally just made some for myself!  And good grief, it was so easy.
And ridiculously good.
Granted, I did decide to make a few small changes once I peeked at the ingredient list online.  Namely, including fresh grapes (my favorite in chicken salads) instead of raisins.  Also, red onions in lieu of scallions (which are annoyingly hard to track down in Barcelona), Greek yogurt instead of mayo (always), and a generous squeeze of lemon juice to brighten the whole thing up.  And the result?!  Seriously one of the best chicken salads of my life.
Also, it only took about 15 minutes to make.  And, if you're trying to meal plan, it holds up perfectly all week if you'd like to serve it up in a sandwich, or roll it into a wrap, or serve it in lettuce cups.  And it's made with ingredients you can feel great about, especially at the start of a new year.
Let's make some!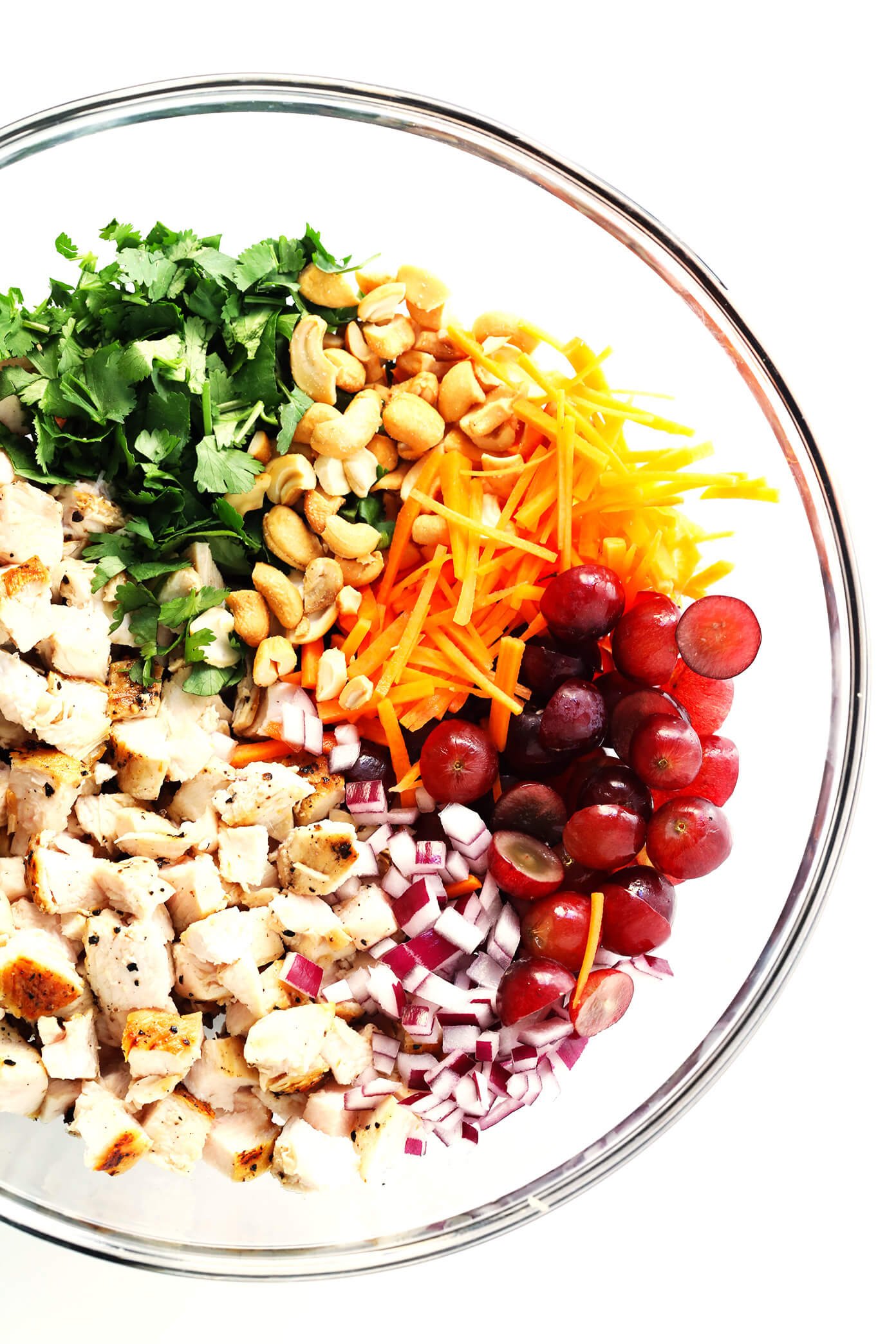 Alright, to begin, mix up your Greek yogurt curry sauce.  Then chop up your chicken, red onions, grapes, cashews, carrots , and cilantro.  (By the way, you can use any kind of chicken here.  I just sautéed and diced some chicken breasts with salt and pepper, but you could shred a rotisserie chicken too if you'd like a shortcut.)  Combine everything together in a large bowl…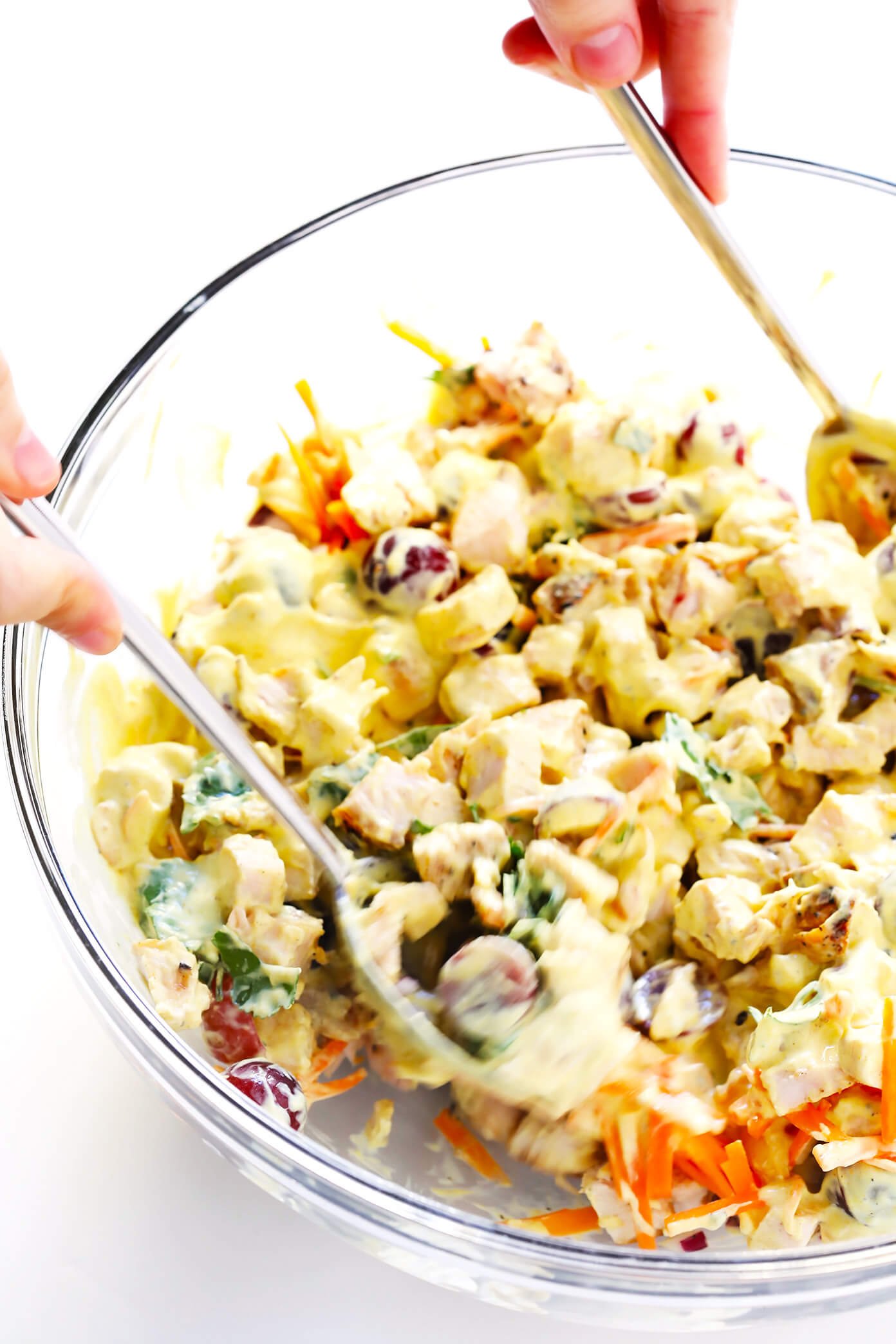 …then toss together with the dressing until everything is evenly coated.  Then…that's it!
Your big bowl of healthy curry chicken salad is all ready to go!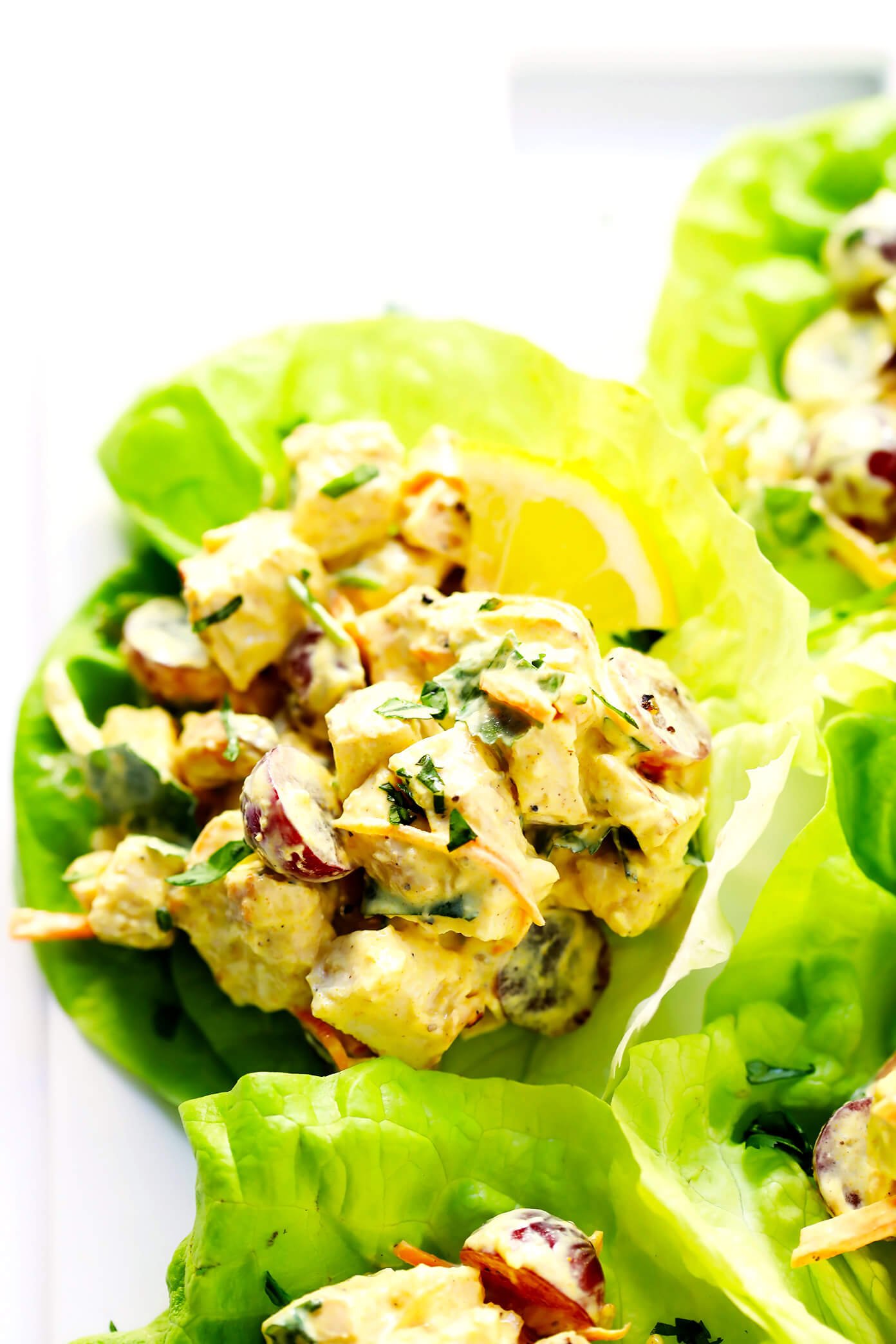 I served mine one day in lettuce cups, which was wonderfully light and fresh and delicious.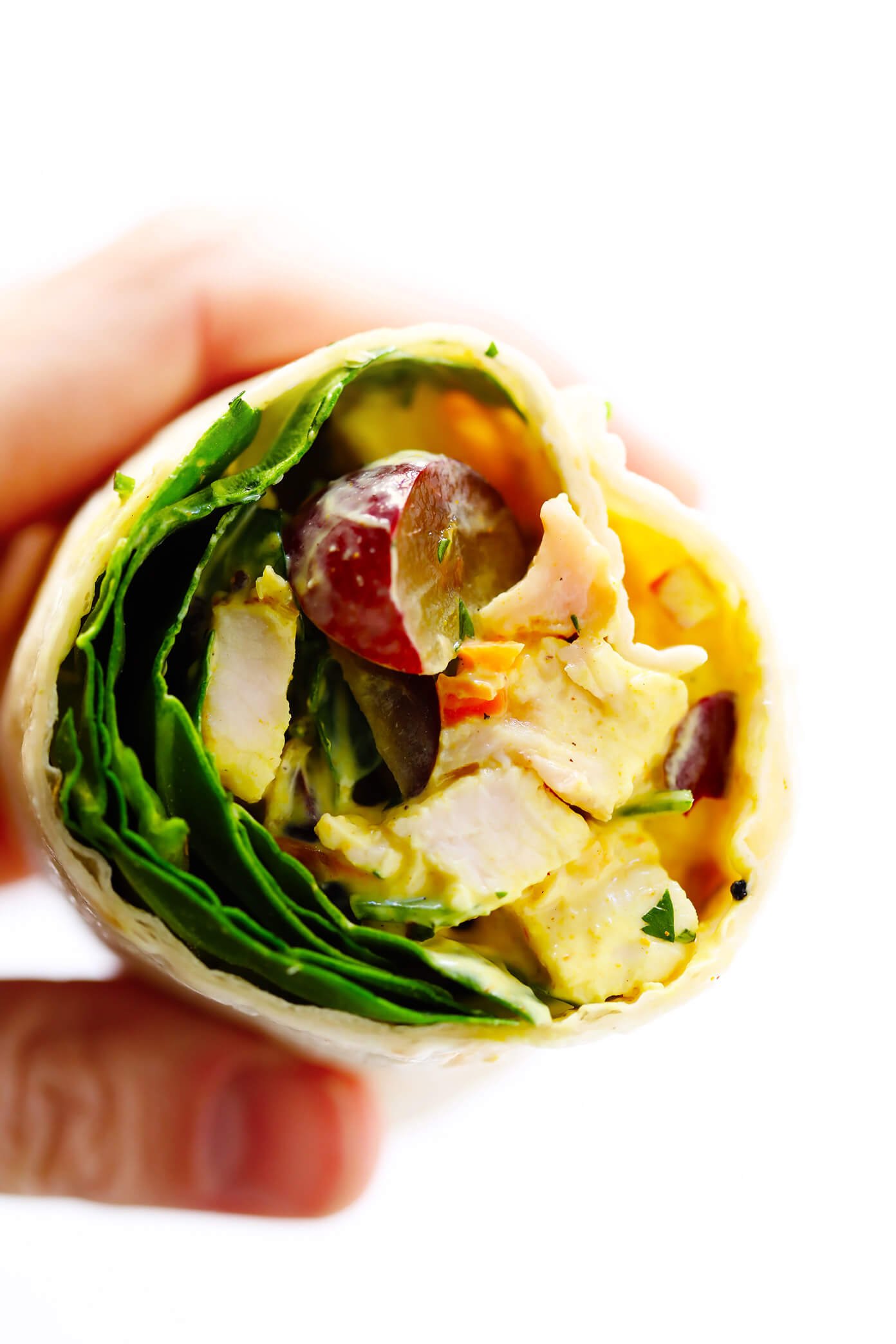 Then the next day for lunch, I went rolled the leftover salad up with some spinach and tortillas so make some cute little wraps, which was totally delicious.  (Totally went back and made a second wrap.) ?  Then the third day, I went old school with a chicken salad sandwich.  Always a win.
So if you're looking to spice up your chicken salad game and also have some great meal-planning options for the week ahead, whip up a batch.  I think you're going to love it!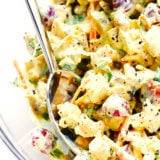 Yield: 4-6 servings
Healthy Curry Chicken Salad
This Healthy Curry Chicken Salad recipe is quick and easy to make, and full of feel-good ingredients and mega-delicious flavor.  It's also naturally gluten-free and perfect for meal planning!
Ingredients:
Chicken Salad Ingredients:
1 pound boneless skinless chicken breasts, cooked and cubed
1 cup grapes, halved
1/2 cup roughly-chopped fresh cilantro, lightly-packed
1/2 cup shredded carrots
1/3 cup chopped toasted cashews
1/4 cup finely-diced red onion
1 batch Greek Yogurt Curry Sauce (see below)
Greek Yogurt Curry Sauce Ingredients:
1 cup plain Greek yogurt
1 tablespoon freshly-squeezed lemon juice
1 tablespoon honey
1 teaspoon garam masala
1/2 teaspoon ground ginger
1/2 teaspoon ground turmeric
pinch

each

of salt and pepper
Directions:
To Make The Chicken Salad:
Toss all ingredients together in a large bowl until combined.
Serve immediately, or store in a sealed container for up to 4 days.
To Make The Greek Yogurt Curry Sauce:
Whisk all ingredients together in a medium bowl until combined.  Taste, and season with extra salt, pepper, and/or lemon juice if needed.
Feel free to also add in a pinch of cayenne if you would like the curry to have more of a kick!
Difficulty: EasyCategory: Gluten-Free
Inspired by the famous chicken salad at Trader Joe's.
All images and text ©Gimme Some Oven
If you make this recipe, be sure to snap a photo and hashtag it #gimmesomeoven. I'd love to see what you cook!