SHEET PAN CHICKEN QUESADILLAS are the easiest and best way to make delicious quesadillas for a crowd! These baked quesadillas can be made with any filling and toppings, and are sure to please even the pickiest eaters. (Hello Game Day!)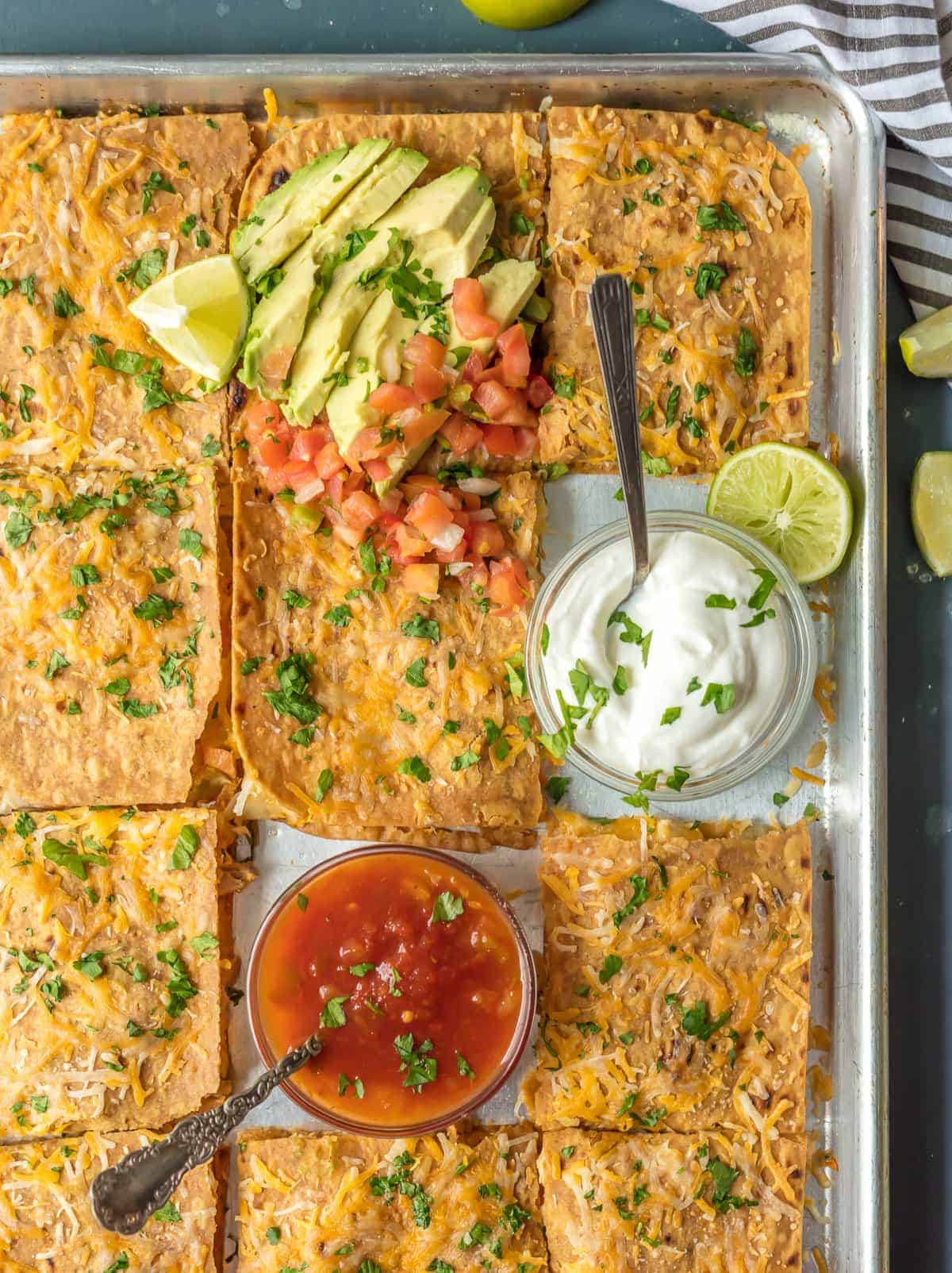 SHEET PAN DINNERS!!! My absolute favorite way to cook a quick and delicious meal! There's nothing quite like only having one dish to clean, at the same time easily feeding a crowd! These fun SHEET PAN CHICKEN QUESADILLAS are the perfect quick and simple fix for any craving, full of flavor and short on time. They're loaded with chicken, caramelized onions, CHEESE, and more, and all baked on your favorite cookie sheet. Excited?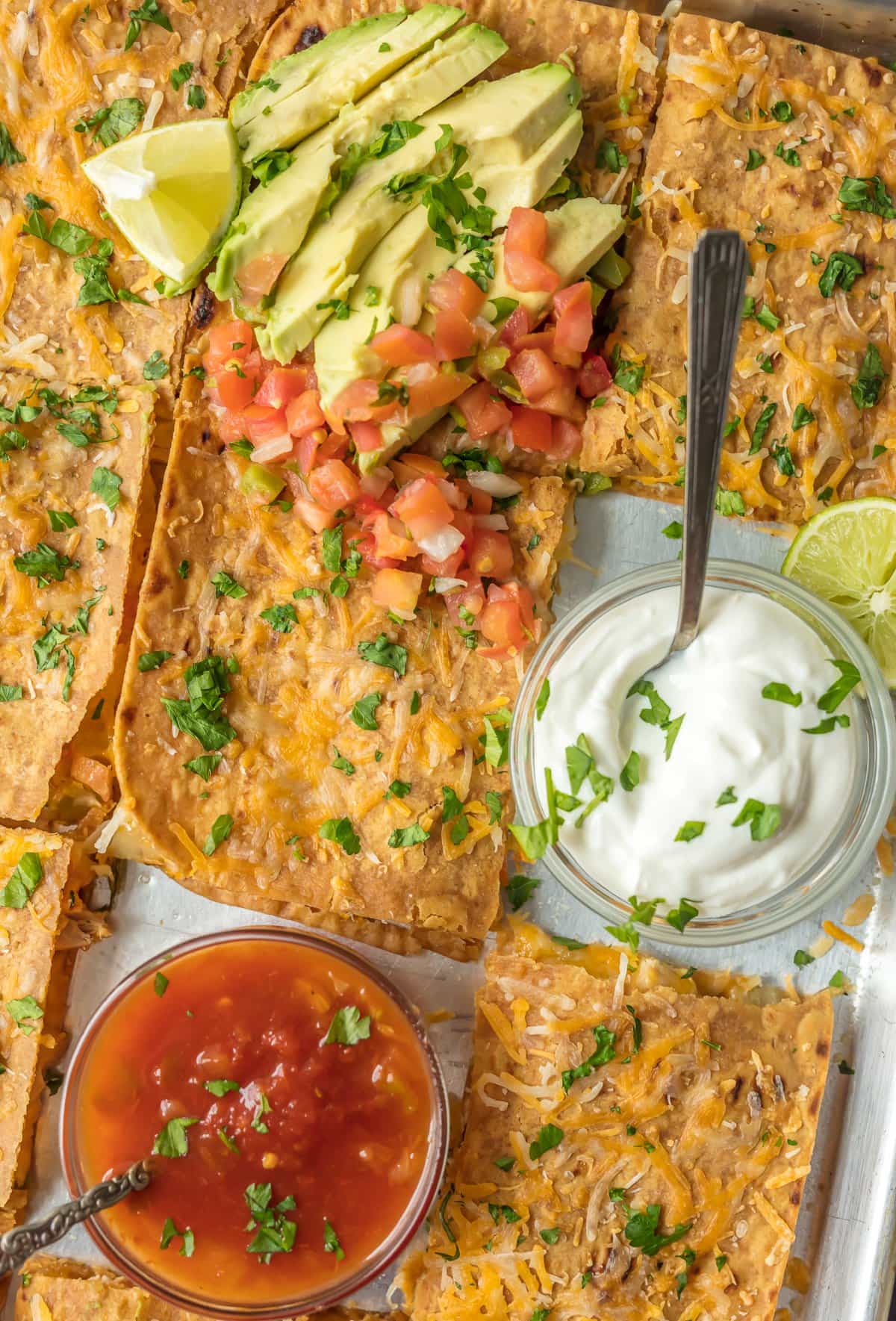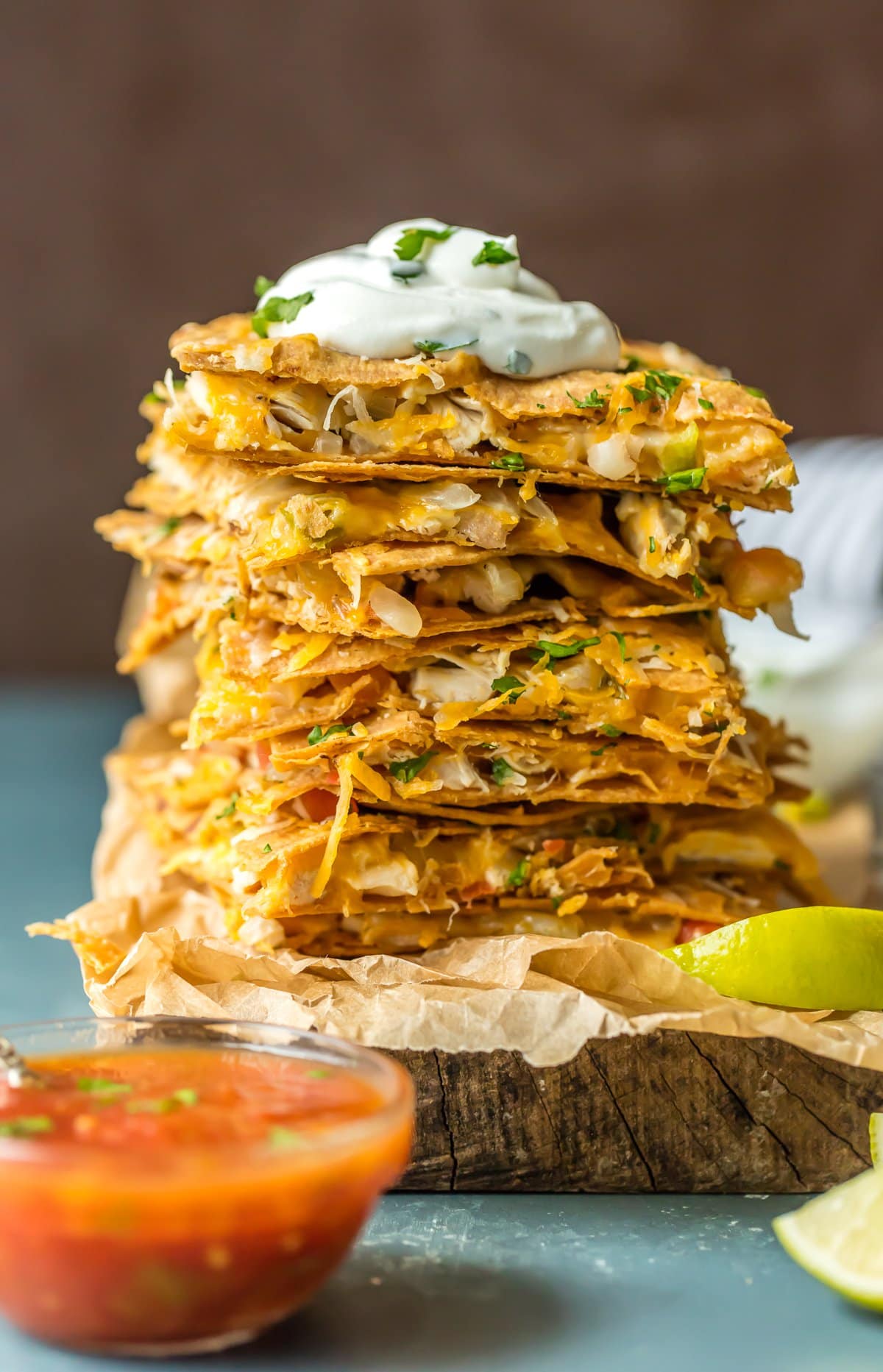 I love quesadillas in any form. Every time we go to our favorite Mexican restaurant (which is a lot), I order the Chicken Fajita Quesadilla. Every. Single. Time. I just love all that cheese and chicken. When making them at home, these Sheet Pan Chicken Quesadillas are the easiest way I've found to perfect them. The tortillas come up crispy, the inside comes out melty, and the results are so crave worthy. If you're making them just for yourself they also make great leftovers. I ate these for days and I wasn't sad about it at all!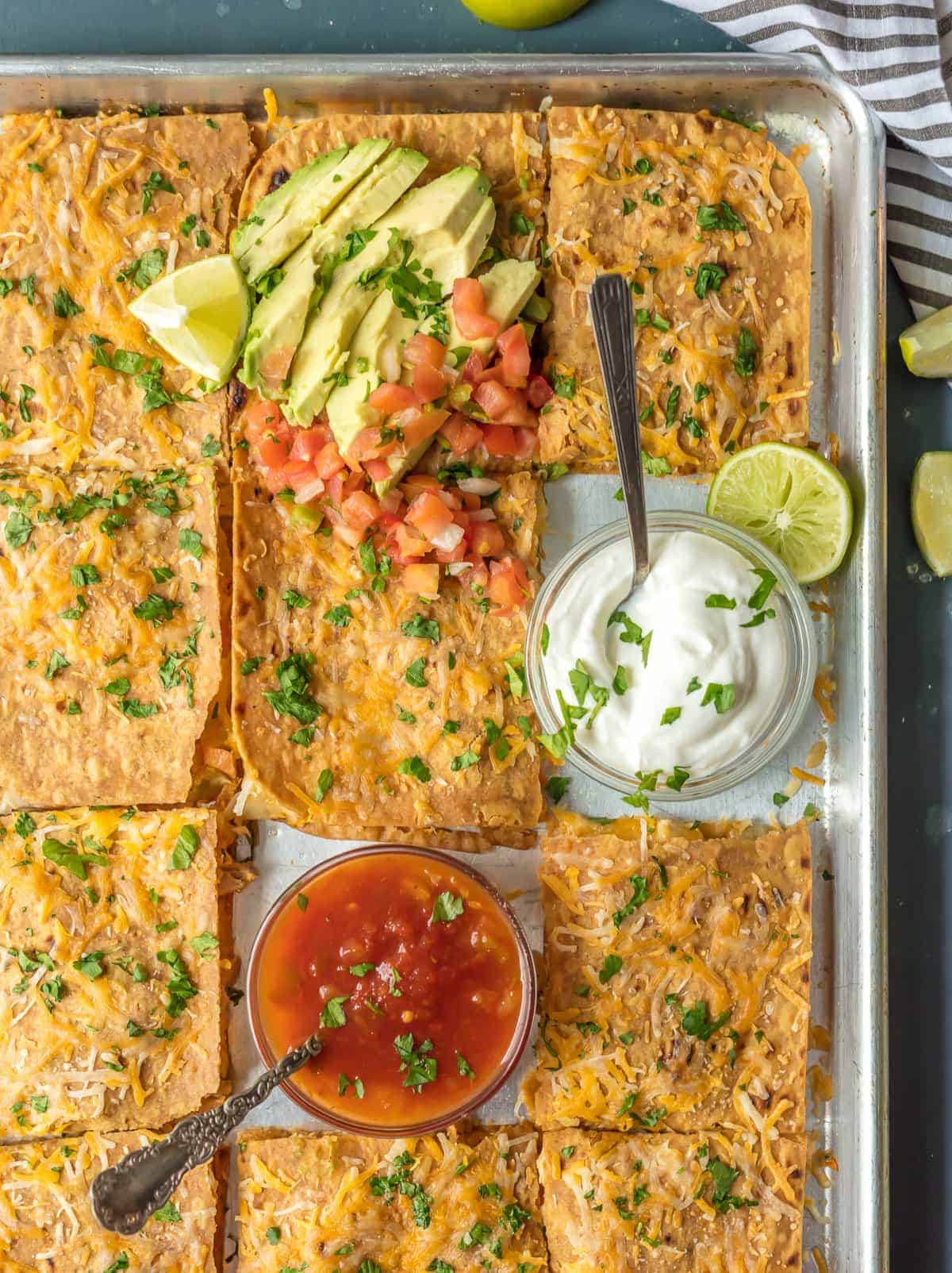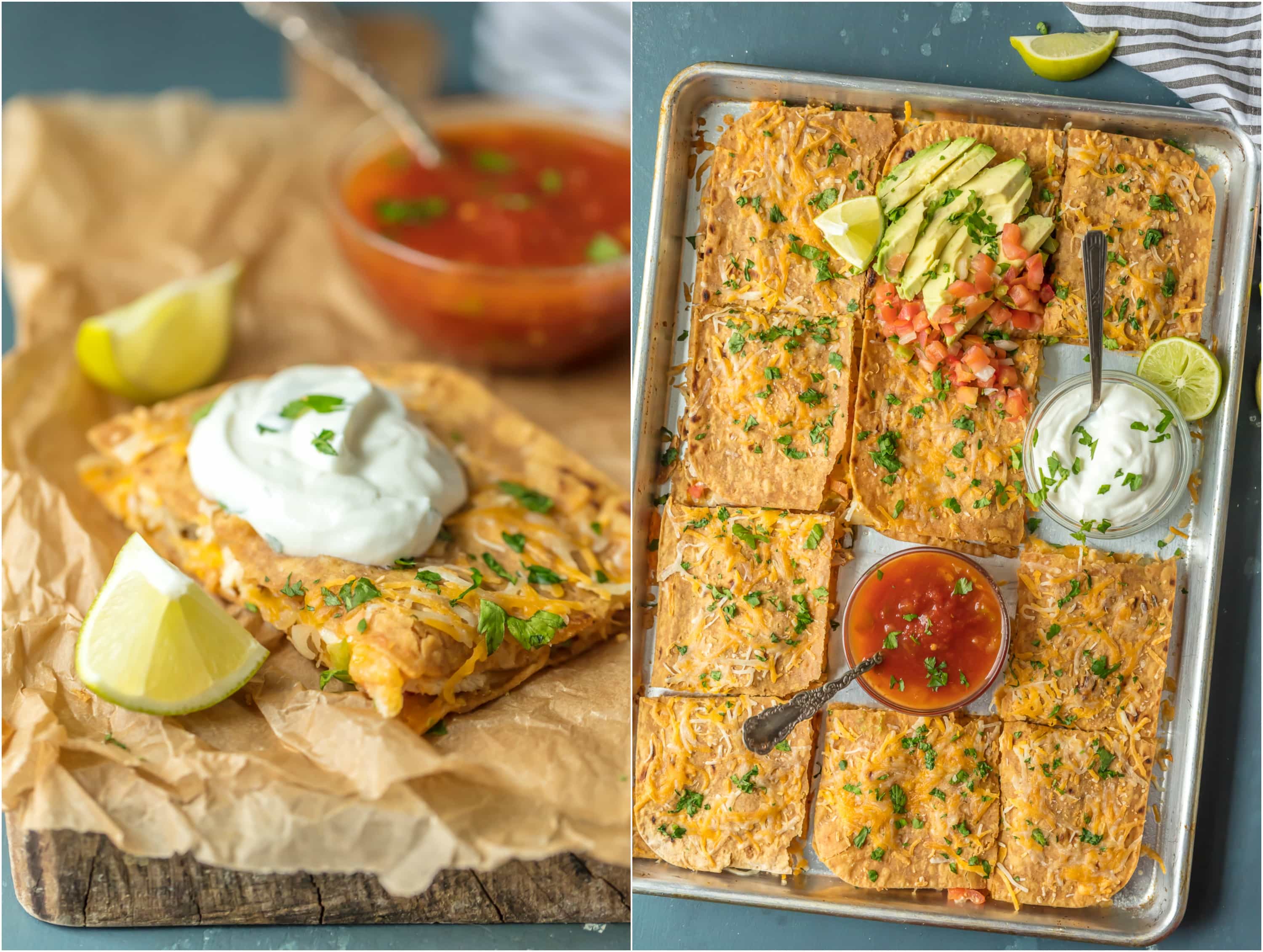 The great thing about these Sheet Pan Quesadillas if you can stuff them with whatever toppings you love best. You can make them steak, shrimp, or just cheese! Love peppers? Stack them in there! You can't go wrong and the possibilities are endless! We chose chicken and cheese because…well I can never get enough. But don't feel like you have to stick to our recipe. Throw the kitchen sink in there…you won't regret it!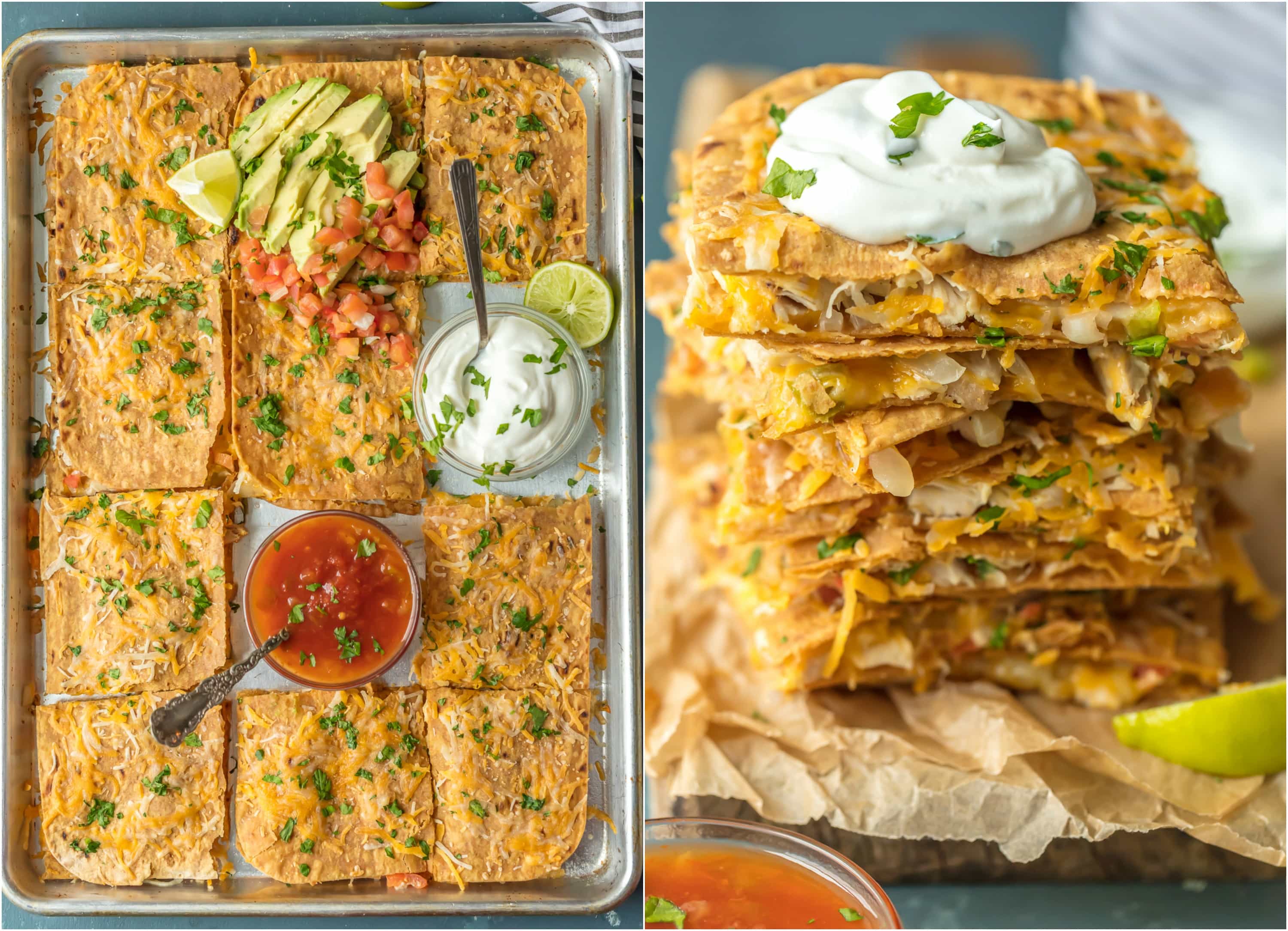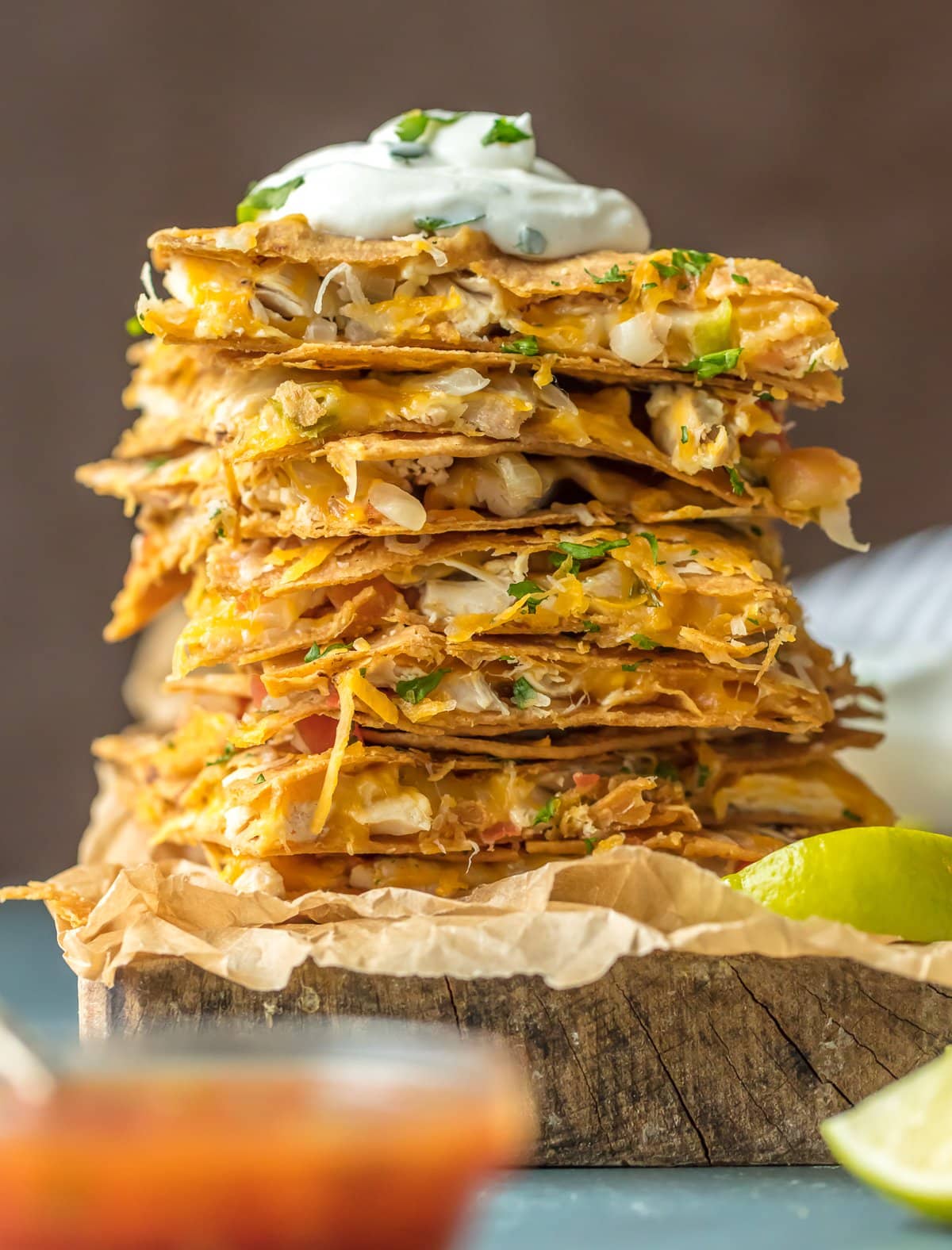 Enjoy!
Sheet Pan Chicken Quesadillas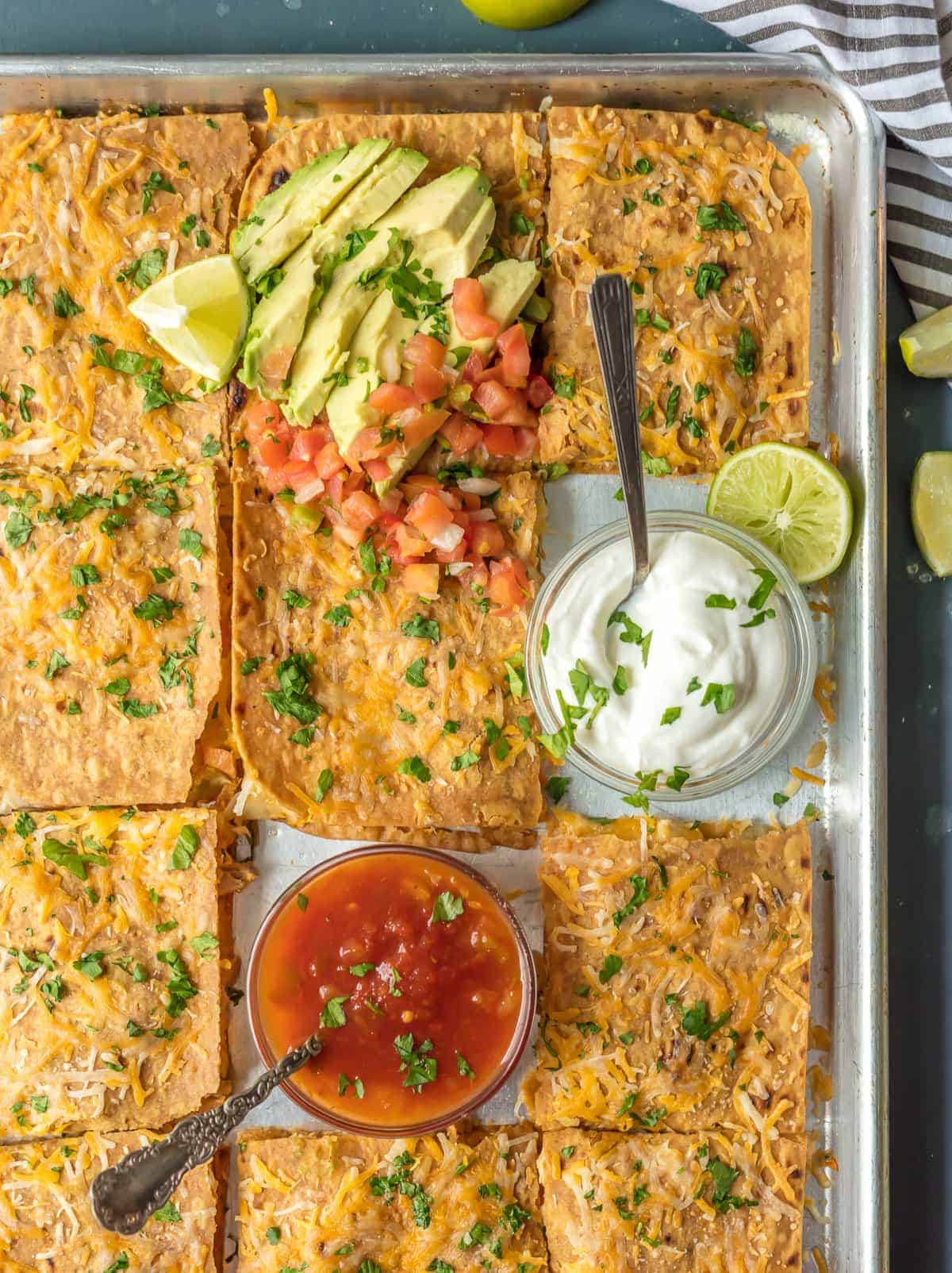 Ingredients
4 large sheets rectangular tortillas, wraps or flatbread (can be found in the deli section of many grocery stores).
2 tablespoons canola oil
2 tablespoons butter
1 sweet yellow onion, diced
3 cloves garlic, minced
1 can green chilies
3-4 cups rotisserie chicken meat, shredded or cubed
2 cups shredded Cheddar Cheese or Mexican Cheese Blend
2 cups Jalapeno Pepper cheese
Juice of 1 lime

Toppings:

Diced Tomatoes
Avocado slices
Chopped Cilantro
Sour cream
Lime wedges
Salsa
Instructions
Preheat oven to 400°F. Line a baking sheet with foil and spray the foil with cooking spray.
Place two flatbreads or tortillas in the bottom of the pan, overlapping them a little in the middle. The tortillas should cover the entire pan.
In a large skillet over medium-high heat, sauté the onions until they are translucent. Add the minced garlic and green chilies and cook an additional 30 seconds. Remove the mixture from the heat.
Sprinkle the chicken evenly over the tortillas in the pan.
Sprinkle the cheddar or Mexican cheese evenly over the chicken.
Dot the onion mixture over the cheese.
Sprinkle the Jalapeno Pepper cheese as the next layer.
Squeeze the juice of the lime over the top.
Place the two remaining flatbreads or tortillas on top and press down to secure the top tortillas in place.
Spray the top of the tortillas with cooking spray.
Cook tortillas on the middle rack of the oven, at 400°F, for 20-25 minutes, or until the tortillas are crisp and cheese is melted.
Serve immediately with toppings of your choice.
Enjoy!
*NOTE: You can also sprinkle a bit of cheese onto the quesadillas once done and broil until crisped as we did for photos.
7.6.7
2522
https://www.thecookierookie.com/sheet-pan-chicken-quesadillas/
Did you make this recipe?
Becky woke up on her 30th birthday and realized she didn't know how to cook, ANYTHING! She started The Cookie Rookie as a way to document her journey to learn how to cook, one recipe at a time! The Cookie Rookie is a place to find easy recipes that anyone can make, and everyone will love!