Easy30 minsVegetarian
This vegetarian Mushroom Stroganoff recipe is quick and easy to make in about 30 minutes, and it is perfectly comforting, hearty, savory, and delicious.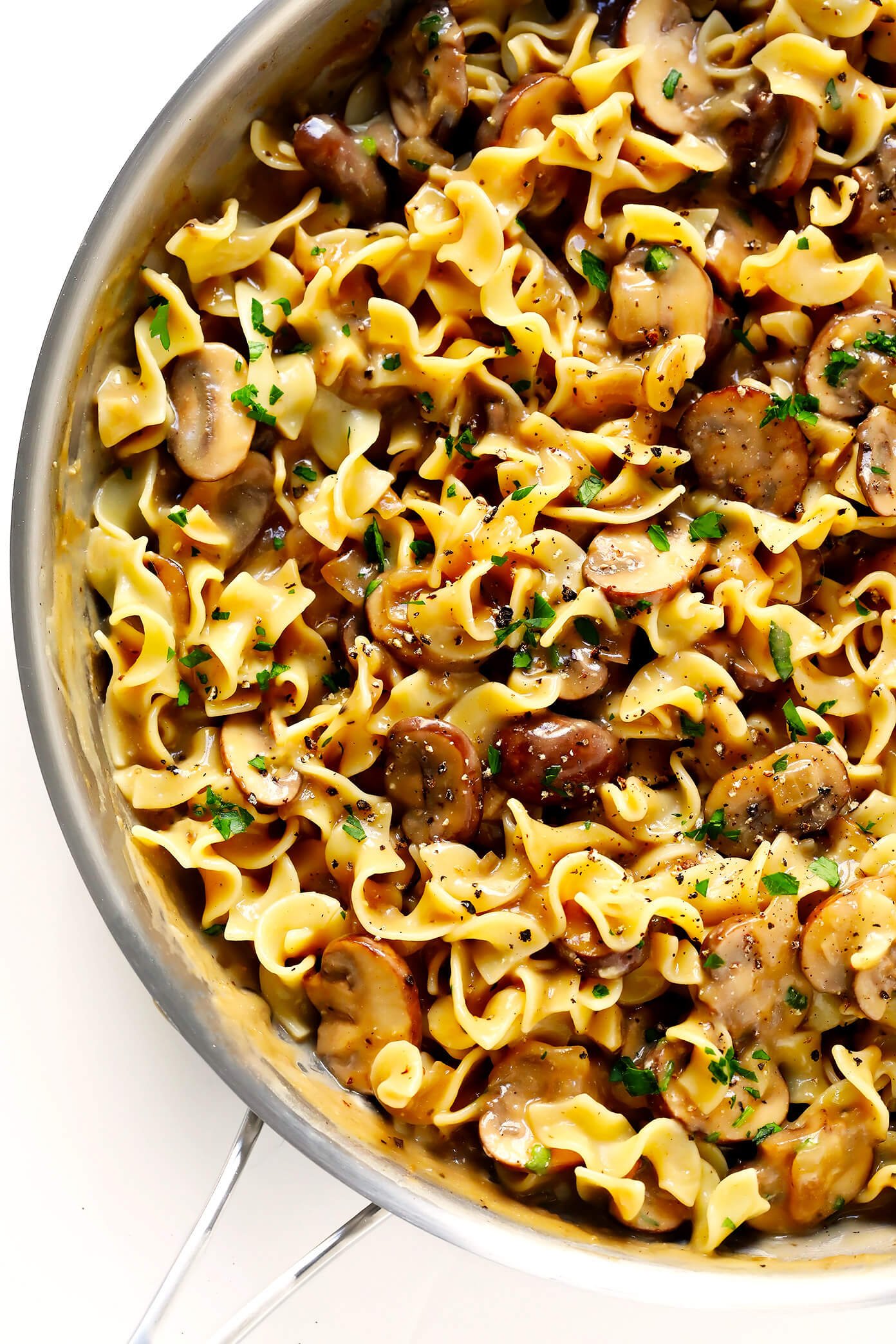 My recipe for traditional Beef Stroganoff has long been one of the most popular posts on this blog.  And with good reason — it's one of my faves.  But!  As more and more of us are eating less meat nowadays (oh hey), or are going full-on vegan or vegetarian (oh hey, husband of mine), I've been getting more and more questions about how to make this classic comfort food sans-beef.  And my answer?
Totally do-able.
Also?  Totally delicious.
Seriously.  I know people like to toss around the phrase "you won't even miss the meat!" when vegeterian-izing some dishes, which, in my experience, seems to more often than not feel like wishful thinking.  But as someone who downright loves beef stroganoff, and was served it more times than I can count growing up, I can honestly vouch that the mushrooms totally carry this recipe.  And honestly, I now prefer it to the original…which bodes well for our omnivore-vegetarian household.  😉
So if you too have some nostalgic love for old-school stroganoff…but might err toward a vegetarian version for whatever reason nowadays…trust me.  This is a recipe you've gotta try. ♡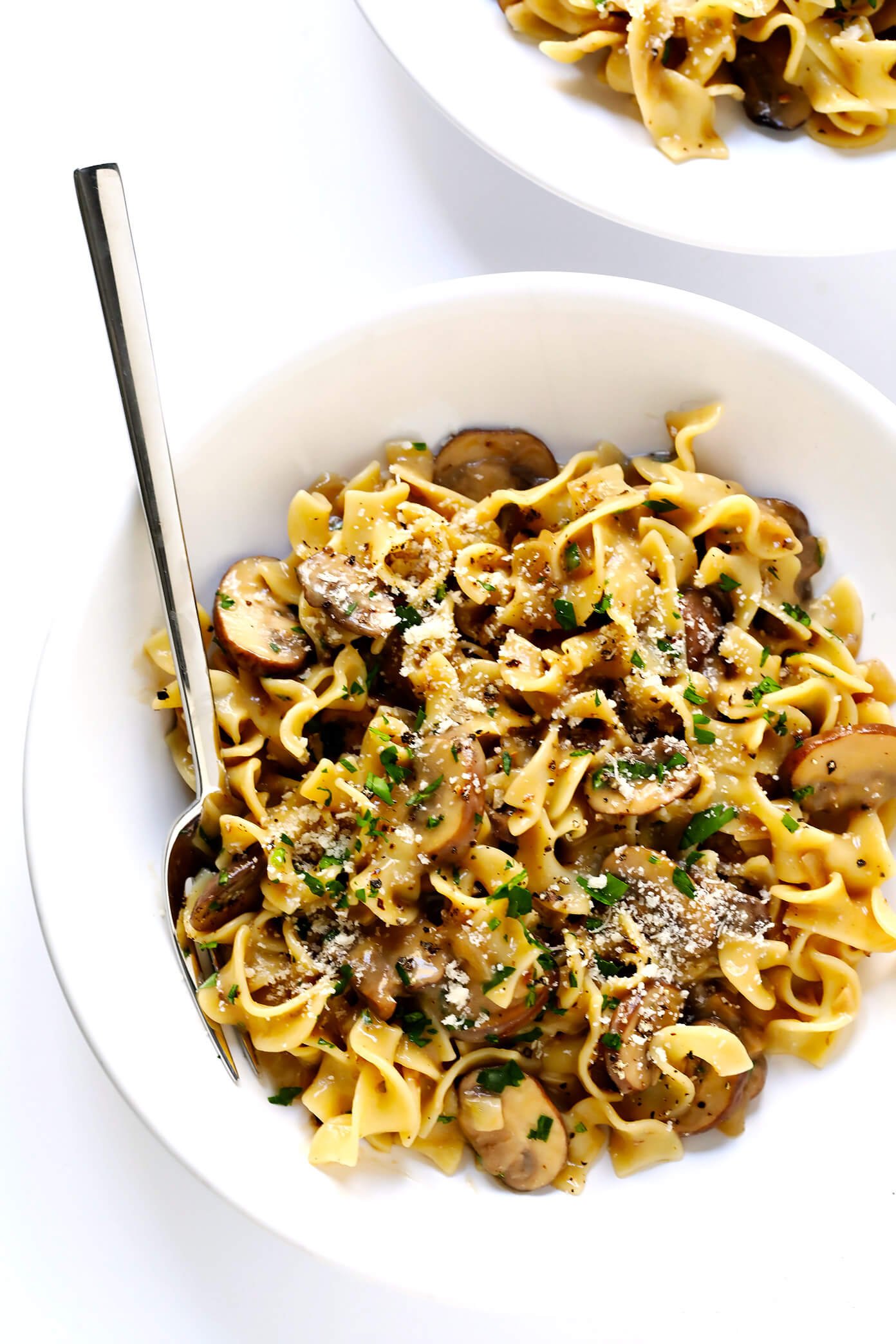 More good news?  This recipe is incredibly simple to make, and can be on the table in just about 30 minutes.
To begin, bring a pot of water to a boil for your noodles.  (You can use egg noodles, traditional pasta, quinoa…you name it.)  And while that's heating up, get to choppin'.
You'll need a full pound of mushrooms for this recipe.  But the type is up to you!  I just kept mine simple and used a bunch of baby bellas (a.k.a. cremini mushrooms), since they were the only ones available at the little "tienda" by us this week.  But white button mushrooms would also work.  Or — even better — grab a mix at the store for even more delicious mushroom flavors.  (That's totally happening here the next time I make this.)
Once you have all of your ingredients prepped and chopped, sauté them all together in a large sauté pan or stockpot.  Then once it's time to add the veggie stock mixture (see below), add your noodles to the boiling water, and the timing should work out well for everything to be ready to go in the end.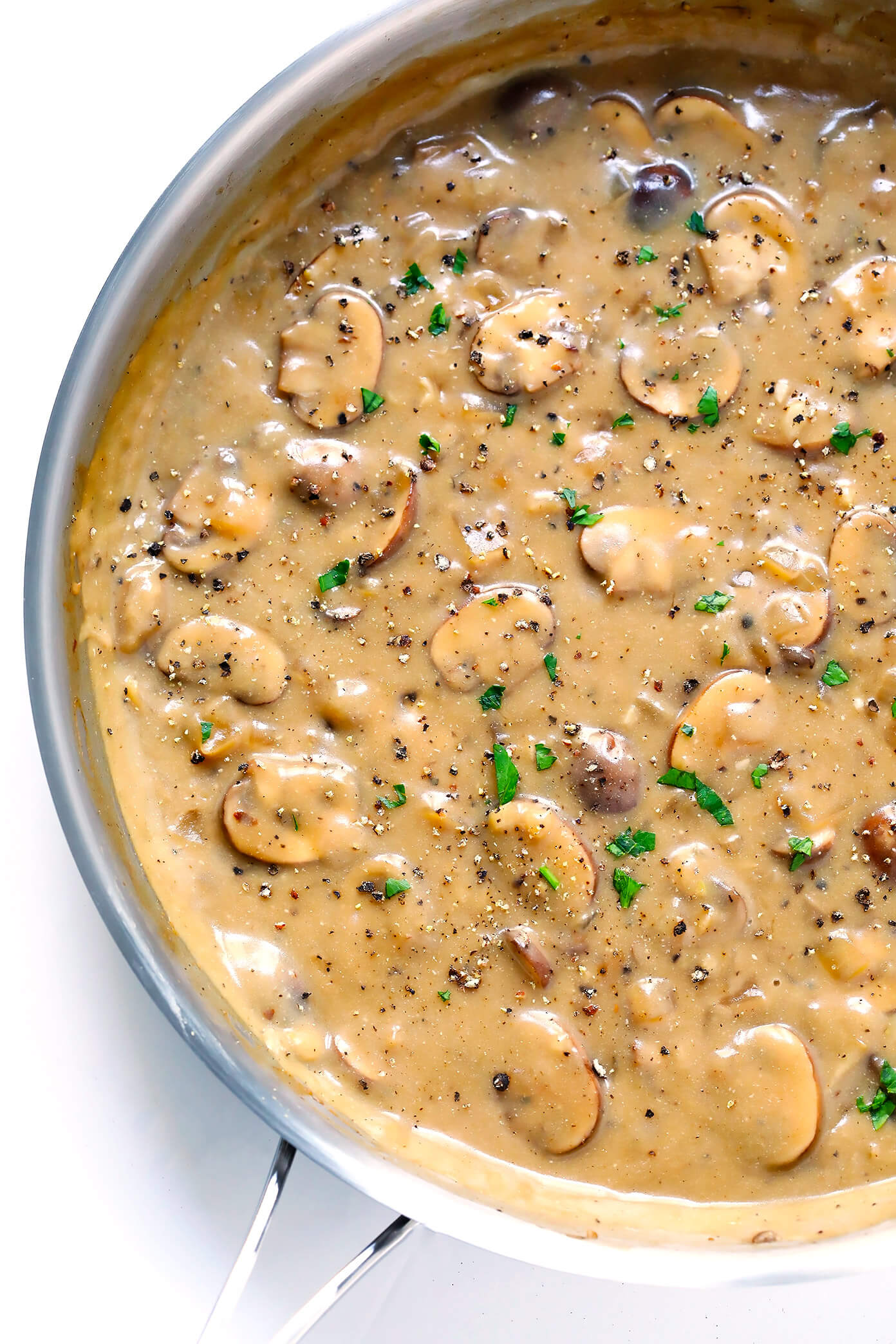 Once the sauce and noodles are ready to go, you can either plate up your noodles and serve the sauce on top…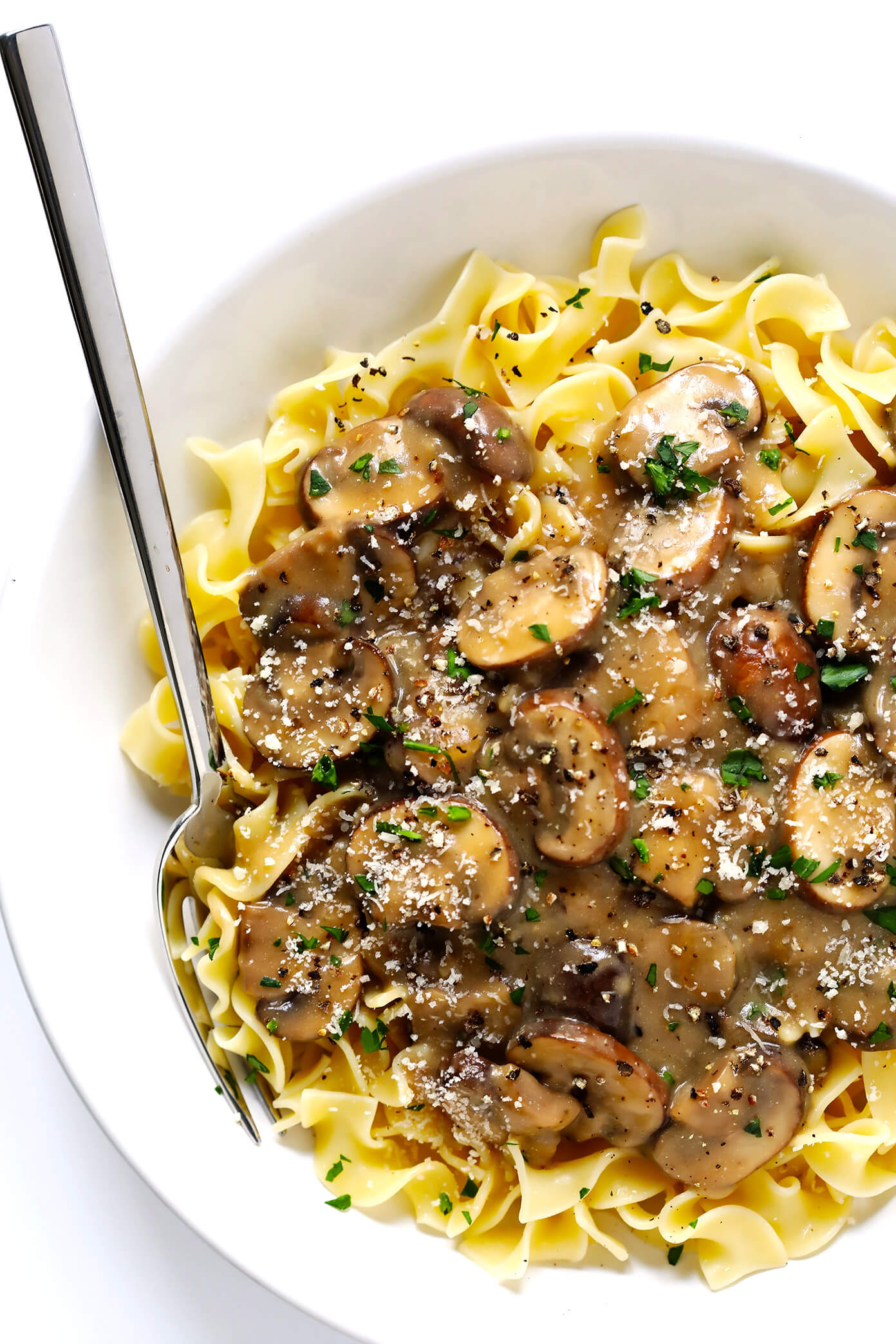 …or, combine the noodles and sauce altogether in the pan, and then serve.  Big choices here, folks.
Then, just sprinkle on your favorite toppings (I'm a big fan of freshly-grated Parm, a sprinkle of chopped fresh parsley or thyme, and extra black pepper)…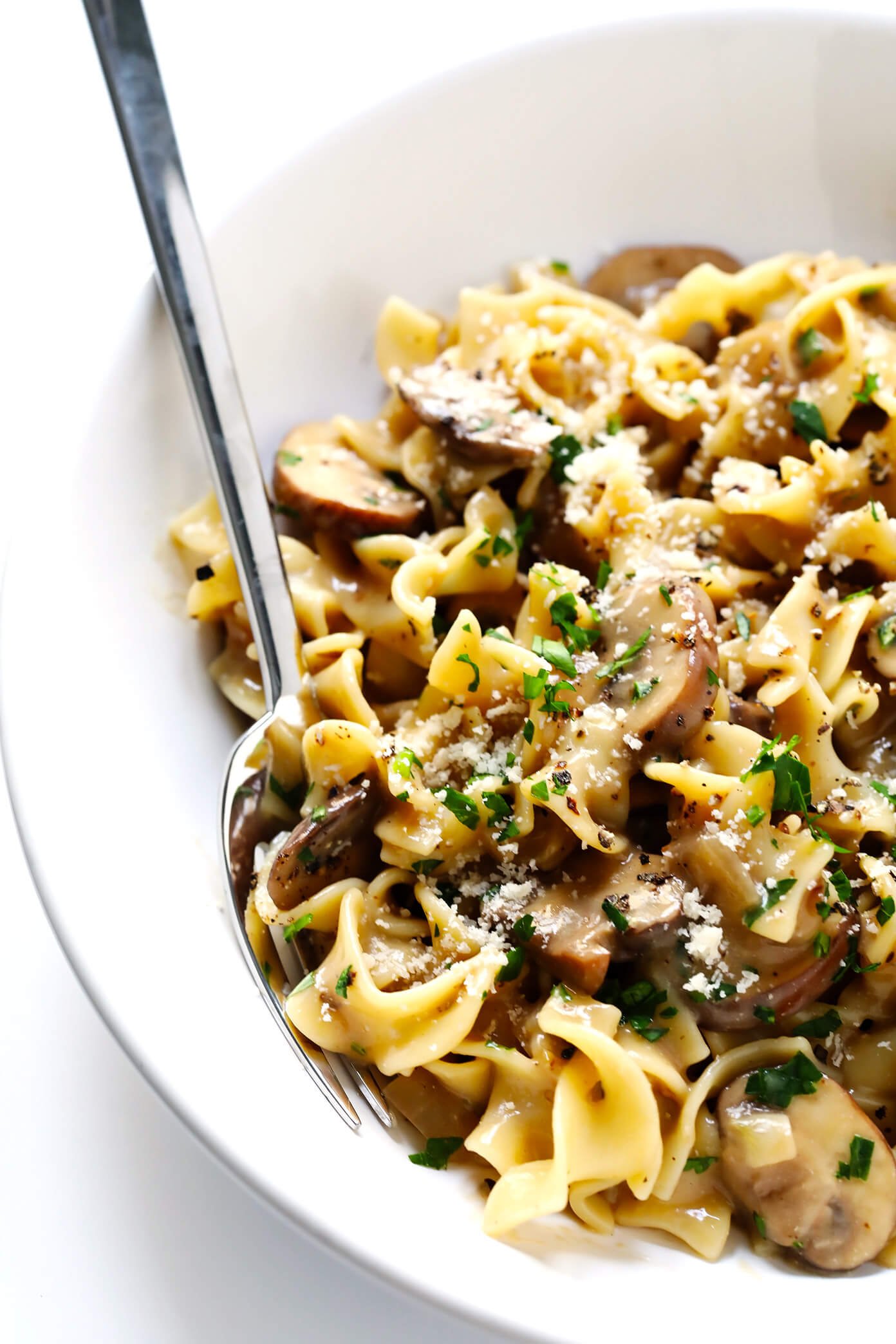 …dive in…and enjoy!
Yield: 4-6 servings
Mushroom Stroganoff (Vegetarian)
This vegetarian Mushroom Stroganoff recipe is quick and easy to make in about 30 minutes, and it is perfectly comforting, hearty, savory, and delicious.  Feel free to serve over egg noodles, traditional pasta, quinoa, veggies, or whatever sounds delicious.
Ingredients:
1 pound wide egg noodles
3 tablespoons butter, divided
1 small white onion, thinly sliced
4 cloves garlic, minced
1 pound baby bella mushrooms*
1/2 cup dry white wine
1.5 cups vegetable stock
1 tablespoon Worcestershire sauce
3 1/2 tablespoons flour
3 small sprigs of fresh thyme (or 1/4 teaspoon dried thyme)
1/2 cup plain Greek yogurt or light sour cream
Kosher salt and freshly-cracked black pepper
optional toppings: freshly-grated Parmesan cheese, chopped fresh parsley, extra black pepper
Directions:
Cook egg noodles al dente in boiling, generously-salted water according to package instructions. (For optimal timing, I recommend actually adding the egg noodles to the boiling water at the same time that the vegetable stock is added to the stroganoff.)
Melt 

1 tablespoon

butter in a large sauté pan over medium-high heat.  Add onions and sauté for 5 minutes, stirring occasionally. Add garlic and mushrooms, and stir to combine. Continue sautéing for an additional 5-7 minutes, until the mushrooms are cooked and tender. Add the white wine, and deglaze the pan by using a wooden spoon to scrape the brown bits off the bottom of the pan. Let the sauce simmer for 3 minutes.
Meanwhile, in a separate bowl, whisk together the vegetable stock, Worcestershire and flour until smooth. Pour the vegetable stock mixture into the pan, along with the thyme, and stir to combine. Let the mixture simmer for an additional 5 minutes, stirring occasionally, until slightly thickened. Then, stir in the Greek yogurt (or sour cream) evenly into the sauce. Taste, and season with a generous pinch of two of salt and pepper as needed.
Serve immediately over the egg noodles, garnished with your desired toppings.
*Feel free to use whatever mushrooms you have available.  A mixture of your faves would be great!
Difficulty: EasyCategory: Vegetarian


All images and text ©Gimme Some Oven
If you make this recipe, be sure to snap a photo and hashtag it #gimmesomeoven. I'd love to see what you cook!