Easy15 minsQuick
This unforgettable Italian Chopped Salad is full of fresh tomatoes, basil, Romaine, Pecorino, a rich balsamic glaze…and "sprinkled" with some surprise ingredients!
Ever since we returned home from our trip to Rome, I have been itching to recreate this salad we tried on our very last day there at a cute restaurant called La Prosciutteria.
Tons of you had actually recommended that we check out this place, thanks to their infamous design-your-own-cheeseboard menu — which was just as brilliant and magical as you would imagine.  But surprisingly, the surprise dish that swept in and stole the show ended up being this gorgeous side salad!  We added it to our order at the very last second, feeling the need for something green to balance out all of those delicious meats and cheeses.  But after a few bites, we ended up wishing we had a cheeseboard-sized platter of salad too.
It was ridiculously delicious.  And also — can I say — a little ridiculously random?
On the menu, it sounded like it was just going to be a simple, caprese-ish green salad, full of fresh tomatoes (mmm, those tomatoes in Italy are next-level), Pecorino cheese, fresh basil, and Romaine, drizzled with a thick balsamic glaze.  But when it arrived, we took a closer look and saw that it was sprinkled with a variety of "confetti", including lots of sunflower seeds, poppy seeds, toasted sesame seeds and black pepper.  Basically, everything bagel seasoning!  Which is definitely not something I typically associate with Italian food.  But hey, those Italians know what they're doing.  And this was absolute perfection.
So of course, I had to try recreating it the second we got home.  And share it with you. ♡
The other good news?  This one is super-easy to make.
Just chop up a large head of Romaine (or whatever greens you have on hand), a pint of cherry tomatoes (hopefully they're nice and ripe!), and lots of fresh basil (we agreed the more, the merrier).  Then if you can get your hands on a big hunk of Pecorino cheese, that is unquestionably the best way to go here with all of its aged, salty, goodness.  But — that said — Asiago, Manchego, Mozzarella, Provolone, or even a mild Parmesan would work well here too.
Toss everything together in a large bowl, then sprinkle with your desired nuts (the restaurant used sunflower seeds) and a few tablespoons of everything bagel seasoning.  (Although as you'll note in the photos, I didn't put two and two together that all of these "sprinkles" were really everything seasoning until after I started typing this recipe up, and added them all separately to the salad.  Much easier if you just have the blend ready to go!)
Drizzle everything with a generous pour of good-quality olive oil and a little lemon juice, and toss to combine.
Then once the salad is ready to go, dish it up on your serving plates…
…and drizzle with some balsamic glaze, and maybe a few extra pinches of seeds and voila!
Salad time!!
Seriously, this one was an unforgettable part of our trip, so hope you enjoy it too!  And look out — this trip was wildly, deliciously inspirational — so more Roman recipes to come!
This recipe contains affiliate links.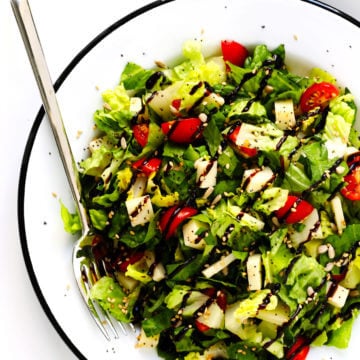 Yield: 4-6 servings
Unforgettable Italian Chopped Salad
Ingredients:
1 large head Romaine lettuce, chopped
1 pint cherry or grape tomatoes, chopped
4 ounces Pecorino* cheese, diced
1/3 cup chopped or julienned fresh basil leaves, loosely packed
1/4 cup salted sunflower seeds
2 tablespoons freshly-squeezed lemon juice
2 tablespoons good-quality olive oil
2 tablespoons everything bagel seasoning
Kosher salt and freshly-cracked black pepper
balsamic glaze, homemade or store-bought
Directions:
Combine Romaine, tomatoes, cheese, basil, and sunflower seeds in a large mixing bowl.  Drizzle evenly with lemon juice and olive oil, then toss to combine.  Sprinkle evenly with the everything bagel seasoning and a few generous pinches of salt and pepper, and toss to combine once more.
Serve immediately, drizzled with a generous pour of balsamic glaze.
*Some substitutes for Pecorino cheese could include Asiago, Manchego, Mozzarella, Provolone, or even a mild Parmesan.  In my opinion, an aged/salty cheese works best here.
Difficulty: EasyCategory: Quick


All images and text ©Gimme Some Oven
If you make this recipe, be sure to snap a photo and hashtag it #gimmesomeoven. I'd love to see what you cook!