Cream Cheese Churro Rollups are a cheater version of a churro, but filled with sweet cream cheese and baked up crisp. Guaranteed to be a family favorite! 
Pretty much anything cinnamon sugar in my house is a favorite. Of course I make my Perfect Snickerdoodle Cookies on the regular. But there are also my Churro Bars and my Snickerdoodle Krispie Treats that rank tops on the requested list.
Also, Snickerdoodle/Churro is basically used interchangeably in the dessert world in terms of flavor profile. Sorry 'bout that, I don't make the rules.
Anyhow, if you've ever made homemade churros, you know, while they are exceptionally difficult, they DO involve deep frying…which I avoid at all costs. And no, not for calorie/health reasons…strictly for clean up. I HATE the splatter/smell/leftover oil situation. I'm lazy, I'm aware.

MY OTHER RECIPES
So whenever I find a cheater version of anything that needs to be fried, I'm all about it. And include cream cheese? It's like a dream come true.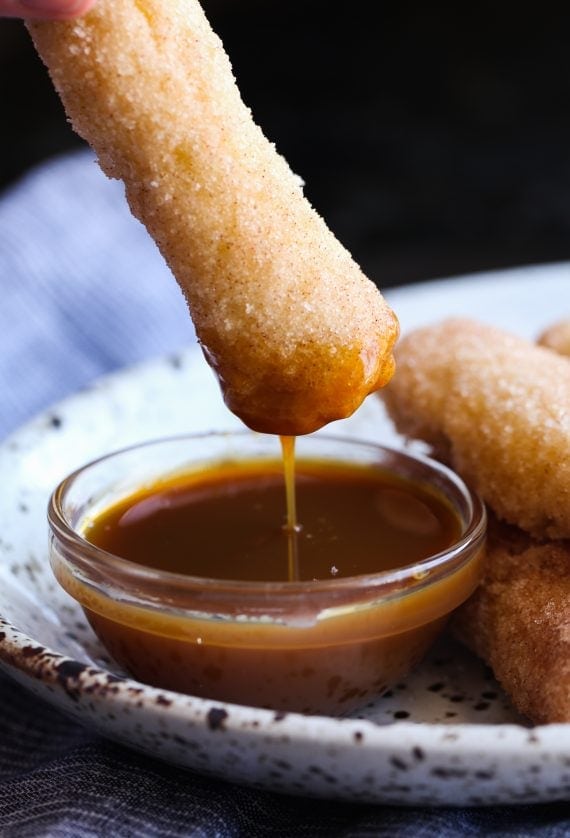 These are so super easy, and while I encourage you make them like I did first, I also encourage you to try different fillings…like Nutella (YES), dulce de leche (HOLY !!), even frosting (DESSERT DREAM).
For this recipe, you just mix up some cream cheese, powdered sugar, and vanilla.
Cut off the crusts of good old white bread…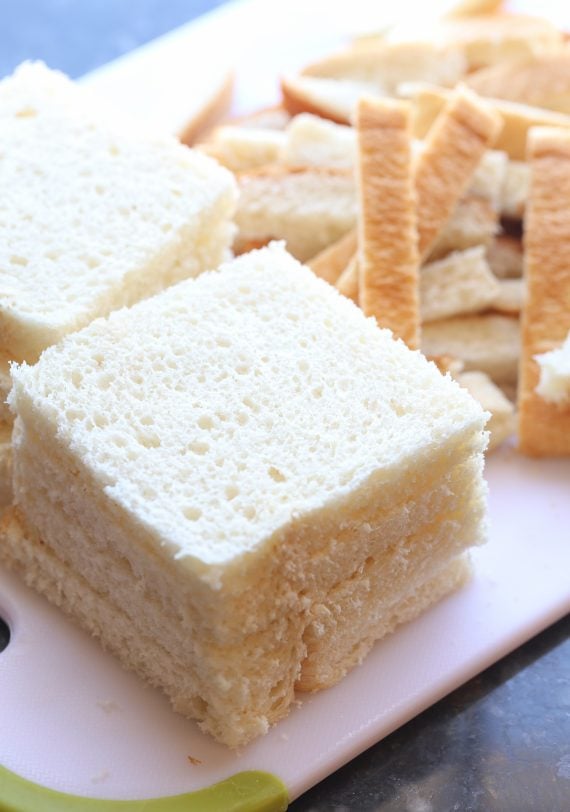 And then roll them flat with a rolling pin…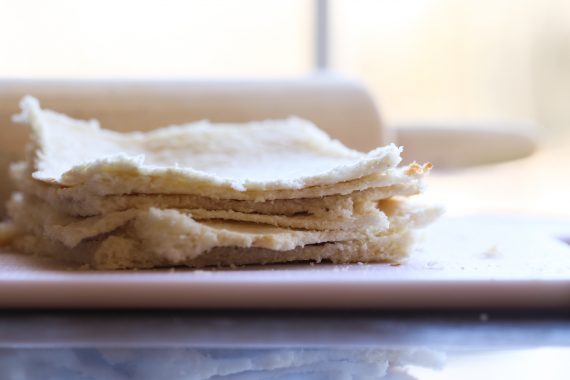 NOTE: Don't let the bread sit out too long because it will dry out quickly and break as you're rolling it up.
Spread a heaping tablespoon of the cream cheese mixture on top of the bread and spread it out evenly.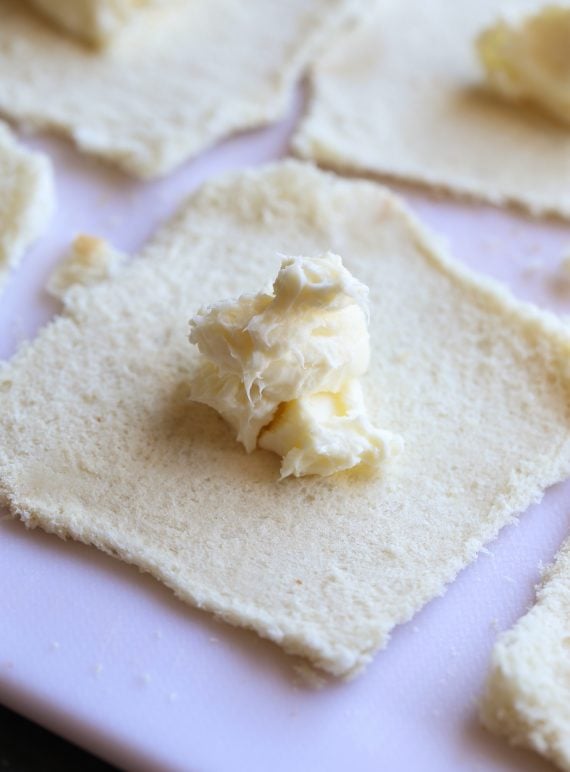 Roll them up tightly, then dip each roll into melted butter and then cinnamon sugar.
It doesn't get much better.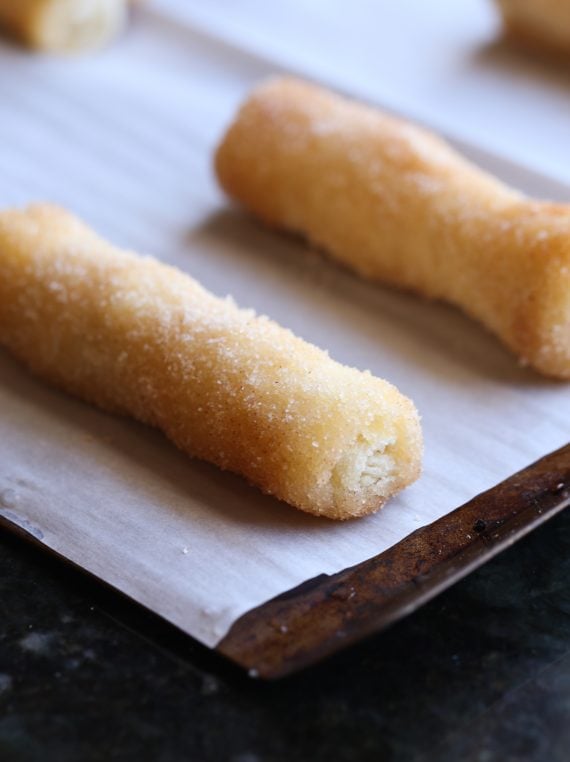 Bake these up for about 20 minutes. They will get golden brown, crispy and perfect.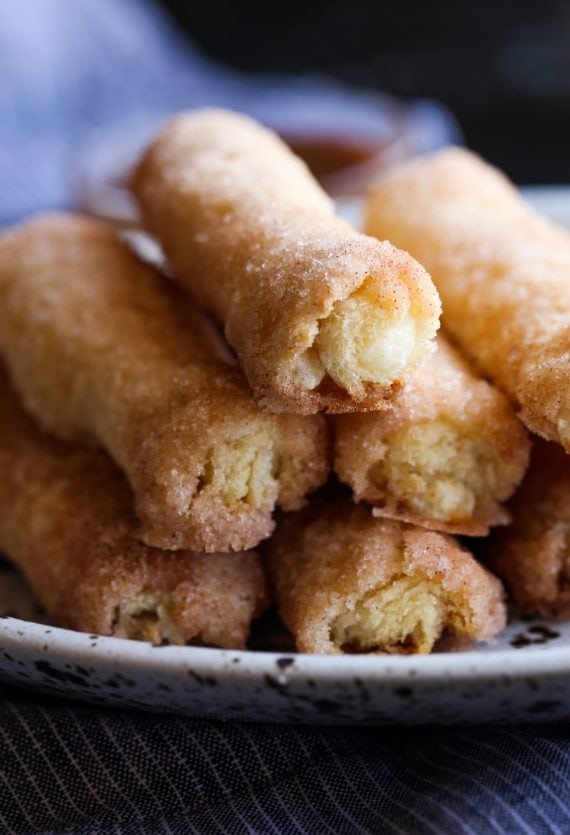 Eat them plain, or dip them in caramel, because it's the right thing to do.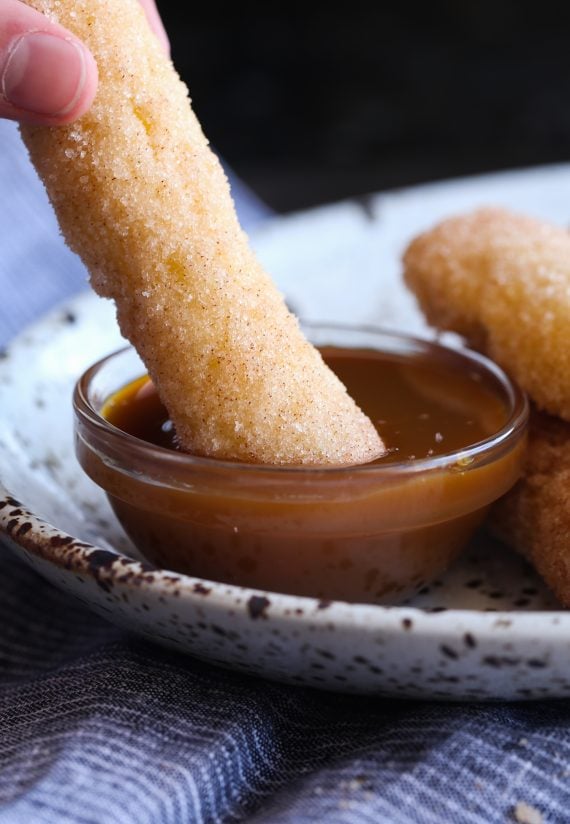 ENJOY!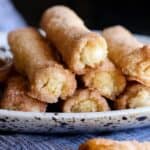 Cream Cheese Churro Rollups
Author:

Prep Time:

10 minutes

Cook Time:

20 minutes

Total Time:

30 minutes

Yield:

8 roll ups
---
Description
Guaranteed to be one of the most requested treats you will make. Cinnamon Sugar coated, cheesecake filled soft roll-ups. Even better dipped in caramel!
---
Ingredients
4- ounces cream cheese, room temperature
3 tablespoons powdered sugar
1/2 teaspoon vanilla
1/3 cup granulated sugar
1 teaspoon ground cinnamon
1/3 cup butter, melted
8 slices white bread, with crusts cut off
---
Instructions
Preheat oven to 350°F. Line a baking sheet with parchment paper and set aside.
In a medium bowl mix together the cream cheese, powdered sugar, and vanilla using a spoon or electric mixer. Set aside.
In a shallow bowl, large enough to dip the bread in, combine the sugar and cinnamon. Set aside.
Prepare the melted butter in a similarly sized bowl.
Using a rolling pin, flatten out the white bread.
Place a heaping tablespoon of the cream cheese mixture on top of each slice of flattened bread and spread the cream cheese to coat the tops of the bread slices.
Roll up each slice of bread tightly. Dip each roll into the melted butter and then coat in the cinnamon sugar mixture.
Place the roll ups on the prepared baking sheet.
Bake for 18-20 minutes, or until golden brown.
Serve warm or at room temperature.
---
Notes
Serve with caramel sauce to dip, if desired.
Store airtight at room temperature.
Related