Easy1 hourGluten-Free
No joke — this truly is the most amazing roasted artichokes recipe.  They're easy to make, full of big and fresh flavors, and always a crowd fave!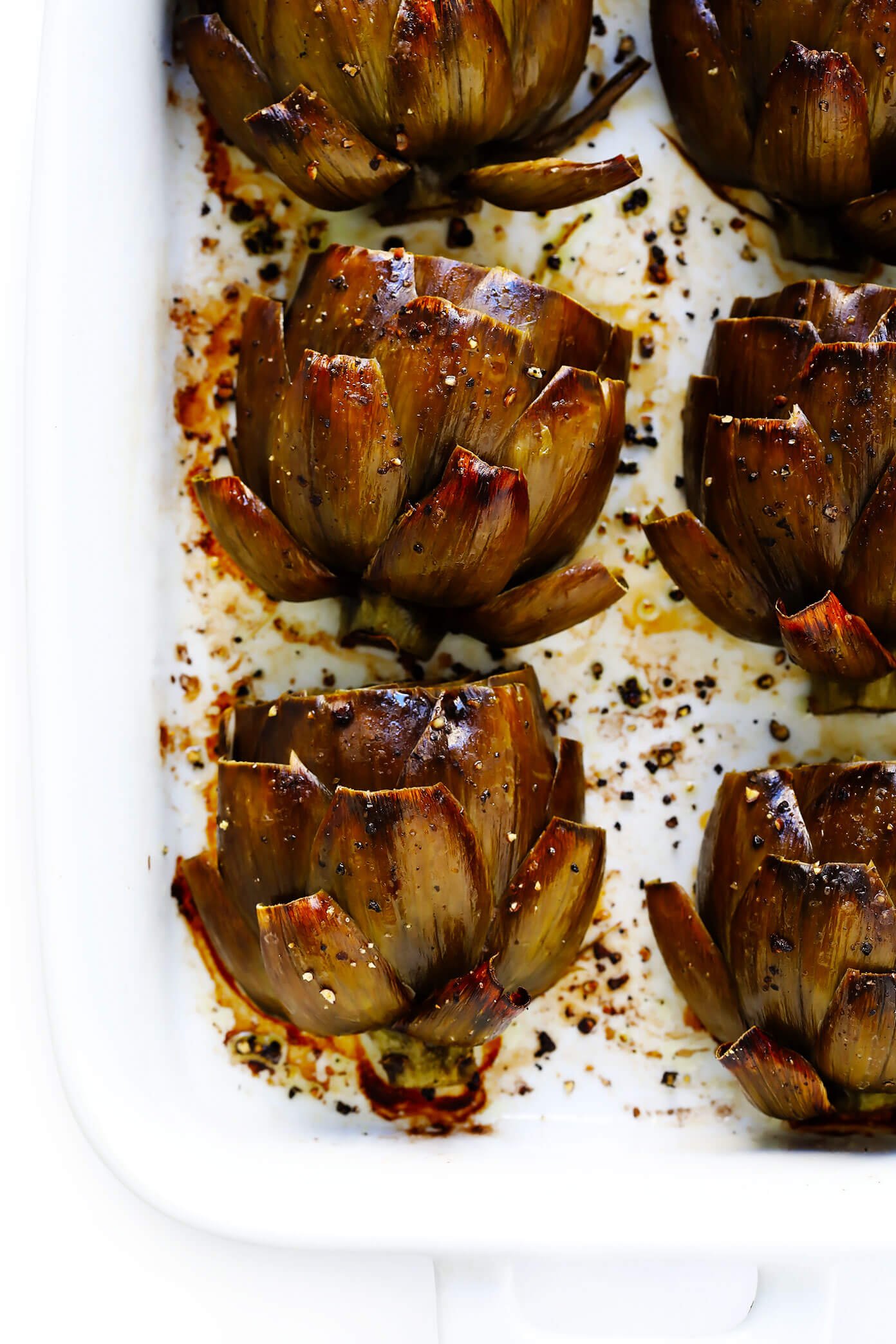 Since moving to Barcelona, our veggie bowl has mysteriously been stocked with fresh artichokes pretty much 24/7.
I'll give you one guess who's responsible for this.  (Hint hint 👇😘)
I've mentioned on here before that artichokes are by far and away Barclay's favorite food.  And ever since we discovered our favorite little fruit and veggie stand here that sells the absolute tastiest alcachofas — for a tiny fraction of the price we used to pay back in Kansas City — let's just say that the owners of this shop now know my husband by name.
We are eating a million artichokes here!
That said, after a long history of steaming our artichokes — first on the stovetop, and then in the Instant Pot — I began feeling the need for a little variety in our (ahem, frequent) artichoke game happening here in Spain.  So I challenged Barc to experiment with some various methods and seasonings for roasted artichokes.  And now, dozens of alcachofas asadas later, we've both agreed that he's landed upon a winner of a recipe.
Behold…Barclay's famous roasted artichokes.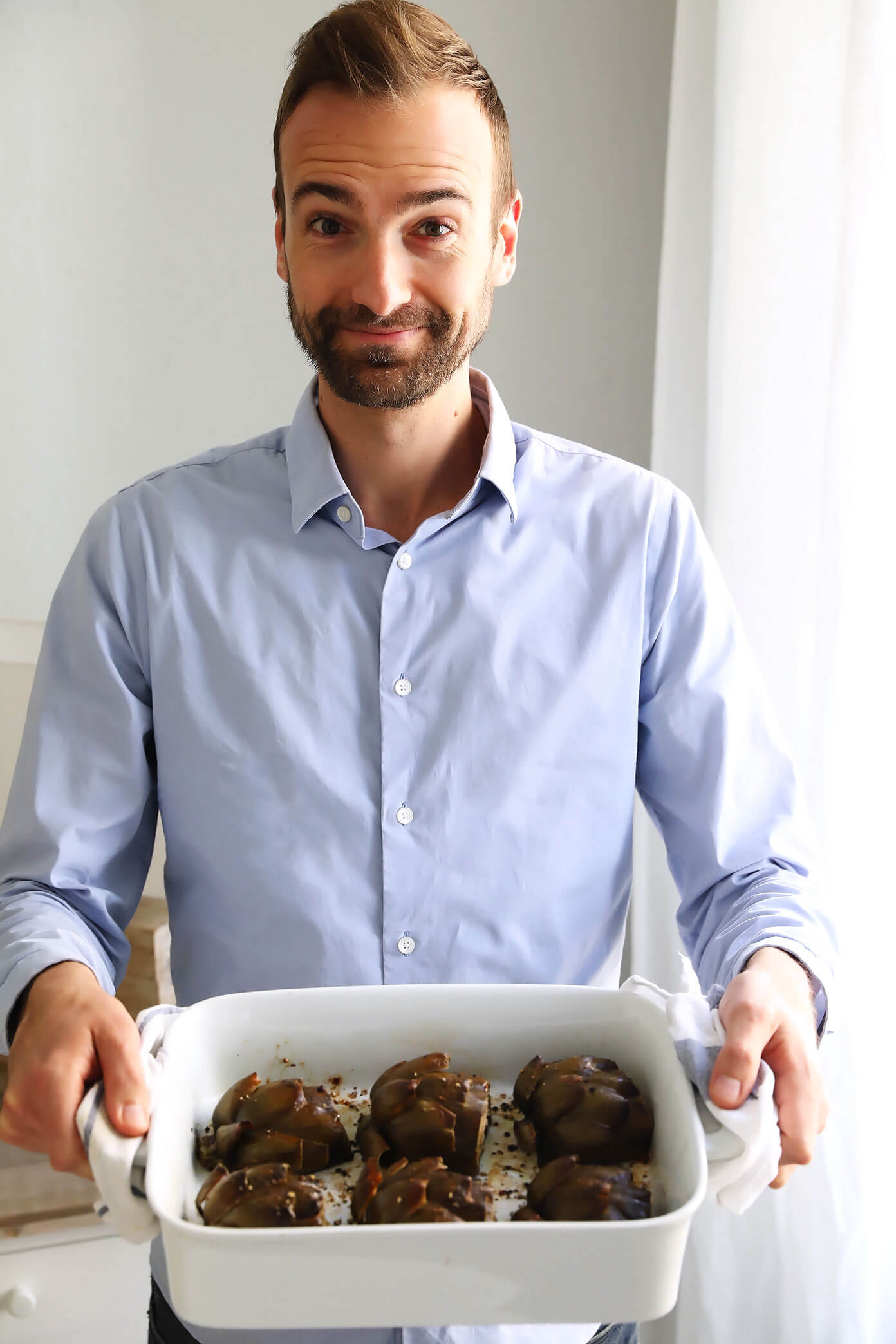 Roasted Artichoke Ingredients:
To make them, you only need a few simple ingredients:
Artichokes: Any variety will do!  You can read my tutorial here on how to select, trim and store fresh artichokes. But in general, look for artichokes that have tightly-packed leaves, feel dense and heavy, and are a healthy green color (without too much browning).
Olive Oil: Or melted butter, you pick.
Garlic: The more, the merrier.  Once it's roasted, you can either eat it with your artichoke (my fave!) or stir it into your dipping sauce.
Fresh Herbs: We like to use lots of fresh rosemary in these, plus maybe an addition hint of fresh thyme, oregano, or sage, if you happen to have them on hand.  If you don't have fresh herbs on hand, you can sub in a generous pinch of Italian seasoning per artichoke.
Fresh Lemons: We'll use lemons at three different points in this recipe, so be sure to have a few good ones on hand.
Sea Salt and Black Pepper: I recommend coarsely and — of course — freshly ground.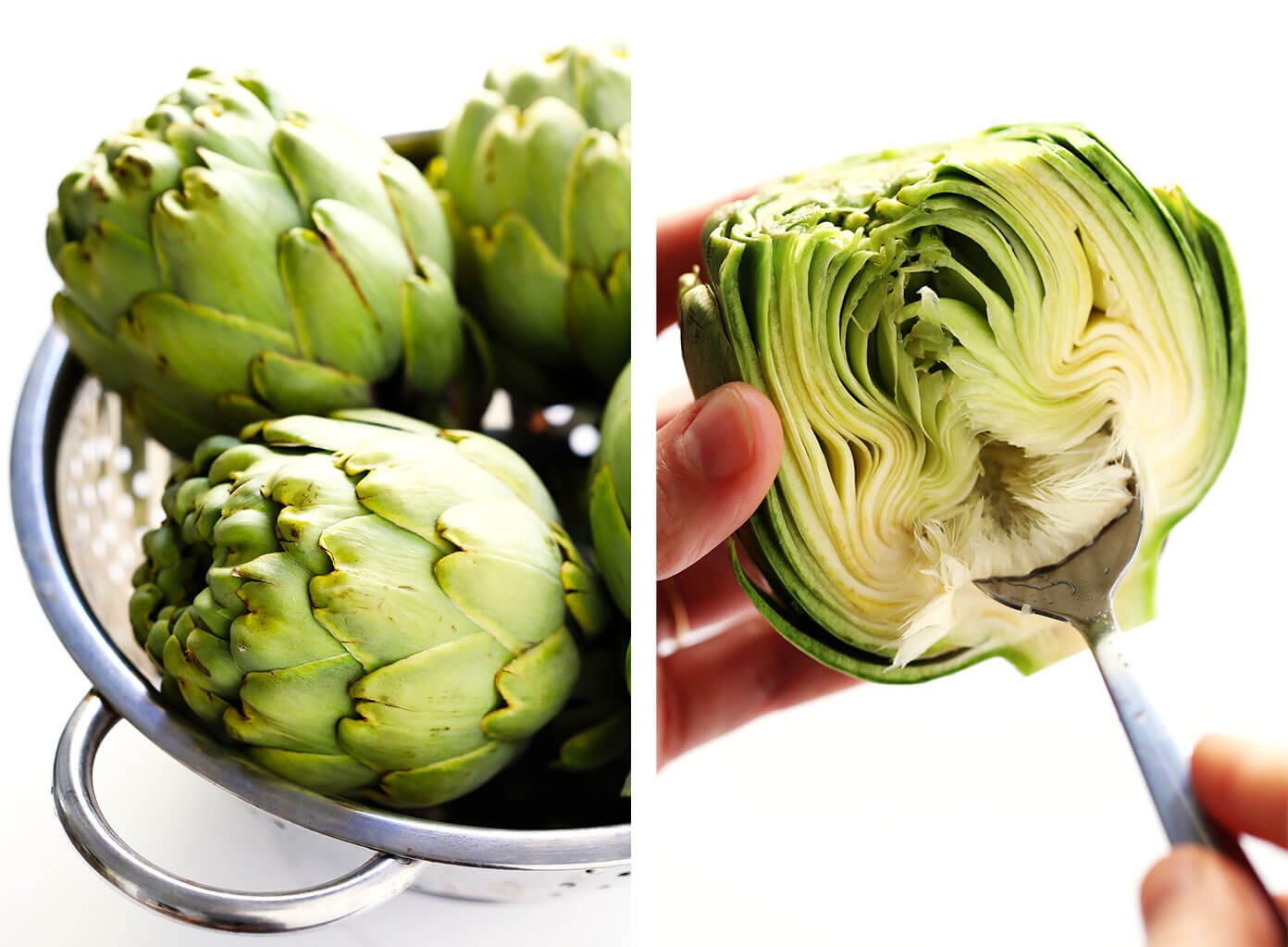 How To Make Roasted Artichokes:
Don't let these little guys intimidate you!  They're actually super simple to make.  Here are the steps:
Trim and prepare the fresh artichokes. Feel free to watch my video here for how to trim artichokes, if you'd like a better visual.  But in general, you'll want to:

Cut off the bottom of the stem and then top 1-inch of the top of the artichoke
Pluck off and discard any of the lowest leaves near the stem
Trim off the pointy tops of the artichoke leaves (if they're pokey)
Slice the artichokes in half
Use a spoon to hollow out the "choke" in the middle of each artichoke half (see above)
Rub the entire artichoke half on all sides with a lemon wedge (to help prevent browning)

Brush the artichokes with olive oil (or butter).  Then place them cut-side-up in a baking dish, or on a baking sheet.
Fill the artichoke cavities with garlic and herbs.  We recommend packing these as full as possible for maximum flavor.  Then season with salt and pepper.
Flip the artichokes over.  Then brush again with olive oil, season once more with salt and pepper.  And…
Roast!  First, uncovered for about 10 minutes, so that the edges can get browned and crispy.  Then, remove the pan and cover loosely with foil, and let the artichokes continue to cook until they are tender.  You will know that they are ready to go when the leaves pull off easily, and a knife can be smoothly inserted in the base of the stem.  Cooking time will totally depend upon the size of your artichokes.
Drizzle with lemon juice.  Once you pull the artichokes out of the oven, discard the herbs (or stir them into your dipping sauce for extra flavor).  Give the artichokes one more squeeze of lemon juice, for good measure.  And dig in!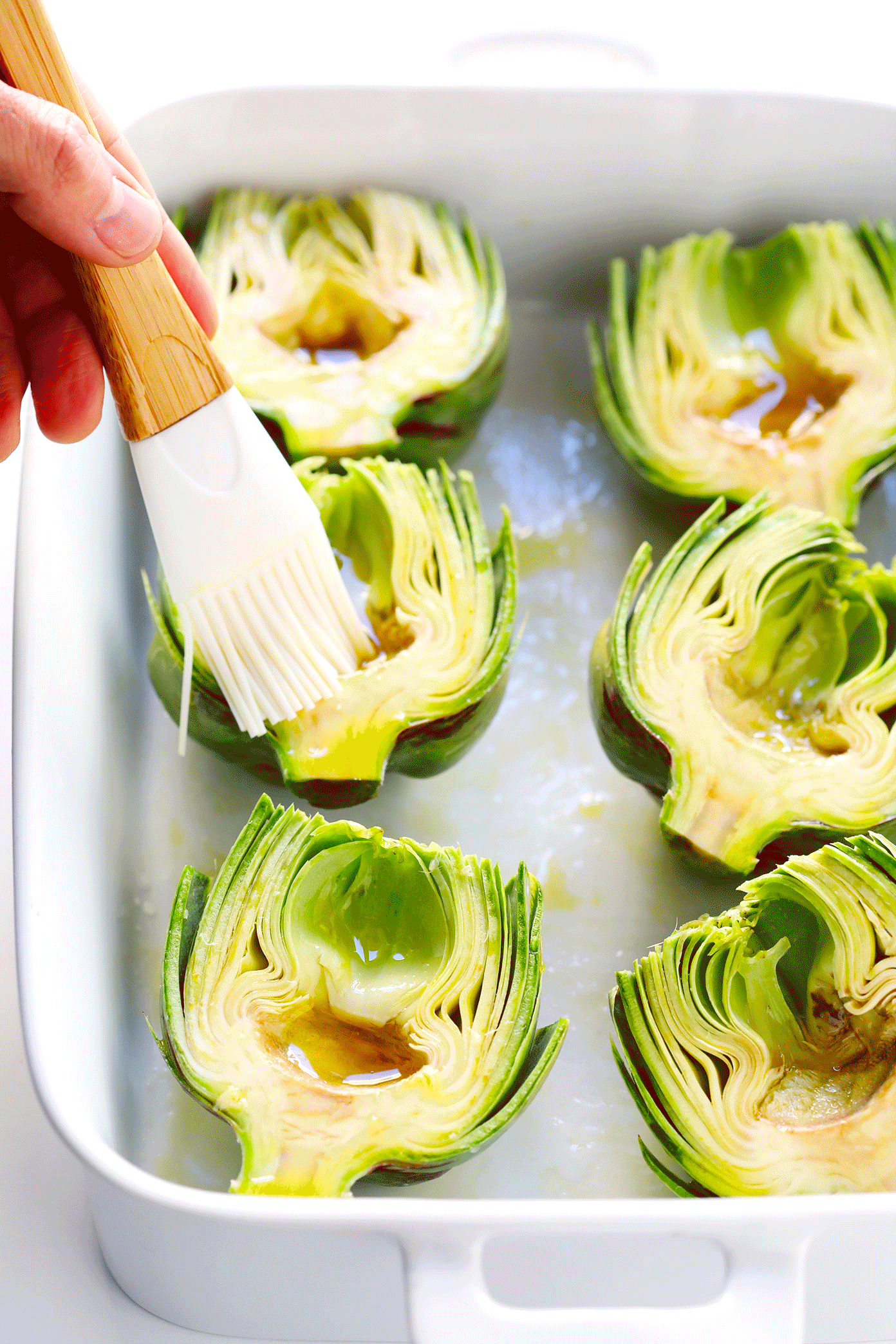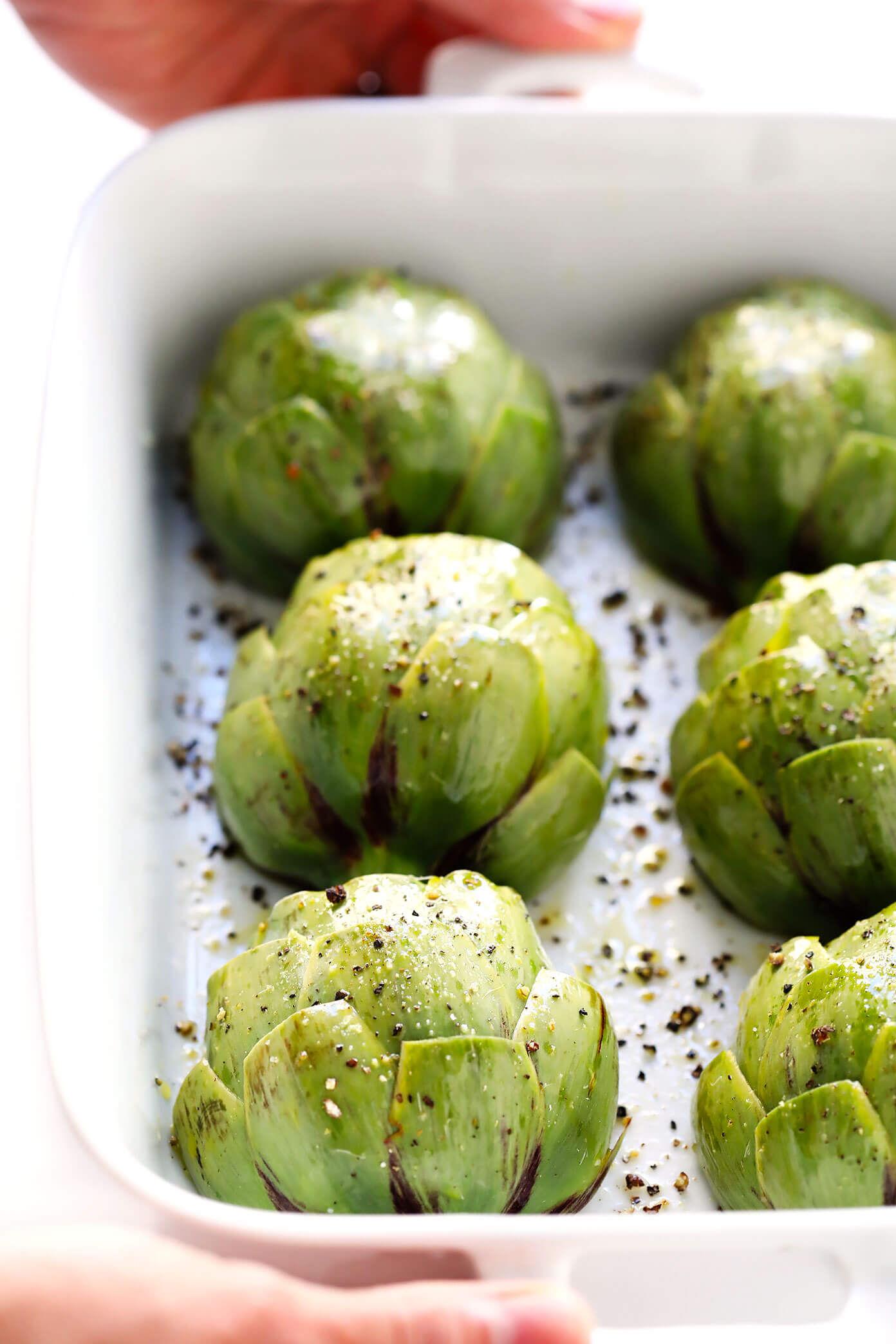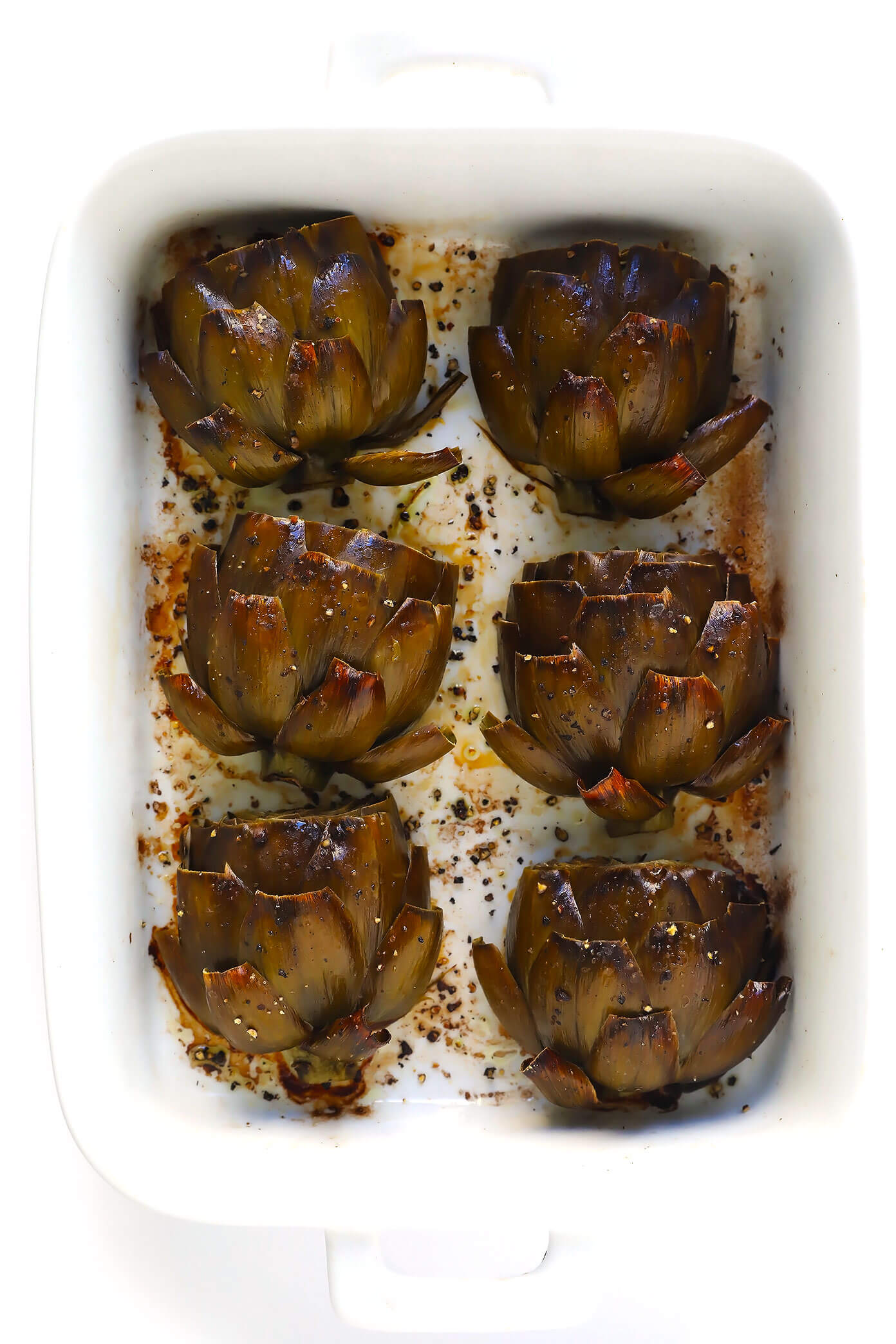 How To Eat Roasted Artichokes:
As I mentioned above, first remove and discard the herbs.  Then you can decide what to do with the roasted garlic.  I highly recommend just scooping it up with those leaves and eating it straight outta the artichokes.  (Yum.)  But you're welcome to stir it into your dipping sauce, or discard it if you would rather.  Up to you.
Then to eat an artichoke, just peel off the leaves one by one, dip them in your sauce, and then use your teeth to scrape off the tender fleshy part on the underside of the leaves.  As you make your way to the center of the artichoke, the leaves will begin to get softer and fleshier (<– ok, I know that sounds weird, but you get what I mean 😂), and you will be able to eat most if not all of the leaves.  Once you reach the bottom of the artichoke, pull out a knife and fork and cut up the base and stem of the artichoke, dip it in your sauce, and enjoy.
That said, both Barclay and I agree that these roasted artichokes are so flavorful on their own that they hardly need an additional dipping sauce!  But hey, I'll never turn down a little extra lemon and butter in my life. (Or feel free to check out some other favorite dipping sauce ideas below!)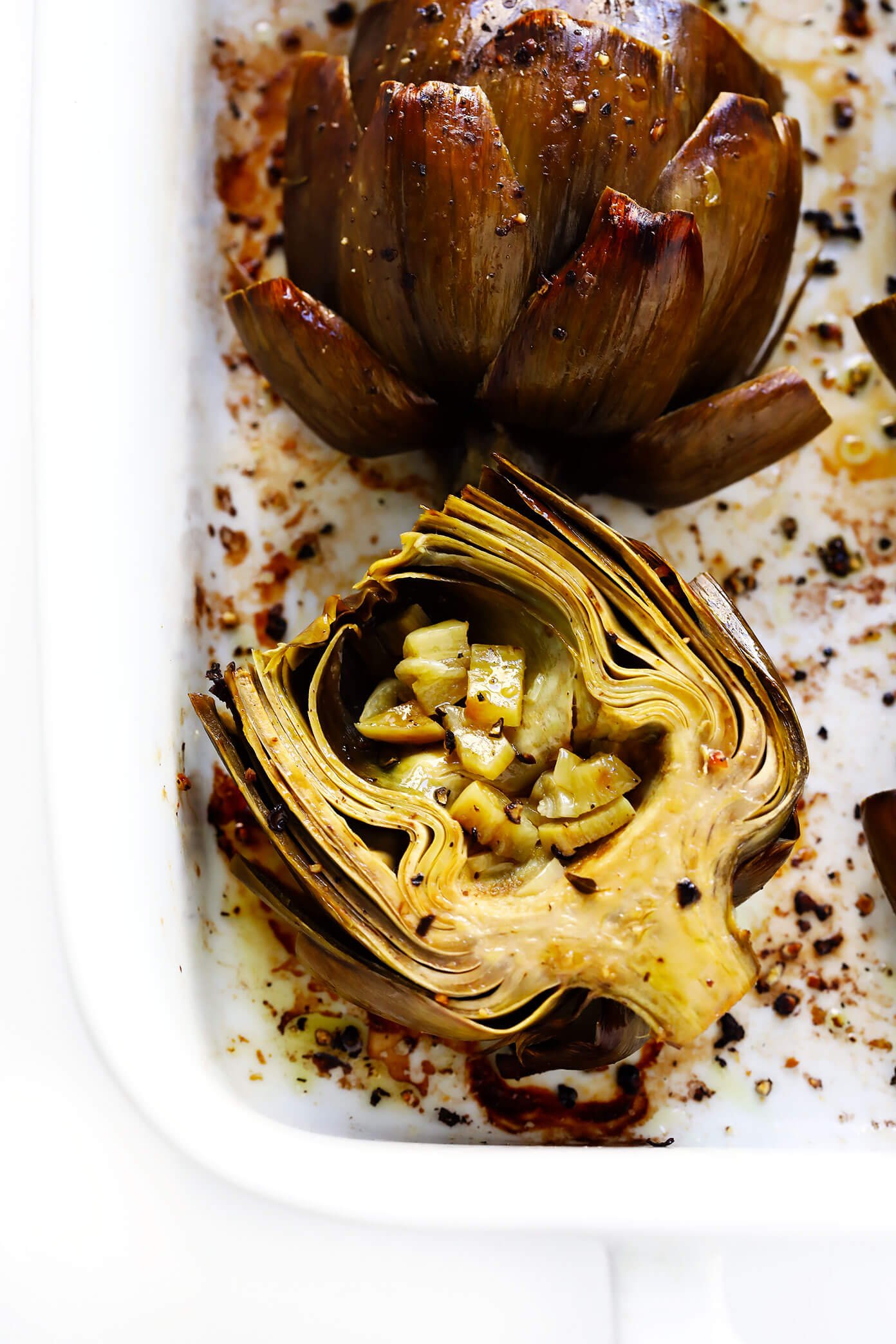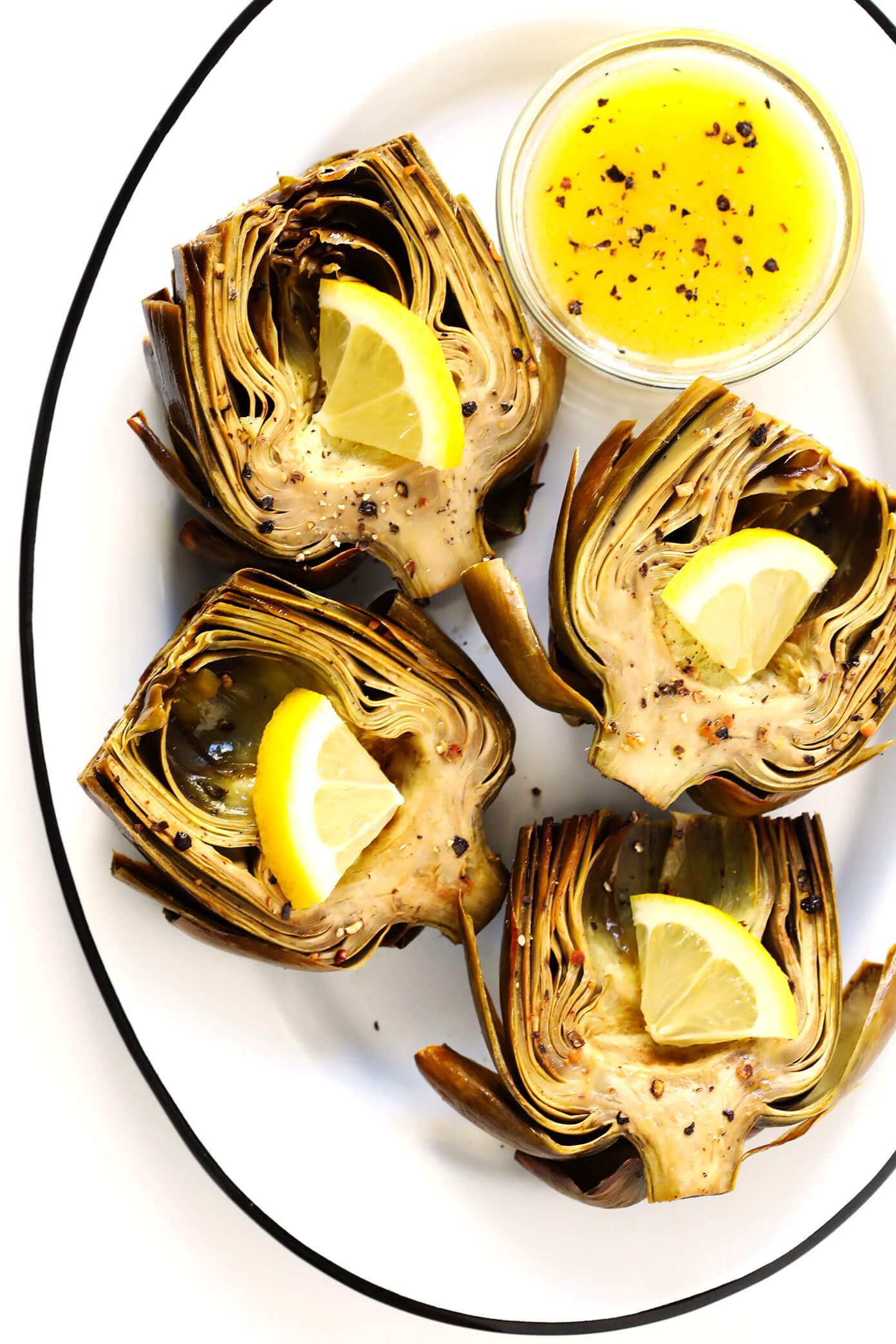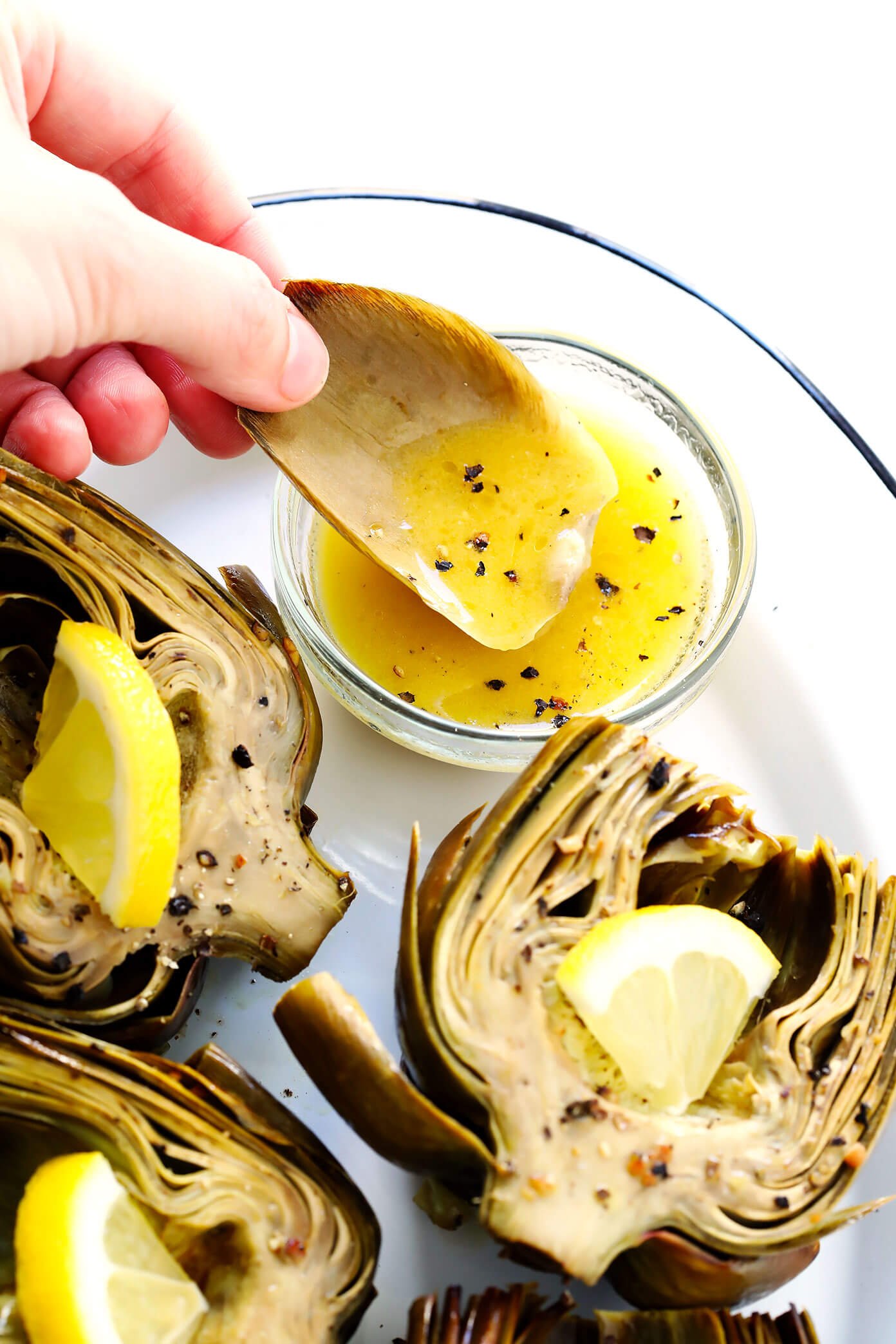 Hope you all enjoy these as much as we have.  ¡Buen provecho!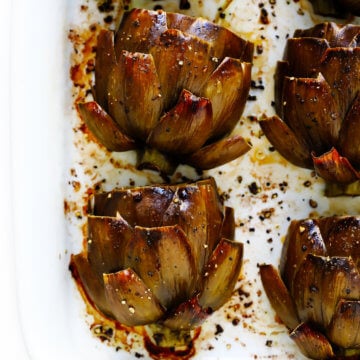 Yield: 6 servings
The Most Amazing Roasted Artichokes
These roasted artichokes are easy to make and full of the best lemony, herby, garlicky flavors.  See dipping sauce ideas below.
Ingredients:
3 fresh artichokes
2 large fresh lemons, juiced
2 tablespoons olive oil (or melted butter)
6 cloves garlic, peeled and roughly-chopped
fresh rosemary (plus additional fresh thyme, oregano, or sage, if you'd like)
coarse sea salt and freshly-cracked black pepper
Directions:
Heat oven to 400°F.
Use a knife to slice off the bottom 1/2-inch (or more, if you'd like) of the artichoke stems, and the top 1 inch of the artichoke globes (the leaves on top).  Remove and discard any small leaves toward the bottoms of the stems.  Rinse the artichokes with water.
Slice the artichokes in half vertically.  Use a spoon to scoop out the fuzzy "choke" in the middle of the artichoke.  Then use kitchen shears to trim about 1/4/-inch off the pointy tips of each of the artichoke leaves (so that they don't poke you when you eat them).  Rub a lemon wedge all over the entire surface of each artichoke half, to prevent browning.
Place the artichoke halves in a baking dish or on a baking sheet cut-side-up.  Brush the cut sides of the artichokes evenly with the olive oil.  Then fill the cavities evenly with the garlic, followed by a few small sprigs of the fresh herbs.  Season with salt and pepper.
Flip the artichokes over, using the herbs to help hold in the garlic, so that they are cut-side-down.  Brush the tops of the artichokes with oil, and season with salt and pepper.
Bake uncovered for 15 minutes.  Then remove and cover the pan with aluminum foil, and bake for an additional 25-35 minutes, or until the artichokes are tender and the leaves pull off easily.
Place the tray on a cooling rack.  Carefully remove, discard the herbs (or stir them into your dipping sauce for extra flavor), and drizzle the artichokes with extra lemon juice.
Serve the roasted artichokes warm with your desired dipping sauce.
Dipping Sauce Ideas:
Lemony Melted Butter Sauce: I make mine with about 1 part melted butter, 1 part freshly-squeezed lemon juice, 1 part water, and salt and pepper to taste.
Blender Hollandaise Sauce: This version is super easy.
Tzaziki Sauce: For a Mediterranean twist.
Pesto: Rich and delicious.  Feel free to mix in some Greek yogurt to make it creamy.
Mayo or Aioli: Always a win.
…or whatever sauce sounds good to you!
Difficulty: EasyCategory: Gluten-Free


All images and text ©Gimme Some Oven
If you make this recipe, be sure to snap a photo and hashtag it #gimmesomeoven. I'd love to see what you cook!