Easy5 minsVegan
This 5-Minute Dreamy Tahini Dip recipe is quick and easy to make in the blender, it's naturally gluten-free and vegan, and it goes with just about everything.
Meet…the dip that goes with pretty much everything.
Totally.  Obsessed.  🙋
I actually came up with this one by accident a few weeks ago when I was craving hummus, yet had no chickpeas or beans in the pantry.  So on a whim, I decided to just make a simple tahini dip in the blender.  No frills, no fuss, no beans — just creamy tahini seasoned with lots of garlic and lemon and a hint of cumin.  Like a cross between my favorite hummus recipe and tahini salad dressing.  And you guys…it was a total winner.
Truly, this one checks all the boxes for a quick and easy and versatile dip recipe.  It's perfect for dipping all of your favorite chips (hello, new faves), veggies, breads, falafel, chicken strips, kabobs, or anything else savory and delicious.  Perfect for drizzling on salads, burgers, gyros, veggies, meats and more (just blend in a little extra water to thin out the dip a bit).  Perfect as an impromptu healthy appetizer for a crowd, especially being vegan, gluten- and dairy-free.  Perfect for days on the go, since this puppy only takes 5 minutes and 5 ingredients to prep.  And perfect when — hey, no excuses needed — you could just use a solid DIP in your life.
So much perfection.  😉  Let's make a batch!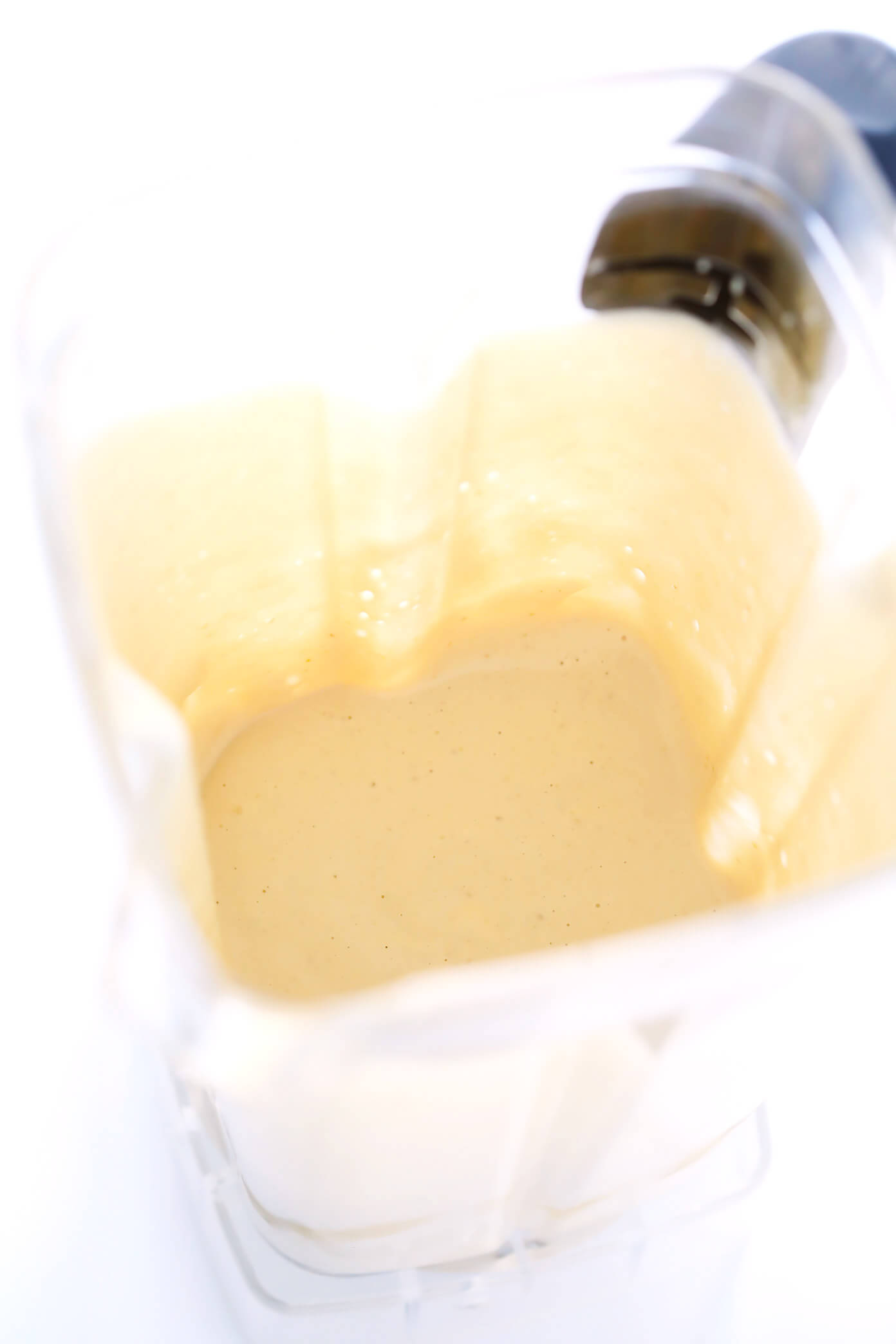 Dreamy Tahini Dip Ingredients:
Chances are, all five of these are already in your kitchen.  You'll need:
Tahini: I recommend organic, if you can.
Garlic clove: The recipe calls for 1 clove, but feel free to add more garlic if you'd like.
Ground cumin: Pairs perfectly with tahini.
Fresh lemon: This will help brighten up the flavors.
Warm Water: Start small and keep adding more until the dip reaches your desired consistency.
How To Make Tahini Dip:
To make tahini dip, simply puree everything together in a blender (or food processor) until completely smooth.  Then taste, and season with salt and pepper, and adjust any of the other ingredient amounts as you prefer.  And…serve!
See?  So speedy.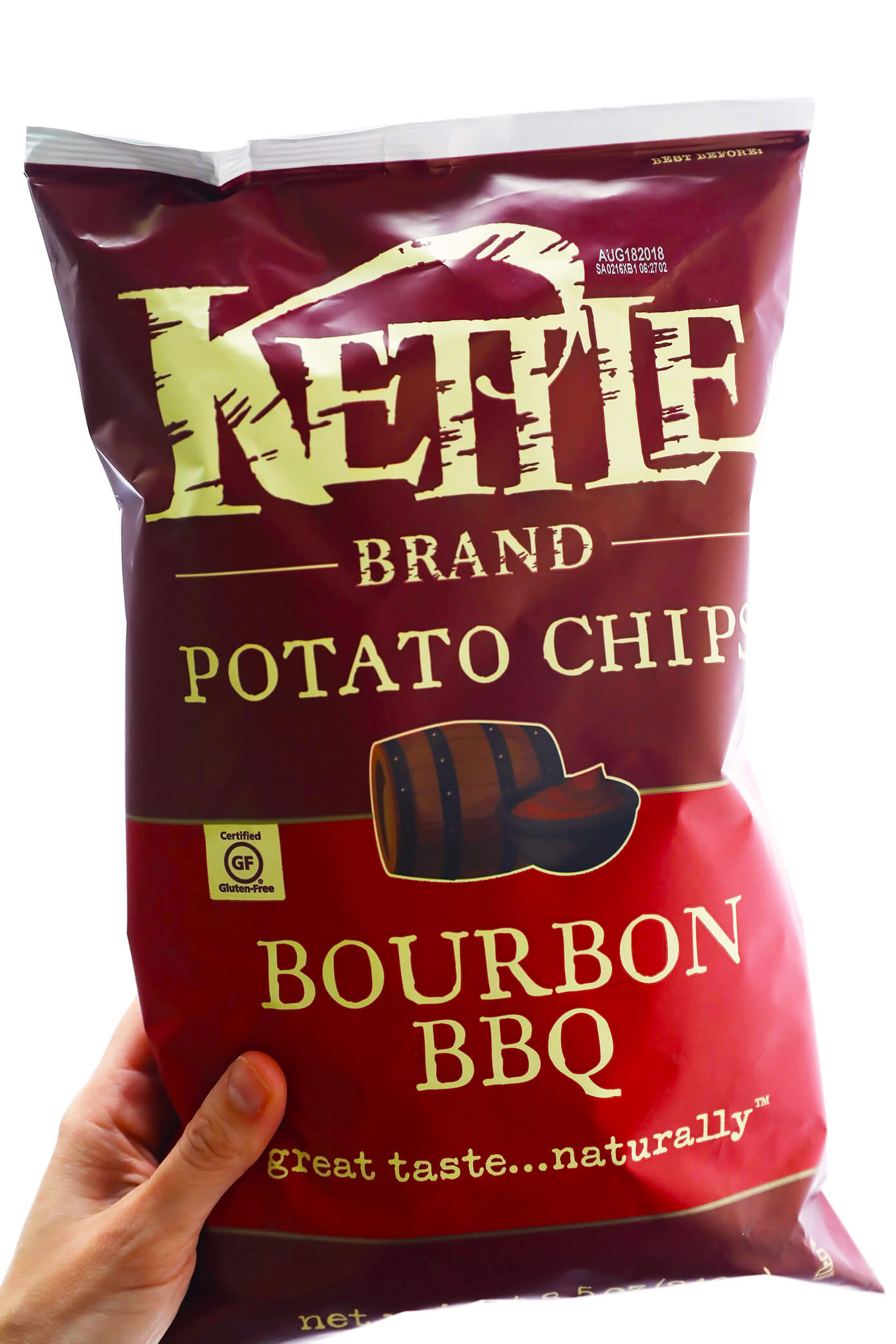 Tahini Dip Dipper Ideas:
Guys, the sky is the limit here.  Just about anything savory (or some things that are sweet) pair well with this tahini dip recipe.  Some faves include:
Chips: All kinds, really.  But we're partial to Kettle Brand® chips in our house, and can vouch that their new Bourbon BBQ and our all-time favorite Krinkle-Cut Salt & Fresh Ground Pepper chips pair perfectly with this dip.  Plus, I've always loved knowing that all of their products are sustainably produced, gluten-free, and made with natural ingredients.  And as we all know, they're downright irresistible.
Veggies: Anything that works on a raw veggie plate would be great here.  (Think: carrots, bell peppers, cucumbers, cauliflower, broccoli, tomatoes, olives, etc.)  Or of course, any grilled or roasted or sautéed veggie dippers would also be delicious!
Fries: 👆Also, gotta call out everyone's favorite vegetable dipper — fries.  Always a winner.
Bread, Pita, Crackers: All the carbs, please.
Kabobs: If you happen to be grilling, this would be the perfect dipper for meat or veggie kabobs. 
Falafel, Chicken Strips/Wings, Tofu Bites… and any other dippers that might be calling for a sauce.  All are welcome.
I served mine in the photos here with those tasty Bourbon BBQ Kettle Brand® chips and roasted cauliflower from this recipe.  Needless to say, there were zero leftovers. 😉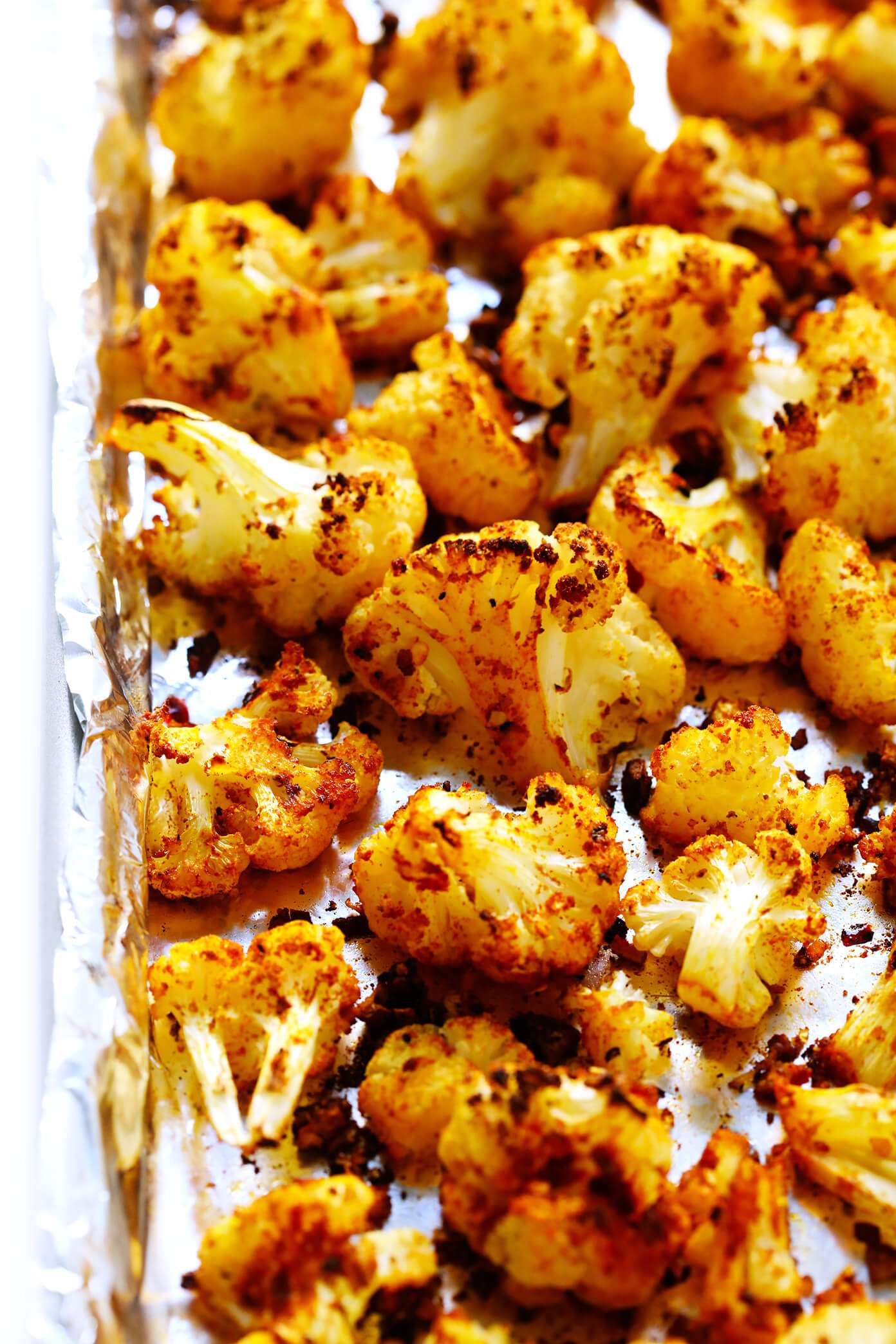 Other Ways To Customize Your Tahini Dip:
Want a creamier dip?  Feel free to add in 1/2 cup of plain Greek yogurt.
Want a spicier dip?  Add in a pinch or two of cayenne.
Want a smokier dip? Add in 1/4 to 1/2 teaspoon smoked paprika.
Want a thinner/thicker dip? Just adjust the amount of water. 🙂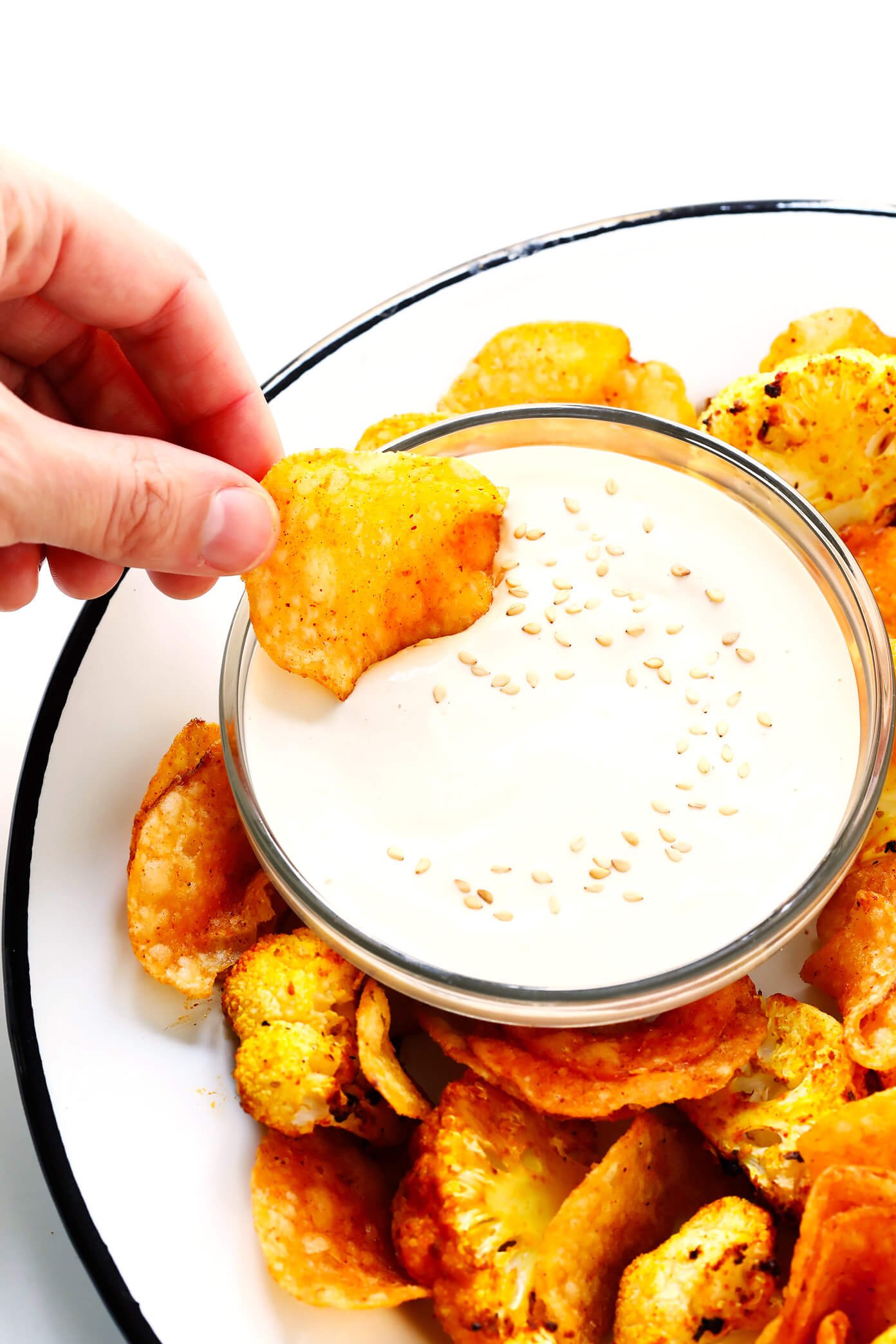 Happy dipping, everyone!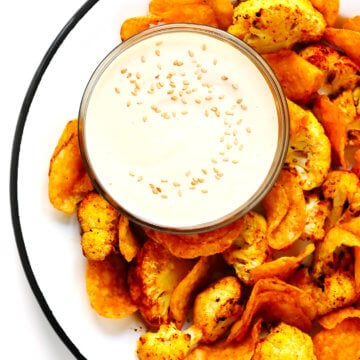 Yield: 1.5 cups
5-Minute Dreamy Tahini Dip
This 5-Minute Dreamy Tahini Dip recipe is quick and easy to make in the blender, it's naturally gluten-free and vegan, and it goes with just about everything.
Ingredients:
1/2 cup tahini
1/4 cup lemon juice
1/2 teaspoon ground cumin
1 clove garlic, peeled
1/3 cup warm water, or more
pinch of salt and black pepper
Directions:
Combine all ingredients in a blender, and puree until smooth.  Add extra water, if needed, to thin the dip out to your desired consistency.
Taste and season with salt and pepper as needed.
Serve immediately with your favorite dippers (see ideas above).  Or refrigerate in a sealed container for up to 3 days.
Difficulty: EasyCategory: Vegan


All images and text ©Gimme Some Oven
If you make this recipe, be sure to snap a photo and hashtag it #gimmesomeoven. I'd love to see what you cook!
Thanks to Kettle Brand® chips for sponsoring this post…and making the world's most delicious chips.  And many thanks to all of you for continuing to support my favorite brands who help make this site possible.