Easy Chocolate Cake with Sour Cream Chocolate Frosting is the perfect dessert for any occasion. This rich and moist chocolate cake is made in a sheet pan and finished with smooth and creamy chocolate sour cream frosting. This is everyone's favorite chocolate cake recipe!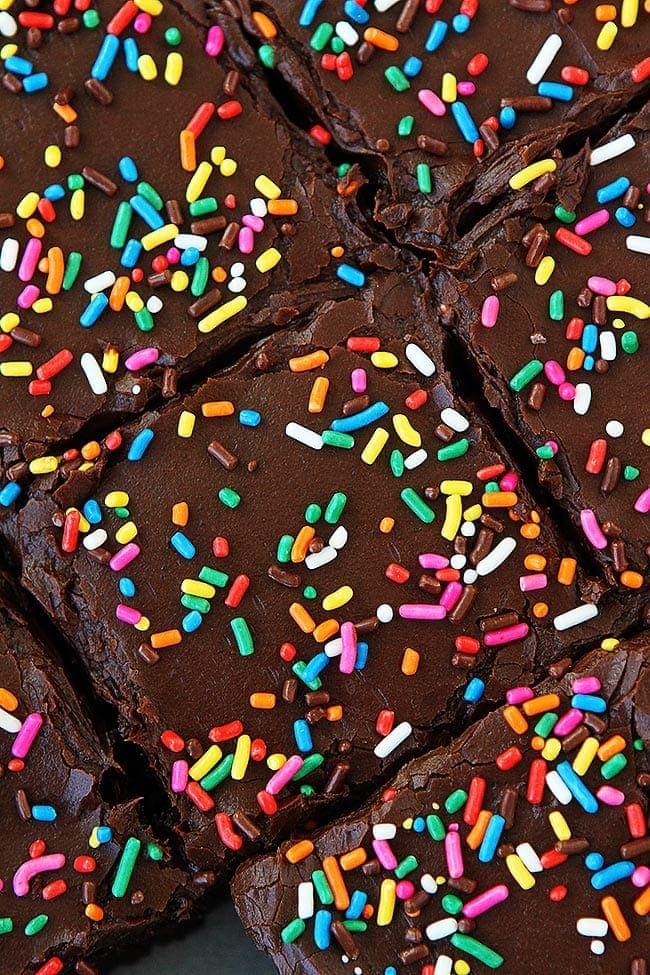 This post is sponsored by Tillamook and Kroger.
Easy Chocolate Cake, Perfect for Any Occasion
Is there anything better than a rich, moist chocolate cake with smooth chocolate frosting? YES! An EASY chocolate cake that is still rich, moist, and finished with the most amazing chocolate frosting. I LOVE a good chocolate cake, but not if it takes me hours and hours to make, bake, and decorate. I am all about easy when it comes to cakes, as long as the end results are amazing. And let me tell you, this Easy Chocolate Cake is the BEST chocolate cake because it is SO easy and SO SO SO delicious! I guarantee this will be your go to chocolate cake from now on.

LATEST VIDEOS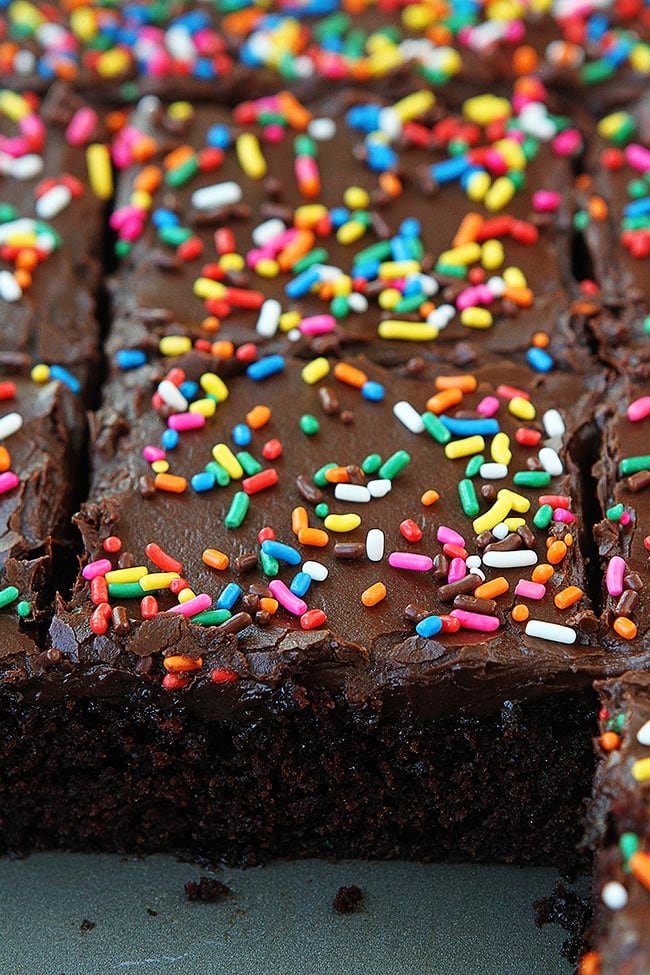 Sheet Pan Chocolate Cake
I love this chocolate cake recipe because it is made in a sheet pan and that means no chilling cake layers or decorating cake layers. You don't need to do a crumb coat of frosting, you pour the cake batter in the sheet pan, bake, and top with chocolate frosting. It is SO simple!
I also love that it is made in a sheet pan because it is easy to take to parties, picnics, and potlucks. The cake is easy to cut into squares and serve, and it feeds a crowd!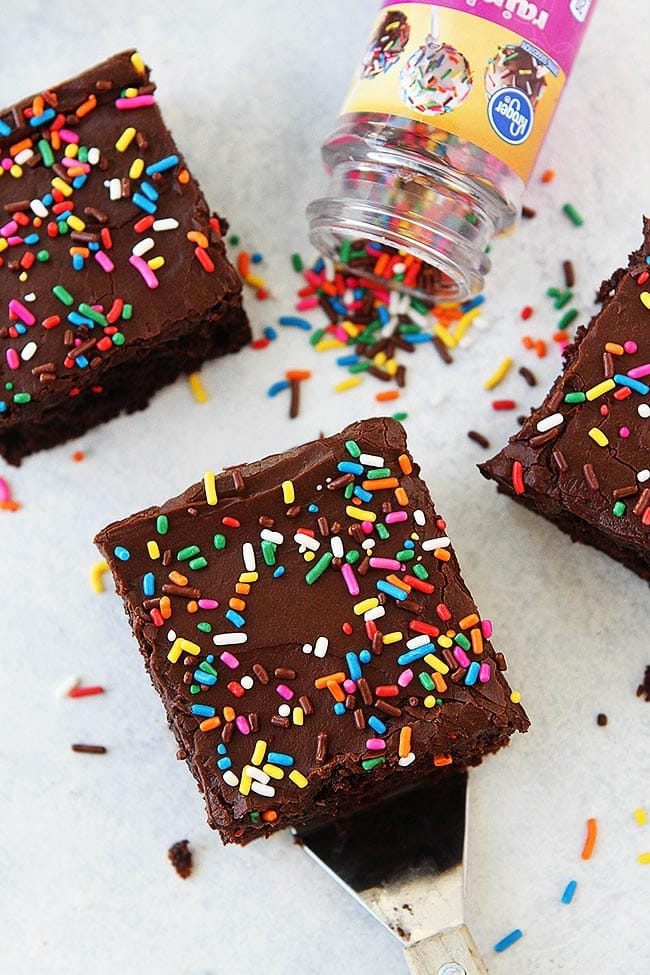 Best Chocolate Cake
Because this chocolate cake recipe is so easy you might second guess how good it is…until you have one bite, then you will be sold for life. This is the best chocolate cake! The cake is rich, moist, has the perfect tender crumb, and is finished with the most amazing chocolate sour cream frosting.
The secret ingredient for this cake is Tillamook Sour Cream. The cake has sour cream in the cake and in the frosting. The sour cream keeps the cake super moist. If you have made my chocolate sour cream bundt cake, you will for sure love this cake! The chocolate sour cream frosting makes it even more decadent and divine! The addition of sour cream to chocolate frosting makes the frosting super silky and smooth and it's not overly sweet, making it the perfect frosting for the chocolate cake. It's perfection!
All of the ingredients are simple and can be found at any Kroger store, even Tillamook products! Did you know Tillamook is expanding and you can now find Tillamook products in select Kroger stores nationwide? Yay!
The cake only takes 25-30 minutes to bake, depending on your oven and the chocolate sour cream frosting is easy to whip up!
We like to decorate the cake with Kroger's rainbow sprinkles just for FUN! Sprinkles are always a good idea!
And if you want to go all out, serve a piece of chocolate cake with a big scoop of Tillamook Ice Cream! That is how I like to eat my cake!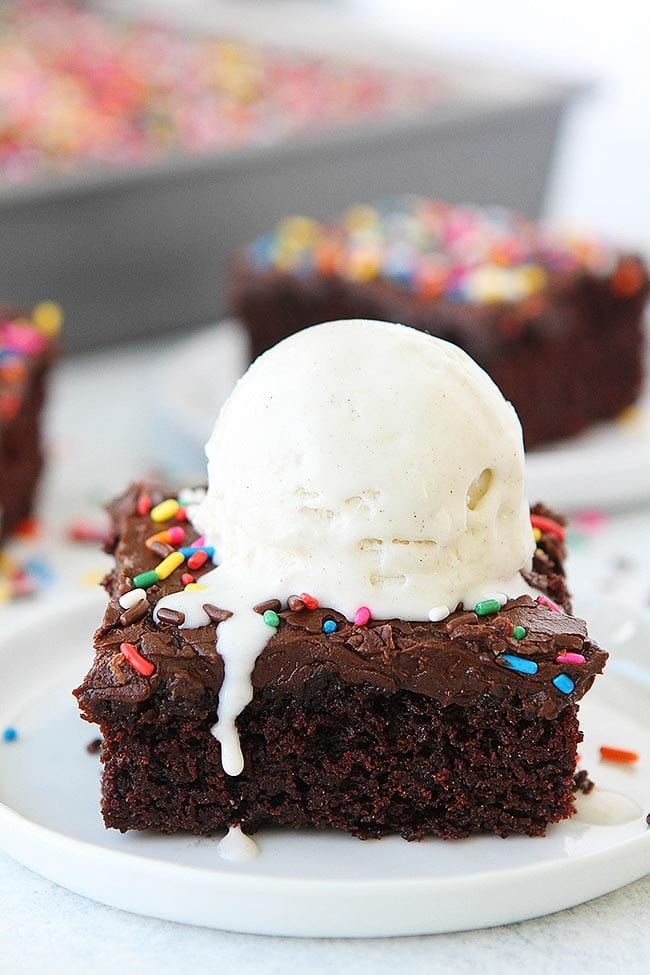 Ok, now I wanted to share a little recap of my trip to Detroit to celebrate the expansion Tillamook products in Kroger stores nationwide. It was a #LegenDairyWeekend, hosted by my friend Sarah. I hope you followed along on Instagram because it was a ton of fun. I always love getting together with other bloggers, especially when good food is involved and we were spoiled with good food from Tillamook and Kroger all weekend long!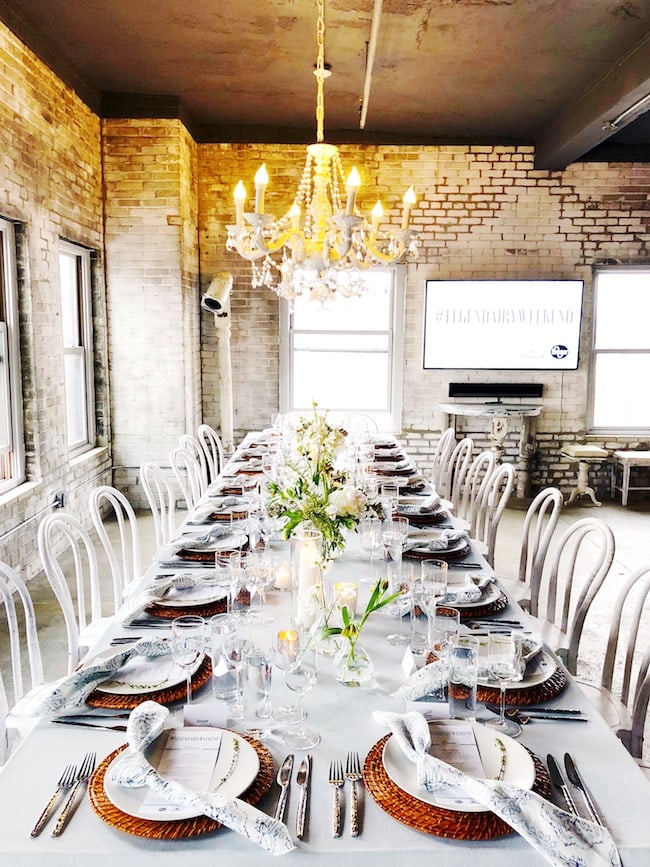 We kicked off the weekend with the most beautiful dinner. The entire meal featured Tillamook and Kroger products and all of the courses were delicious. I am still dreaming about that meal! I think it was fancier than my wedding..ha!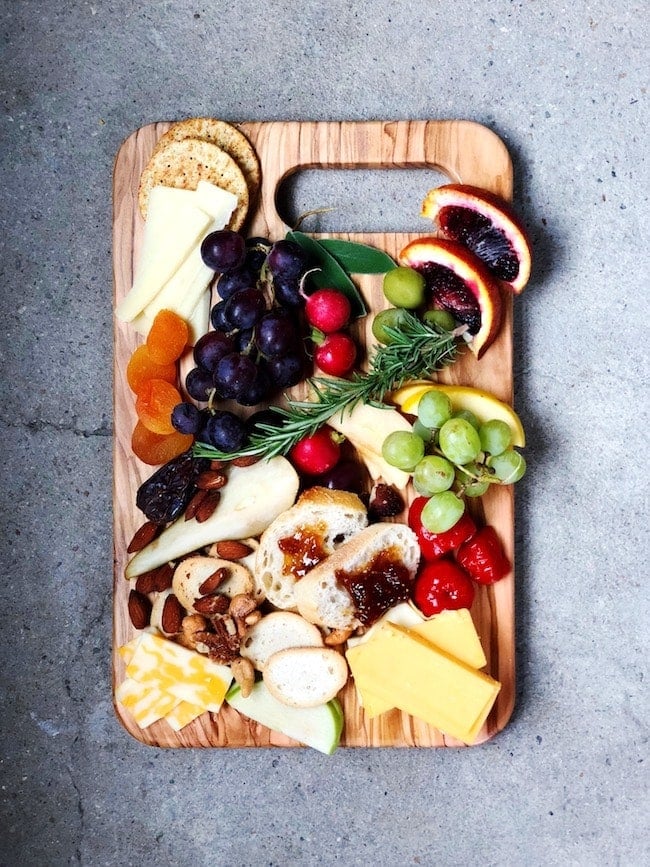 During the weekend, we also had a smoothie bowl bar, an amazing brunch, made candles, and learned how to assemble and style cheese boards…and I ate more than my fair share of Tillamook cheese, it's too good:) It was such a fun trip!
Side note-if you go to Detroit, stay at the Foundation Hotel. It's a super cool hotel.
We are HUGE Tillamook fans and always buy their products at Smith's so I am SO excited that all of our east coast followers can now find and enjoy Tillamook products. Make sure you look for their butter and sour cream so you can make this Easy Chocolate Cake! Also, head down the baking aisle in your Kroger store and pick up all of the baking staples. And don't forget the Tillamook ice cream, you are going to LOVE it! You can't go wrong with any flavor. Our freezer is always stocked with a few flavors:)
If you like this chocolate cake recipe, you might also like: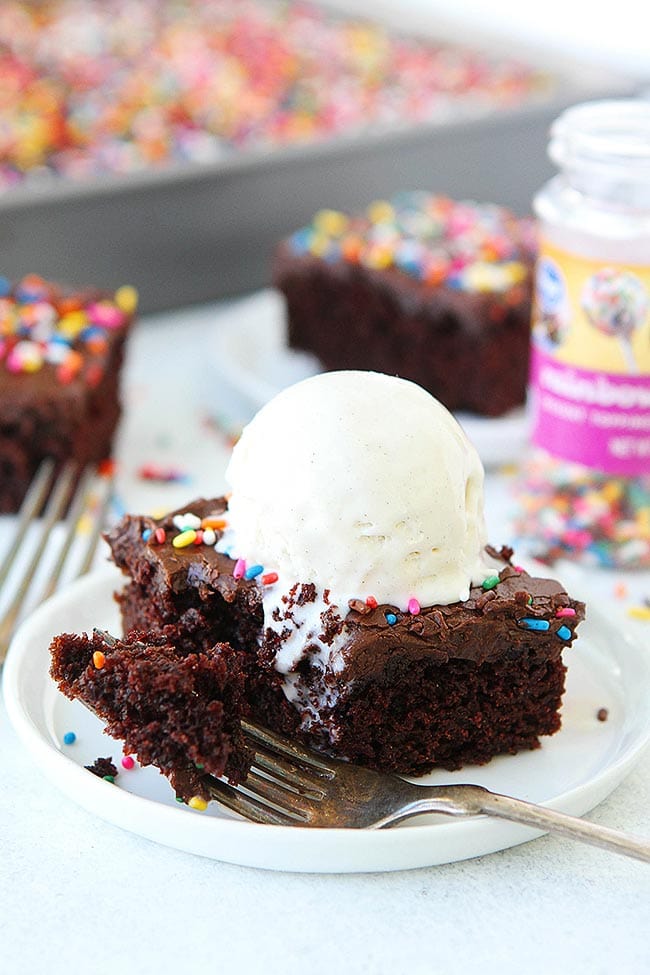 Easy Chocolate Cake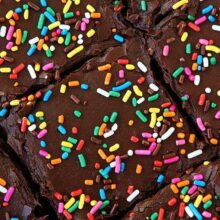 This easy sheet pan chocolate cake is the BEST chocolate cake recipe and the perfect dessert for any celebration or just because you are craving chocolate:)
Yield: Serves 16
Prep Time: 25 minutes
Cook Time: 25 minutes
Total Time: 50 minutes
Ingredients:
For the chocolate cake:
1 cup unsalted Tillamook Butter
1 cup water
1/3 cup unsweetened cocoa powder
1 teaspoon kosher salt
2 cups Kroger all-purpose flour
1 3/4 cups Kroger granulated sugar
1 1/2 teaspoons baking soda
2 large eggs, at room temperature
1/2 cup Tillamook Sour Cream, at room temperature
1 teaspoon pure vanilla extract
For the chocolate sour cream frosting:
3 cups Kroger powdered sugar
1/2 cup unsweetened cocoa powder or Dutch process cocoa
1/2 cup unsalted Tillamook butter
1/2 cup Tillamook Sour Cream
1 teaspoon vanilla extract
Pinch of salt
Kroger rainbow sprinkles, for decorating, optional
Directions:
For the cake: Preheat oven to 350 degrees F. Spray a 9×13-inch pan with nonstick cooking spray and set aside.
In a small saucepan, combine the butter, water, cocoa powder, and salt and place over medium heat. Cook, stirring with a spatula, just until melted and combined. Remove from the heat and set aside.
In a large bowl, whisk together the flour, sugar, and baking soda. Add half of the melted butter cocoa mixture and whisk until completely blended. The mixture will be thick. Add the remaining butter mixture and stir until combined.
Add the eggs, one at a time, whisking until completely blended. Add the sour cream and vanilla extract and whisk until smooth.
Pour the cake batter into the prepared pan and bake until a toothpick inserted into the center of the cake comes out clean, 25-30 minutes. Let the cake cool completely before frosting.
For the frosting: In a large bowl, sift together the powdered sugar and cocoa powder. In the bowl of a stand mixer, beat the butter until smooth, about 1 minute. Scrape down the sides of the bowl and add the sifted powdered sugar and cocoa, sour cream, vanilla, and salt. Beat until frosting is smooth, about 3 minutes. If you need to scrape down the sides, do so, and mix again.
Frost the cooled chocolate cake with the chocolate sour cream frosting. Decorate with sprinkles, if desired. Cut cake into squares and serve.


All images and text ©Two Peas & Their Pod.




Follow twopeasandpod on Instagram and show us what recipes you are making from our blog! Use the hashtag #twopeasandtheirpod! We want to see what you are making in your kitchen!