Classic Bruschetta Recipe with Tomatoes, Basil, and Olive Oil on toasted Bread. This easy appetizer is always a favorite Way to Begin any Meal!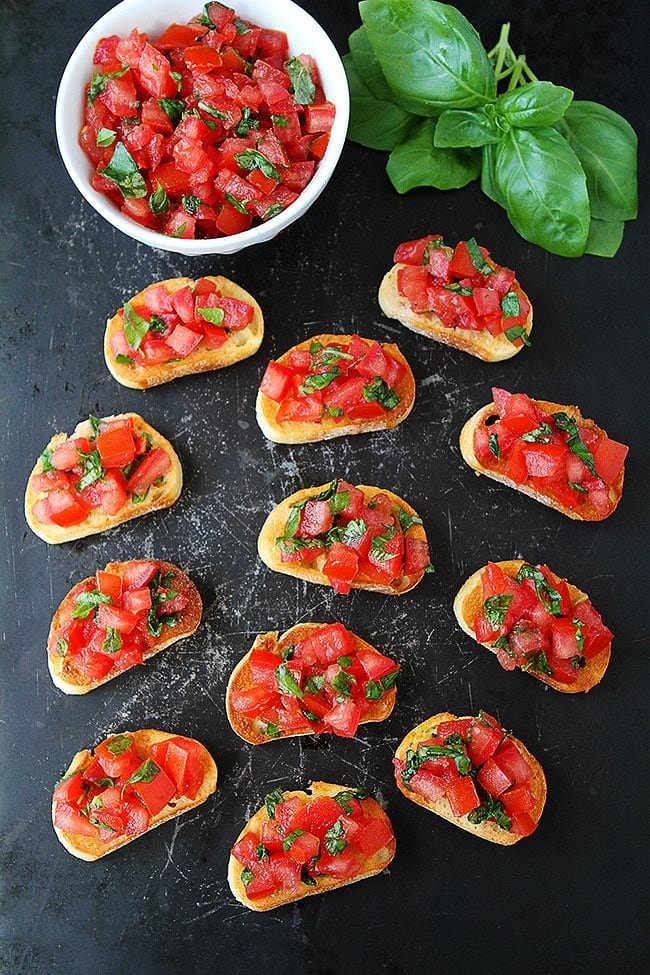 Bruschetta Recipe, Perfect for Summer
Bruschetta is one of my favorite appetizers or snacks, especially during the summer when tomatoes and basil are in season. We always plant a ton of tomatoes and basil in our garden and are looking for ways to use them up.
You can't go wrong with classic tomato bruschetta. It is the perfect starter for any meal and just about anyone can get behind bread toasted bread topped with garlic, tomatoes, olive oil, and fresh basil.

LATEST VIDEOS
Easy Bruschetta
Another reason I love bruschetta, it is super simple to make. If you have a few minutes, you can make bruschetta. If you ever need an easy, last minute appetizer, bruschetta should be your go to! You only need a few ingredients. The key to making the best bruschetta is making sure you use the best ingredients. Since there are only a few ingredients involve, the very best make a huge difference.
The Best Bread for Bruschetta
First, start with a fresh baguette. A French baguette is the perfect size if you are serving the bruschetta as an appetizer. You can buy a baguette at almost any grocery store. You can have the bakery slice your baguette if you want to save time or you can easily slice it at home with a sharp bread knife. You want the bread to be about 1/2-inch thick. If you aren't serving the bruschetta as an appetizer and want a heartier portion, you can use Italian or French bread, the slices will be bigger.
You want to toast the bread before adding on the toppings. You can toast the bread slices in the oven or you can grill the slices on a grill or grill pan inside.
The Best Tomatoes for Bruschetta
The best tomatoes for bruschetta are ripe tomatoes. There really aren't bad tomatoes for bruschetta, unless the tomatoes are unripe and flavorless. That is why bruschetta is best during the summer when tomatoes are in season and have the best flavor. You can use Roma tomatoes, garden tomatoes, cherry tomatoes, or grape tomatoes, just make sure they are ripe and ready to be eaten! Don't refrigerate the tomatoes or they will lose their flavor. Store the tomatoes on the counter.
Chop the tomatoes and place them in a bowl. Drizzle with olive oil and add freshly chopped basil. Season with salt and pepper, to taste. If you have time, let the tomatoes hangout in the bowl before serving so the flavors can intensify.
How to Make Bruschetta
When it's time to assemble the bruschetta, take a slice of the warm toasted bread and rub a clove of peeled garlic over the top. The garlic flavor will melt into the warm bread giving it the perfect garlic flavor. If you want to go all out, you can add a drizzle of balsamic vinegar or balsamic glaze. The balsamic flavor goes great with the tomatoes and basil. Serve immediately.
If you are serving bruschetta for a party, you can top all of the baguette slices with the tomato basil topping and serve on a platter or you can put the tomato basil topping in a bowl and surround it with the bread slices so people can make their own bruschetta. Both ways are perfectly acceptable for parties!
What to Serve with Bruschetta
Bruschetta really goes well with any meal, but it is a classic Italian appetizer and we love enjoying bruschetta with our favorite pasta recipes. Here are a few ideas:
Bruschetta is also great with grilled chicken, fish, vegetables, or a big salad! You really can't go wrong!
Use your summer tomatoes and basil to make this easy bruschetta recipe! You will be glad you did!
If you like this bruschetta recipe, you might also like: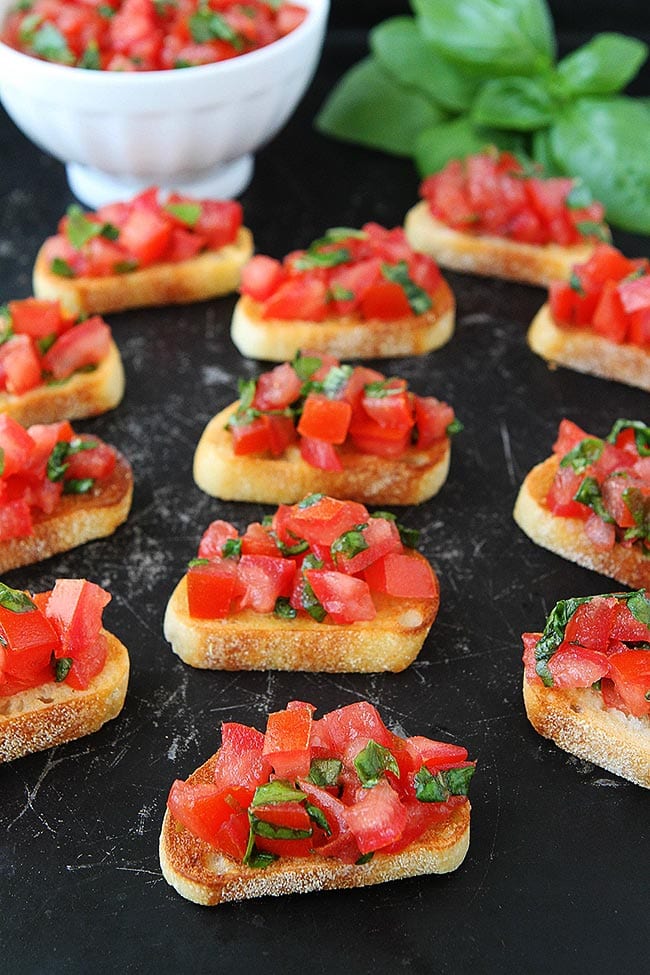 Bruschetta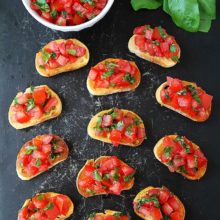 This easy bruschetta recipe makes a great appetizer for any meal and is especially delicious during the summer when tomatoes and basil are in season.
Yield: Serves 8-10
Prep Time: 10 minutes
Cook Time: 3-5 minutes
Total Time: 15 minutes
Ingredients:
7 or 8 ripe medium tomatoes, seeds removed and chopped
1 tablespoon olive oil
1/3 cup chopped fresh basil
Kosher salt and black pepper, to taste
1 French baguette, cut into 1/2-inch thick slices
Olive oil, for brushing bread
2 cloves garlic, peeled
Directions:
Preheat oven to 450 degrees F.
In a medium bowl, combine the tomatoes, 1 tablespoon olive oil, basil, salt, and pepper. Let sit while you toast the bread.
Place the baguette slices on a large baking sheet. You might need to use two sheets. Brush the tops of the baguette slices with olive oil. Place the baking sheets in the oven and bake until bread slices are toasted, about 5 minutes. Remove from the oven and rub the garlic over the toasted bread, pressing slightly into the bread.
Top each bread slice with tomato basil topping. Season with additional salt and black pepper and balsamic, if desired.
Note-you can also toast the bread slices on the grill outside or on a grill pan.


All images and text ©Two Peas & Their Pod.




Follow twopeasandpod on Instagram and show us what recipes you are making from our blog! Use the hashtag #twopeasandtheirpod! We want to see what you are making in your kitchen!