This amazing lemon cheesecake, with a super creamy boost from the white chocolate and a delectable shortbread crust, is truly one of the most delicious cheesecakes ever!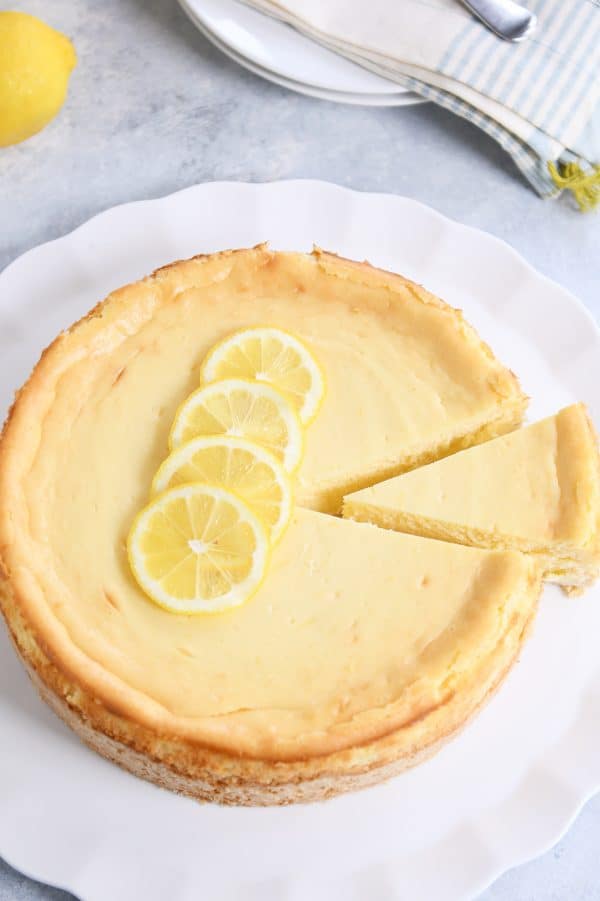 What business do I have posting another "favorite" cheesecake recipe, you ask?
Let me answer that with another question: DO YOU KNOW ME AT ALL?
I love cheesecake. Whole heartedly.
And I'm sure for as long as this blog exists, I'll continue to post cheesecake recipe after cheesecake recipe that I've deemed delicious enough to make the cut.
So today, in celebration of me loving cheesecake and me also wanting you to love this cheesecake (AND because it happens to be my 16th wedding anniversary today), I present one of the creamiest, yummiest, most luxurious cheesecakes ever: lemon white chocolate cheesecake.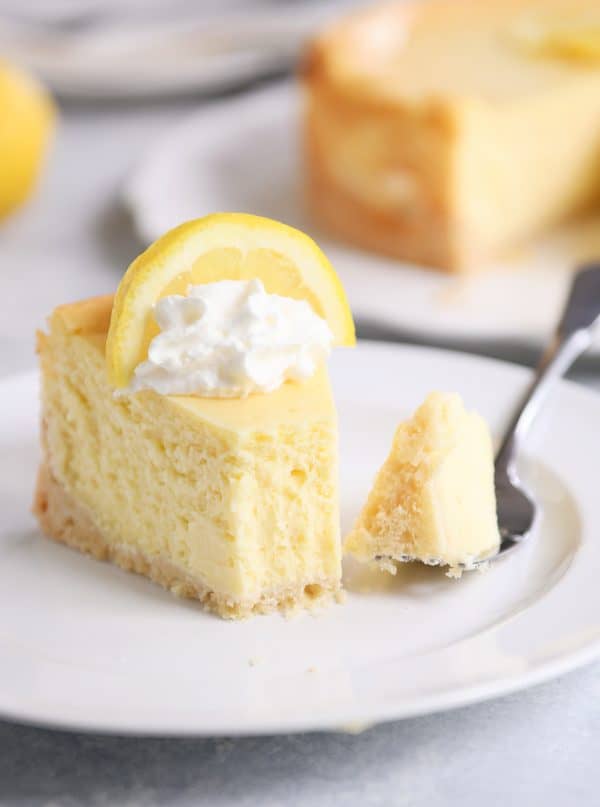 And if the white chocolate in that there recipe title makes you panic, stick with me for a second!
White chocolate avoiders everywhere unite!
As you know, I don't generally like white chocolate in many of my desserts (aside from these cookies and these cookies and these bars, of course), but apparently, I find the pale chocolate pretender extremely necessary for best-ever-level cheesecakes.
White Chocolate Raspberry Truffle Cheesecake
Key Lime White Chocolate Cheesecake Pie
Vanilla Bean White Chocolate Mousse Cheesecake
Pumpkin White Chocolate Mousse Cheesecake
Peppermint Bark White Chocolate Mousse Cheesecake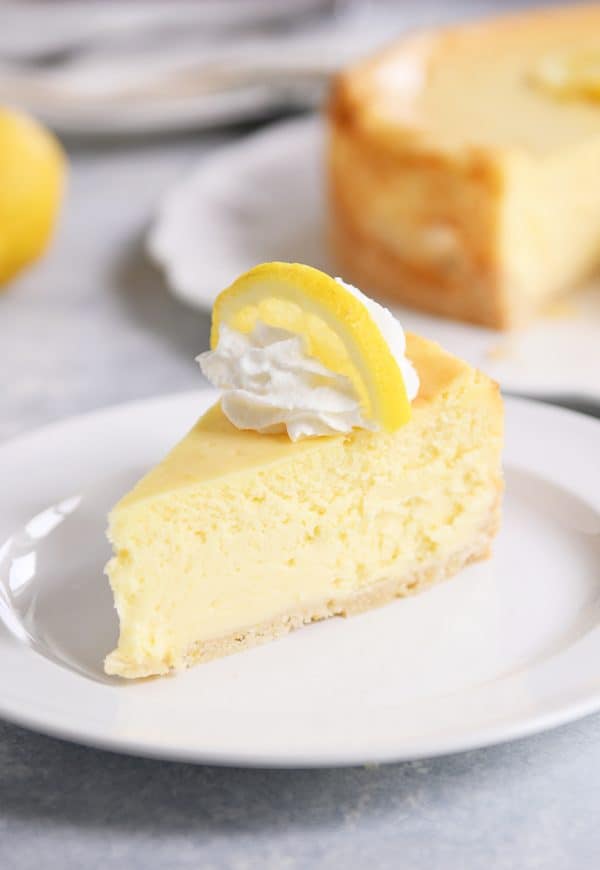 This lemon cheesecake is amazing. Like, straight into the Best Of archives kind of amazing.
It is creamy and tastier than you can even imagine. And that's just for someone that's pretty average when it comes to lemon desserts (Brian, dear husband, I'm talking to you).
But if you also happen to be a lemon lover…well, hold on to your fork, because this lemony white chocolate cheesecake is going to rock your world (self, I'm talking to you).
Beyond the delectable, luxurious, creamy cheesecake filling, that somewhat untraditional and delicious shortbread-like crust is surprisingly delicious. Amazing, really.
With a tender, buttery, cookie-like bite, it is the perfect compliment to the creamy lemon cheesecake filling.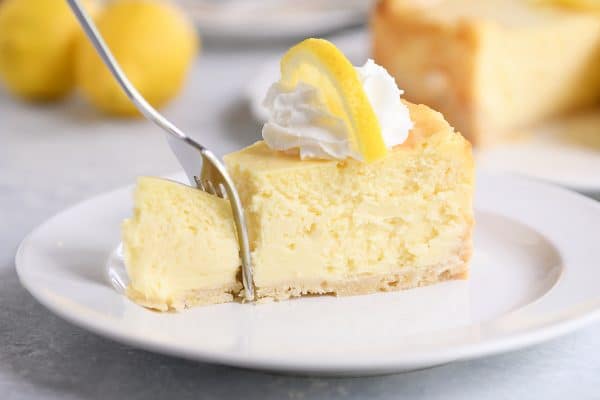 I've given several notes in the recipe about using a water bath vs. no water bath. (Spoiler alert: I never use traditional water baths for my cheesecakes.)
And I've also given some important white chocolate insights. (Another spoiler alert: don't use white chocolate chips OR almond bark, pretty please.)
So read through the entire recipe before diving in! But keep in mind that although I tend to be a bit wordy sometimes, it's really a simple and straightforward recipe.
I had some little hands helping me mix up this divine cheesecake, so if you wondered about the well-placed line of lemons on that first picture up there in the post, you may have guessed correctly that I was innocently trying to cover up a crack in the baked cheesecake.
Basically, I have hard scientific data showing that if a 9-year old happens to over mix the batter after adding the eggs, it WILL (not just may) cause that ol' cheesecake to crack. So use a light hand when mixing in the eggs.
And even if you do end up with cracks, console yourself knowing it will not affect the taste of this dreamy cheesecake in the least. It's nothing a few lemons or a heap of whipped cream can't fix).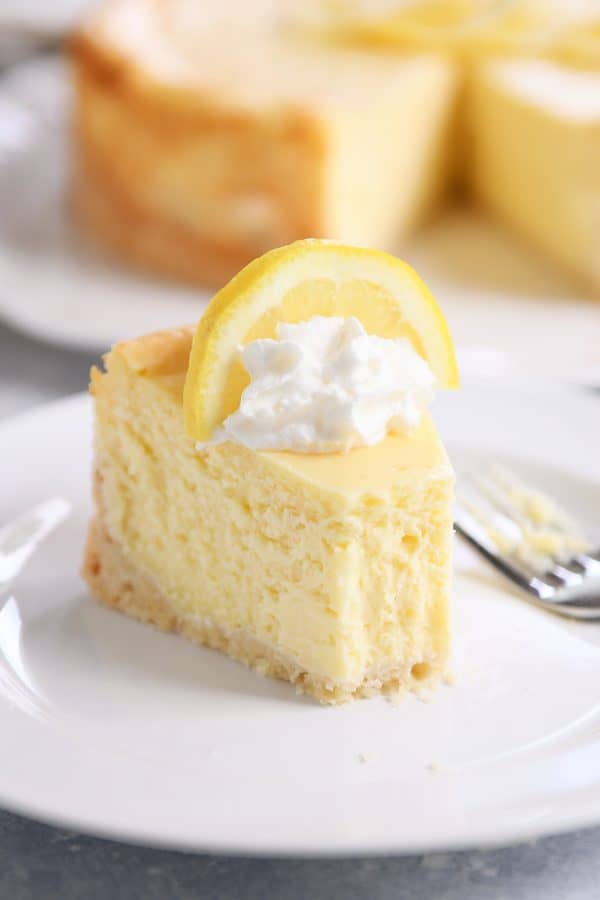 Yield: 9- or 10-inch cheesecake
Lemon White Chocolate Cheesecake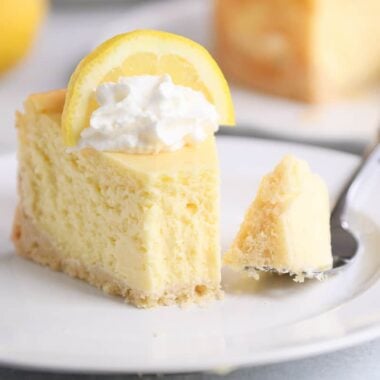 Ingredients:
Crust:
1 1/4 cups (6.25 ounces) all-purpose flour
2 tablespoons powdered sugar
1 teaspoon lemon zest
8 tablespoons (1/2 cup, 4 ounces) cold butter, cut into chunks
Cheesecake Filling:
4 packages (8 ounces each) cream cheese, softened (full fat cream cheese not light cream cheese)
1 1/4 cups (9.25 ounces) granulated sugar
2 tablespoons all-purpose flour
4 tablespoons freshly squeezed lemon juice (from 2-3 lemons – zest them before juicing; you'll need the zest later)
2 tablespoons heavy cream
1 teaspoon vanilla extract
4 large eggs, lightly beaten
8 ounces white baking chocolate, melted and cooled to room temperature (see note)
1 tablespoon lemon zest
Sweetened whipped cream and lemon slices for garnish (optional)
Directions:
Preheat the oven to 325 degrees F and make sure an oven rack is in the middle position (with another oven rack one level lower for a pan of water).
For the crust, in a medium bowl, whisk together the flour, powdered sugar and lemon zest. Toss in the butter cubes and cut the butter into the dry ingredients with two knives or a pastry blender until the mixture is crumbly. Press the crust mixture onto the bottom and about an inch up the sides of a 9- or 10-inch springform pan. I find it easiest to press the mixture around the sides of the pan before spreading the rest evenly over the bottom and pressing lightly (with the bottom of a measuring cup).
Bake for 20 minutes until lightly golden. Cool on a wire rack.
Place a pan of hot water on the lowest rack below the rack where the cheesecake will bake and let the water heat up while preparing the cheesecake filling. I use a metal 9X13-inch baking pan filled 3/4 full – it's easiest to fill the pan with water after the pan is placed on the oven rack to minimize spillage.
For the filling, in the bowl of an electric stand mixer fitted with the whisk attachment or in a bowl with a handheld electric mixer, beat the softened cream cheese until well-combined and fluffy, 2-3 minutes, scraping down the sides of the bowl as needed. Add the sugar, flour, lemon juice, cream, and vanilla and mix until well-combined, 1-2 minutes. Add the white chocolate and lemon zest and mix until combined, scraping down the sides and bottom of the bowl as needed.
Add the eggs and beat on low speed until just combined (over beating after adding the eggs can cause the cheesecake to crack while baking).
Pour the cheesecake filling over the crust, spreading evenly. Bake the cheesecake (placing the pan on the rack above the pan of water) for 65-75 minutes until the filling is just set (it's ok if the very center jiggles just slightly). Add more time if needed.
Remove the cheesecake from the oven and let cool completely on a wire rack. Cover and refrigerate until completely chilled, 8-12 hours (the flavor will get better as it chills as well). Serve the cheesecake slices with sweetened whipped cream and lemon slices, if desired.
Notes:
White chocolate chips generally do not melt well (they clump and seize easily while melting), so I highly recommend white baking chocolate, which incidentally is NOT the same as almond bark or melting wafers. Don't use those; they have a fake, sugary flavor that may ruin this divine cheesecake. I can easily find the Ghirardelli brand of white baking chocolate in my local grocery store above the chocolate chips in the baking aisle (here's an online source and visual). 
I never mess with official water baths when baking cheesecakes – too many soggy crust experiences, but the alternate method listed in the recipe (pan of simmering water under the cheesecake) works just as good in my experience and is much easier, but if you'd like to use a traditional water bath, you can definitely go that route.
All images and text ©Mel's Kitchen Cafe.
Follow @melskitchencafe on Instagram and show me the recipes you are making from my blog using the hashtag #melskitchencafe. I love seeing all the goodness you are whipping up in your kitchens!
Recipe Source: slightly adapted from this Taste of Home cheesecake recipe