Great pizza is the result of good dough and intense heat. Your creativity dictates the rest – from the shape, to the toppings. Perfecting great pizza at home is one of the most satisfying activities a home cook can master. That said, keeping your oven at 500°F for an hour during peak summer turns your kitchen into a sweaty zone of sad. If you are grilling in your backyard this weekend and are tired of kabobs, veggie burgers and corn on the cob; consider making grilled pizza. Here are thirteen ideas for grilled pizza that go beyond margherita. If you have any favorite pizza grilling ideas (or favorite toppings), let me know in the comments! 
Grilled Pizza Tips
If you already have a go-to pizza dough recipe that you know well, use that. This is the best pizza dough I know, from the master baker, Peter Reinhart. If you are short on time, try a fresh dough your local store offers, Trader Joe's has a good one in both regular and whole-grain.

As with the oven, you want to achieve the maxiumum heat. Pre-heat the grill as long as possible and check the temperature before starting the pizza.

If you have and use a pizza stone in your oven, you can also use it on the grill.

Grilled pizza differs from in the oven in that you generally flip the dough once before your add your toppings.

Consider pre-cooking any veggies or other toppings, if needed, knowing they aren't going to spend as much time in heat as they would in an oven.

Use a wash of olive oil to prevent the first side from sticking on the grill.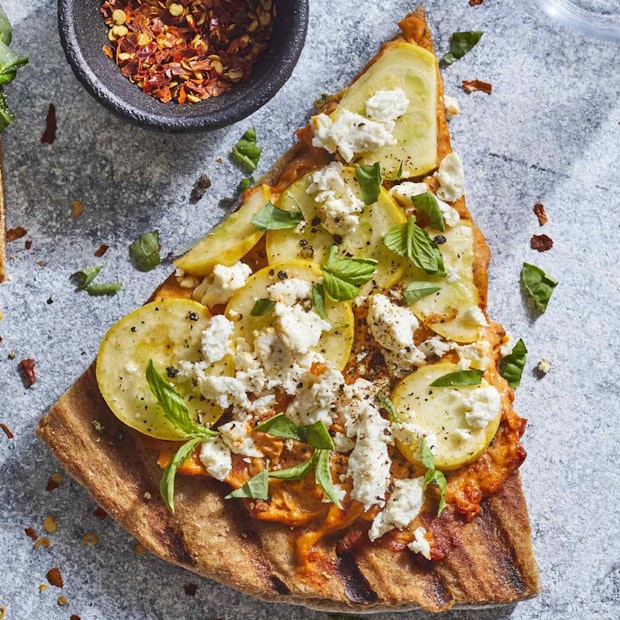 1. Greek Summer-Squash Grilled Pizza (Eating Well)
This pizza broadcasts summer with a bright yellow color, and is perfect for the grill. The feta adds a nod to Greece.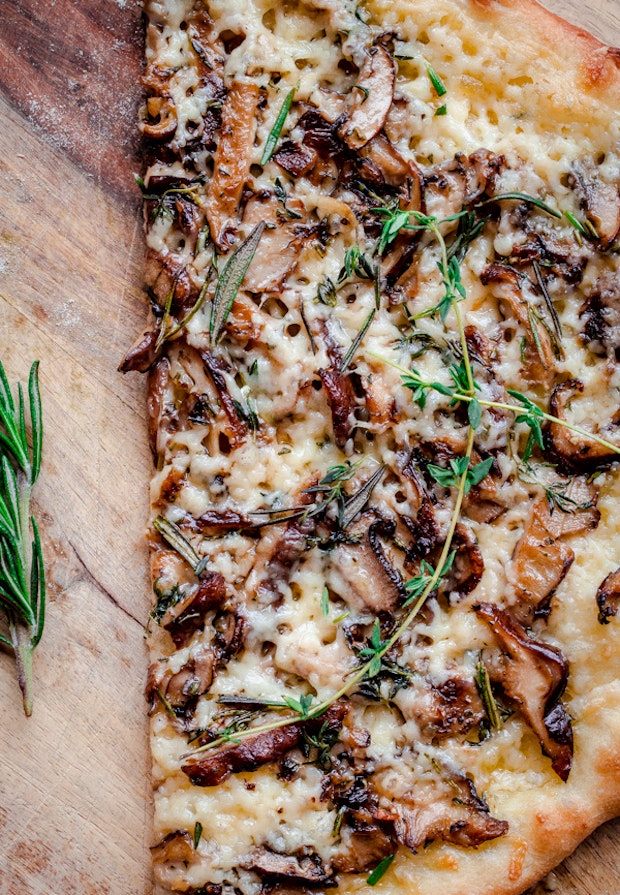 2. Mushroom Pizza with Havarti Cheese, Fresh Herbs, and White Truffle Oil (A Beautiful Plate)
A lot going on here, in a good way! This recipe calls for shiitake and baby bell mushrooms, Havarti and fontina, rosemary, thyme and a touch of truffle oil.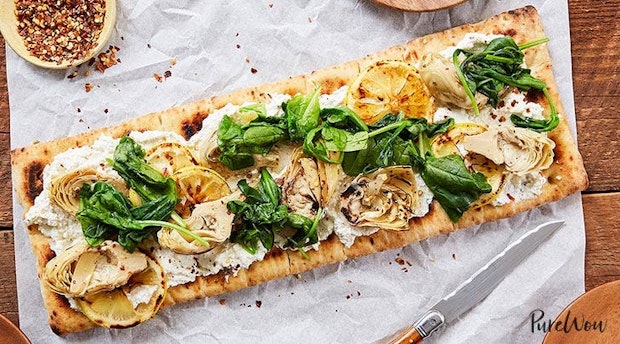 3. Grilled Flatbread Pizza with Artichoke, Ricotta and Lemon (Pure Wow)
Artichokes are one of the best things summer offers. This is a great combination of artichokes, lemon and riccotta. If you have extra time and can source some fresh artichokes, that will make this pizza even better.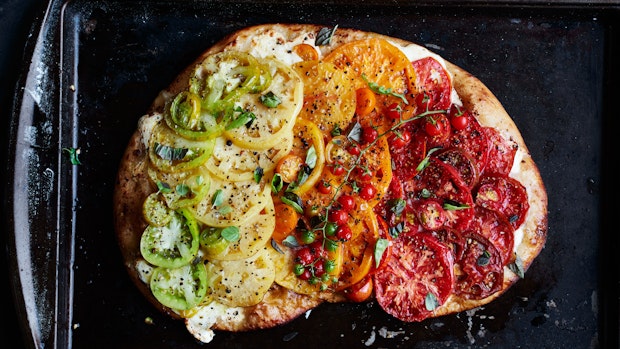 4. These Gorgeous Pizzas Are the Best Way to Use Up Your Farmers' Market Haul (Bon Appétit)
The Bon Appétit test kitchen guide to grilling pizza focuses on the placement of dough on your grill (especially if you are using charcoal). Many good tips and suggestions here. What I want to try first? Squash blossoms, mozzarella, fontina, and chive blossoms.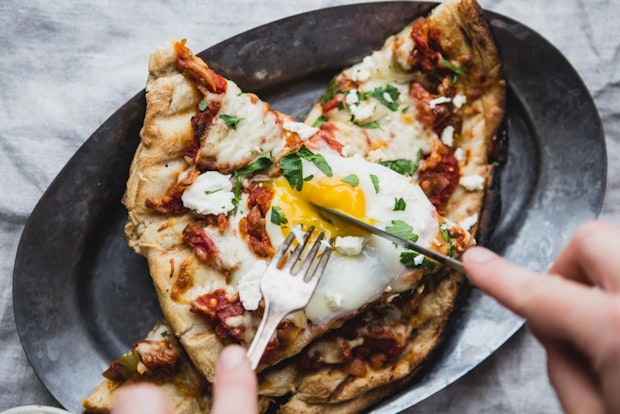 5. Grilled Shakshuka Pizza (The Modern Proper)
I've seen plenty of pizzas topped with eggs, but for some reason I associated it with shakshuka, until now. Cumin and paprika alter the traditional red sauce flavors to reference shakshuka.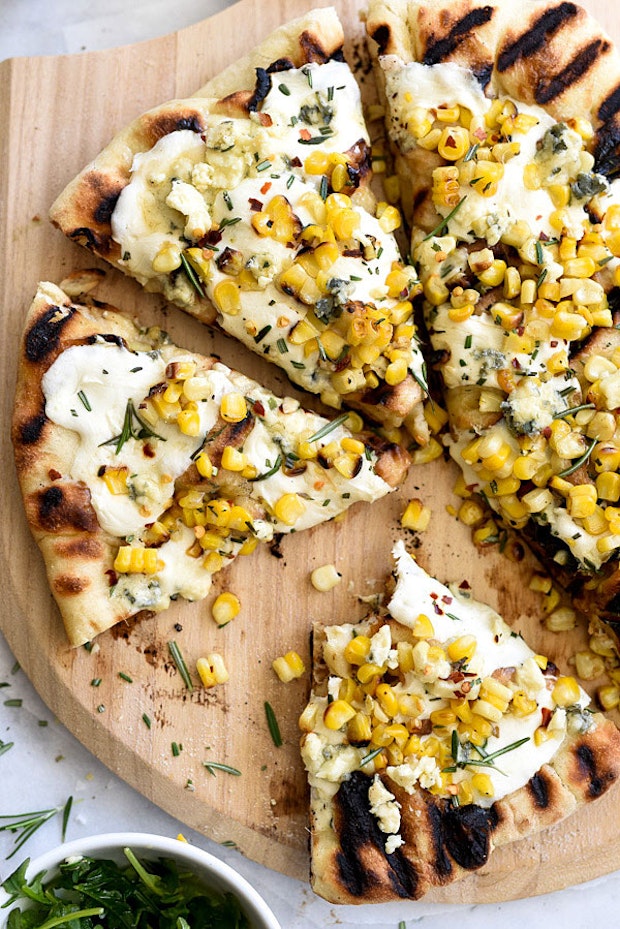 6. Charred Corn with Rosemary Grilled Pizza (Naturally Ella via Foodie Crush)
Along with summer squash, corn is perfect match for a summer pizza on a grill. (Check out our recent look at some great corn on the cob recipes). There are other summer pizzas that call for corn, but check out the flavor combination of this one, corn paired with gorgonzola.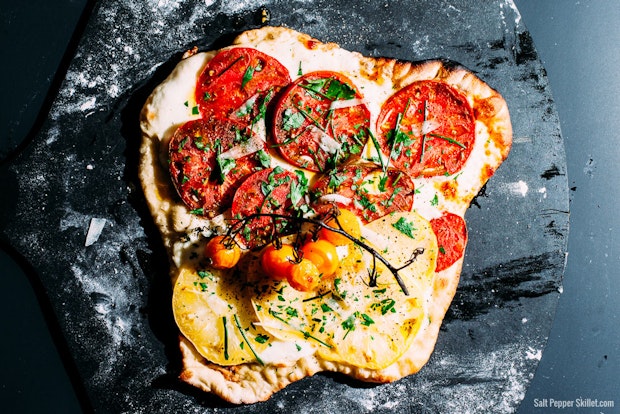 7. Grilled Heirloom Tomato Pizza (Salt Pepper Skillet)
Summer can be an embarassment of riches. You come home from the farmer's market with a haul of heirloom tomatoes and they beg to be used in different ways besides salads. Here's your answer. The recipe couldn't be simpler and works with whatever tomatoes are available where you live.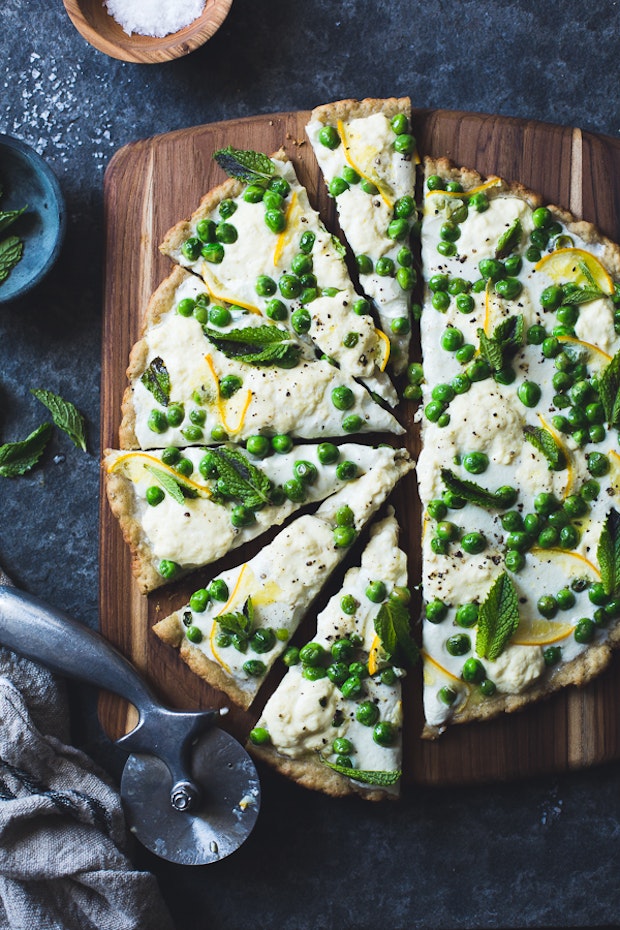 8. Grilled Gluten-free Pizza with Peas, Lemon and Mint (Bojon Gourmet)
This pizza screams: fresh. One of the tricky things about grilled pizza is you want to cook the dough before you add the toppings, which can create some timing issues if you want to cook those toppings without burning the crust. In this case, the ingredients only need a few minutes to get warm.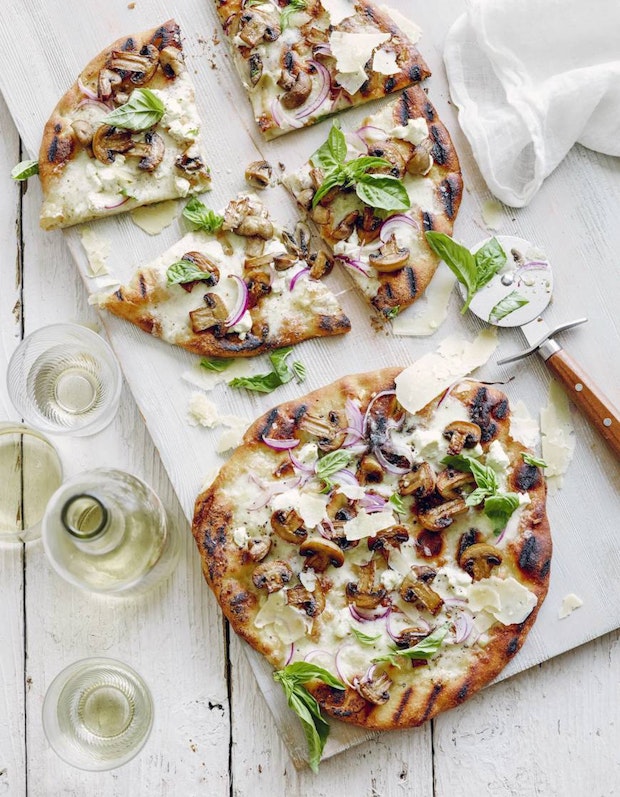 9. Grilled White Pizza (What's Gaby Cooking)
The debate about what makes a pizza different from a flatbread will never be settled. For some people sauce makes the difference. In this view, any white pizza is a flatbread, but I'd argue certain toppings indicate white pizza (carmelized onions, mushrooms). Have that debate with this pizza over a glass of very cold rosé!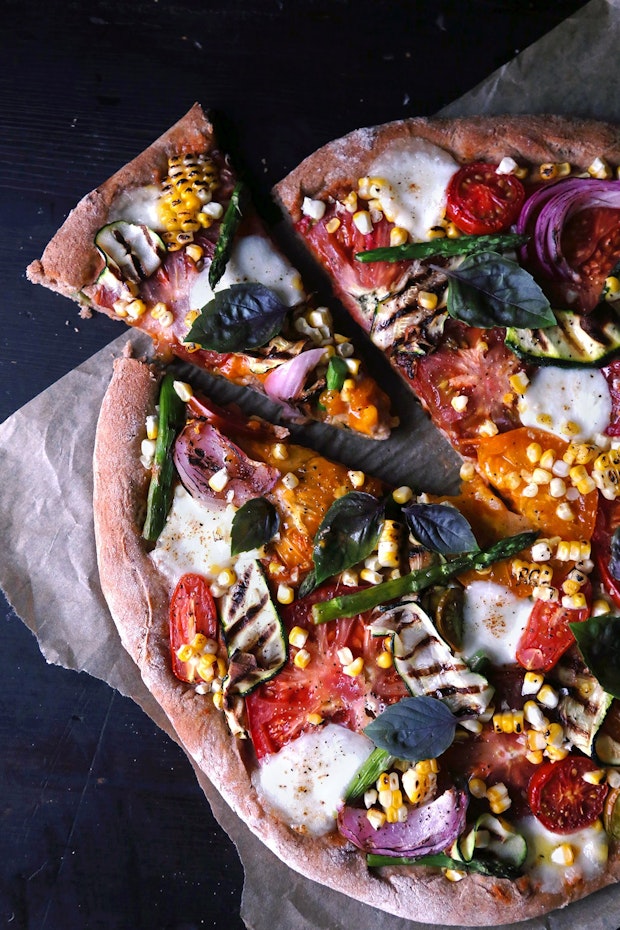 10. Grilled Summer Veggie Spelt Pizza (Wife Mama Foodie)
This is one of the most attractive grilled pizzas, popping with summer colors! You can certainly improvise with the list of bright summer veggies depending on what you have on hand. What catches my attention about the recipe itself is the sprouted spelt crust – it's probably going to behave and taste similar to whole wheat.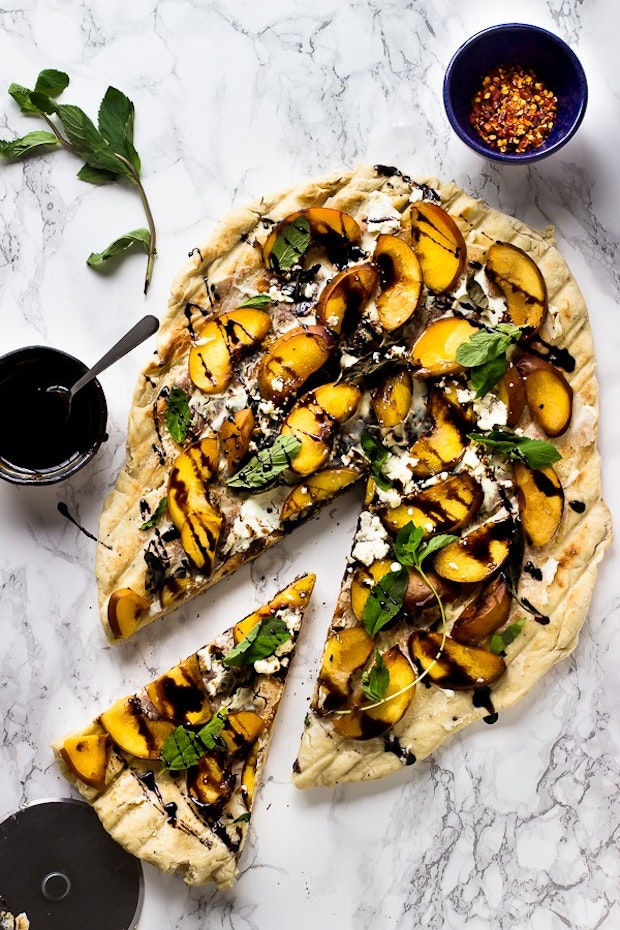 11. Grilled Peach, Basil and Goat Cheese Pizza (Jessica in the Kitchen)
If you are doing a series of pizzas on the grill, why not save a dessert pizza for last? Grilled fruit is definitely a bbq secret not everyone knows about, or at least doesn't turn too often enough. This recipe features what looks like an amazing basalmic reduction sauce, which will provide the perfect flavor counterpoint to the sweet fruit.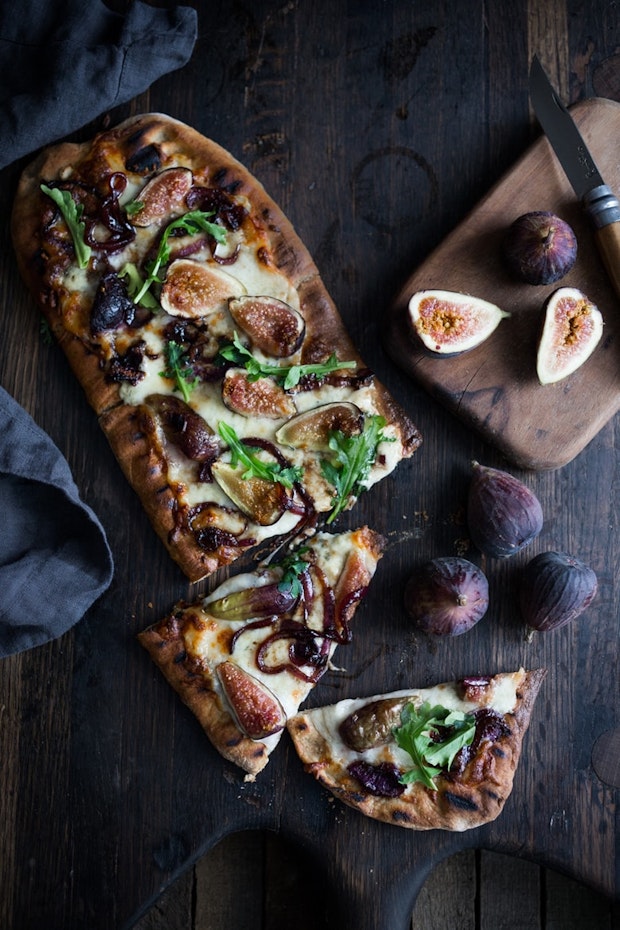 12. Grilled Fig Pizza with Balsamic Onions and Gorgonzola (Feasting at Home)
This pizza makes a lot of sense. Warm figs are great, with a tangy cheese, they're even better. Put that on a grilled pizza and this might be a new summer classic.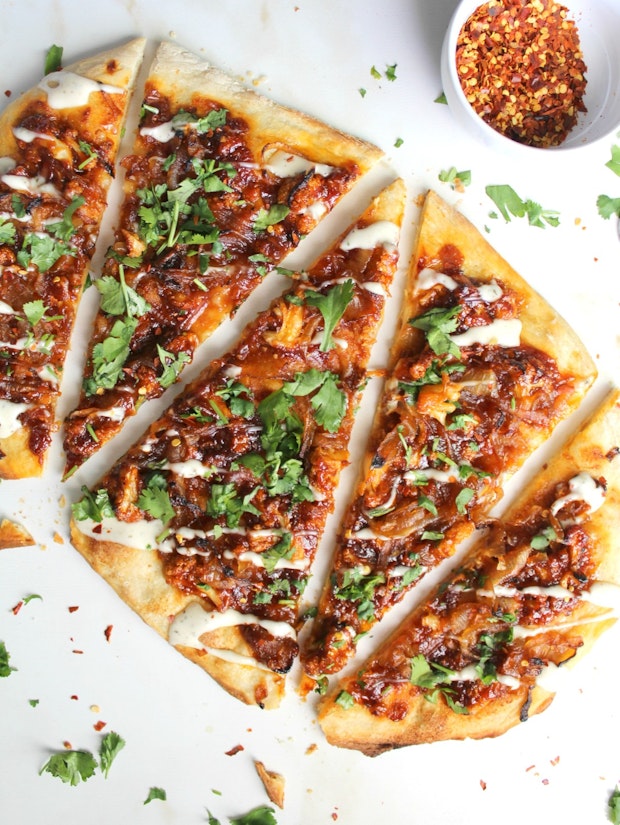 13. Vegan Roasted Cauliflower Pizza (This Savory Vegan)
Here's a vegan pizza that would work well on the grill. Barbecue sauce acts as the sauce (here's a bunch of good barbecue sauce recipes if you want to do homemade). The cauliflower is tossed with sirachca and red wine vinegar, so there's going to be plenty of flavor.