Easy15 minsGluten-Free
This Green Enchilada Sauce recipe is quick and easy to make, naturally gluten-free, and full of the best savory green chile flavor.  Perfect for making enchiladas verdes, or using as a versatile sauce on any other favorite Mexican dishes.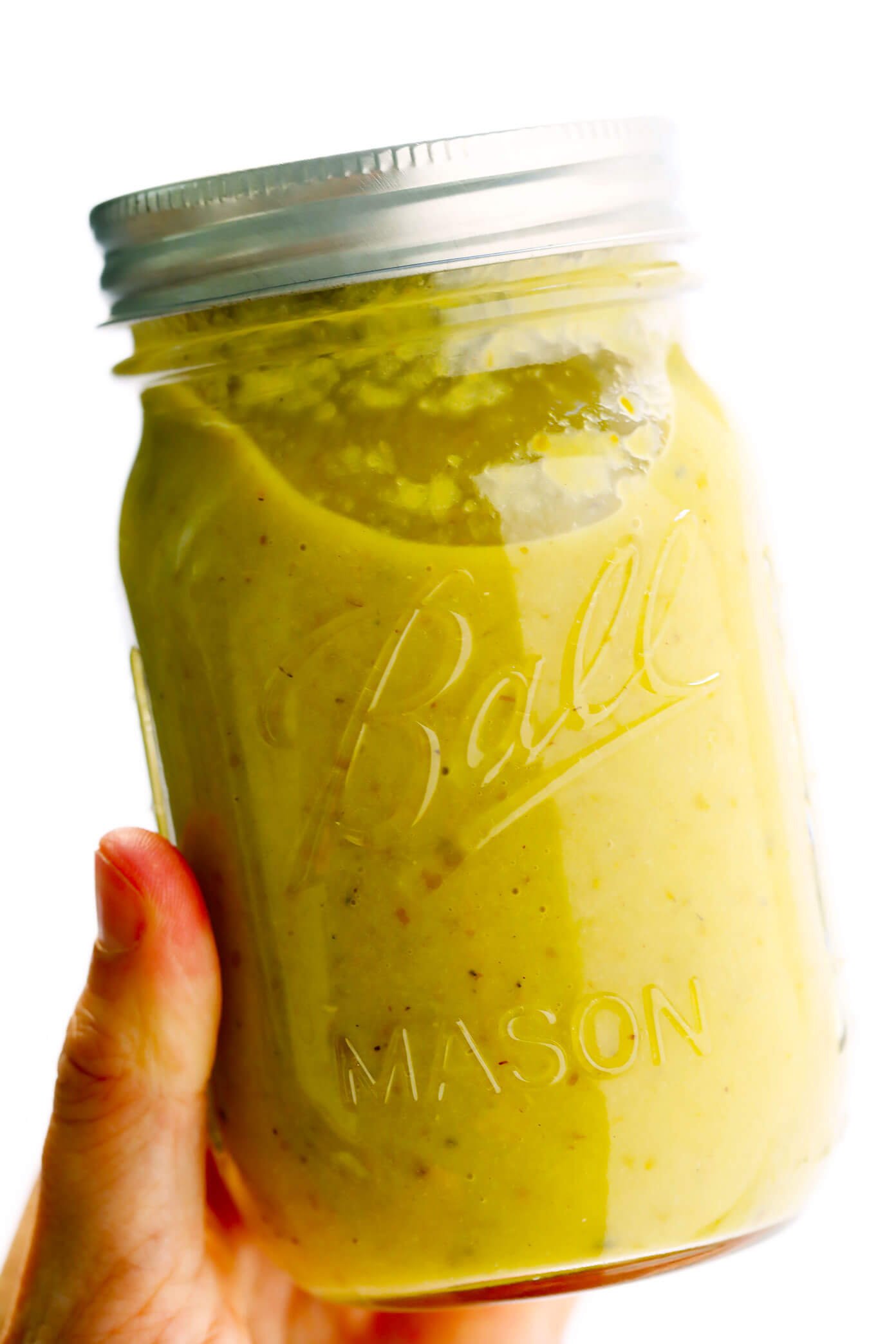 Finally!  After years and years of requests from those of you who have fallen in love with my favorite red enchilada sauce recipe, I'm finally getting around to sharing a recipe for its mean green partner in crime.
Meet…my favorite green enchilada sauce recipe. ♡
I'm obsessed, and already know you're going to love it too.
First off, this green enchilada sauce recipe only takes about 15 minutes to make, tops.  Second, it's made with super-simple ingredients, including ready-to-go canned diced green chiles.  (<– No need to roast them yourself unless they're in season and that sounds fun, in which case please invite me over.)  Third, this sauce is naturally very mild, but it's super-easy to amp up the heat factor if you'd like.  Fourth, it's naturally vegetarian, vegan, and gluten-free.  And most importantly, it is just totally, completely, I-can-happily-just-eat-it-with-a-spoon, want-to-drizzle-it-on-All-The-Things, crazy delicious.
It's of course fantastic on verde enchiladas.  (Or an epic verde enchilada casserole, stay tuned.)  But it's also just a super versatile green sauce that could be used in a million different ways!  For example, I love mixing it into migas and chilaquiles and huevos rancheros for breakfast.  Or drizzling it on tamales and tacos and nachos for dinner.  It's easy to use as a finishing sauce on top of baked chicken breasts, fish, shrimp and steak.  If you thin it out with some water, it can double as a quick dressing for salads.  Of of course, you could use it to season any other Mexi dishes that you might be craving (like quesadillas, burritos, tortas, fajitas, soups, stews…).  Sky's the limit.
Let's make a batch!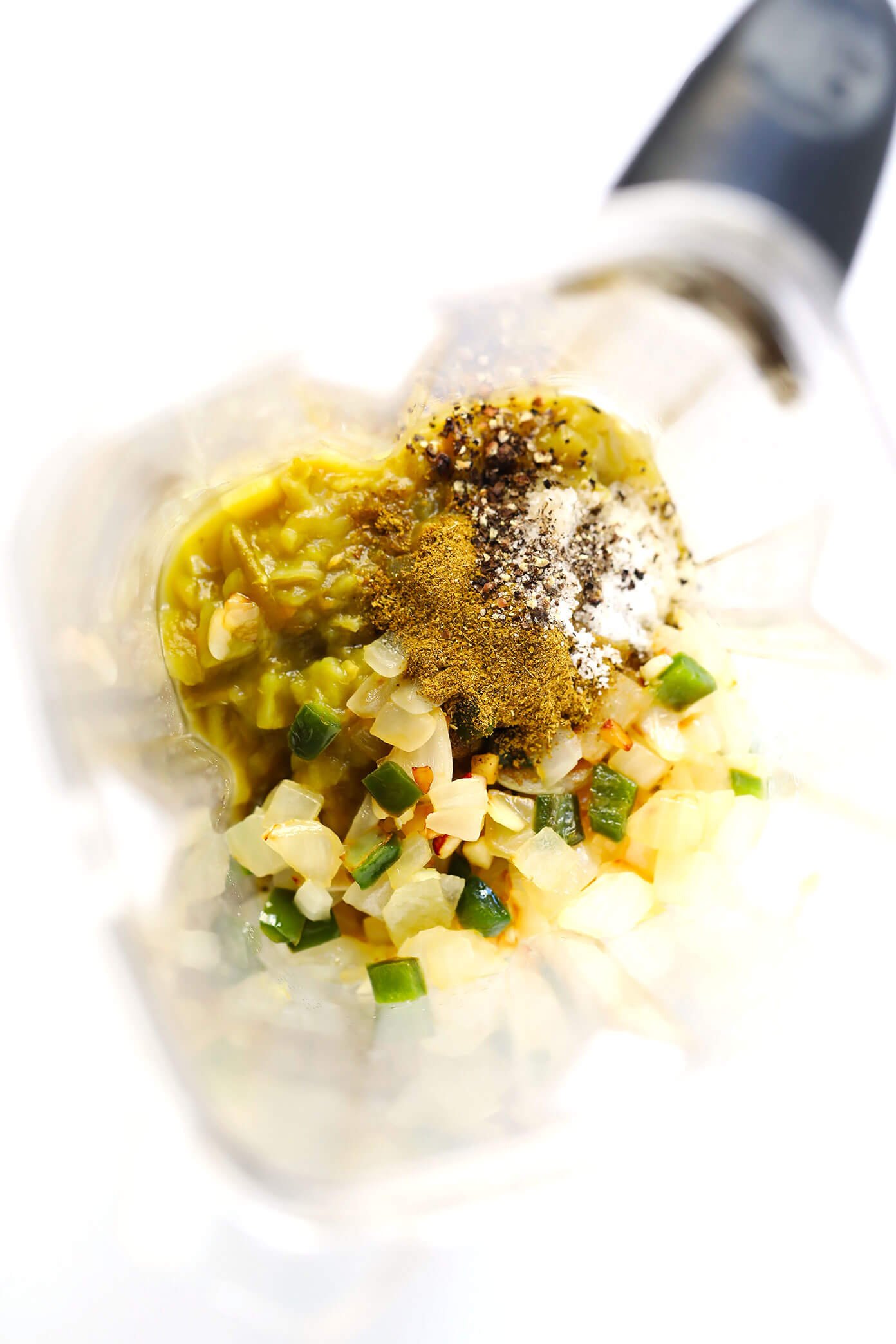 Green Enchilada Sauce Ingredients:
For this green enchilada sauce recipe, you'll need the following ingredients:
Roasted Green Chiles: I just used canned diced green chiles to keep things simple.  But if it's hatch green chile season and you feel like roasting up a batch yourself, power to ya!
Garlic and Onion: Which we will briefly sauté, to bring out their best flavor
Jalapeño: To add just a touch of heat.  If you would like a spicier sauce, feel free to leave in the seeds and/or add an extra jalapeño to the sauce.
Vegetable Stock: Or chicken stock, whichever you prefer.
Cumin, Salt and Pepper: For seasoning!  Be sure to taste the sauce at the end and add extra of any of these as needed.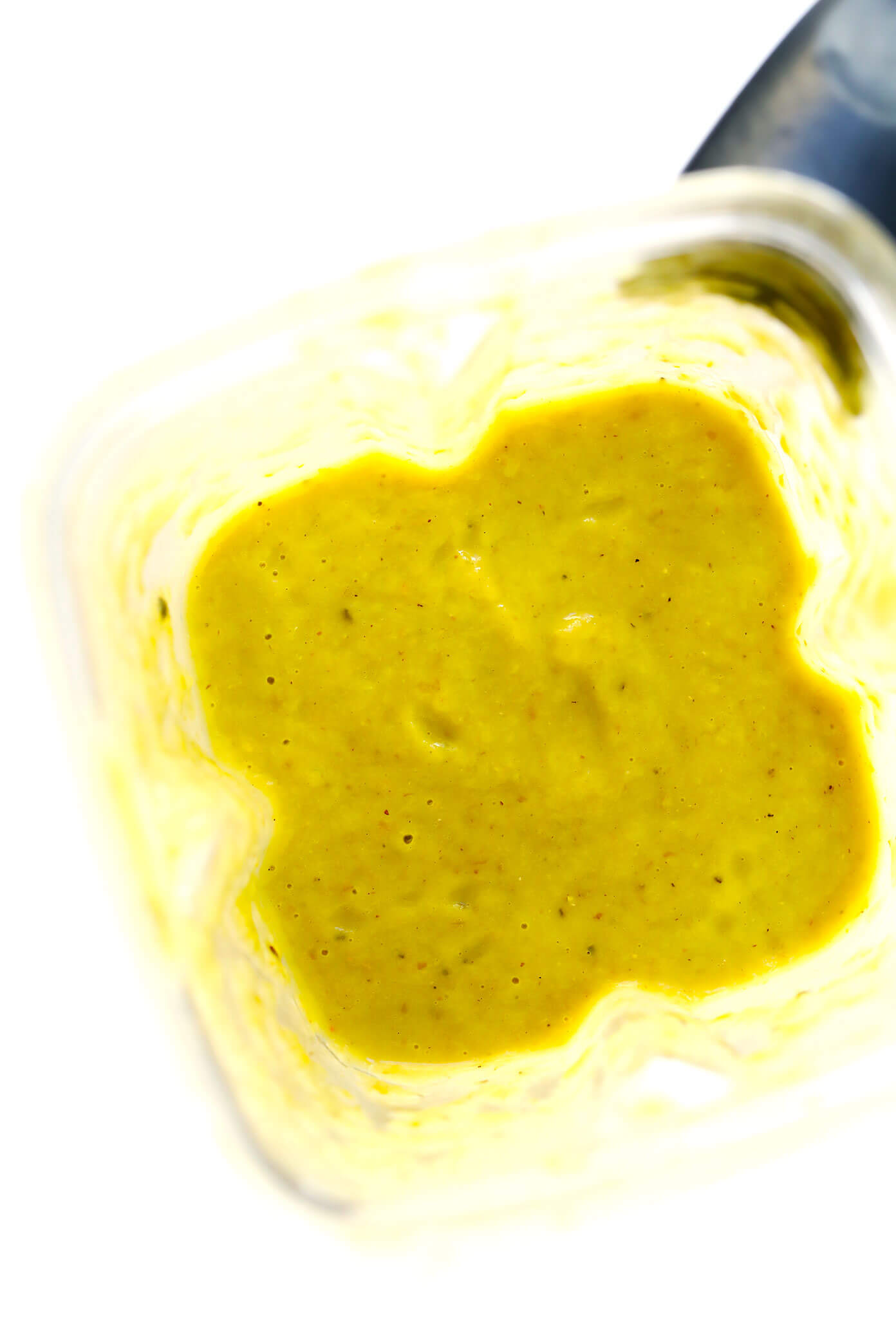 How To Make Green Enchilada Sauce:
So easy!  Simply…
Sauté your veggies: Sauté the onion, garlic and jalapeño in a touch of olive oil until soft and cooked.
Add everything to a blender (or food processor): Add the onion mixture and remaining ingredients to a blender or food processor.
Purée until smooth: Then give it a whirl until the mixture is nice and smooth.
Taste and season: Don't skip this step!  Give it a taste and season with extra salt, pepper and/or cumin if needed.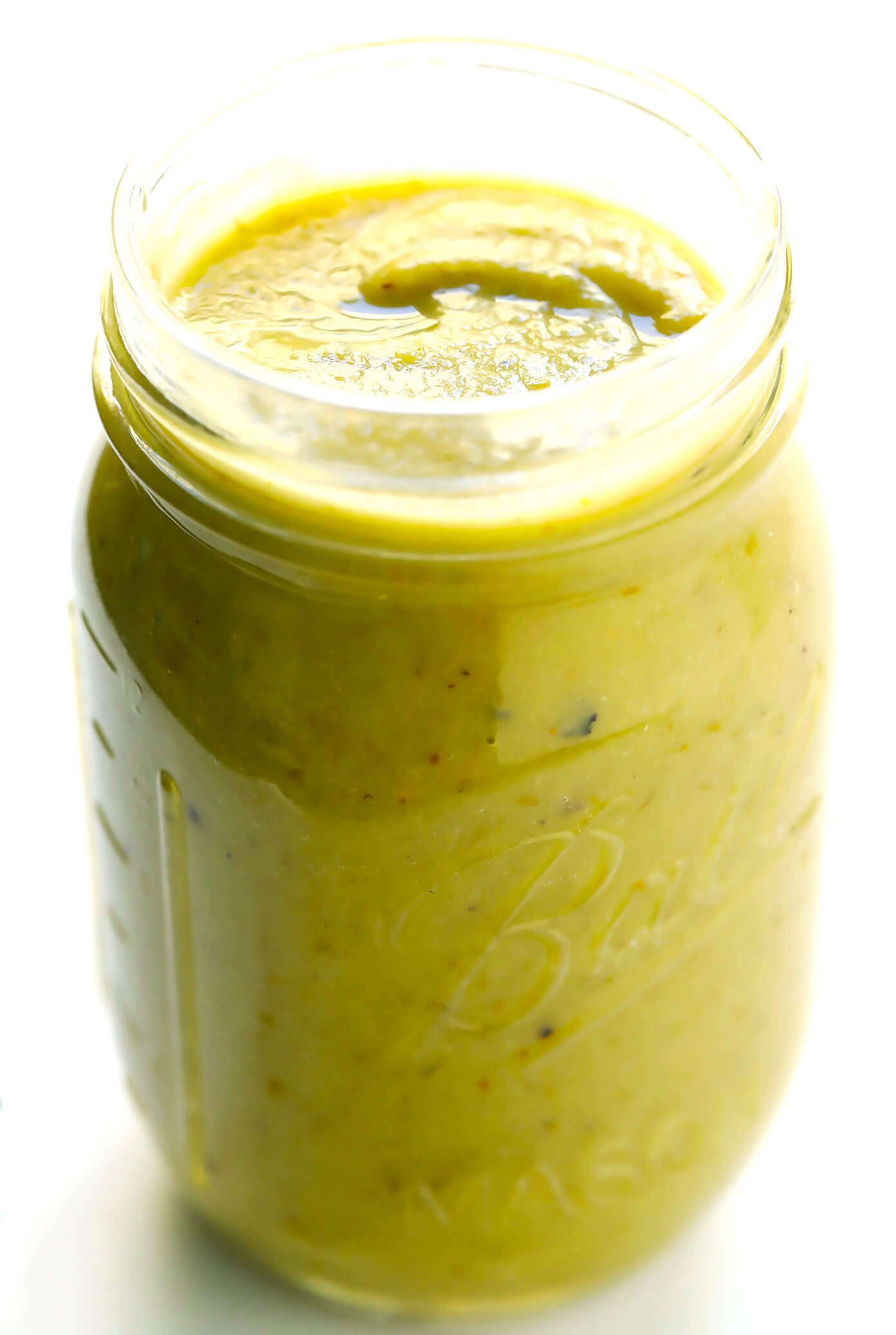 Ways To Customize Your Green Enchilada Sauce:
Feel free to also:
Add more heat: As mentioned above, you can always add the seeds in with your jalapeño (or toss in an extra jalapeño) to up the spicy factor
Add cilantro: If you're planning to use this as a finishing sauce (and not cook it again), a small handful of fresh cilantro would be delicious in this sauce.
Thin out your sauce: If it seems a little too thick for your liking, feel free to add in a little extra water or vegetable stock to thin it out.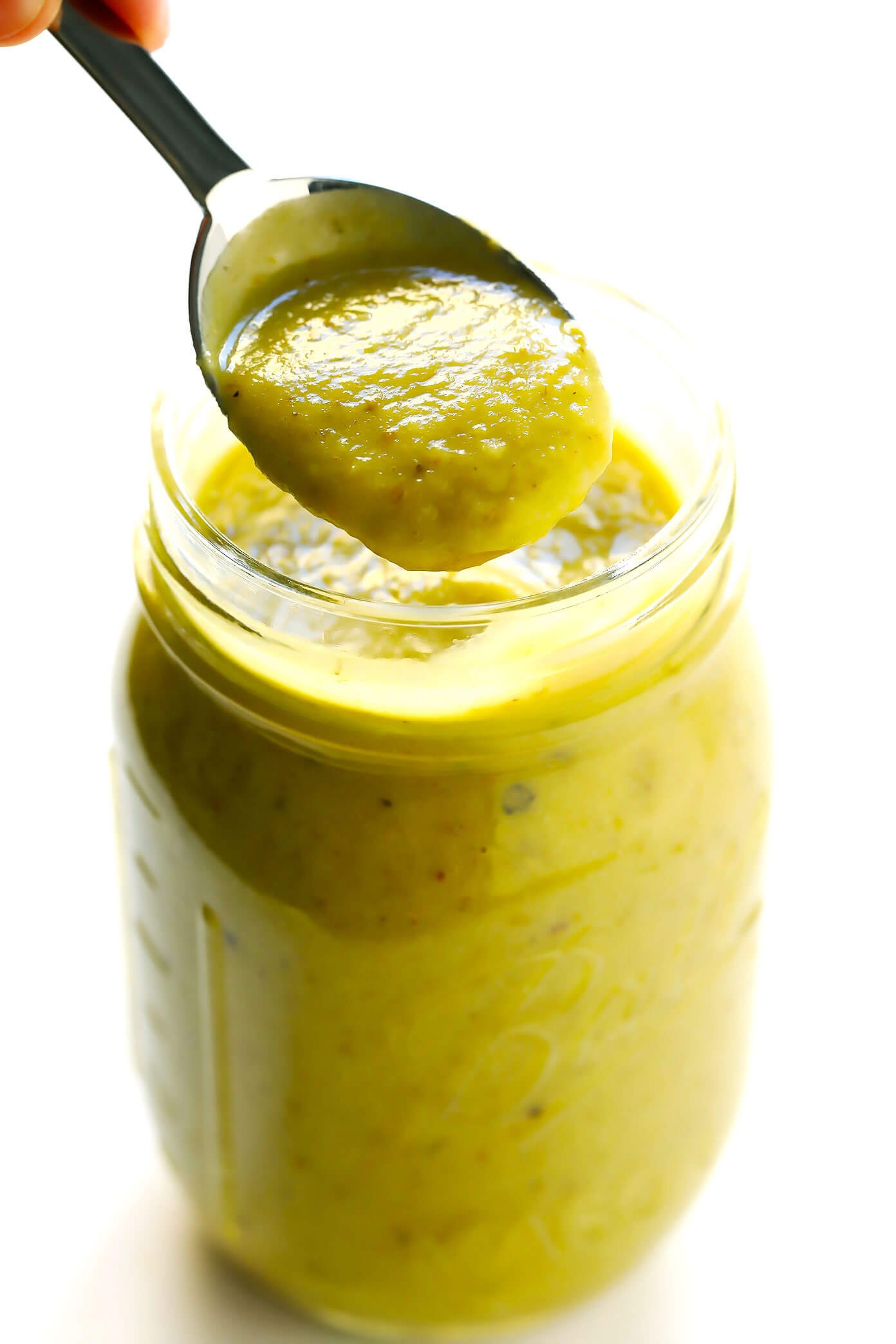 Ways To Use Your Green Enchilada Sauce:
As I mentioned above, there are countless ways you could put this green enchilada sauce recipe to work!  It would sub in well for any of my recipes here on the blog that call for red enchilada sauce.  (<– Just keep an eye on the amount, since this recipe yields a larger batch.)  Otherwise, some suggestions could include:
It also freezes well, so feel free to make a double batch and save some for later.
Enjoy, everyone!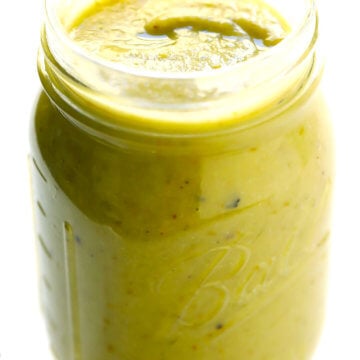 Yield: About 3.5 cups
Green Enchilada Sauce
This Green Enchilada Sauce recipe is quick and easy to make, full of amazing flavor, and perfect for drizzling or mixing into countless favorite Mexican dishes.  See ideas above for how to customize your sauce to taste.
Ingredients:
1 tablespoon olive oil
1 small white onion, peeled and diced
1 jalapeño, cored (seeds removed) and diced
4 cloves garlic, peeled and minced
1 cup vegetable stock
4 (4-ounce) cans diced green chiles
1.5 teaspoons ground cumin
1 teaspoon fine sea salt
1/2 teaspoon freshly-ground black pepper
Directions:
Heat oil in a sauté pan over medium-high heat.  Add onion and jalapeño and sauté for 5 minutes, stirring occasionally, until the onion is softened and translucent.  Add garlic and cook for 1-2 more minutes, stirring occasionally, until fragrant.
Transfer the onion mixture to a blender or food processor.  Add vegetable stock, green chiles, cumin, salt and pepper.  Then puree until completely smooth.
Taste and season with additional salt, pepper and/or cumin if needed.
Serve immediately, or refrigerate for up to 4 days, or freeze for up to 3 months.
Difficulty: EasyCategory: Gluten-Free


All images and text ©Gimme Some Oven
If you make this recipe, be sure to snap a photo and hashtag it #gimmesomeoven. I'd love to see what you cook!