Bursting with flavor…and vegetables, this grilled chicken orzo salad with a quick homemade honey lime dressing is out of this world delicious (not to mention super pretty to look at!).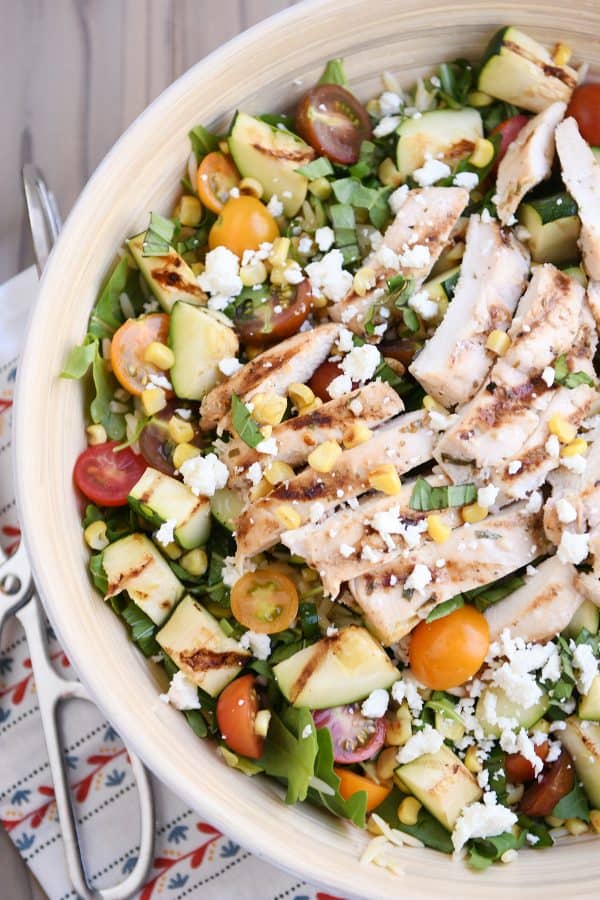 I have to apologize that my salad game has been kind of weak this summer.
I think the last really good salad recipe I shared was way back in May, which is kind of insane because I love salad passionately, and we eat it all the time through the summer.
And so while it's already September, I'm going to hang on to summer salad season for a bit longer, and I plan to share a few more salad recipes with you before the internet moves on to all things pumpkin, hearty comfort foods, and soup for days.
Actually, this fall movement has already begun (Pinterest, I'm looking at you), but if you ask me, it's a little bit like Hobby Lobby carrying Christmas decor in July. It's just wrong.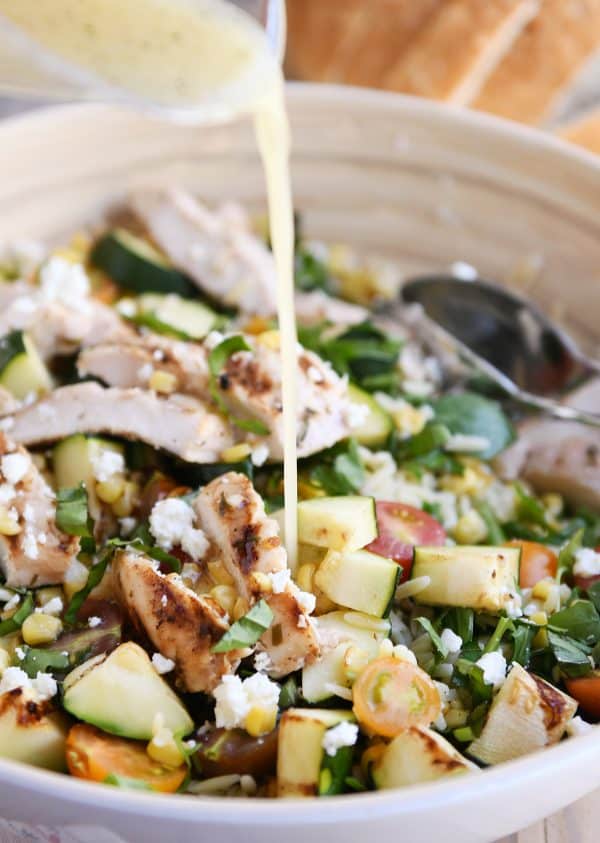 Considering we are still very steadily hanging out in the 80 and 90 degree temps this week (and probably for several more weeks), I'm in no hurry to winterize the grill (which I actually never do, oops) or say goodbye to garden produce.
I've been canning salsa like a maniac trying to take advantage of my tomatoes, and this week I think I'm playing tough love and cutting water completely to the garden to get some of those green tomatoes to ripen up in a hurry.
Basically, the family is sick of my canning supplies taking over the kitchen and our lives. We haven't eaten at the kitchen table in weeks; I'm ready to whip out a few more small batch canning recipes and call it good for the year.
P.S. Homemade marinara recipe coming Thursday! Many, many of you have asked and I finally have my go-to ready to post.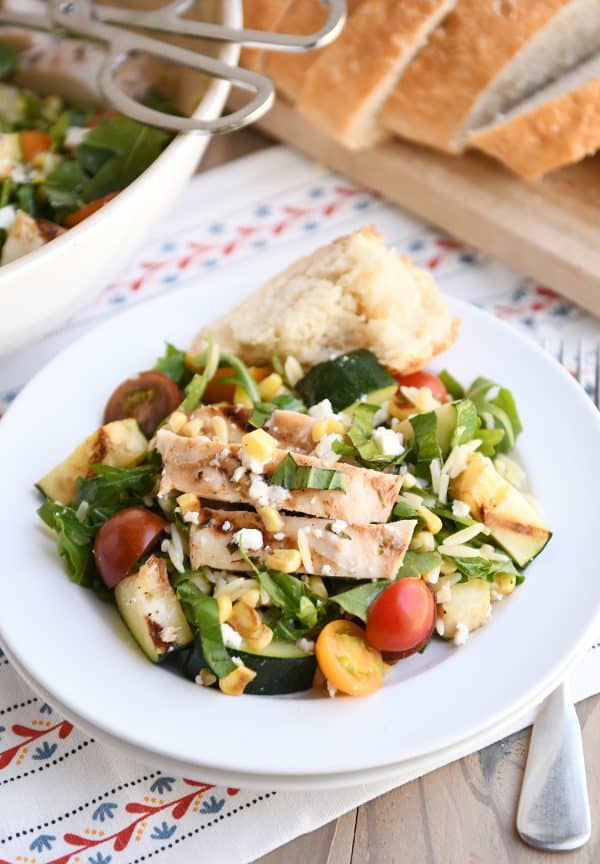 Anyway, onto the good stuff today! This salad!
It is amazing.
I happen to be a very devout fan of orzo salads, namely this one and this one. And this grilled chicken orzo salad loaded with veggies is a perfect addition to my list of favorites.
Bonus: it uses some of that garden zucchini that might be overtaking your life like it is overtaking mine (thanks for all of you who sent me zucchini recipes after my lament on last week's post).
This busy, colorful salad might have a lot going on, but the flavor is incredible. It is light and fresh and 100X more delicious thanks to the easy and fast homemade honey lime dressing.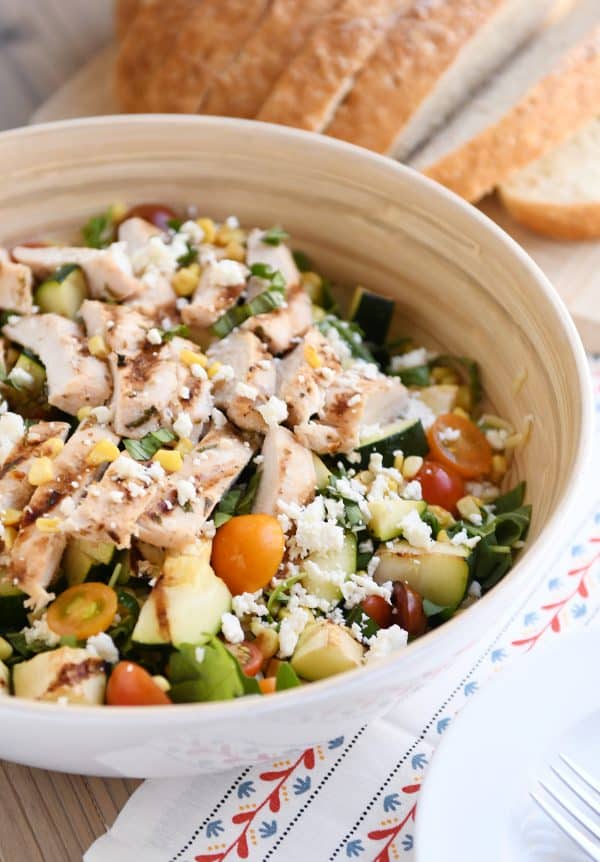 With the tumble of healthy ingredients, this grilled chicken orzo salad is a meal in and of itself. That's your reward for all the chopping!
There's no need to futz around with unnecessary side dishes, however, it is also insanely yummy served with this rustic crusty bread (pictured in the background of these photos).
Talk about one of the most perfect late summer meals ever. I've included lots of notes below the recipe for variations to make it easier and also a couple ideas to take things up a notch (think: marinading the chicken in this delectable lemon and garlic mixture before grilling).
If you're wishing summer could last forever, this tasty little orzo salad is for you.
Yield: 6 servings
Grilled Chicken and Vegetable Orzo Salad with Honey Lime Dressing
Ingredients:
1 1/4 cups dried orzo pasta (about 8 ounces)
4 to 5 boneless, skinless chicken breasts, about 2 pounds (see note)
1 cup frozen corn, thawed
1 to 2 medium zucchini (about 12 ounces) cut into long sticks (about 4 pieces per zucchini)
1 to 2 cups cherry tomatoes, halved
1/3 cup olive oil
1/4 cup fresh lime juice (from about 3 large limes)
2 tablespoons white wine vinegar or unseasoned rice vinegar
2 teaspoons honey
1 teaspoon Dijon mustard
1 clove garlic, finely minced or pressed through a garlic press
1/4 teaspoon coarse, kosher salt
Pinch of black pepper (I use coarsely ground)
2 cups baby arugula (about 4 ounces)
1/4 to 1/2 cup chopped fresh basil (optional but delicious)
1/2 to 1 cup crumbled feta cheese
Directions:
Cook orzo according to package directions until al dente. Drain and rinse with cold water. Set aside.
Preheat grill to medium- or medium-high heat. Season the chicken on both sides lightly with salt and pepper (see note below about marinading chicken). Grill the chicken until cooked through, 4-5 minutes per side until an instant-read thermometer registers 165 degrees F at the thickest part of the chicken. Let rest 4-5 minutes before cutting into bite-size pieces or thin slices.
If your grill is big enough, add the zucchini while the chicken is cooking. Grill the zucchini until crisp-tender about 8-10 minutes, turning once or twice. Coarsely chop the zucchini into bite-size pieces. (See note below about cooking the zucchini in a skillet)
For the dressing, whisk together the olive oil, lime juice, vinegar, honey, Dijon mustard, garlic, salt and pepper.
In a large serving bowl, add the orzo, arugula, basil, corn, zucchini, and cherry tomatoes. Lightly toss. Add the grilled chicken on top and sprinkle the feta cheese over the salad.
Serve immediately with the dressing alongside OR drizzle the dressing over the top of the entire salad and toss.
Notes:
You could cook the zucchini in a skillet on the stovetop (similar to this recipe) rather than grilling. You could also broil the chicken in the oven or cook in a skillet if you don't have a grill. Conversely, you could use fresh corn and grill the corn along with the zucchini and chicken, slicing off the kernels once cooked. 
If using frozen corn that's been thawed, you can take it up a notch by lightly toasting the thawed corn in a skillet that's been preheated with a pat of butter and a drizzle of olive oil. Toss the corn in the hot skillet and cook until golden and sizzling. 
You can take the flavor of this salad up a notch if you have time (or remember) to marinade the chicken before grilling/cooking. This easy lemon and garlic chicken marinade goes great with the flavor profile of this salad.
All images and text ©Mel's Kitchen Cafe.
Follow @melskitchencafe on Instagram and show me the recipes you are making from my blog using the hashtag #melskitchencafe. I love seeing all the goodness you are whipping up in your kitchens!
Recipe Source: inspired by a recipe in Cooking Light August 2018