Easy20 minsVegan
The amazing "Holy Mole" sauce celebrates all of the delicious flavors traditional Mexican mole sauce.  But thanks to a few shortcuts, it's easy to make in about 20 minutes yet tastes like it has been simmering all day.  Perfect for drizzling on tacos, enchiladas, burritos, nachos, chicken, poblanos, veggies and more.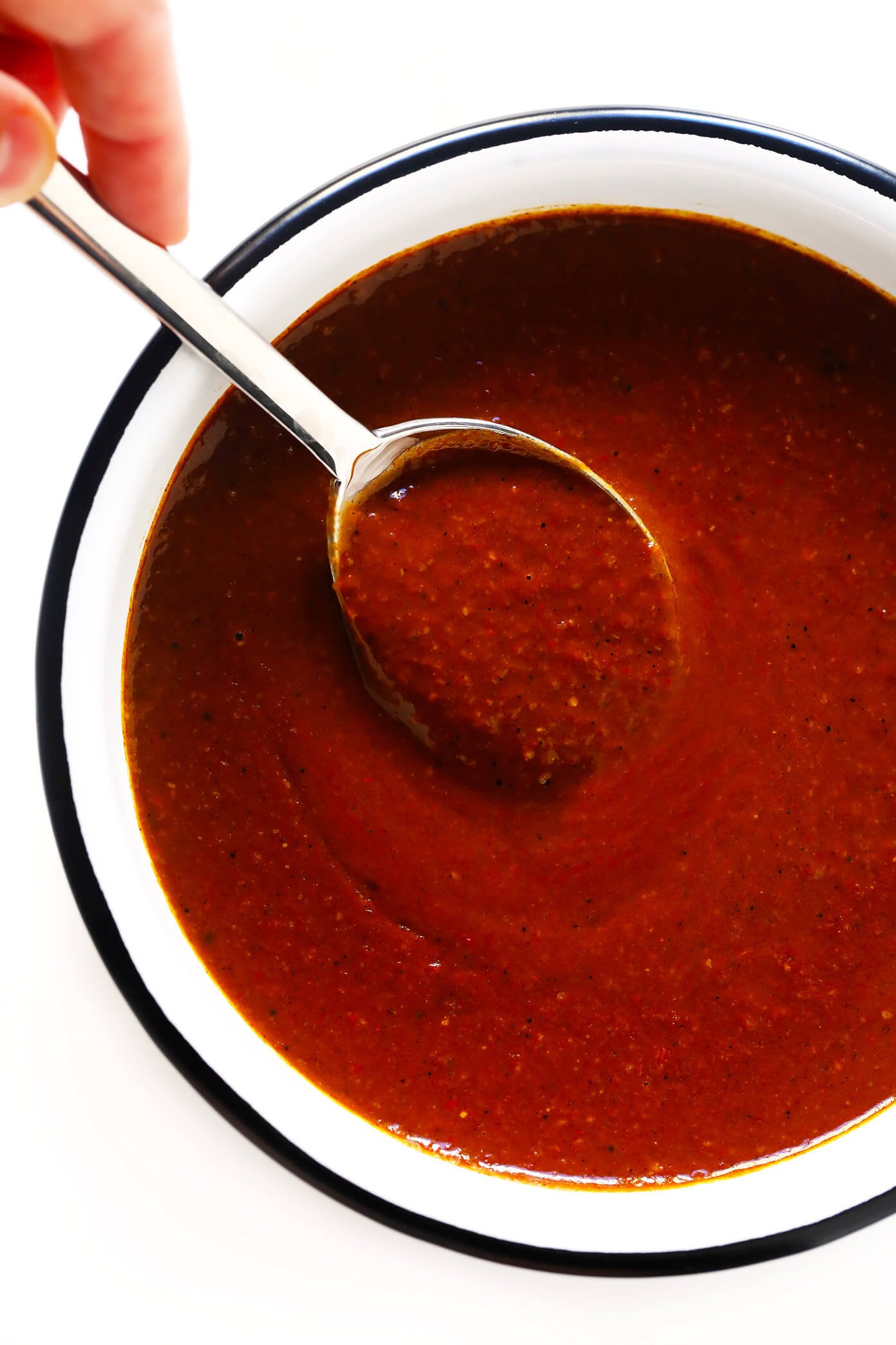 For years and years now, you guys have been asking for a mole sauce recipe here on the blog.  And for years and years now, I have referred you onto other sources because this famously delicious but super-labor-intensive sauce has never really been my style.
Don't get me wrong — I've been a big fan of Mexican mole sauce (pronounced moh-lay) ever since I was first introduced to it in high school.  I've actually even taken two Oaxacan cooking classes over the years specifically to study the authentic art of mole, and have tremendous respect for the tradition behind the sauce and the cooks who so patiently and lovingly make it.  But as much as I love mole, I've gotta be honest — any sauce that requires dozens of ingredients and many hours (or even days!) of work is realistically just not going to be an everyday recipe in kitchen.
However, a 20-minute version that still tastes amazing that I can easily whip up on a weeknight?!
Game-changer.  ♡
Friends, allow me to introduce you to my new aptly-named "holy mole sauce" recipe.  It's features all of the rich, layered, nutty, chocolate-y, savory, and slightly sweet flavors that I love in a good authentic mole.  But thanks to a dozen shortcuts, it can magically come together on the stovetop in record time.  It's also naturally vegan and can be made gluten-free, if you'd like.  It's easy to customize with your desired level of spiciness and sweetness.  It can be drizzled on everything from tacos to enchiladas, nachos, burritos, poblanos, baked proteins, veggies, rices and more.  And it is downright irresistible.
Now, I'll be the first to say it — 20-minute mole will never be truly authentic mole.  But if you're looking for a killer new 20-minute sauce to add to your repertoire, holy moly, I recommend that you gather the ingredients and make this one stat.  I think you're going to love it.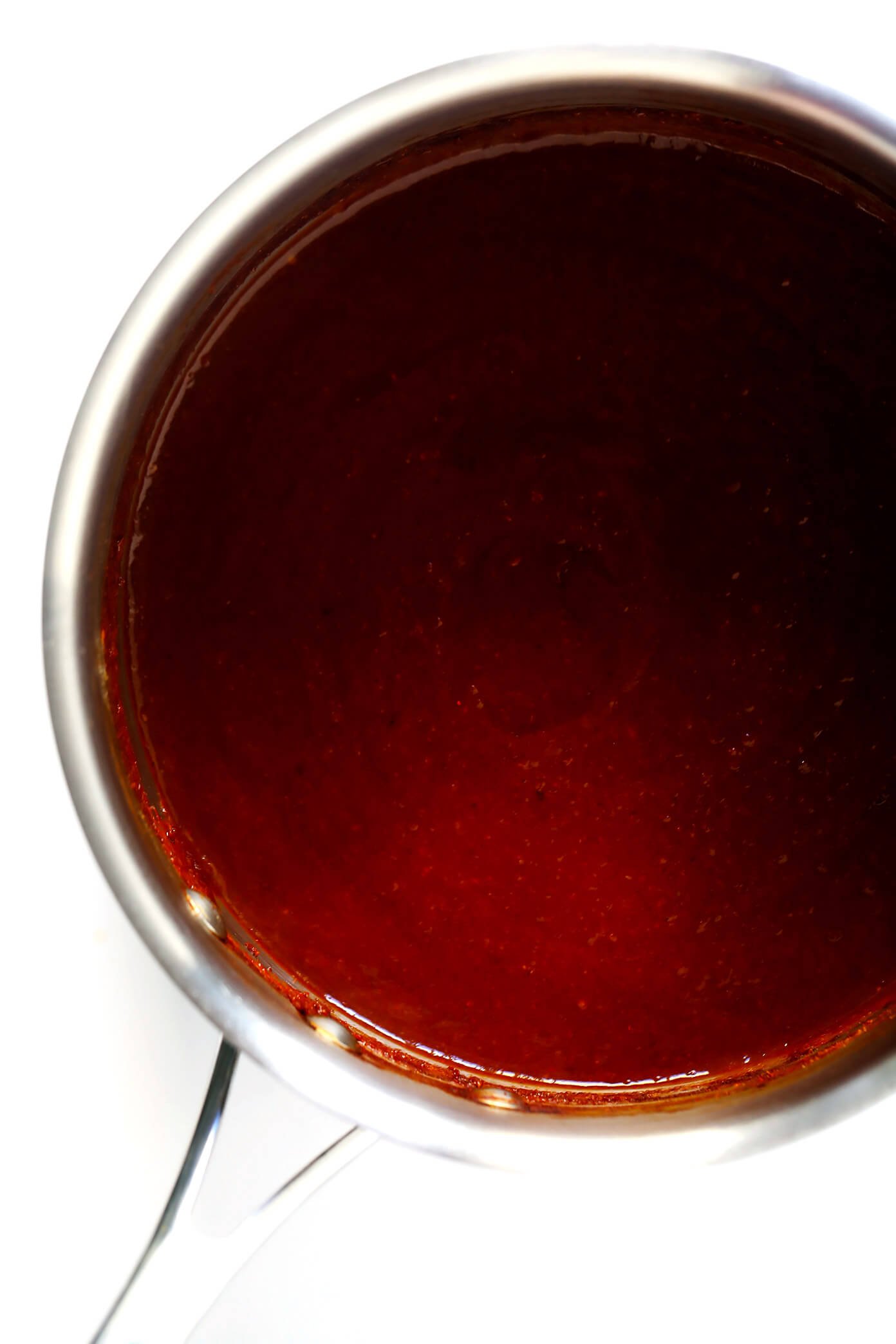 Holy Mole Sauce Ingredients:
So speaking of, let's talk about your ingredient list.  To make this holy moly sauce recipe, you will need:
Cooking oil: Whatever kind you prefer to sauté the veggies.
Onion, garlic, jalapeño: Said veggies.  If you prefer your sauce not to be spicy, you can omit the jalapeño.
Chili powder, cinnamon, cumin, oregano: Instead of working with dried chiles, cinnamon sticks, whole cumin seeds and fresh oregano, these pantry staples will be our shortcuts to season the sauce.  (Please note that the chili powder is American chili powder, which is a milder blend and completely different than cayenne pepper.)
Flour: To thicken the sauce.  If making this gluten-free, you can either use a GF all-purpose flour blend.  Or thicken the sauce instead with cornstarch.  (See instructions below.)
Vegetable stock: Or chicken stock, whichever you have on hand.
Almond butter: Instead of blanching and toasting and pureeing the nuts, this is our easy shortcut!  I have tested this recipe with both peanut butter and almond butter, and either are delicious.  Or if you have a nut allergy, feel free to substitute sunflower seed butter or tahini.
Tomato paste: To add some rich tomato flavor.
Unsweetened cocoa powder: I prefer this to adding chopped chocolate bars, so as to control the amount of sweetness.  But if you prefer a sweeter mole sauce, you can add in a drizzle of maple syrup or honey.
Sea salt: Absolutely essential.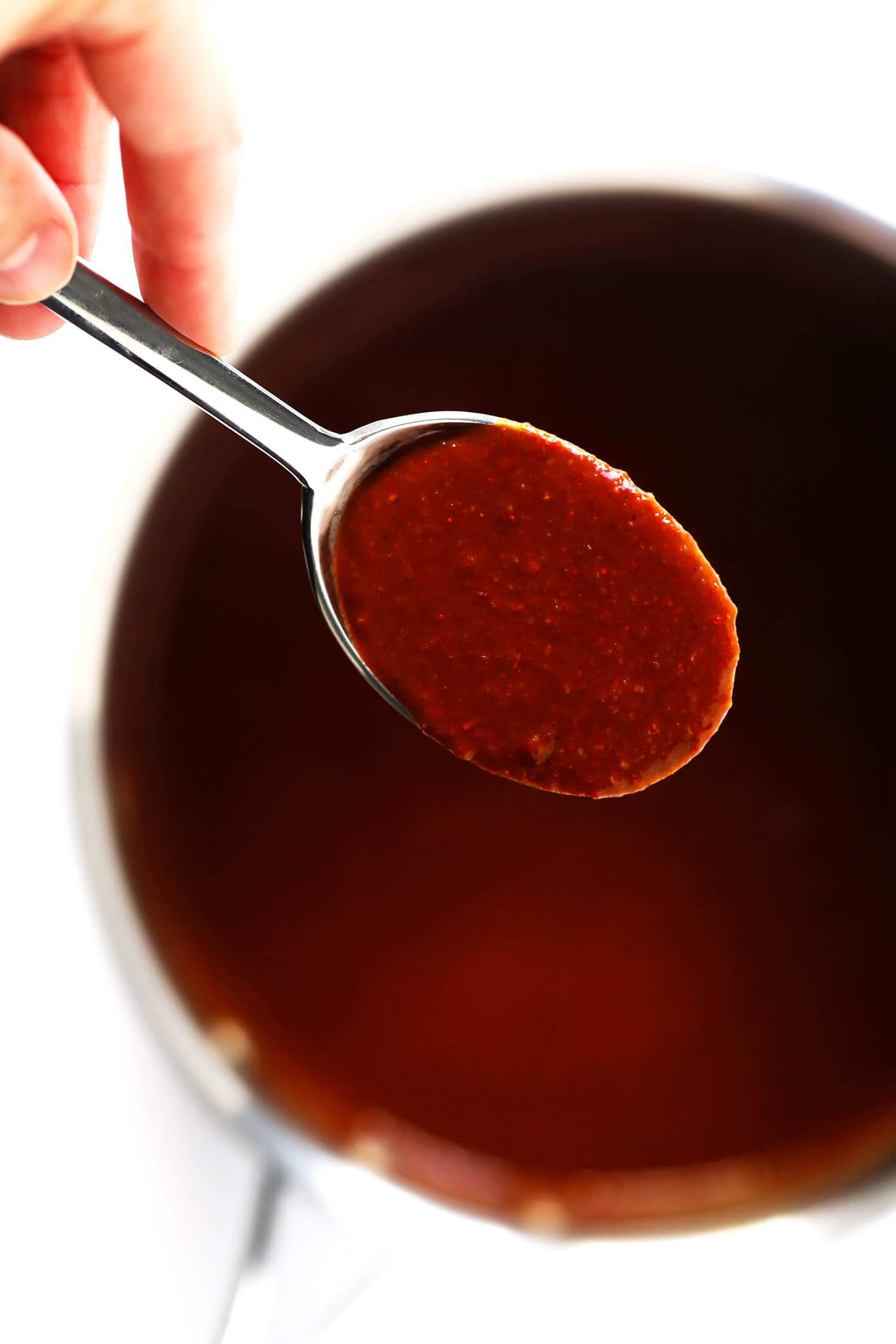 How To Make Mole Sauce:
This mole sauce will have you moving and multi-tasking.  But if you have your ingredients ready to go, and move quickly, it can easily be made in less than 20 minutes.  Simply:
Sauté your veggies.  Chop your onion, the sauté it for 5 minutes until soft.  Meanwhile, chop your garlic and jalapeño.  Then add them to the pan and sauté for an additional 1-2 minutes.  Meanwhile, measure out your dry seasonings and flour then…
Add dry seasonings and flour to the veggies.  And stir until evenly mixed.  Continue to cook for 1-2 more minutes, which will help to toast and bring out the flavor of the seasonings.
Remove pan from heat and add veggie stock.  Then stir to combine.  At this point, the mixture should be warm but not hot.
Puree.  Either puree the mixture until smooth using an immersion blender (my preference).  Or alternately, you can transfer the mixture in half batches to a blender and puree until smooth.  The caution as always is to be incredibly careful when blending warm/hot liquids.  They expand when blending, so you want to be sure that your blender is not too full.  I like to cover/vent the top of my blender with a kitchen towel instead of the snug plastic lid, just to be careful.  Return the pureed mixture to the saucepan.
Add remaining ingredients.  And whisk until evenly combined.
Simmer until thickened.  Continue to cook the sauce until it comes to a simmer and thickens.
Taste and season.  Adding any extra salt (or more of any other ingredients you prefer) as needed.
Serve warm.  Or transfer to a sealed container and refrigerate for up to 3 days, or freeze for up to 3 months.
Customize Your Mole Sauce:
Everyone has their preferences about what makes the perfect mole sauce.  So feel free to experiment and find what you love best!  For example, if you…
Want a sweeter mole?  Feel free to add in a drizzle of maple syrup or honey to sweeten.
Want a spicier mole?  Add in an extra jalapeño pepper (and/or include the seeds, where most of the heat resides).
Want a milder mole?  Nix the jalapeño pepper altogether.
Want a smokier mole?  Sub in chipotle powder for half of the chili powder.  Or, add in a chipotle pepper in adobe sauce.
Want a more chocolate-y mole?  Double the cocoa powder.
Want to make it gluten-free?  Either use a GF all-purpose flour blend that performs well with a roux (like this one).  Or nix the flour altogether and whisk 3/4 teaspoon cornstarch into the lukewarm veggie stock before adding it to the recipe.
Want to add in some extra seasonings?  If you want your mole to taste even more complex and authentic, feel free to add in a bay leaf, a pinch of ground cloves, a pinch of ground coriander, and/or a pinch of ground anise.
Ways To Serve Mole Sauce:
This sauce can be used in so many ways.  Some classics could include:
Tacos, enchiladas, burritos, nachos, etc.  The sauce can be drizzled over or baked into a number of classic Mexican dishes.
Stuffed peppers: Mole poblano is one of my favorite dishes, made with stuffed roasted poblano peppers.
Baked proteins: Use mole as a simple finishing sauce for baked chicken, steak, pork, tofu, etc.
Veggies: Drizzle your roasted or sautéed veggies with mole for extra flavor.
Rice and beans: Stir a few spoonfuls of mole into rice or beans for delicious seasoning.
Soups and stews: Stir mole into soups for a rich and delicious broth.
Dips, salsas, queso and guacamole: Stir a spoonful of mole into various dips for extra seasoning.
How To Store Mole Sauce:
I highly recommend making a double batch of this sauce while you're at it to have for leftovers!  But either way, if you have leftovers or are making this sauce in advance, you can either store it in a sealed container and:
Refrigerate: For up to 3-4 days
Freeze: For up to 3 months.  (*The texture of the sauce won't be exactly the same, but it will still be delicious.)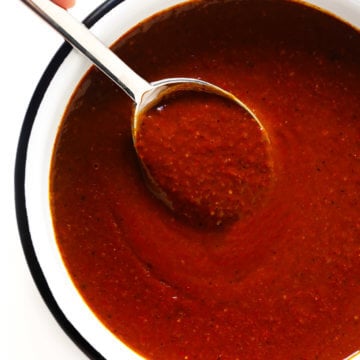 Yield: About 3 cups
Holy Mole Sauce
This amazing Holy Mole Sauce celebrates all of the flavors of traditional Mexican mole.  Yet thanks to a few shortcuts, it can be made in about 20 minutes.  See notes above for tips on how to customize your mole sauce.
Ingredients:
2 tablespoons oil
1 cup diced white onion
4 cloves garlic, peeled and minced
(optional) 1 jalapeño, cored and diced
1/4 cup chili powder*
2 tablespoons all-purpose flour
1 teaspoon ground cinnamon
1 teaspoon ground cumin
1/2 teaspoon dried oregano
2 1/2 cups vegetable stock
2 tablespoons smooth almond butter (or your preferred nut or seed butter)
1 tablespoon tomato paste
1 tablespoon unsweetened cocoa powder
1 teaspoon sea salt
Directions:
Heat oil in a medium saucepan over medium-high heat.  Add onion and sauté for 5 minutes, stirring occasionally, until soft and translucent.  Add garlic and jalapeño (if using) and sauté for 1-2 more minutes, stirring occasionally, until fragrant.  Add chili powder, flour, cinnamon, cumin, and oregano, and stir until everything is evenly mixed.  Continue sautéing for 1 more minute, stirring occasionally.
Remove pan from heat.  Add vegetable stock, and stir until combined.
Use an immersion blender to puree the mixture until smooth.  Or transfer it in two small batches to a traditional blender, and purée until smooth, being very careful (**see note below) since warm liquids expand when they are blended.
Return the saucepan to medium-high heat.  Add almond butter, tomato paste, cocoa powder and sea salt, and whisk until combined.  Continue cooking until the mixture reaches a simmer and the sauce as thickened.
Reduce heat to medium-low.  Taste, and season the sauce with more salt if needed.
Serve warm.  Or let the sauce cool to room temperature, then refrigerate in a sealed container for up to 3 days, or freeze for up to 3 months.
*I used American-style chili powder, which is not the same as cayenne chili powder.
**Since the mixture should still be pretty lukewarm at this point, it should be ok to blend in small batches.  But if it feels hot, let the mixture cool for 10 minutes before blending.  As an extra precaution when blending warm liquids, I always recommend covering the tiny cap opening on the lid of the blender with a kitchen towel or paper towel, instead of the cap.)
Difficulty: EasyCategory: Vegan


All images and text ©Gimme Some Oven
If you make this recipe, be sure to snap a photo and hashtag it #gimmesomeoven. I'd love to see what you cook!