Easy40 minsQuick
This Feel-Good Fall Salad recipe is made with the most delicious collection of vibrant, seasonal, simple ingredients.  It's great as a main dish or side salad, and is so cozy and delicious.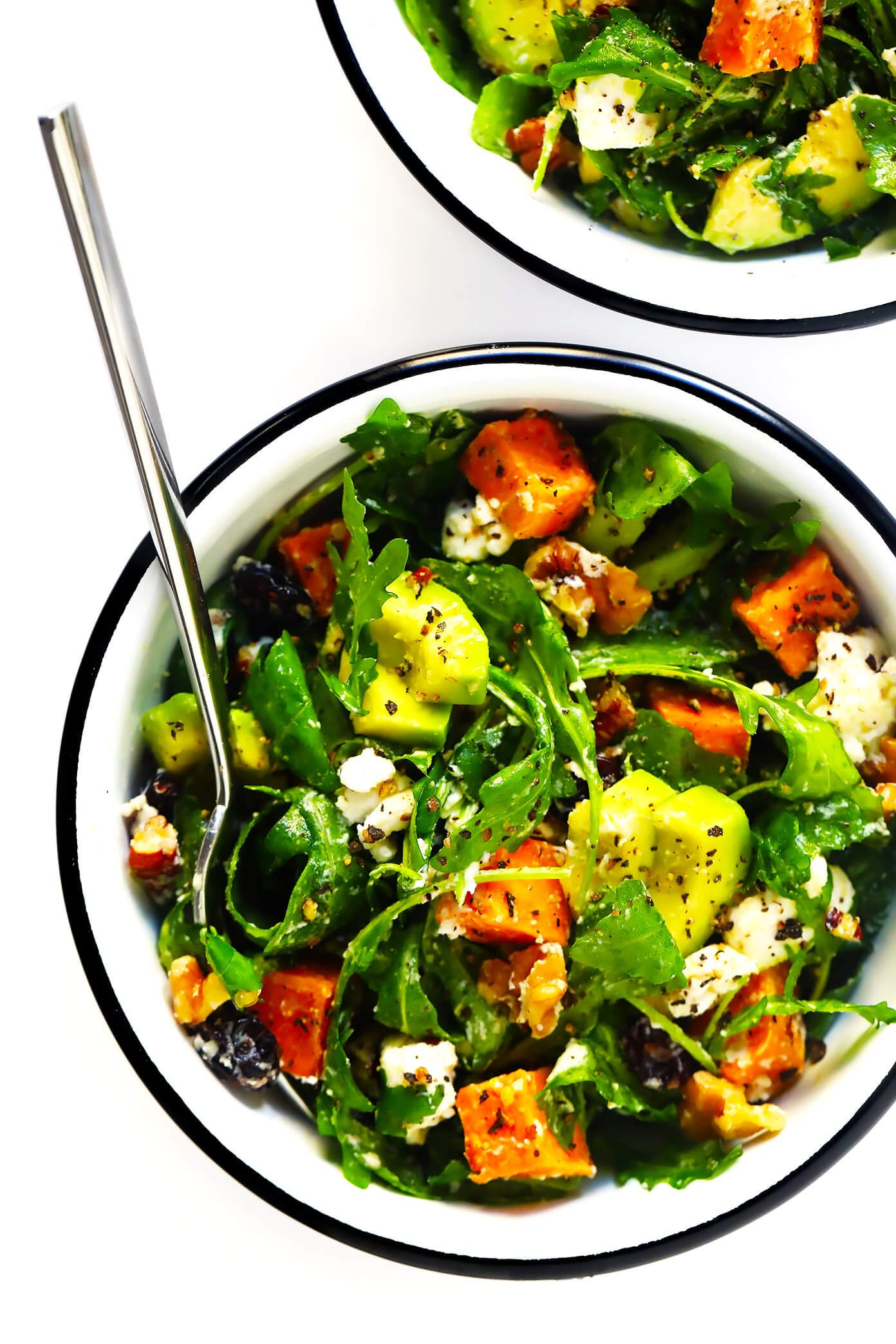 Cozy up, friends!  I have the yummiest, heartiest, simplest new fall salad recipe to share with you today.  ♡
It's full of quick-roasted sweet potatoes, creamy avocado, seasonal fresh greens, dried cranberries, toasted nuts, tangy goat cheese (or your cheese of choice), all tossed together in my favorite easy lemony everyday salad dressing.  And I'm telling you — something about this particular combo of sweet and savory, warm and cool, tangy and creamy, light and hearty seasonal flavors just completely hits the spot this time of year.

MY
LATEST VIDEOS
We absolutely love this one!
It is super vibrant and beautiful in person, and feels like a warm, bright, vibrant ray of autumn sunshine on the table.  It's hearty enough to be a feel-good main course if you'd like, or can serve as a show-stealing side salad.  It's quick and easy to prepare, and also customize with any of your favorite nuts, cheeses or greens.  It's full of nutrient-rich ingredients, and also naturally gluten-free and easy to make vegan, if you would like.  And oh my word, it is downright delicious.
I initially whipped this one up as an impromptu clean-out-the-fridge meal a month or so ago.  But Barclay and I both loved it so much that it has been a regular on our autumn dinner rotation ever since.  So last week, I finally snapped a few photos and jotted down the recipe, and am excited to finally share it with you today.  Let's make some salad!


Feel-Good Fall Salad Ingredients:
To make this delicious autumn salad, you will need:
Sweet potatoes: Quickly roasted with olive oil, salt and pepper.  (Or if you'd rather, you could also substitute in any kind of winter squash in place of the sweet potatoes.)
Greens: I love this salad with peppery baby arugula.  But any kind of kale or spinach would also be delicious.
Avocado: Because…avocado. 

♡♡♡

Crumbled cheese: We really love this salad with tangy, crumbled goat cheese.  But crumbled feta or blue cheese would also be amazing.
Nuts: Pecans, walnuts, almonds, pepitas — you pick!  Just be sure that they are chopped and lightly toasted, to bring out their flavor.
Dried berres: Dried cranberries always seem so quintessentially fall-ish to me, but dried cherries, raisins or even apricots would be great.
Dressing: I used the simple dressing from my Everyday Salad here, which is always a winner.  But a red wine vinaigrette, dreamy tahini dressing, or a honey mustard dressing would also work great.

How To Make This Salad:
To make this autumn harvest salad, simply:
Roast those sweet potatoes. Toss with olive oil, sprinkle with S&P, and roast until tender.  Meanwhile…
Mix up your dressing.  Combine all ingredients in a mason jar, and shake until combined.  (Or whisk in a bowl until combined!)
Assemble everything.  In a large bowl, combine the roasted sweet potatoes with the remaining ingredients, drizzle evenly with the dressing, and toss until combined.
And…serve!  Right away!  Oh my goodness, you're going to love it.

Possible Variations:
Oh boy, there are so many delicious ways to mix things up (<– get it? salad joke.) with this recipe.  For example, feel free to:
Add in other goodies: Feel free to also add in some thinly-sliced red onions, shredded carrots, chickpeas or black beans, and/or other roasted veggies that sound good!
Make it vegan: Just nix the cheese, and feel free to add in a sprinkle of nutritional yeast or vegan cheese, if you'd like.
Make it Tex-Mex: We've also given this salad a Tex-Mex twist by adding in some corn and black beans, seasoning the sweet potatoes with a shake of ground cumin and chili powder, then drizzling the salad with this chipotle lime vinaigrette.

Yield: 4-6 servings
Feel-Good Fall Salad
This Feel-Good Fall Salad recipe is made with the most delicious collection of vibrant, seasonal, simple ingredients.
Ingredients:
Salad Ingredients:
1 tablespoon olive oil
2 medium sweet potatoes, peeled and diced into 1/2-inch cubes
sea salt and freshly-cracked black pepper
1 (5-ounce) package fresh arugula or baby kale
1 avocado, peeled, diced and thinly sliced
1/2 cup crumbled goat cheese (or feta or blue cheese)
1/2 cup chopped pecans, walnuts or almonds, lightly toasted
1/3 cup dried cranberries
Dressing Ingredients:
3 tablespoons olive oil
1 tablespoon freshly-squeezed lemon juice (or red wine vinegar)
1 teaspoon Dijon mustard
1 small clove garlic, pressed or finely-minced (or 1/2 teaspoon garlic powder)
1/2 teaspoon fine sea salt
1/4 teaspoon freshly-cracked black pepper
Directions:
To Make The Dressing: Whisk all ingredients together in a bowl (or shake together in a mason jar) until combined.  Use immediately or refrigerate in a sealed container for up to 3 days.
To Roast The Potatoes: Heat oven to 400°F.  Spread the diced sweet potatoes out on a medium baking sheet.  Drizzle with the olive oil, and toss until the sweet potatoes are evenly coated.  Season the sweet potatoes generously with salt and pepper.  Then bake for about 30 minutes, or until the potatoes are tender and lightly browned/caramelized around the edges..  Remove from the oven and set aside.
To Assemble The Salad: Once the sweet potatoes are ready to go, add them to a large serving bowl along with the arugula, avocado, goat cheese, nuts and cranberries.  Drizzle with the dressing, and toss until combined.  Serve immediately and enjoy!
Difficulty: EasyCategory: Quick


All images and text ©Gimme Some Oven
If you make this recipe, be sure to snap a photo and hashtag it #gimmesomeoven. I'd love to see what you cook!