As we approach Thanksgiving, I feel like foods become more and more brown. I know – we all love cheesy, bready things, and of course dark whole grains are wonderfully wholesome… BUT if I've found one calling in life (er.. in blog-life), it's to find and bring forth the colorful foods of every season.
This post is in partnership with POM Wonderful because, in our house, we flipping love pomegranates! The bright pop of sweetness and the ruby red color from little pomegranate arils add vibrancy to any dish. I love sprinkling them on everything throughout the fall and winter, especially over hearty salads like this. They're also known for their antioxidant goodness, and they're a good source of fiber – like we needed more reasons to love pomegranates.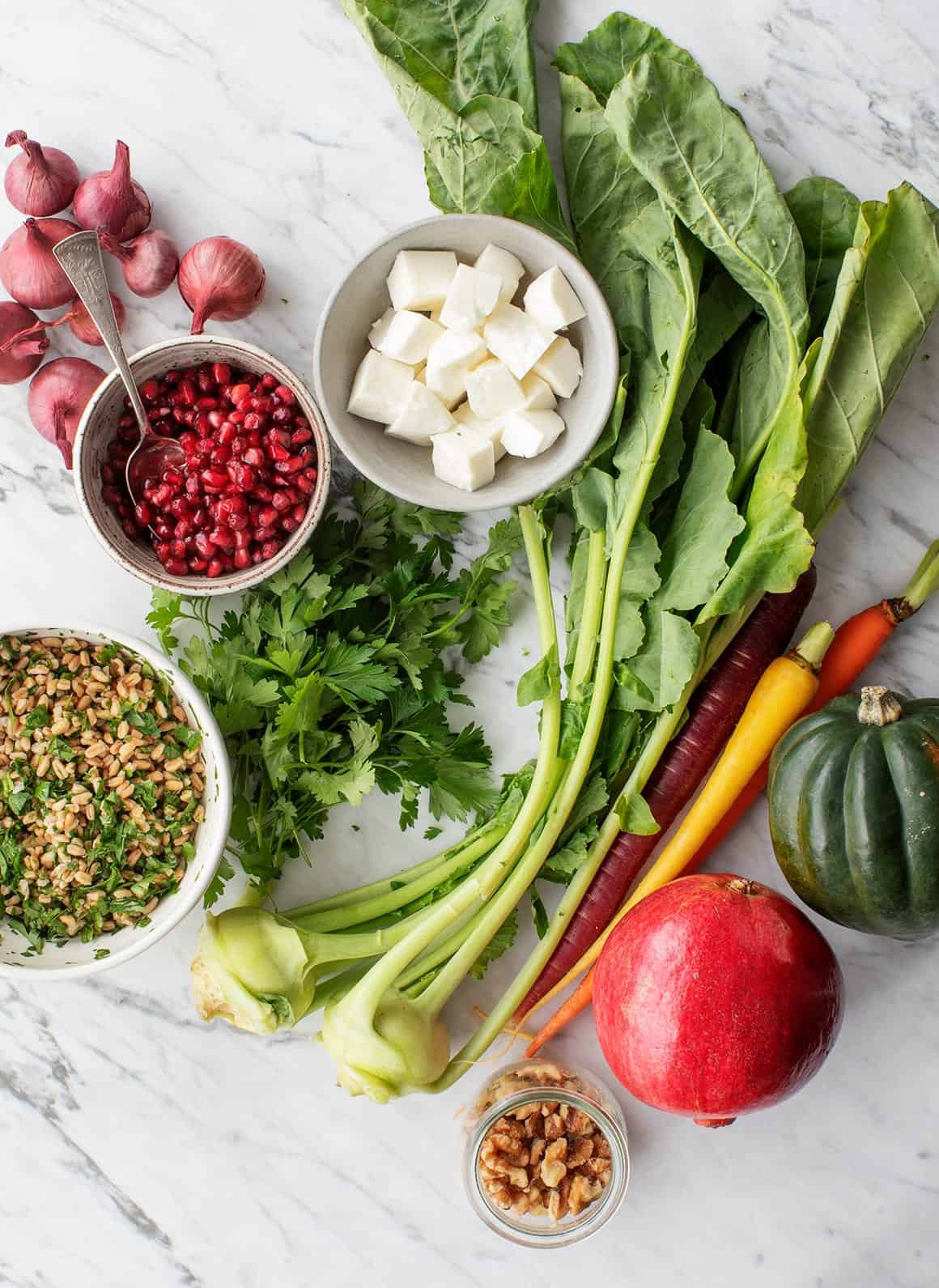 Here's what else I have going on in this recipe. There's a mix of roasted ingredients like acorn squash, roasted onions, and roasted halloumi cheese. And a mix of raw things: thinly sliced kohlrabi, carrot ribbons, micro greens, and of course the pomegranate arils. The combination of roasted and raw elements makes this so hearty and delicious, yet bright and poppy. And yes, I firmly believe that "poppy" is our 6th flavor sense, the one that comes after "umami."
Visually speaking, I love "playing" with colorful foods, especially when cloud shapes appear:

You might be asking: what the heck is kohlrabi?! It's that alien-like vegetable pictured above, and it's delicious when sliced paper thin (it's also good roasted, pureed, and baked, but that's for another post). Here, it provides a crisp, fresh texture to this hearty salad.

POM POMS (the arils, or seeds, derived from fresh pomegranates), are available October through December in convenient 4.3 and 8-ounce packs. Find them in the cut fruit produce section of most grocery stores. When you bring them home, just try to keep yourself (or your husband) from snacking on them before they make it to this salad! Or better yet, get extra.

Fall Farro Salad w/ Halloumi & Pomegranates
1 acorn squash, cut in half, seeds removed, sliced into ¼-inch pieces
1 cup halved cipollini onions or shallot wedges
8 ounces halloumi, cubed
Extra-virgin olive oil, for drizzling
Sea salt and freshly ground black pepper
¼ cup extra-virgin olive oil
2 tablespoons apple cider vinegar
1 garlic clove, minced
½ teaspoon Dijon mustard
½ teaspoon maple syrup
½ teaspoon sea salt
Freshly ground black pepper
1½ cups cooked farro
1 cup finely chopped fresh herbs (parsley and/or cilantro)
Handful of mixed salad greens
2 small kohlrabi bulbs, peeled and sliced paper thin (or 2 additional carrots)
2 carrots, peeled into ribbons
½ apple, thinly sliced
2 tablespoons toasted walnuts or pepitas
⅓ cup pomegranate arils
¼ cup crumbled feta cheese
Handful of microgreens (optional)
Fresh lemon juice, to taste
Preheat the oven to 425° and line 2 baking sheets with parchment paper. Place the squash and onions on one, and the halloumi on the other. Drizzle the squash, onions, and halloumi with olive oil and sprinkle with salt and pepper. Roast 20 to 30 minutes or until the squash is tender, the onions are soft, and the halloumi is golden brown around the edges.
Make the dressing: In a small bowl, whisk together the olive oil, vinegar, garlic, mustard, maple syrup, salt, and pepper to taste. Set aside.
In a small bowl, toss the kohlrabi with a drizzle of the dressing and toss to coat. In a medium bowl, combine the farro, herbs, and about ¼ of the dressing.
Assemble the salad on a large platter with the farro, mixed greens, squash, onions, halloumi, kohlrabi, carrots, apple, and the walnuts or pepitas. Drizzle with the remaining dressing, as desired, and sprinkle the pomegranate arils and feta cheese on top. Season to taste. I like to add a good squeeze of lemon at the end, or just before serving for extra pop. Top with the microgreens, if using.
3.4.3177
Special thanks to POM Wonderful for partnering on this post!