This Peppermint Mocha recipe is easy and tastes just as good as Starbuck's or McDonald's — plus, you don't have to shell our $5 for one coffee!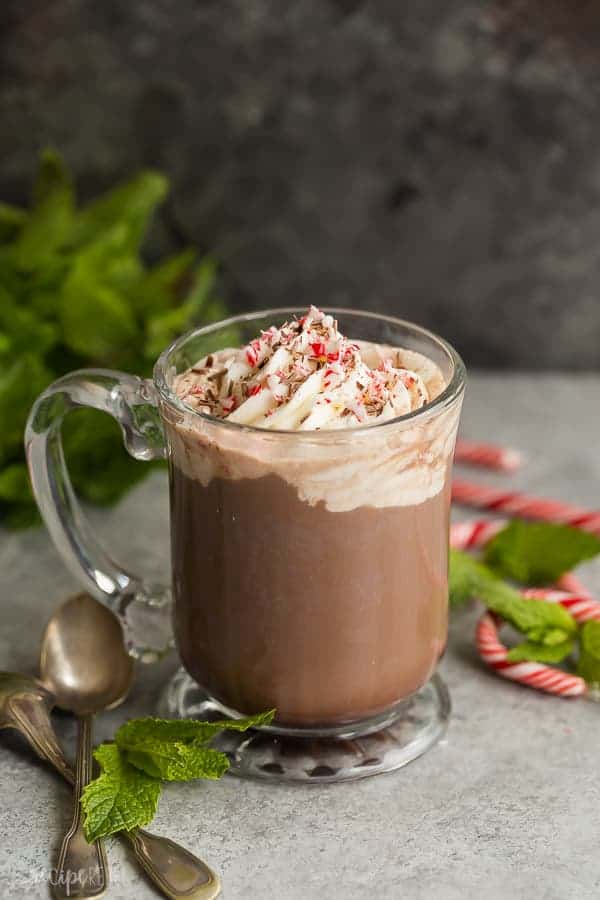 Sometimes I think it's a blessing that we live so far from any fast food joints or coffee shops, because it's really not an option for us to just run and grab an expensive coffee drink (Starbuck's Peppermint Mocha anyone??) or a bite to eat.
Honestly, I think it forces us to eat a lot healthier.

MY LATEST VIDEOS
There's no ordering in pizza or grabbing a burger on crazy nights. We really have to be well stocked with good food in the house, and I try to have my pantry, fridge and freezer ready for those dinner emergencies.
We actually do have one restaurant, a fast food one, just across the highway from us, but it's a Subway so I feel like that's a little safer 😉
Anyway. All that to say, I don't have the option of grabbing a Starbuck's Peppermint Mocha casually on my way from here to there. The number of times I might get a fancy coffee drink from a coffee shop through the fall and winter?
I can probably count them on one hand.
But, we love coffee and we love making a good peppermint mocha at home.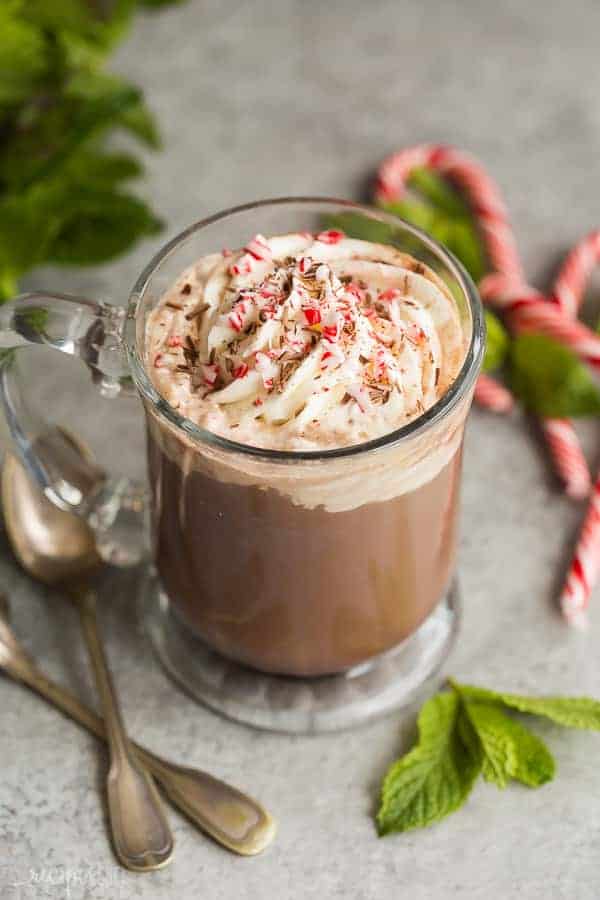 What coffee is best in this Peppermint Mocha?
Depending on the day, we'll use our regular coffee maker, Keurig, or French press to make strong coffee or espresso, and in a pinch even instant espresso granules will do (don't judge me like that).
Traditionally, espresso is used in most of those fancy coffee drinks we can't resist, but you will have to decide how fussy you're going to be about that.
If you're a true coffee snob, fresh brewed espresso will probably be the way you go.
What is a mocha?
A mocha is a combination of some sort of coffee and chocolate.
Often it is a mix of espresso and hot chocolate or chocolate syrup, and can be served hot or iced, in a latte (with frothed milk), or with a variety of other flavors added in like peppermint or white chocolate.
What's the lazy version of this Peppermint Mocha?
For those of you who are not coffee snobs, you can easily make a simple mocha by combining boiling water, hot chocolate mix and some instant coffee or instant espresso granules. Or swap the cocoa and sugar for hot chocolate mix in this recipe.
For this Peppermint Mocha recipe, I wanted to land somewhere between "really easy" and "really authentic". It's not at either end of the spectrum, but it's simple, quick, and tastes like a million bucks. Or at least 5 😉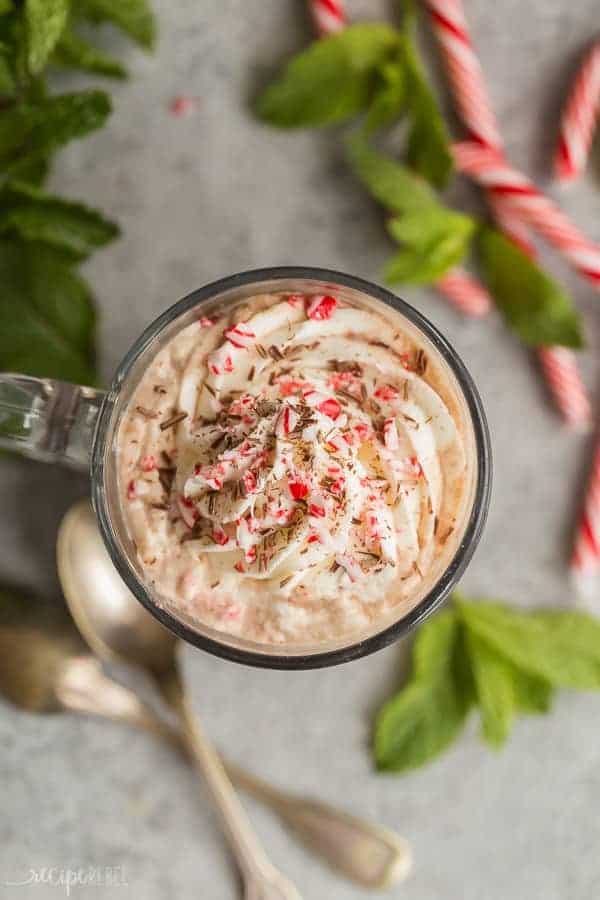 Variations of this Peppermint Mocha:
You can use more coffee or more chocolate mixture, depending on your tastes. If you're not a big coffee lover, use a little less. If you don't like your mocha too sweet, use a little less sugar.
For a White Chocolate Peppermint Mocha, throw in some white chocolate chips with the milk while heating, stir and let melt. This is one of my favorite variations!
You can easily make a dairy-free version of this Peppermint Mocha by using non-dairy milk (I would likely use almond milk) instead of regular milk.
For a skinny Peppermint Mocha, feel free to use a lower fat milk (1% or 2%), and a sugar replacement or natural sweetener.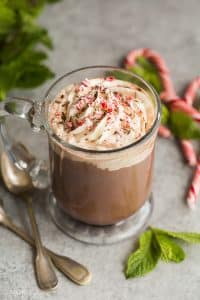 Peppermint Mocha Recipe
This Peppermint Mocha recipe is easy and tastes just as good as Starbuck's or McDonald's — plus, you don't have to shell our $5 for one coffee! 
Prep Time 5 minutes
Cook Time 5 minutes
Total Time 10 minutes
Servings 1 serving
Calories 272kcal
Author Ashley Fehr
Ingredients
3/4

cup

whole milk

3

tablespoons

sugar

1

tablespoon

unsweetened cocoa powder

3/4

cup

brewed espresso or strong coffee

1/2

teaspoon

mint extract

or 1/2 peppermint candy cane or peppermint syrup

1/4

teaspoon

vanilla extract

whipped cream and chocolate shavings if desired
Instructions
In a small saucepan, add milk, cocoa and sugar. Heat over medium heat until small bubbles begin to form around the edge and sugar has dissolved.

Stir in espresso, mint extract and vanilla and remove from heat (if using a candy cane, be sure to let melt completely.)

Serve in a large mug and top with whipped cream and chocolate shavings if desired.
Nutrition (this is an estimate)
Nutrition Facts
Peppermint Mocha Recipe
Amount Per Serving
Calories 272
Calories from Fat 54
% Daily Value*
Total Fat 6g
9%
Saturated Fat 3g
15%
Cholesterol 18mg
6%
Sodium 83mg
3%
Potassium 404mg
12%
Total Carbohydrates 48g
16%
Dietary Fiber 1g
4%
Sugars 45g
Protein 6g
12%
Vitamin A
5.9%
Calcium
20.7%
Iron
3.9%
* Percent Daily Values are based on a 2000 calorie diet.