Guacamole Dip is a staple for game day, Cinco de Mayo, and summer parties. This delicious Margarita Guacamole Dip recipe is the perfect party dip, and it's so easy to make too. The secret? A bit of tequila mixed into the guacamole for an extra kick!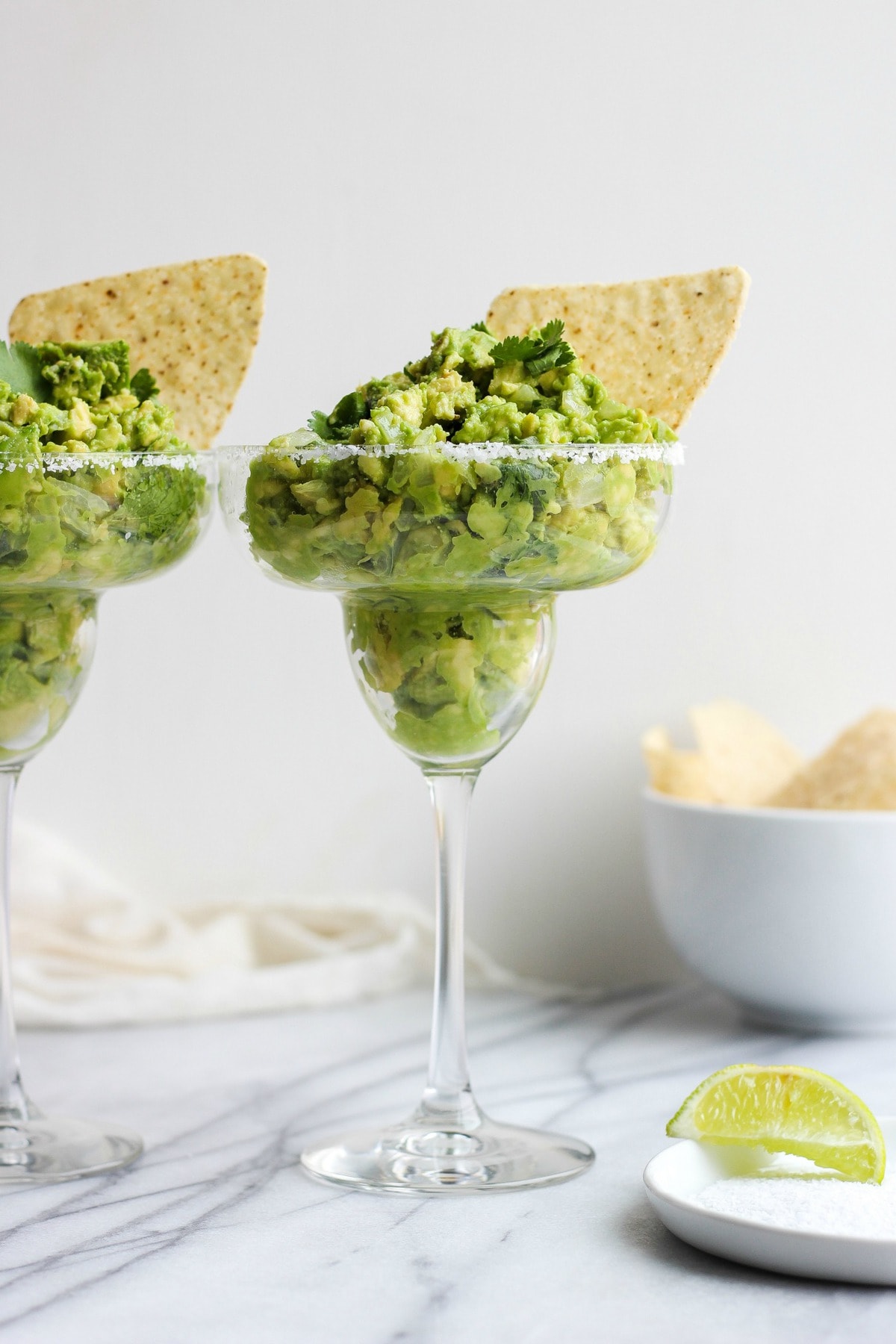 Guacamole Dip Recipe with Tequila
This tequila infused guacamole dip recipe is my new favorite way to eat guac. Find out how to make guacamole dip with tequila for the perfect dip!
I think good guacamole dip is one of the best things out there. You just can't go wrong with something so delicious! All you really need is avocado, salt & pepper, and lime juice, but of course it's more fun to add in extra ingredients for even more flavor!
Our good friend Susie gave us the idea to make guacamole with tequila, and it was SO good. So good that this Margarita Guacamole Dip recipe was born! The tequila is optional, and the guac recipe is just as tasty without it. But the tequila adds some zing and you won't regret adding it in!
When you can combine two of my favorite things (guacamole and margaritas), you know you've got something special. And that's exactly what this homemade guacamole recipe is. Learn how to make guacamole dip with tequila and it will CHANGE your life! I promise.
Make guacamole with tequila for an added twist. This Margarita Guacamole Dip is truly the perfect party dip!
Margarita Guacamole Dip
Football season is the perfect time to make guacamole dip. It can get the party going, or serve as comfort food when the games don't go quite as expected…But with a delicious guac to eat, we can get over those disappointing games in no time!
I like to make guacamole slightly chunky (there's something extra tasty about it when there's more texture), so I tried not to mash it up too much. You can make it as smooth or chunky as you like, though. Here's a little tip: a potato masher works great for making guacamole dip. 
We added just a splash of tequila to the dip. It really added to the flavor, and it turned out to be such a fun addition!
Margarita Guacamole Ingredients:
Avocados
Yellow Onion
Garlic
Brown Sugar
Lime Juice
Salt & Pepper
Cilantro
Tequila (optional)
Red Pepper Flakes (optional)
The tequila adds the perfect kick, and the red pepper flakes give it a hint of spice. Both ingredients are optional for this guacamole dip, but I think they really make the recipe. I also like to add tomatoes into guac, so you could mix those in if you like. A lot of people don't seem to like tomatoes in there though, so you could always use them as a topping for your own personal bowl of guacamole.
How to Make Guacamole Dip with Tequila
This Margarita Guacamole Dip recipe is SO easy and SO full of flavor. You only need about 10 minutes to whip this up, but it might be gone in seconds…so make plenty! I really like serving this dip in margarita glasses to add to the "Margarita Guacamole" theme, especially if you want to make individual servings for people. You can carry your personal glass of guac and keep it away from everyone else!
How to make guacamole dip:
Heat butter and olive oil in a skillet, then add in the onion and saute.
Then add in the garlic and cook for about 1 minutes. Sprinkle brown sugar over the onion garlic mix and cook another minute.
Let the onion and garlic mixture cool before mixing it into the dip.
To make the guacamole dip, combine all ingredients in a bowl, and mix and mash to your desired consistency.
If you are using the margarita glasses, just fill up each one with guac, and set them out next to a bowl of tortilla chips so everyone can dig in!
How long does guacamole dip last?
This guacamole dip (just like most guacamole) is best eaten as soon as possible. Not only does it taste best fresh, but because of the avocados, the dip will start to brown pretty quickly. That being said, when stored properly in the refrigerator, this dip should last up to 3 days. I usually just remove the brown layer that forms on top of the dip before eating leftover guacamole.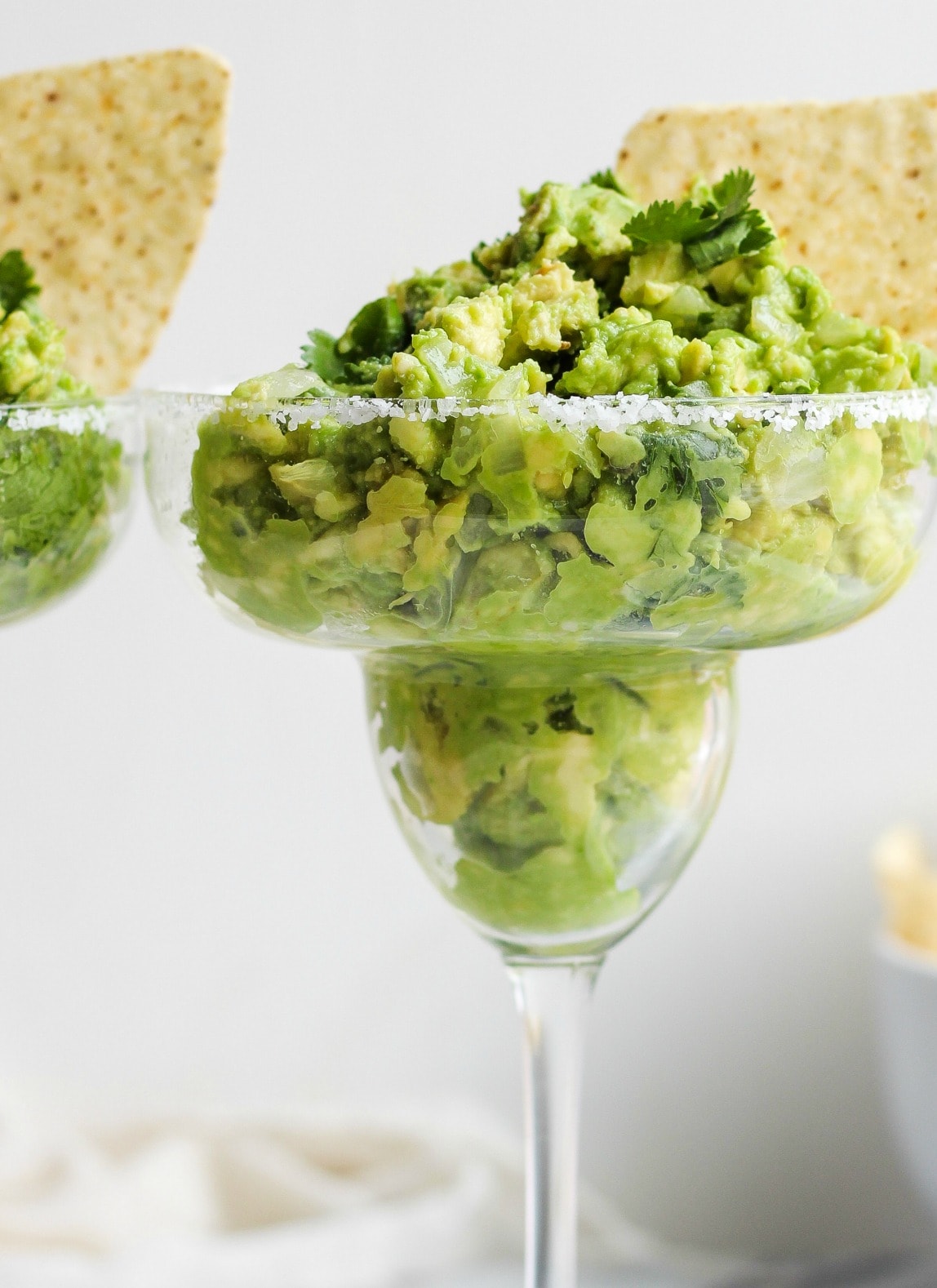 This is the cutest, most delicious guacamole dip recipe if you ask me! I'll take any excuse to bring margaritas into the mix, and guac seems like the perfect opportunity. Whip this up for Cinco de Mayo, game day, or any other occasion…there's never a wrong time for this dip!
See the recipe card below for details on how to make guacamole dip (with tequila). Enjoy!
If you like this recipe, you'll love our other easy dip recipes: