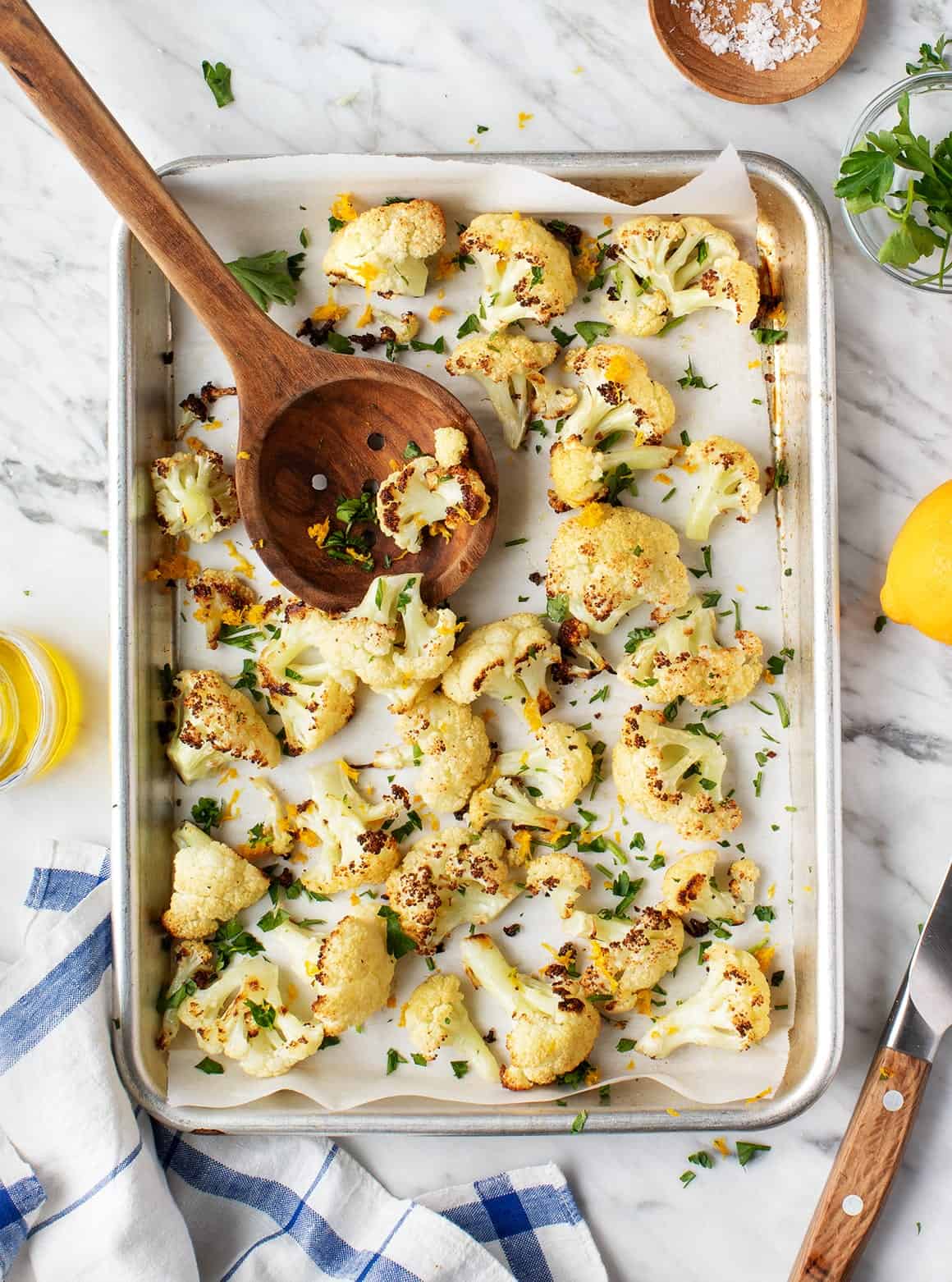 If you asked me what vegetable I like to roast most, I'd have to say… the almighty cauliflower! It's a vegetable that I barely tolerated as a kid, but I'm absolutely obsessed with it now, especially when it comes out of the oven with those roasty-toasty browned edges. I love it as a simple side dish or as the starting point to a main meal – pastas, pizzas, curries, you name it! Below is my foolproof way to roast it as well as a handful of no-recipe seasoning suggestions, including, but not limited to, my favorite – simply tossing it with herbs and fresh lemon zest… obviously 🙂
How to Roast Cauliflower
Start by preheating your oven to 425 degrees. Don't go any lower with your oven temperature here – a hot oven will create nice browning and crispy edges on your cauliflower florets.

Wash your cauliflower and dry it thoroughly. The dryer it is, the better it will brown in the oven.

Break your cauliflower into bite-sized florets – I like to break with mine with my hands rather than cutting it with a knife. This way, I get prettier florets!

Drizzle the florets with olive oil, salt, and pepper, toss to coat, and spread them into an even layer on a parchment-lined baking sheet.

Roast in your preheated oven for 25 to 30 minutes, or until the cauliflower is browned around the edges.

Use in any dish that calls for roasted cauliflower, or season to taste with more salt and pepper and enjoy as-is!

Roasted Cauliflower Variations
If you're serving your roasted cauliflower as a side dish, try any of these easy variations:
Toss it with lemon zest and fresh herbs such as chopped parsley, fresh thyme, or minced rosemary.
In the final few minutes of baking, sprinkle florets with grated Parmesan and minced garlic. Bake for 2 more minutes or so, until the cauliflower is crisp and the cheese is melted.
Sprinkle baked florets generously with vegan Parmesan.
Spice it up! When your cauliflower has just come out of the oven, toss it with your favorite spices while it's still warm. I like chili powder, curry powder, or a shawarma spice blend.

Roasted Cauliflower Tips
Use convection bake if you have it. Air circulates constantly in a convection oven, making the temperature consistent throughout it. If you have convection bake, you can get better-browned florets in less time. Start checking your cauliflower after 20 minutes!
Make sure there is space between your florets. If they're too crowded, they'll steam, and they won't get brown and crisp around the edges.
Don't be afraid of the salt. No one loves bland cauliflower, so salt yours generously. I salt mine with sea salt before roasting and then add more, to taste, after it comes out of the oven.
Aim to have evenly-sized florets for even cooking. You don't want to have small florets burning before big ones finish roasting!
Don't toss the cores and greens. Chop the cores into bite-sized pieces and roast them along with the florets, turn them into cauliflower rice, or boil & blend them into a creamy puree or soup! If your cauliflower has good greens attached, you can cook those too – toss them with olive oil, salt, and pepper and roast on a separate baking sheet until they get lightly browned around the edges.


Roasted Cauliflower
1 medium cauliflower
extra-virgin olive oil, for roasting
sea salt and freshly ground black pepper, for sprinkling
Preheat the oven to 425°F and line a large baking sheet with parchment paper. Break the cauliflower into bite-sized florets. Toss with olive oil, salt, and pepper and spread evenly onto the baking sheet. Roast for 25 to 30 minutes or until browned around the edges.
Season to taste and enjoy as a side dish, jazz it up with herbs or spices, or use in your favorite roasted cauliflower recipe.
3.4.3177