Easy15 minsQuick
This simple Italian Salad recipe is quick and easy to make, tossed with a zesty Italian vinaigrette, and can easily double as a side salad or main dish.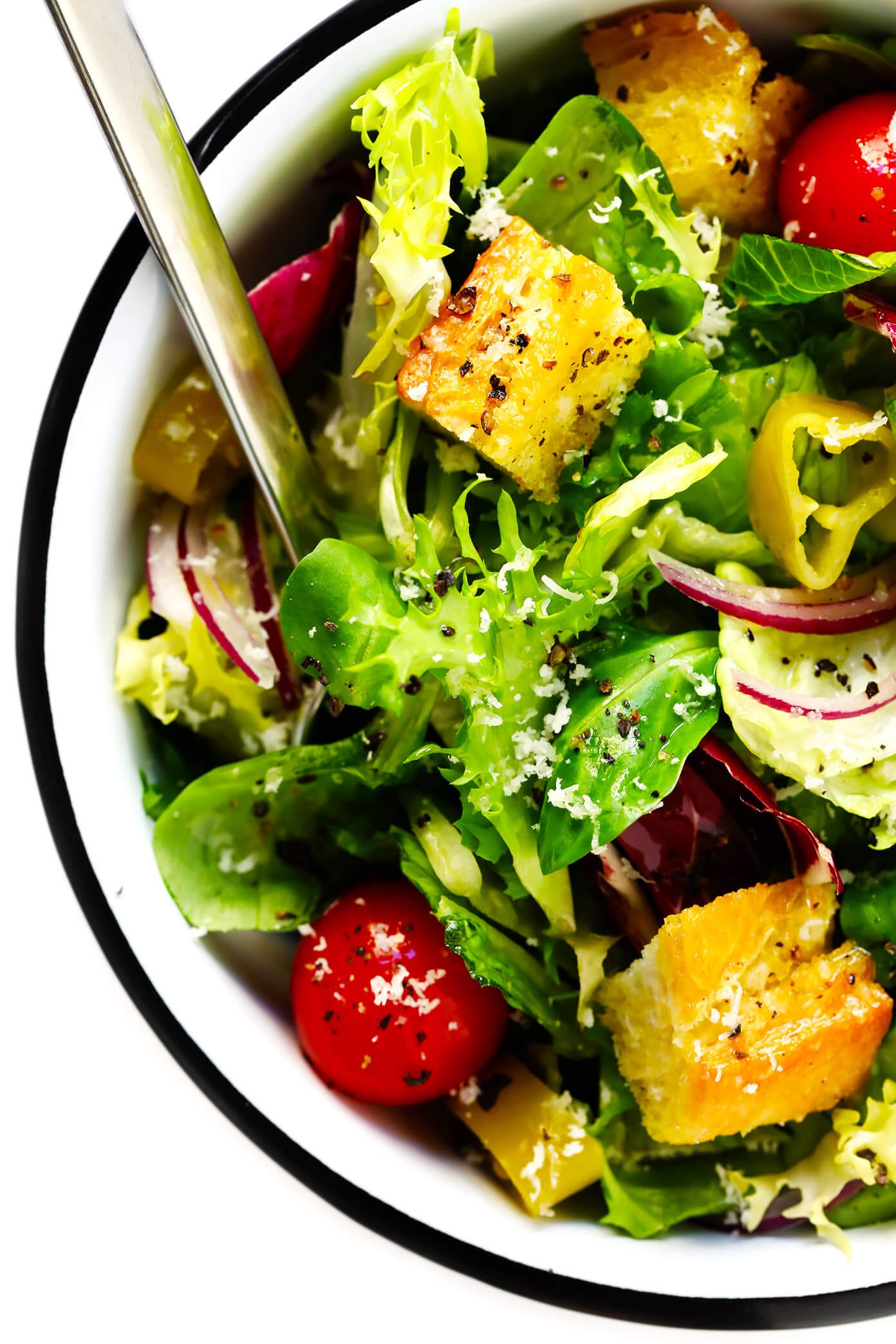 Our week of easy side salad recipes continues today with the very first salad I ever learned how to like…
…a classic Italian salad. ♡

MY
LATEST VIDEOS
Specifically, this classic Italian side salad, inspired by none other than the Olive Garden. ♡♡♡
Back in my picky-eating days, I used to avoid salads like the plague.  But that all changed my freshman year of college when a group of friends squeezed into my old VW bug one night for a road trip to have dinner in the "big city" at — yes — the Olive Garden.  It was the hot new restaurant in Wichita circa the early 2000s, and their famous unlimited soup, salad and breadsticks combo was every broke college student's dream come true.  I remember becoming an instant fan of their creamy Zuppa Toscana soup, and went big on those hot and soft breadsticks each time they were passed around.  Then — probably to impress some boy in the group — I remember impulsively following suit and adding some of their famous Italian green salad to my plate as well.  And 100% to my surprise, I loved it!!!
Ever since, I've been a huge fan of Italian salads and love experimenting with different ways to make them.  But I have to admit there will always be a special spot in my heart for my first love — that dreamy throwback Olive Garden-style Italian salad.  Fresh greens, zesty croutons, crisp red onions, juicy tomatoes, mild pepperoncini peppers and freshly-grated Parmesan are just an unbeatable combination every time!  Especially when made with this super-simple Italian vinaigrette.  And especially when you go big on the Parmesan (which I wholeheartedly recommend you do).
That said — like all of the side salad recipes that I'm sharing this week — this Italian salad is 100% customizable with whatever ingredients you love best.  So feel free to get creative and clean out the fridge and make this recipe your own!  I've also included tips below for how to make it gluten-free or vegan, if you would like.  And if you feel like adding in some extra protein (such as chicken, steak, shrimp) or beans (such as chickpeas), this side salad can easily transform into a hearty entree too.
We make some version of this salad pretty much every time we make Italian food in our house, and it always hits the spot.  So if you were also a fan of the OG back in the day, or if you're just looking for a tried-and-true Italian salad recipe to add to your repertoire, bookmark this one and give it a try!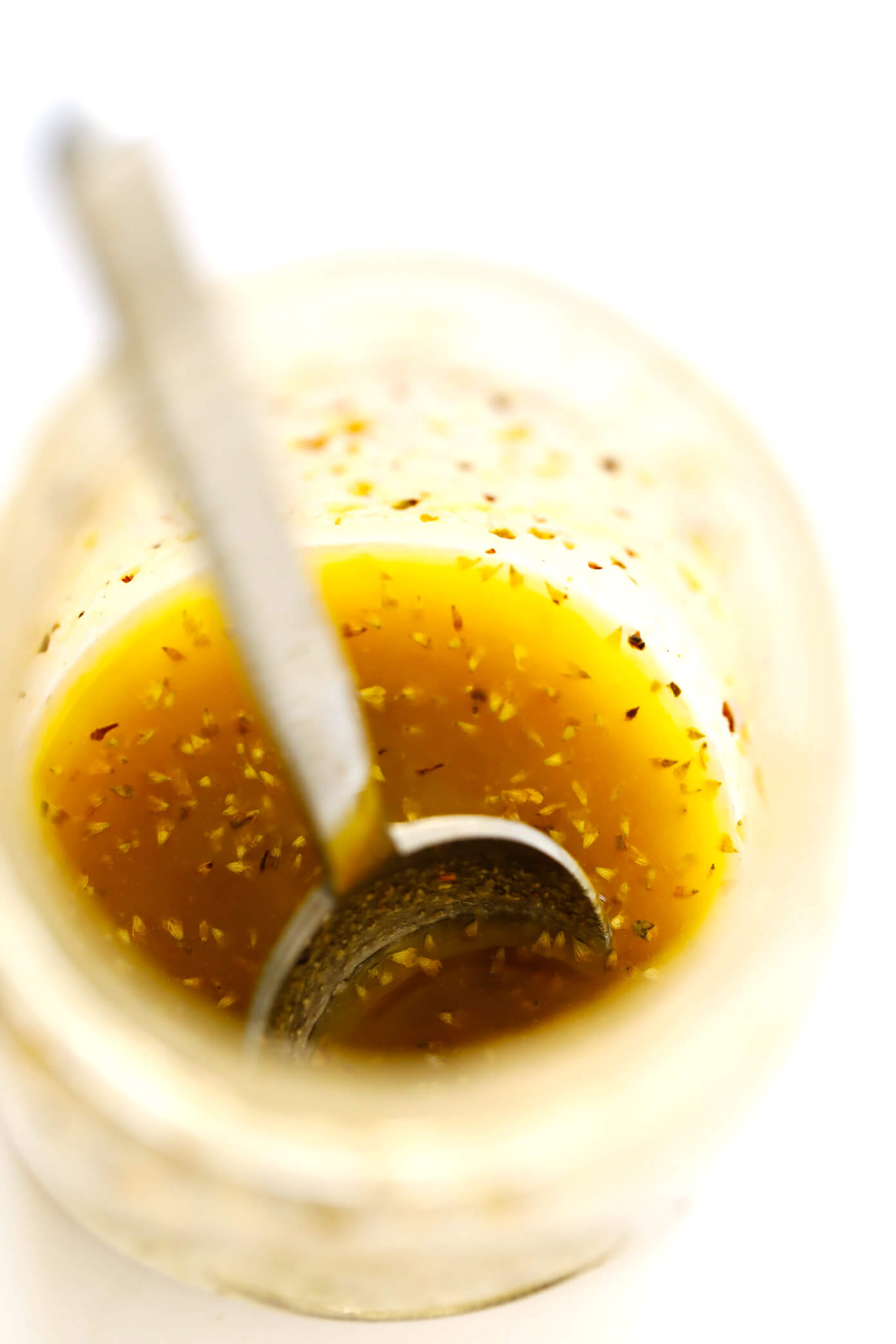 Everyday Italian Salad Ingredients:
To make this easy salad recipe, you will need:
Greens: I typically use a bag of mixed spring greens for this salad, but any favorite greens will do.
Veggies: I kept things simple with just red onion and sliced pepperoncini peppers.  But feel free to add in extra salad veggies that you have on hand!
Tomatoes: Any kind of fresh tomatoes would be great, or feel free to add some sun-dried tomatoes instead.
Croutons: Feel free to use any leftover bread that you have on hand to make a batch of homemade croutons.  Or you can totally use store-bought croutons as well.
Parmesan: The more the merrier in this salad, if you ask me!  I love tossing some into the big bowl of salad, plus grating extra on top of the individual salad servings as well.
(Optional) Nuts: We love adding a handful of toasted pine nuts into this salad too.
Italian Vinaigrette: A pantry-friendly combo of olive oil, red wine vinegar, Dijon, garlic (or garlic powder), dried oregano, salt and pepper.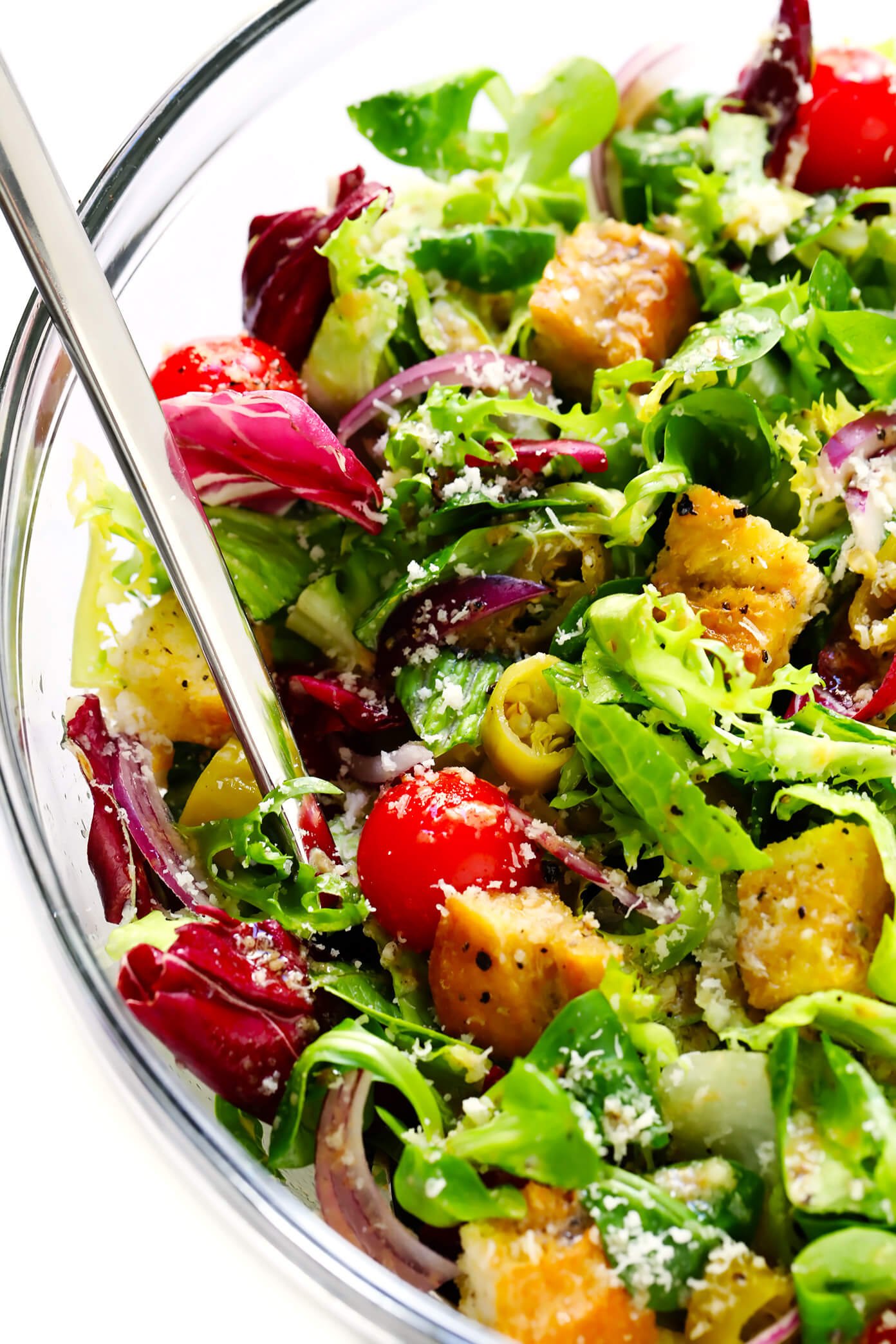 How To Make This Salad:
To make this Italian salad recipe, simply…
Make your dressing.  Whisk all of the ingredients together in a small bowl until combined.  Or — my preferred method — just add them to a mason jar and shake-shake-shake until the dressing is ready to go.
Mix the salad.  Then combine all of your salad ingredients in a large mixing bowl.  Drizzle evenly with the dressing and toss until combined.
Serve!  And serve it up right away while it's nice and fresh!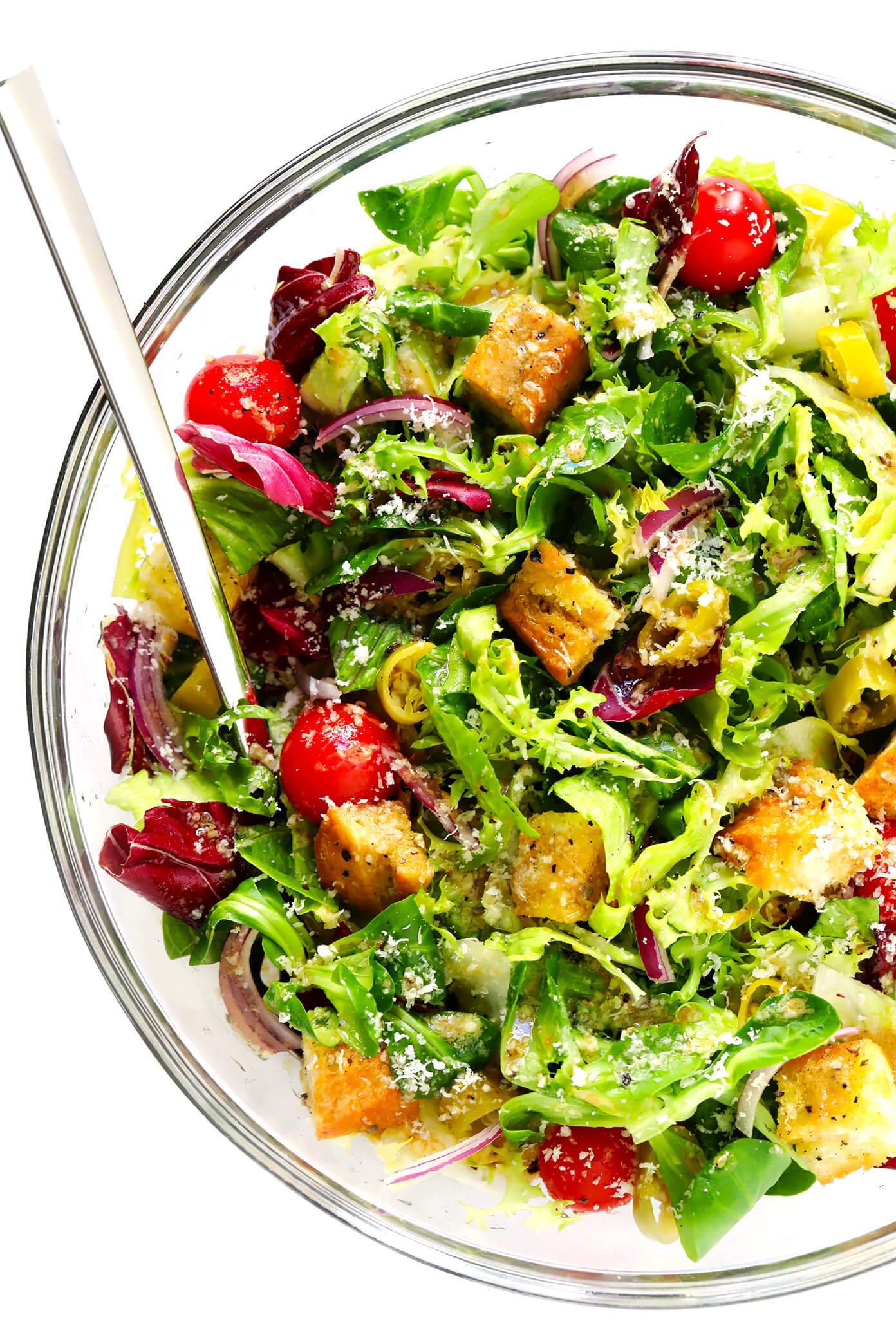 Possible Variations:
There are about a million ways that you can customize this salad.  So feel free to get creative and use what ingredients you love most (or need to use up in your kitchen!) and make this one your own.  For example, feel free to:
Add a protein: Cooked chicken, steak, pork, shrimp, salmon, or tofu would all be great in this salad.
Add beans: Chickpeas, white beans or even kidney beans would be a delicious source of extra protein too.
Add extra fresh veggies: Such as cucumber, bell peppers, radishes.
Add extra jarred veggies: Such as artichoke hearts or roasted red peppers.
Add olives: Any Italian olives that you love.
Add fresh herbs: If you happen to have any fresh basil, oregano or rosemary on hand, chop them up to add to the vinaigrette for extra fresh flavor.
Make it gluten-free: Just use gluten-free bread to make your croutons (or nix the croutons altogether).
Make it vegan: Omit the Parmesan cheese and add in a sprinkle of nutritional yeast instead.
Favorite Italian Recipes:
Looking for some winning entrees to serve with this salad?  Here are a few of my faves.
More Side Salad Recipes:
Stay tuned as well this week for more great side salad recipes to come!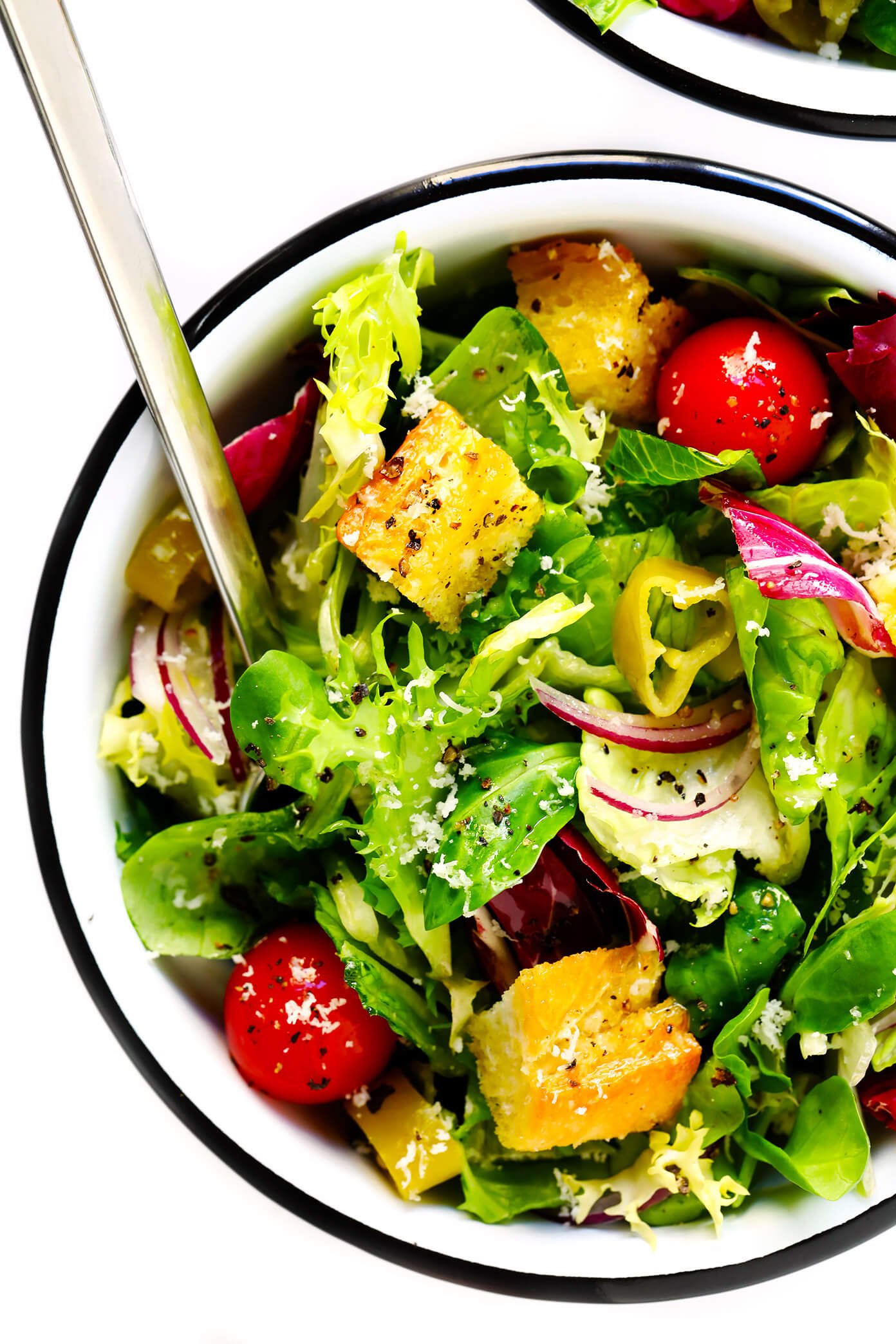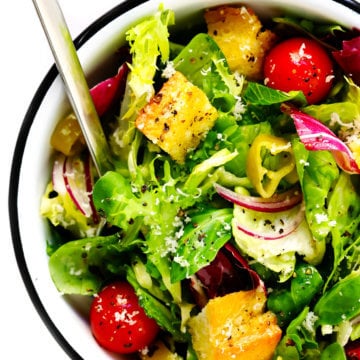 Yield: 4 servings
Everyday Italian Salad
This simple Italian Salad recipe is quick and easy to make, tossed with an Italian vinaigrette, and can easily double as a side salad or main dish.  See notes above for possible ingredient variations.
Ingredients:
Italian Salad Ingredients:
5 ounces mixed spring greens (or whatever greens you prefer)
half a small red onion, peeled and thinly sliced
2 cups cherry tomatoes
2 cups croutons, homemade or store-bought
1/2 cup freshly-grated Parmesan cheese, plus extra for topping
1/3 cup sliced pepperoncini peppers
Italian Vinaigrette Ingredients:
3 tablespoons olive oil
1 tablespoon red wine vinegar
1 teaspoon Dijon mustard
1/2 teaspoon dried oregano
1/2 teaspoon fine sea salt
1/4 teaspoon freshly-cracked black pepper
1 small clove garlic, pressed or minced (or 1/2 teaspoon garlic powder)
Directions:
To Make The Vinaigrette: Whisk all ingredients together in a bowl (or shake together in a mason jar) until combined.  Taste and add additional sweetener if desired.  Use immediately or refrigerate in a sealed container for up to 3 days.
To Make The Salad: Combine all ingredients in a large salad bowl, drizzle evenly with the vinaigrette, and toss until evenly combined.  Serve sprinkled with extra Parmesan cheese and enjoy!
Difficulty: EasyCategory: Quick
Recipe inspired by The Olive Garden.
All images and text ©Gimme Some Oven
If you make this recipe, be sure to snap a photo and hashtag it #gimmesomeoven. I'd love to see what you cook!