Easy5 minsQuick
This easy kale salad recipe only takes 5 minutes to make with 5 easy ingredients, and tastes great with just about everything!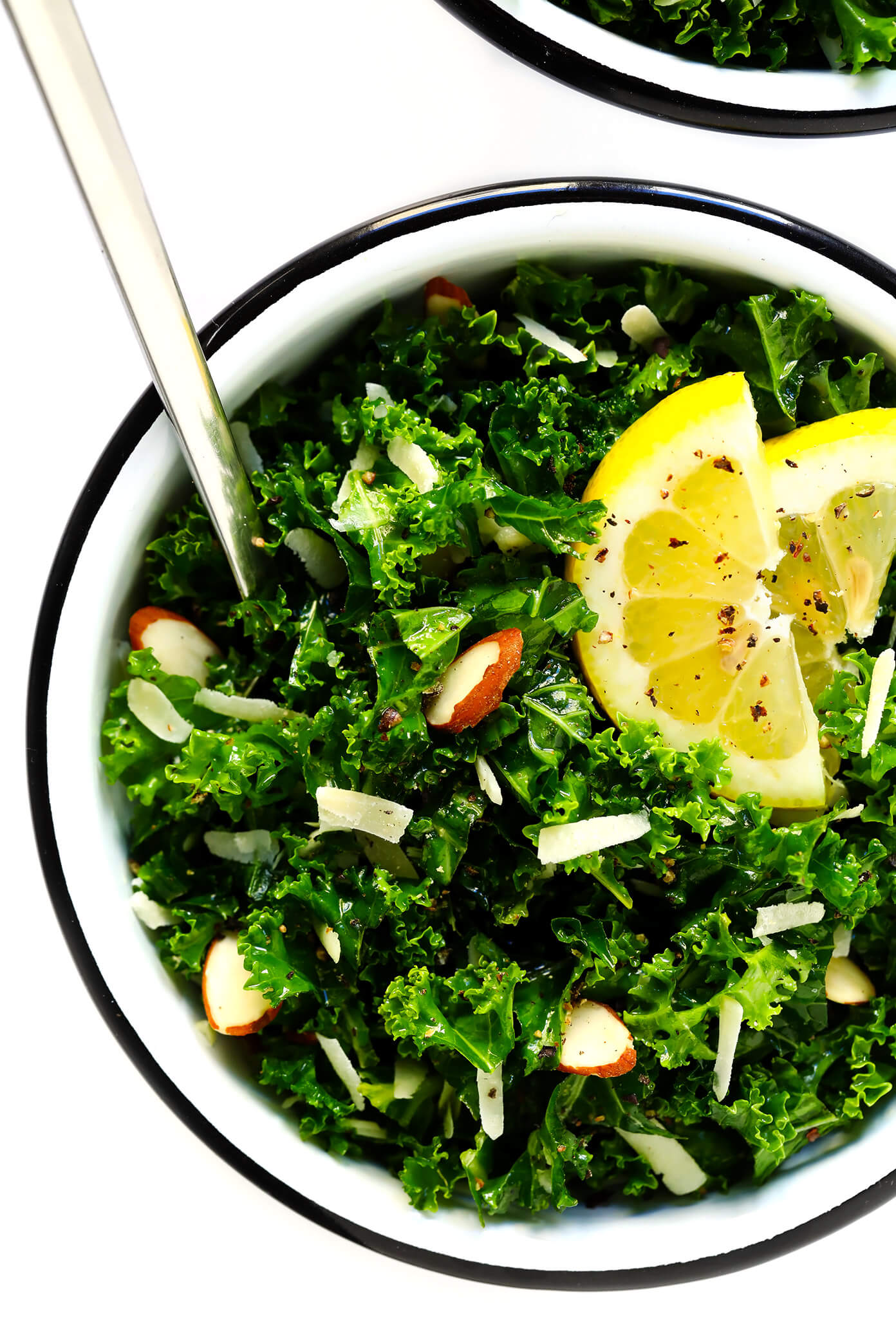 And finally, for the last recipe in our everyday side salad collection this week, we come to an old favorite of mine.
My classic, go-to, made-it-a-million-times Everyday Kale Salad. ♡

MY
LATEST VIDEOS
This salad is made with five simple ingredients — super-soft fresh kale (see tips below), freshly-squeezed lemon juice, lotsa Parm, a drizzle of olive oil, and a sprinkling of your favorite nuts.  And I'm telling you, it is delicious.
I've been making some version of this kale salad for about a decade now, and even the most reluctant kale eaters in my life have always loved this one.  It's easy to whip up in a few minutes.  It's easy to gussy up with any other favorite salad add-ins you might have in mind.  (<– Just sayin', a sliced avocado in there is never a bad idea.)  And best of all, this kale salad recipe really does go with just about everything!
So if you're looking for a super-simple and healthy side salad to go with dinner tonight, pick up some fresh kale and give it a try!
Everyday Kale Salad Ingredients:
To make this easy kale salad recipe, you will need:
Fresh kale: Any type will work here, such as curly kale or dinosaur (lacinato) kale.
Parmesan: Freshly-grated, please!  Feel free to use the coarse side of your grater (like what I have photographed below) or the super-fine powdery side of the grater — or both! ♡
Lemon juice: Freshly-squeezed, please!  If you don't have an awesome juicer already, I'm obsessed with this one.
Olive oil: Good-quality extra virgin.
Nuts: I like adding some toasted sliced or slivered almonds to this salad for a bit of extra crunch and protein.  But feel free to add in whatever other nuts or seeds you love best, or skip them entirely.
Salt and Pepper: A good sprinkling of each to season and finish this salad.
How To Massage Kale:
You know the drill!  To make those tough kale leaves nice and soft, they need a quick massage before we add the other ingredients.  So once you have removed and discarded those tough kale stems (you can either slice them off with a knife, or remove them by running your fingers down the stems), go ahead and roughly chop the kale as finely as you would like.  Then add it to a large mixing bowl, drizzle with a few glugs of olive oil, and then get your hands in there and massage the kale just like you would knead dough.  I typically massage my kale for 1-2 minutes, so that it doesn't get overly mushy.  But just keep massaging until the kale reaches your desired level of crispiness.
How To Make Kale Salad:
To make this kale salad recipe, simply…
Massage the kale.  With olive oil, as directed above, in a large mixing bowl.
Add the remaining ingredients.  Lemon juice, Parmesan and nuts.  Toss until evenly combined.
Season.  Give the salad a taste and season with sea salt and freshly-cracked pepper, to taste.  (I recommend lots of black pepper, especially.)
Serve.  Then serve it up right away while it's nice and fresh!
Possible Variations:
While this base kale salad recipe is super simple, there are all sorts of delicious ingredients that you can add or sub in as well.  For example, feel free to…
Add a protein: Cooked chicken, steak, pork, shrimp, salmon, or tofu would all be great added to this salad.
Add fresh veggies: Such as avocado, cucumber, carrots, bell peppers and/or red onion.
Add fresh or dried fruit: Such as fresh apples, berries, grapefruit, grapes.  Or dried cranberries or apricots.
Add jarred veggies: Such as sun-dried tomato, roasted red peppers, or artichoke hearts.
Add beans: Such as chickpeas or white beans.
Add croutons: Homemade or store-bought.
Use a different cheese: In lieu of Parmesan, feel free to add crumbled blue cheese, feta cheese or goat cheese.
Use different nuts/seeds: Such as pepitas, pine nuts, walnuts, pecans or sunflower seeds.
What To Serve With Kale Salad:
Looking for some awesome entrees to serve with this salad?  Here are a few of my faves:
More Side Salad Recipes:
If you're looking for more side salad inspiration, here are some of my faves!
Yield: 4 servings
Everyday Kale Salad
This easy kale salad recipe only takes 5 minutes to make with 5 easy ingredients, and tastes great with just about everything!  Feel free to adjust the proportions of any of the ingredients below, to taste, and see notes above for optional ingredient add-ins too.
Ingredients:
1 bunch (about 5 ounces) kale, roughly chopped with tough stems discarded
2 tablespoons olive oil
2 tablespoons freshly-squeezed lemon juice
1/2 cup shredded Parmesan cheese
1/3 cup sliced almonds, toasted
sea salt and freshly-squeezed black pepper
Directions:
Add the kale to a large mixing bowl and drizzle evenly with the olive oil.  Using your fingers, massage the oil into the kale for 1-2 minutes until the kale has softened.
Add in the lemon juice, Parmesan and almonds.  Toss until evenly combined.
Taste and season with however much salt and black pepper that you'd like, then toss once more until combined.
Serve immediately and enjoy!
Difficulty: EasyCategory: Quick


All images and text ©Gimme Some Oven
If you make this recipe, be sure to snap a photo and hashtag it #gimmesomeoven. I'd love to see what you cook!