Easy5 minsQuick
Learn how to make pesto with this classic fresh basil pesto recipe.  It's easy to make in the blender or food processor with just 5 main ingredients, and always tastes so fresh and delicious.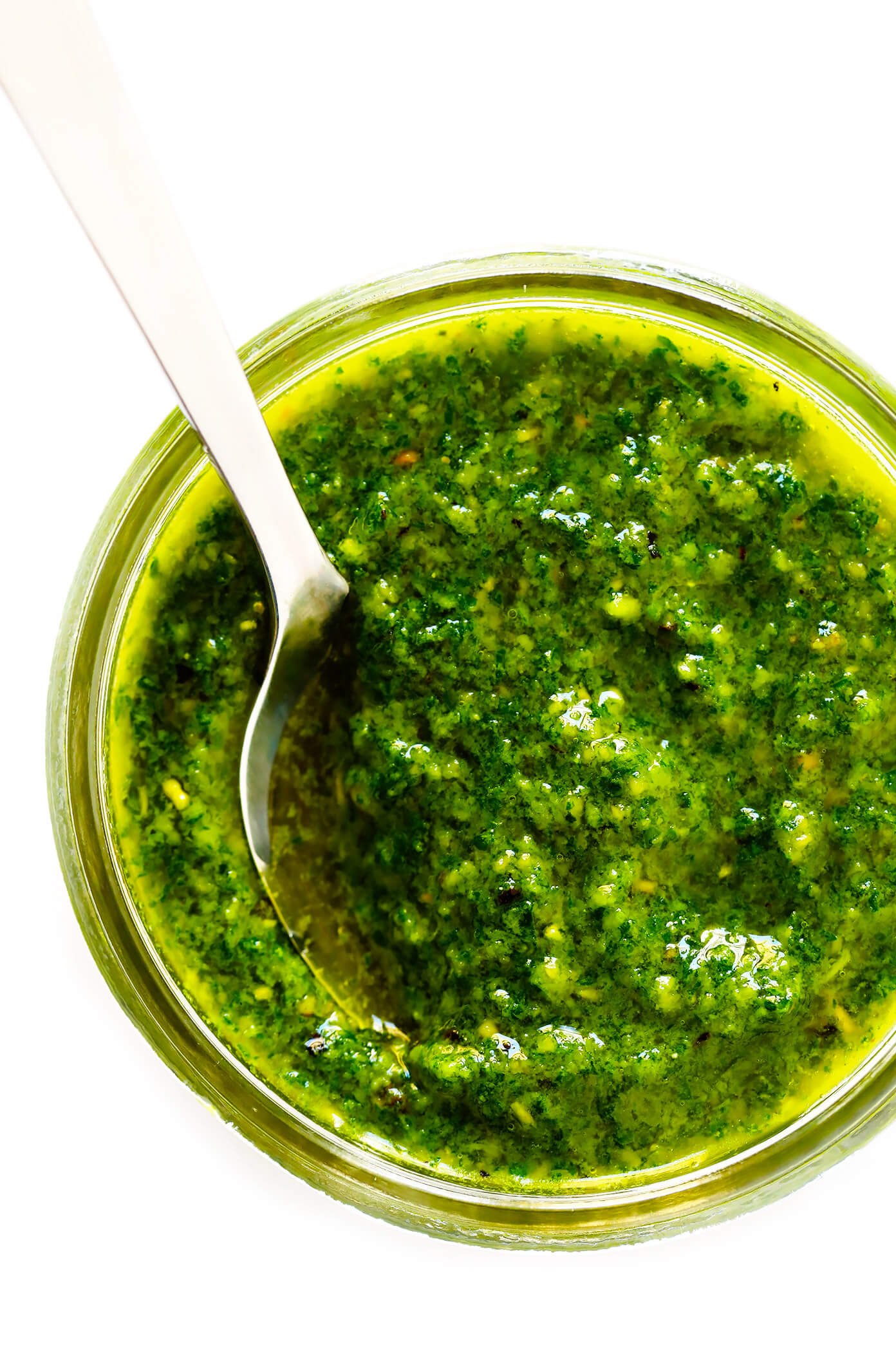 In honor of the fresh crop of vibrant basil plants adorning our balcony this spring, I thought this would be a good time to pop back in and update my classic basil pesto recipe here on the blog.  ♡
I actually first shared this pesto recipe in my very first summer of blogging, which was nearly a decade ago now.  (Crazy!)  And while I have experimented with dozens of different pesto recipes in the years since — swapping in various kinds of different greens and herbs and nuts and seasonings galore — there's still nothing in my book that beats a good classic fresh basil pesto sauce.  That simple combination of fresh basil, Parmesan, pine nuts, garlic, salt, pepper and olive oil always hits the spot.  Plus, as sauces go, classic basil pesto is incredibly quick and easy to make, and also freezes beautifully for later if you would like.  And of course, it can be served a million different delicious ways!
So, if you happen to have a bumper crop of basil right now, or if you're just craving those fresh pesto sauce flavors this spring, grab your blender or food processor and let's make a quick batch!
How to Make Pesto | 1-Minute Video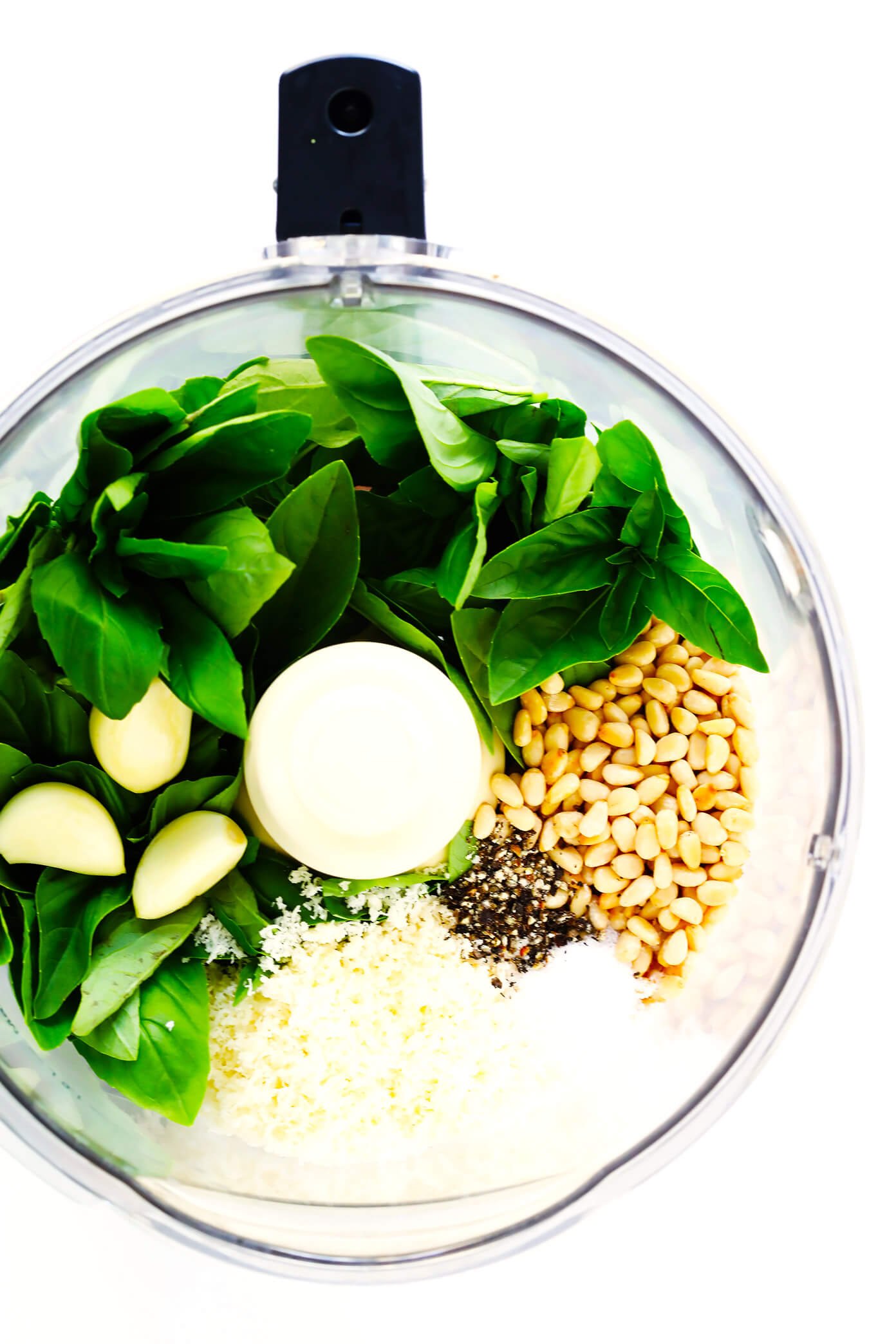 Basil Pesto Ingredients:
To make this classic basil pesto recipe, you will need:
Fresh Basil Leaves: To measure basil, just discard the thicker stems and lightly pack the leaves down into a measuring cup.
Pine Nuts: Lightly toasted, to bring out the flavor.
Parmesan Cheese: Freshly grated for maximum flavor.  (Or you can use pre-grated cheese to save a step, but I would recommend adding in a bit more since it's not as flavorful).
Fresh Whole Garlic Cloves: No need to mince, your blender or food processor will do that for you.
Extra Virgin Olive Oil: I recommend using good-quality oil for the best flavor.
Salt and Black Pepper: Probably the biggest mistake people make with homemade pesto is not seasoning it enough, so be sure to taste and add more salt and pepper if needed!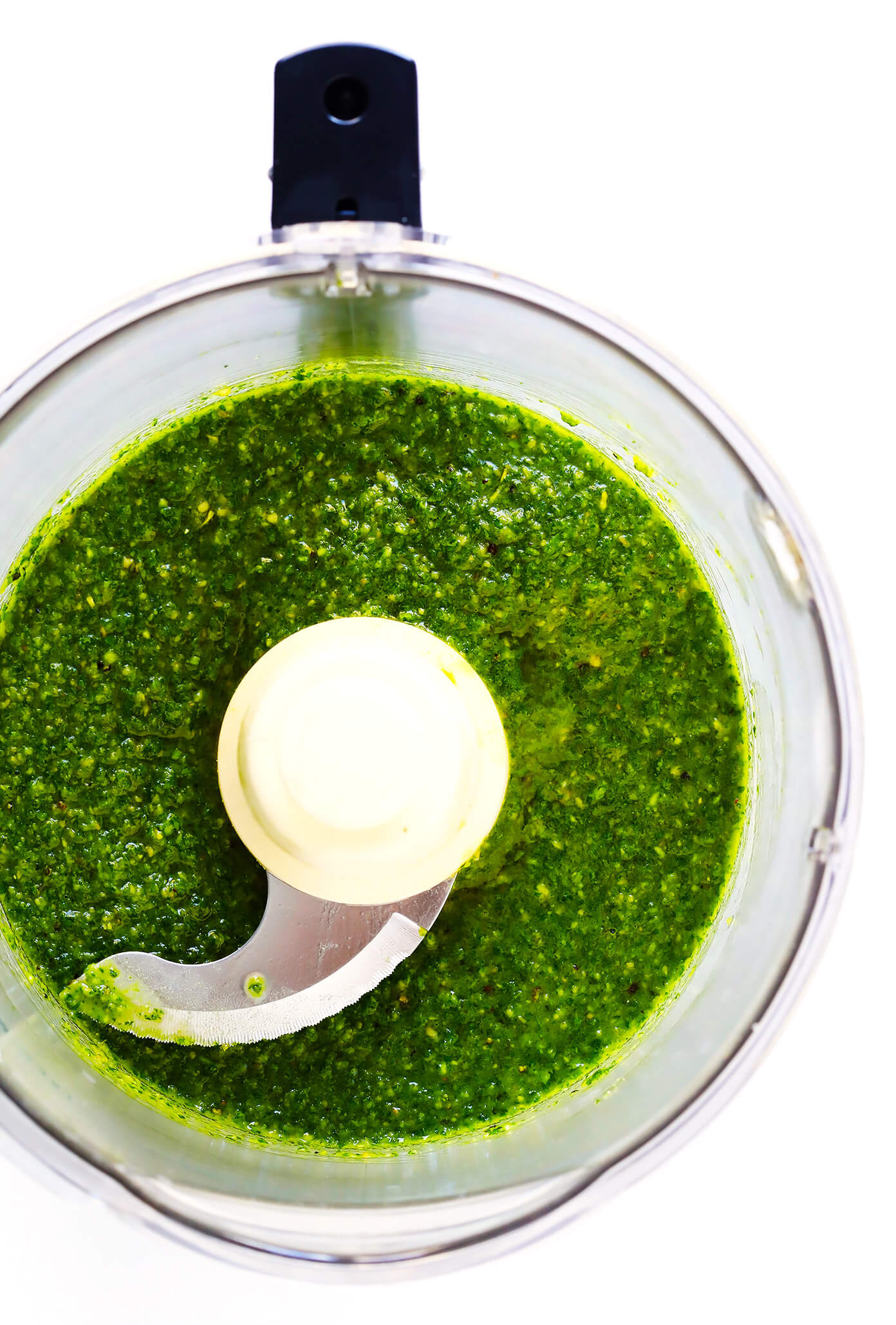 How To Make Pesto Sauce:
To make homemade pesto, simply…
Pulse dry ingredients together in a blender or food processor until combined.  Basically, everything except the olive oil.  Pulse until everything is finely-chopped.
Drizzle in the olive oil.  Then while your blender or food processor is still running, drizzle in the olive oil slowly until the mixture is combined.  Puree until smooth, stopping if needed too scrape down the sides so that everything is evenly mixed.  Also, if your pesto is too thick, feel free to thin it out with a few tablespoons of extra olive oil or water.
Taste and season.  Give the sauce a taste (you can dip a veggie stick or piece of bread in, if you'd like), and season with extra salt and pepper if needed.  Also, feel free to add in extra Parmesan or basil or garlic if you'd like more of those flavors.
Use immediately or store.  And enjoy!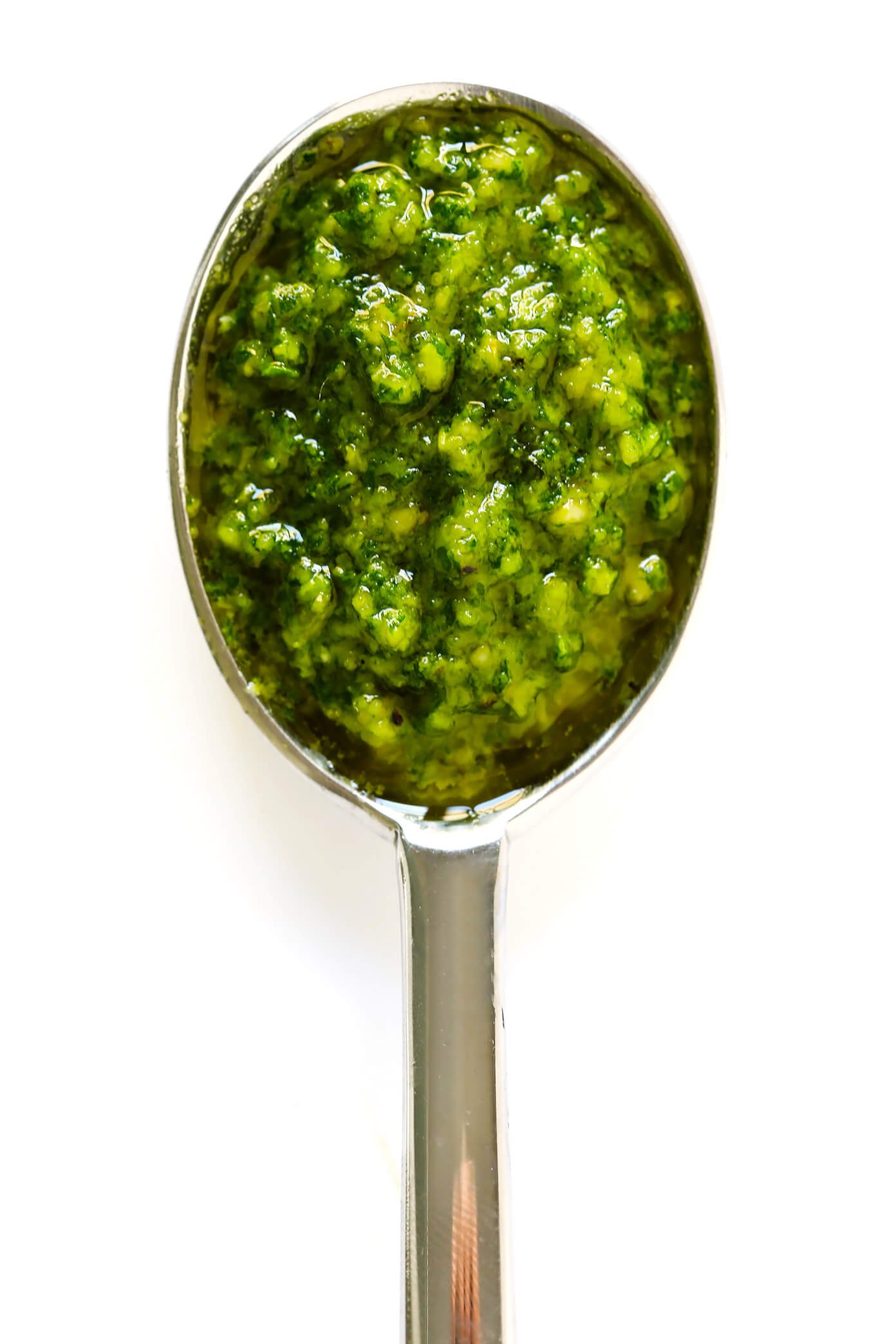 Pesto Recipe Variations:
Oh boy, there are infinite variations you could make to this classic basil pesto recipe.  Here are a few though!
Swap in different greens/herbs: In lieu of basil (or mixed with basil), you could swap in baby arugula, spinach, parsley, cilantro, etc.
Swap in different nuts: In lieu of pine nuts (which can be pricey), swap in walnuts, pecans, almonds, pepitas, or any other favorite nut.
Nix the cheese: If you would like to make vegan pesto, sub 3-5 tablespoons (to taste) nutritional yeast in place of the Parmesan.
Add some heat: I'm a big fan of adding in a few pinches of crushed red pepper flakes or a few slices of jalapeño to give pesto an extra kick.
How To Use Pesto:
There are also, of course, endless ways to use pesto!  Some of my faves include using it as a:
Pasta or gnocchi sauce: Always so delicious!
Dipper for fresh veggies or bread: Perfect as an appetizer or snack.
Mixed into mashed potatoes: Leave out some of the butter and mix in some pesto instead!
Salad dressing: Just add in some extra oil or water to thin it out, then toss with your fave salad.
Pizza or crostini sauce: So simple and flavorful.
Soup garnish: Perfect with so many Italian soups.
Protein or veggie sauce: Pesto can pair well with nearly any meat, chicken or seafood, as well as just about every kind of cooked vegetable.  So feel free to use it as a finishing sauce for any protein or veggie dishes (especially grilled in the summertime).
How To Store Pesto:
How To Refrigerate Pesto: To refrigerate pesto, store it in a sealed container and refrigerate for up to 3 days.  Also, to prevent browning and also help the pesto last a bit longer, feel free to pour a thin layer of olive oil on top of the pesto to cover its surface.  Or alternatively, you can place a piece of plastic wrap directly on top of the surface of the pesto.
How To Freeze Pesto: Pesto also freezes beautifully!  You can freeze it in large batches if you would like.  But my favorite method is freezing it in ice cube trays so that it is divided up into small, versatile portions.  Just freeze, then pop the cubes out and into a freezer bag, and re-freeze until ready to use.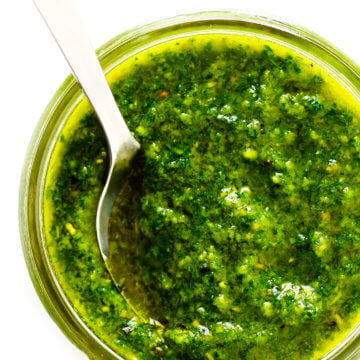 Yield: 2 cups
How To Make Pesto
Learn how to make pesto with this classic fresh basil pesto recipe.  It's easy to make in the blender or food processor with just 5 main ingredients, and so fresh and delicious!
Ingredients:
3 cups lightly-packed fresh basil leaves
1/2 cup freshly grated Parmesan
1/3 cup toasted pine nuts
3 cloves garlic
1 teaspoon fine sea salt
1/2 teaspoon freshly-cracked black pepper
1/2 cup extra-virgin olive oil
Directions:
In a food processor or blender, pulse the basil, Parmesan, pine nuts, garlic, salt and pepper together until finely-chopped.
With the food processor or blender still running, slowly drizzle in the olive oil until it is completely combined.  Pause the food processor or blender and scrape down the sides, then pulse again until the mixture is smooth.
Serve immediately.  Or refrigerate in a sealed container for up to 3 days, or freeze for up to 3 months.


All images and text ©Gimme Some Oven
If you make this recipe, be sure to snap a photo and hashtag it #gimmesomeoven. I'd love to see what you cook!