Picnic salad week continues with this super delicious potato salad! I've made many potato salad recipes over the years, but this may be the first one that screams "classic potato salad." Last year, I shared a recipe for grilled potato salad on the blog, and I also have a really delicious chimichurri vinaigrette-style potato salad in the new book, but the day has come… I finally made a creamy potato salad recipe, and we really love it! As in, Jack and I stood at the kitchen counter after I first made it, eating spoonful after spoonful. This version is fresh, creamy and tangy, with bits of crunch from the celery and radishes and pops of bright, briny flavor from the capers and Dijon mustard.
Just like all of the picnic salads I've posted this week, this potato salad is easy to make, and it can be made up to 3 days in advance. I personally think it tastes best on day 2 or 3 when the flavors have had time to mingle.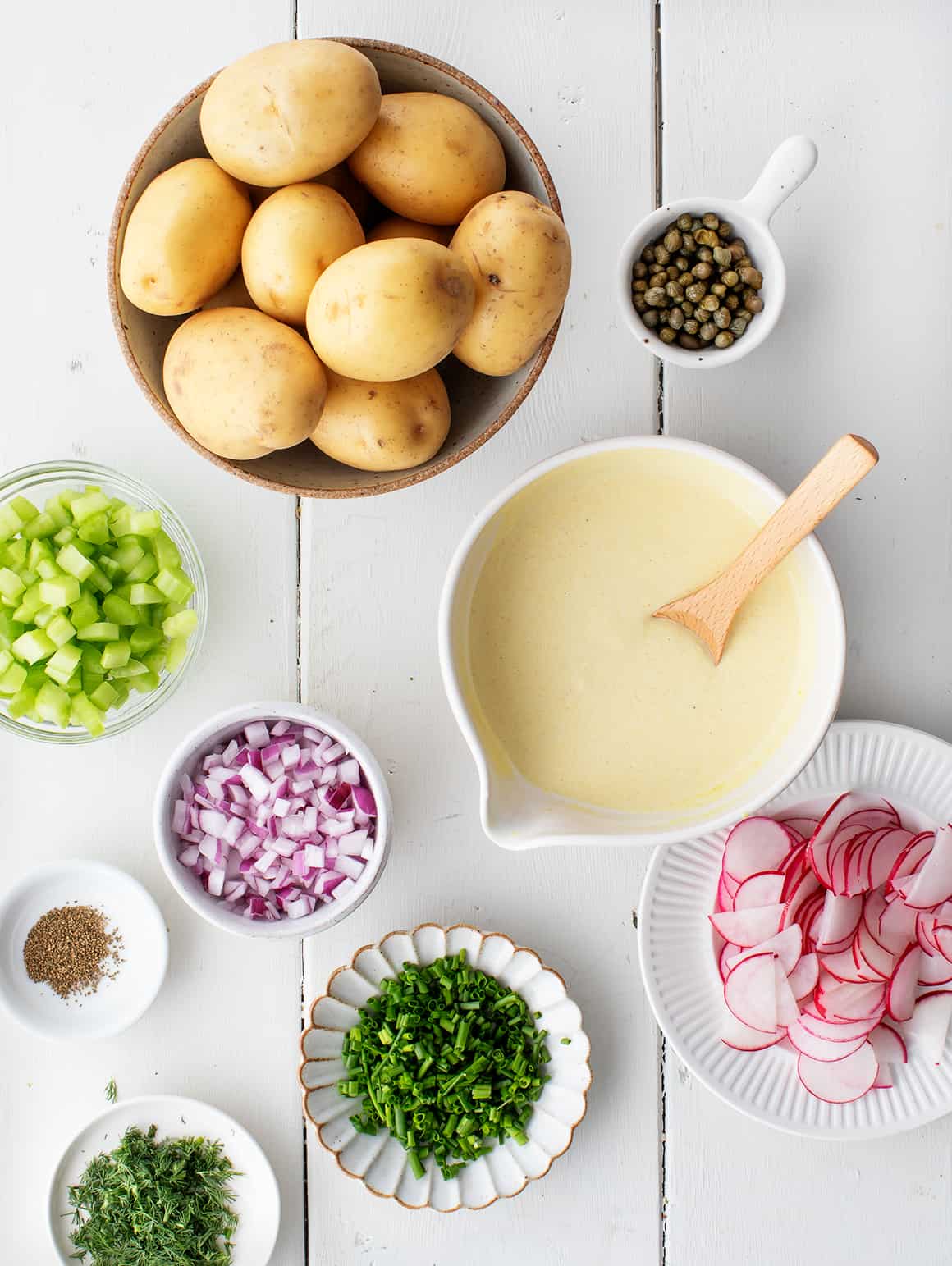 Best Potato Salad Recipe Ingredients
I swear, this is the best potato salad I've had. Based on my favorite egg salad, it's super creamy, tangy, and bright with the perfect balance of soft & crunchy textures. I skip the Miracle Whip and use way less mayo than the traditional recipe does, but trust me, you won't miss them. Along with Yukon gold potatoes, here's what makes it so darn good:
Greek yogurt gives the dressing a luscious creamy texture and tangy flavor. Plus, it's loaded with protein! And of course, I add a little good mayo for richness.
Dijon mustard and lemon make the dressing taste bright & tangy.
Celery is a classic potato salad ingredient, and it's essential here. It adds a necessary crunch to contrast with the soft potatoes, and its flavor is terrific with the tangy dressing.
Radishes and red onion add a pop of pink & extra crunch.
Capers make this homemade potato salad really shine. I was going to list them as optional, but when I tossed them in, I couldn't stop taking bite after bite.
Herbs add flecks of green and fresh flavor.
Turmeric is optional, but it gives the dressing a pretty yellow color (see below!).

How to Make Potato Salad
Never made potato salad? It's easy! Just follow these steps:
First, chop your potatoes. Chopping them before cooking helps them hold their shape when they're mixed into the salad.
Place the potatoes in a large pot, and cover them with one inch of cold water. Bring the water to a boil, and simmer for about 10 minutes, or until tender.
Drain the potatoes and set them aside to cool. You don't want to mix them with the other ingredients while they're still hot!
Finely dice the veggies and herbs and whisk together the dressing.
Toss the cooled potatoes with the dressing, and stir in the herbs, veggies, and capers.
Season to taste and refrigerate the salad for up to 3 days, or dig in right away!




So bright & creamy!

Homemade Potato Salad Serving Suggestions
This salad would be the perfect addition to a summer potluck. You can make it and serve it right away or prep it several days in advance. I served it to my family on day 3, and it was a hit! If you're looking for a good vegetarian main dish to go with it, try any of these recipes:

If you love this potato salad recipe…
Try another of my favorite picnic salads like this pasta salad, this broccoli salad, or this summer slaw!
Creamy Potato Salad
Author: Jeanine Donofrio
Recipe type: Side dish
2 pounds Yukon gold potatoes, cut into ½-inch pieces
2 celery stalks, diced
½ cup diced red onions
2 tablespoons capers
4 red radishes, halved and thinly sliced, reserve some for garnish
⅓ cup chopped chives, reserve some for garnish
2 to 4 tablespoons fresh dill, optional
¼ teaspoon celery seed, optional
¾ cup plain whole milk Greek yogurt (I like Stonyfield Grassfed)
¼ cup mayonnaise (I like Sir Kensignton's)
2 tablespoon Dijon mustard
2 tablespoons lemon juice
1½ tablespoons extra-virgin olive oil
3 garlic cloves, minced
1 teaspoon sea salt
¼ teaspoon turmeric, optional, for color
Freshly ground black pepper
Place the potatoes in a large pot and cover with cold water by about 1-inch. Bring to a boil, then reduce the heat and simmer, uncovered, until fork-tender, about 10 minutes. Drain the potatoes, set aside to cool to room temperature, then transfer to a large bowl.
Make the dressing: In a medium bowl, whisk together the yogurt, mayo, mustard, lemon juice, olive oil, garlic, salt, turmeric, if using, and several grinds of pepper. Note: this will taste strong and salty at this step; it'll balance once it's mixed with the potatoes.
Pour the dressing over the potatoes and stir to coat. Stir in the celery, red onions, capers, radishes, chives, and dill and celery seed, if using. Season to taste and garnish with the reserved radishes and chives.
3.4.3177