Best summer side dish ever! This creamy Mexican street corn salad (aka esquites) is incredibly easy and packed with the most amazing smoky, fresh flavors.
Consider this Mexican street corn salad the only summer side dish you even need to think about for the next couple of months. You guys, it's so good. Like, whoa-good. I made it on a whim a few weeks ago for a quick BBQ we were hosting last minute, and I've made it half a dozen times since. I can't stop. 
It's one of those dishes that makes you squint with delicious concern and puzzlement as you work out what on earth could be in there to make you act like a complete crazy person as you elbow your way back in for seconds before you've even had time to finish your firsts.
It's equal parts creamy and fresh (that lime!), and the smoky flavors + the toasted corn are insanely good.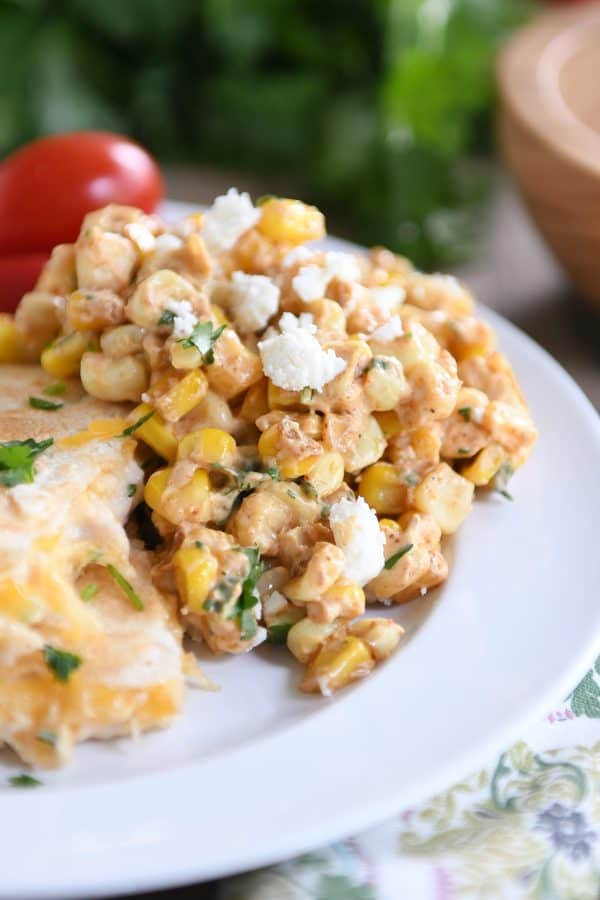 If you've avoided corn salads in the past because of the whole dealing with fresh corn thing, you are in luck. This salad is fantastic using frozen corn kernels (I don't thaw first) and toasting them in a skillet. The frozen corn from Trader Joe's is life changingly delicious (but Costco frozen corn also has a solid place in my heart).
I will say, though, that in the peak of sweet corn season, I'm going to fight to get my hands on some fresh ears for this salad alone. 
The beauty is that it's not that difficult dealing with fresh corn for this salad. Brush the husked corn with oil or butter, throw it on a grill and turn it a couple of times while it cooks (it'll start to char which is a good thing, just watch it closely). When it's cool enough to handle, cut the kernels off and toss them in the creamy, zesty dressing.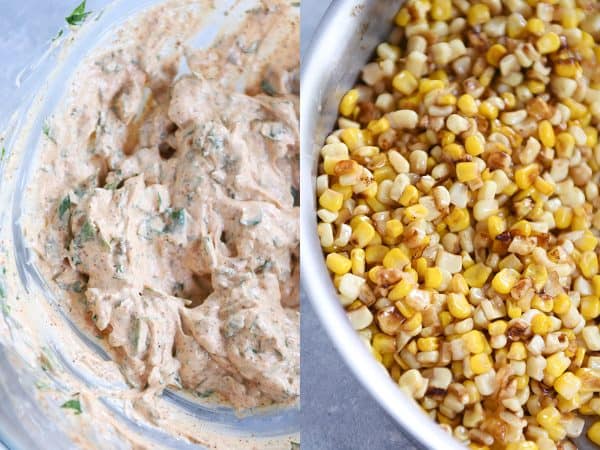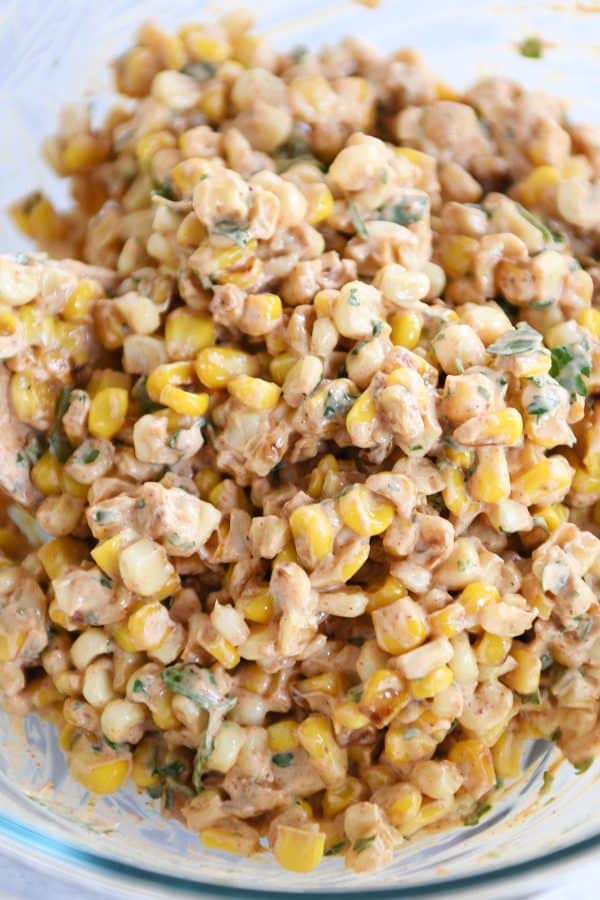 I like to toss the corn and dressing together while the corn is still slightly warm. The salad is delicious served warm, room temp or even chilled. If it's been refrigerated, it isn't quite as creamy – still delicious, though. If chilled, you can rewarm just lightly on the stove or in the microwave to amp up the creaminess…or make more dressing and stir it in. 
Between this Mexican street corn salad and this wildly delicious confetti corn side dish, my potluck popularity is looking very bright. 
If you are already a fan of Elote (Mexican street corn), or even if you have no idea what that is, I think you're going to fall head over heels for this easy street corn salad. Serve it up with some grilled chicken and fresh fruit and invite me over. That is my kind of summer meal, and I could shamelessly eat it over and over and over.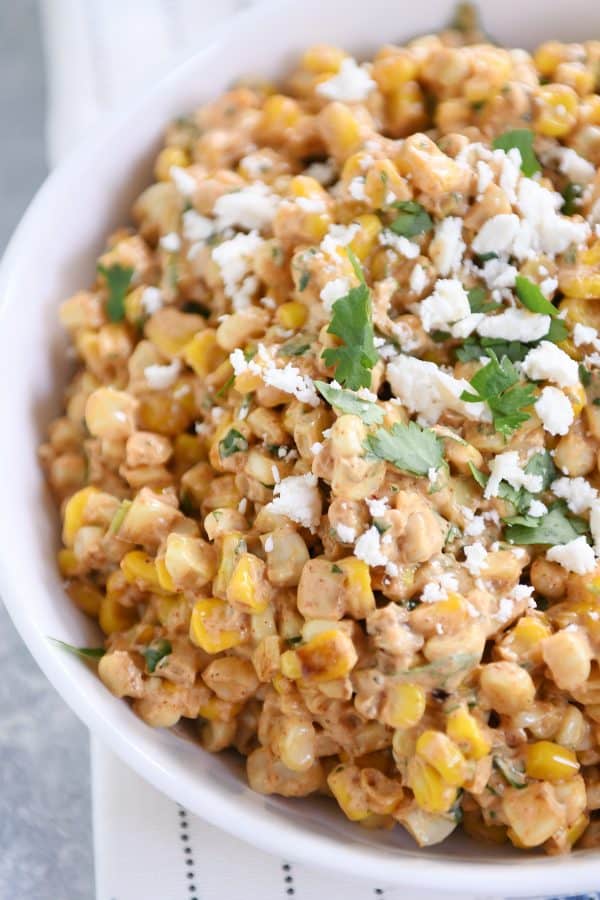 One Year Ago: Instant Pot Spaghetti
Two Years Ago: The Best Chicken, Pork, or Steak Marinade
Three Years Ago: Peanut Butter Chocolate Mousse Brownie Cake
Four Years Ago: Ginger Ale Mint Limeade
Five Years Ago: Brown Sugar Rhubarb Muffins with A Little Bit of Streusel On Top
Six Years Ago: Maple Pecan Crusted Salmon
Seven Years Ago: Black Bottom Pudding Pie
Eight Years Ago: Key Lime Bars
Yield:
6 servings
Prep Time:
20 minutes
Cook Time:
10 minutes
Total Time:
30 minutes
Ingredients
3 to 4 cups frozen or fresh corn kernels OR 6 to 7 ears fresh corn on the cob
1 tablespoon butter
1 tablespoon oil
1/4 cup mayonnaise, light or regular
1/4 cup sour cream, light or regular
1/4 cup chopped fresh cilantro, plus more for topping
2 tablespoons fresh lime juice
1 teaspoon chili powder
1 teaspoon salt (I use coarse, kosher salt)
1/4 teaspoon ground cumin
1/8 to 1/4 teaspoon smoked paprika (can sub regular paprika)
Pinch black pepper (I use coarsely ground)
1/4 to 1/2 cup crumbled cheese (like queso fresco, cotija, or feta)
Lime wedges or slices, for garnish
Instructions
For the corn: for corn kernels, heat the butter and oil in a skillet until sizzling. Add the corn in an even layer and let cook for 1-2 minutes without stirring. Continue to cook, tossing, until sizzling and golden, another 2-3 minutes. For corn on the cob, brush the corn with oil or melted butter and grill over medium heat until golden and starting to char, 3-4 minutes. When cool enough to handle, cut the kernels off the cob.
For the dressing: in a medium bowl, whisk together the mayo, sour cream, cilantro, lime juice, chili powder, salt, cumin, paprika and pepper.
Add the corn kernels and stir to combine well (I like to add the corn when it is still slightly warm). Add additional salt and pepper to taste, if needed.
Sprinkle top of salad with cheese, additional cilantro, and serve with fresh lime wedges or slices. Salad is delicious warm, room temp, or chilled.
Notes
If using frozen corn kernels, I don't thaw first.
Recommended Products
As an Amazon Associate and member of other affiliate programs, I earn from qualifying purchases.
Recipe Source: inspired by many, many versions of this recipe online (just google, you'll find tons)