Learn how to make falafel with this easy homemade falafel recipe.  It's bursting with zesty fresh fresh flavors, lightly pan-fried (instead of deep-fried), and perfect for falafel wraps, salads and other favorite dishes.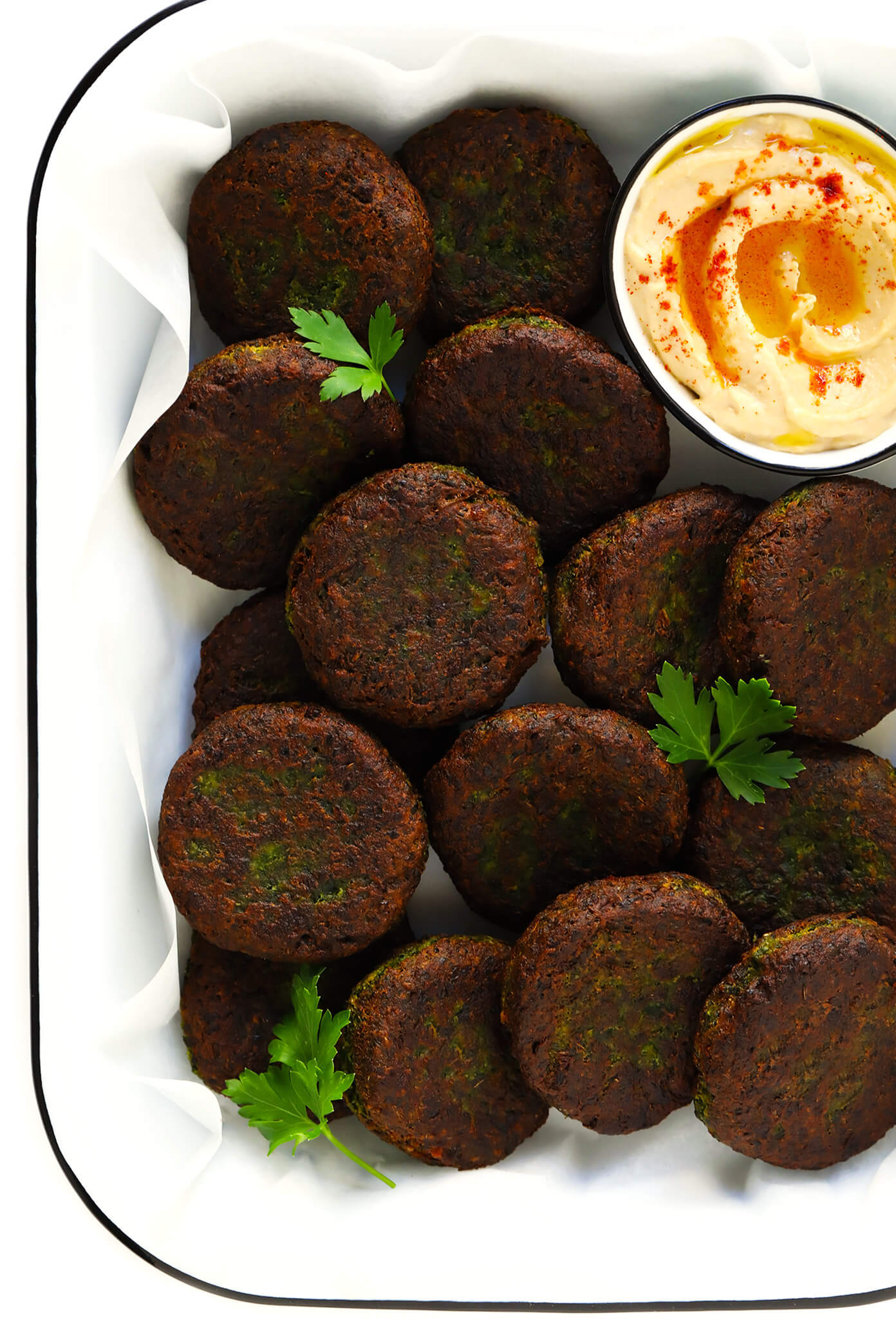 Anyone else out there obsessed with falafel?
Me too. ♡
Well good news — if you've ever wondered how to make falafel, it's surprisingly easy to whip up a batch of the crispy, herb-y, super-flavorful falafel in the comfort of your own kitchen.  All you need is a can of chickpeas, two big bunches of fresh herbs, and a handful of simple seasonings.  Then instead of breaking out the deep fryer (sorry, that much oil makes me nervous in my kitchen!), we'll keep things nice and simple and just pan-fry them safely in some high-heat oil instead.  The falafel will still turn out nice and crispy and flavorful on the outside.  And the tender insides will be bright green and downright bursting with the best fresh flavors!
Perfect for adding to wraps, sandwiches, salads, hummus platters, or any other ways that you love to serve falafel.  Or — my personal favorite — just serve them up plain with a good tahini sauce, tzatziki or hummus for dipping!  This falafel recipe also freezes well, if you'd like to make a big batch and save some for later.  And bonus, it's also naturally vegetarian, vegan and gluten-free.
Basically, if you love falafel, it's a must-try.  It has been my personal favorite falafel recipe for years, and over time, thousands of our readers have made and loved these too!

The BEST Falafel Recipe | 1-Minute Video
What Is Falafel?
So exactly what is falafel?  There are a million ways to make falafel, but traditionally, it is fried patties made from pureed chickpeas (or other legumes), herbs and seasonings.  It can be served plain or in wraps, sandwiches, salads, or any number of other dishes.  It originates from the Middle East, although it has risen to fame as one of the most popular street foods that you can find now all over the world.  And it is delicious.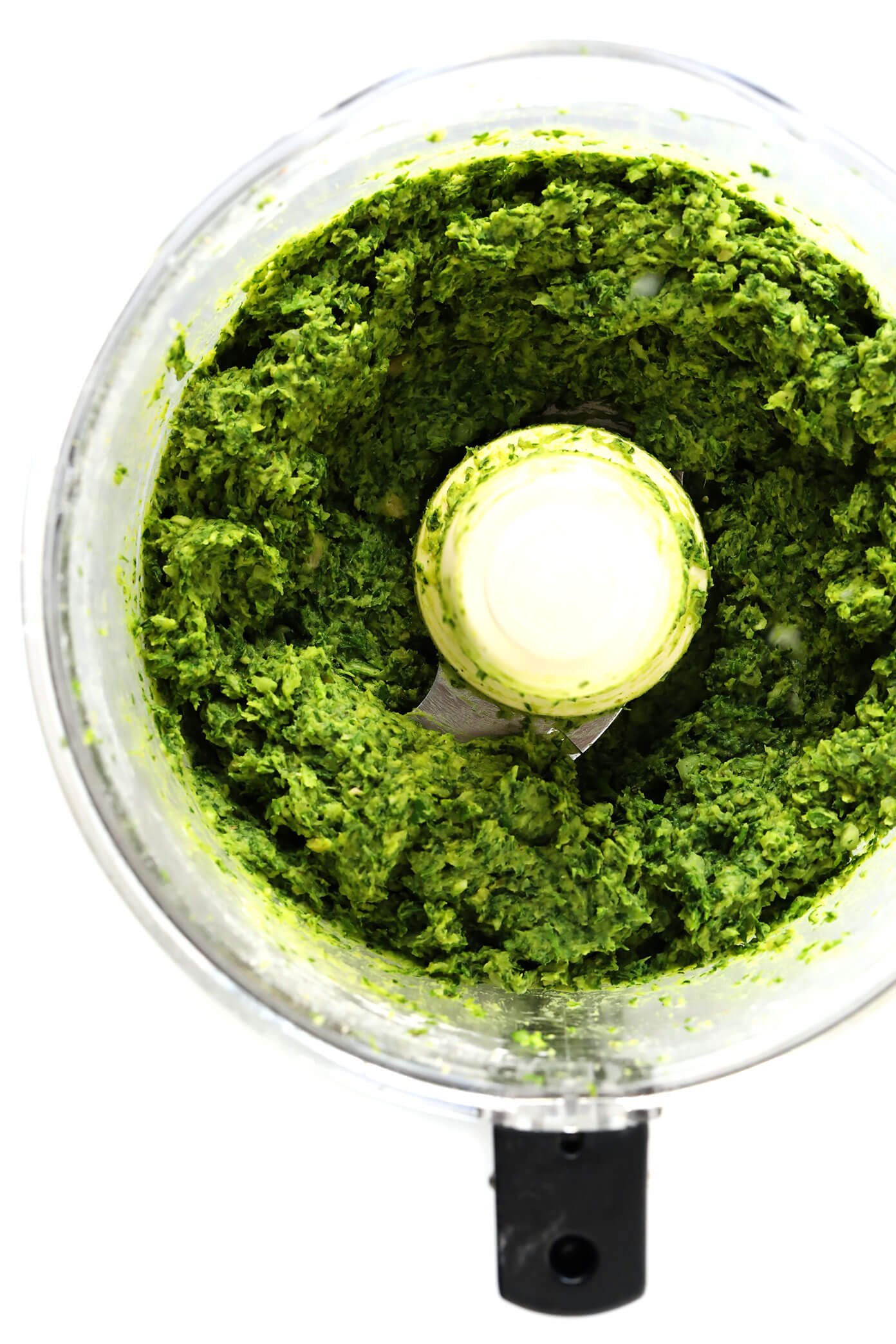 Falafel Ingredients:
As I said, there are endless variations out there for various ingredients that you can use to make falafel.  But for this recipe, you will need:
Chickpeas: I use canned chickpeas to save a step, rinsed and drained.
Fresh herbs: I love brightening up my falafel with lots and lots of fresh cilantro and parsley!  The fresh taste is unbeatable, and all of those herbs also the falafel a lovely green hue.
Garlic: Feel free to add a little extra garlic to the recipe below if you're a mega garlic lover.
Onion: White, red or yellow will work.
Flour: I typically use white whole wheat flour, but feel free to use your preferred kind of flour.  (This gluten-free flour blend also works great.)
Oil: Any mild high-heat oil will work here, such as avocado, grapeseed or vegetable oil.
Baking powder: To make the falafel a bit more light and airy.
Seasonings: Fine sea salt, black pepper and ground cumin.
Lemon juice: The final ingredient to round out all of those yummy fresh flavors.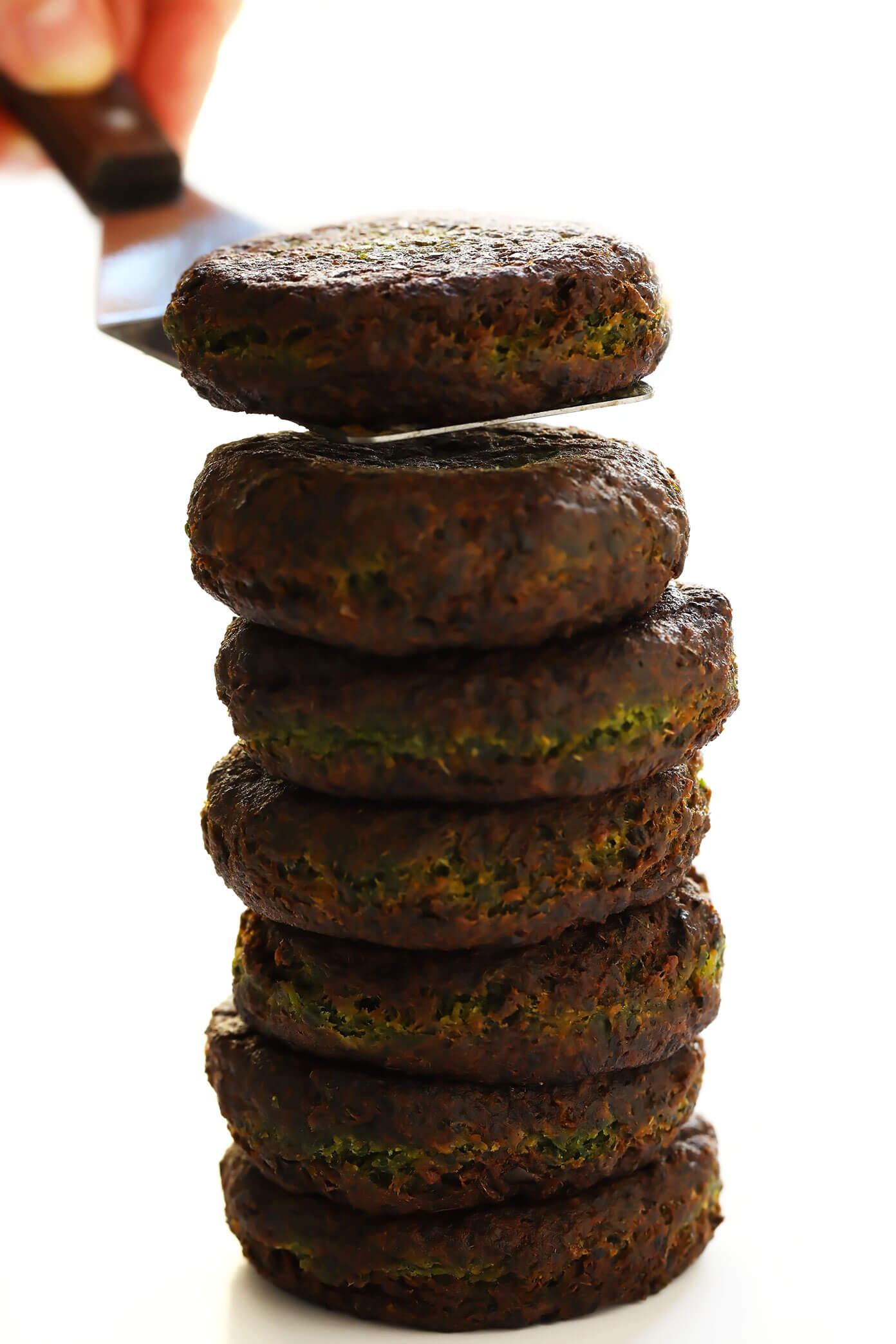 How To Make Falafel:
I've included alternate instructions below for if you would like to deep-fry or bake your falafel.  But for this easy pan-fried version (my favorite), simply…
Roughly purée your ingredients. You can either do this in a food processor (my recommendation), a stand mixer, or a blender.  Pulse until the mixture reaches a fine-grain texture (kind of like coarse sand, ideally not overly mushy).
Chill. Transfer the mixture to a bowl, cover and refrigerate for a few hours until chilled.  (Or you can speed this process up by spreading the mixture out in a shallow layer and popping it in the freezer for 30-45 minutes until chilled.)
Form into patties.  Use a medium (2-tablespoon) cookie scoop or a spoon to scoop out 2 tablespoons of the mixture, and then use your hands to shape it into a ball.  Lay the ball on a parchment-covered sheet, then gently flatten it slightly with your hand so that it is about 1/2-inch thick.  Repeat with the remaining dough mixture.
Pan-fry the falafel.  Heat the oil over medium-heat.  Then carefully add about 4-5 falafel to the oil and cook for about 2-3 minutes per side until browned and crispy.  Transfer the falafels to a plate lined with paper-towels to soak up any extra oil.  Repeat with the remaining falafels.
Serve! Then serve them up while they're nice and warm and crispy, and enjoy!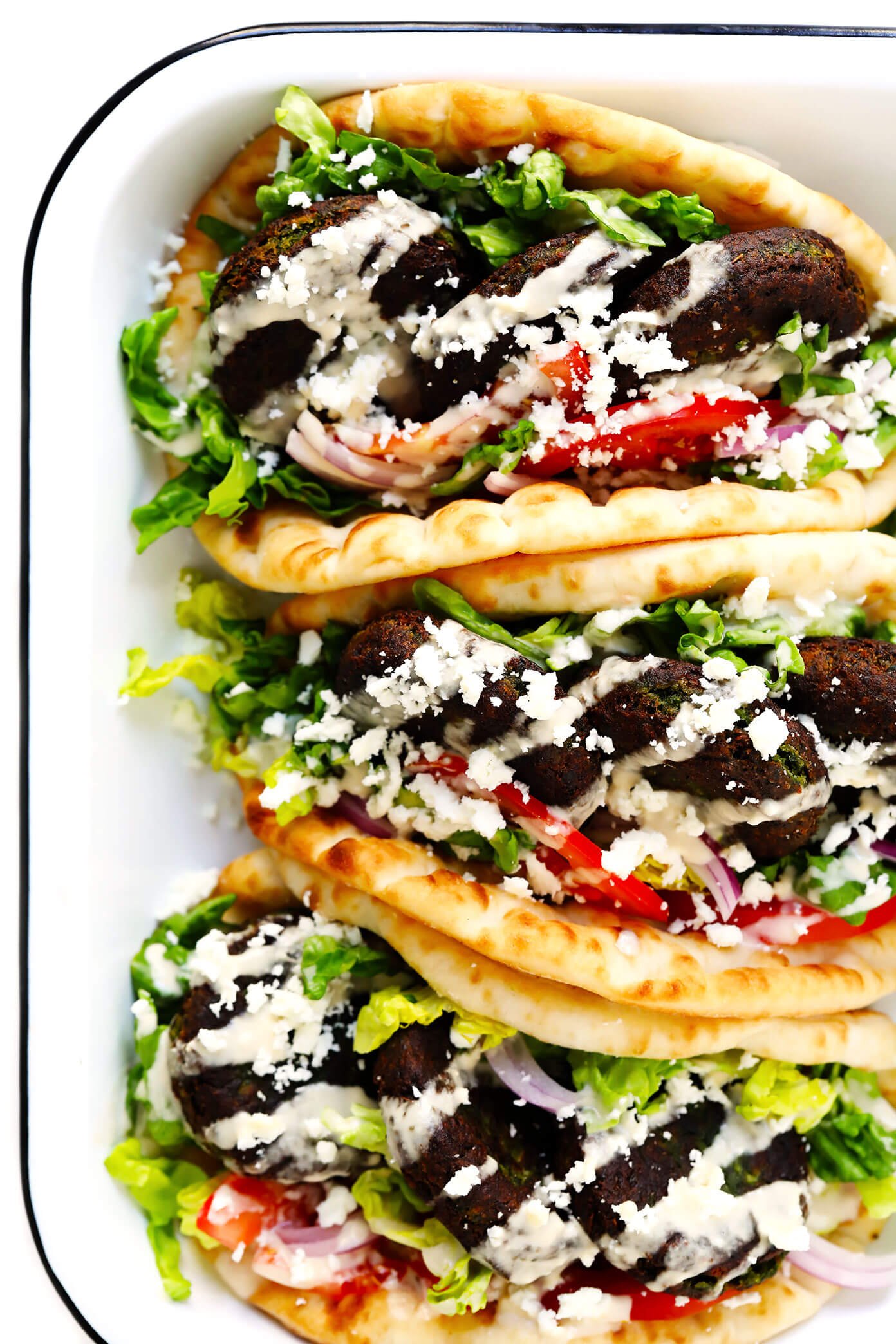 Possible Recipe Variations:
Feel free to get creative and have fun swapping in different falafel ingredients that sound good to you.  Some possible falafel recipe variations could include:
Add different spices: I didn't want this recipe below to get too long, but I also really love adding in a pinch of ground cardamom, coriander, cinnamon and/or turmeric to my falafel mix too.
Add different herbs: I'm partial to also subbing in some fresh mint as part of the parsley/cilantro mixture.  But feel free to get creative and add in whatever other fresh herbs might sound good too.
Add veggies: Really just about any fresh veggies could be added to falafel as well in place of (or in addition to) the chickpeas.  Just be sure that they are not too juicy, or you will need to add in more dry ingredients to balance the veggie moisture out.
Use different legumes: If chickpeas aren't your thing, falafel can also be made with different legumes such as fava beans, lentils, white beans, black beans, etc.  (Or if you do not eat legumes, I've successfully subbed in raw cauliflower for the chickpeas before.)
Make them gluten-free: I have made these with Bob's Gluten-Free 1:1 Baking Flour, and they turned out great.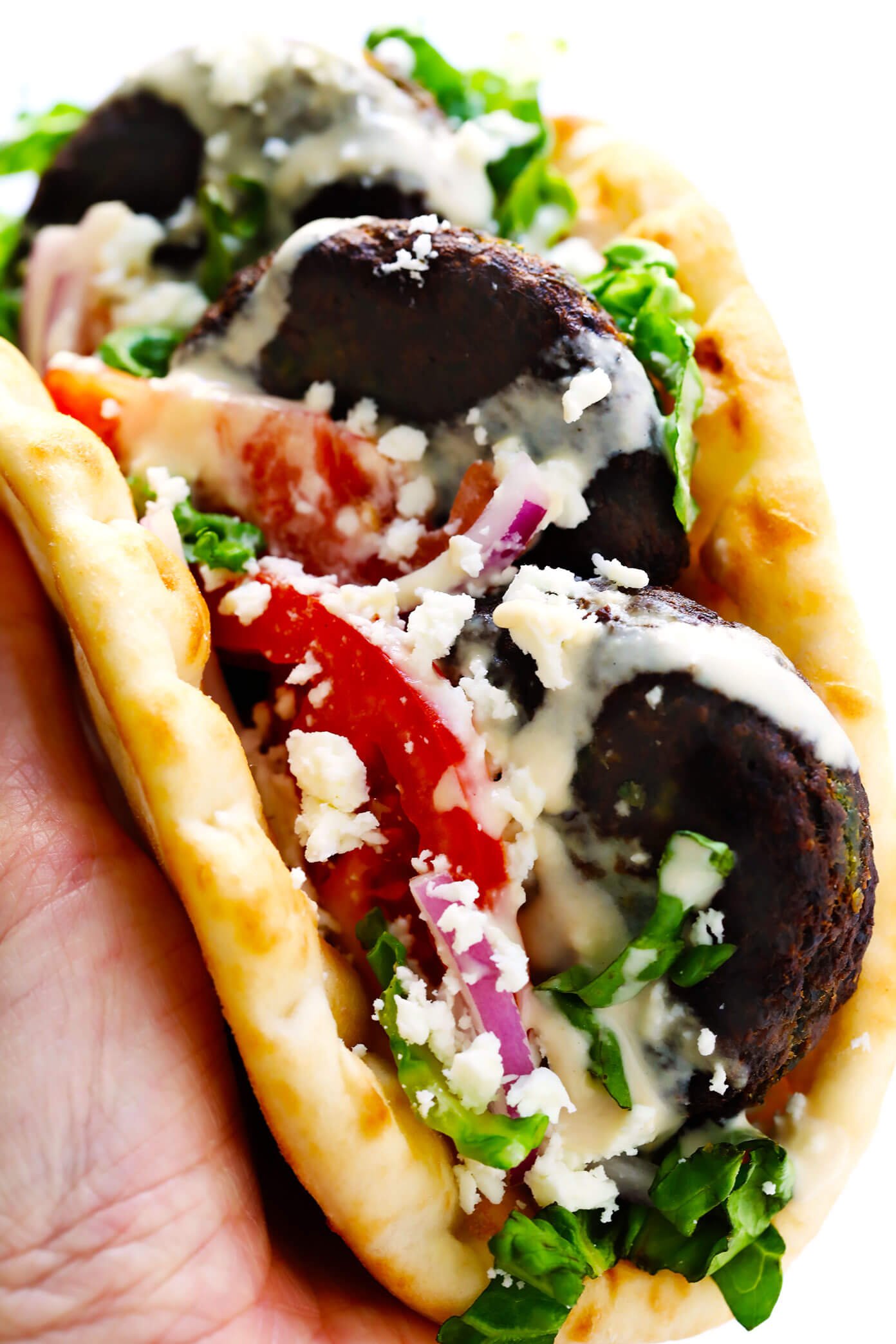 Ways To Serve Falafel:
There are countless delicious ways to serve falafel!  Some classics include:
Falafel sandwiches/wraps: Typically made with pita or a large wrap tortilla, then filled with lettuce, tomatoes, veggies, maybe feta cheese and some sort of sauce (tzatziki, tahini sauce, baba ganoush or hummus)
Falafel salads: Crispy falafel make a great addition to salads!  I'm especially partial to adding mine to my Everyday Mediterranean Salad (or even to a good Caesar!).
Falafel bowls: Any bowls made with a base of salad, rice or orzo, veggies…you name it.
Dippers: My favorite way to serve falafel…on its own with your favorite sauce!  I'm especially partial to serving falafel with hummus or tzatziki sauce for dipping.  Or to make a quick tahini sauce, just stir together equal parts tahini and water, plus a squeeze of lemon juice and a pinch of ground cumin.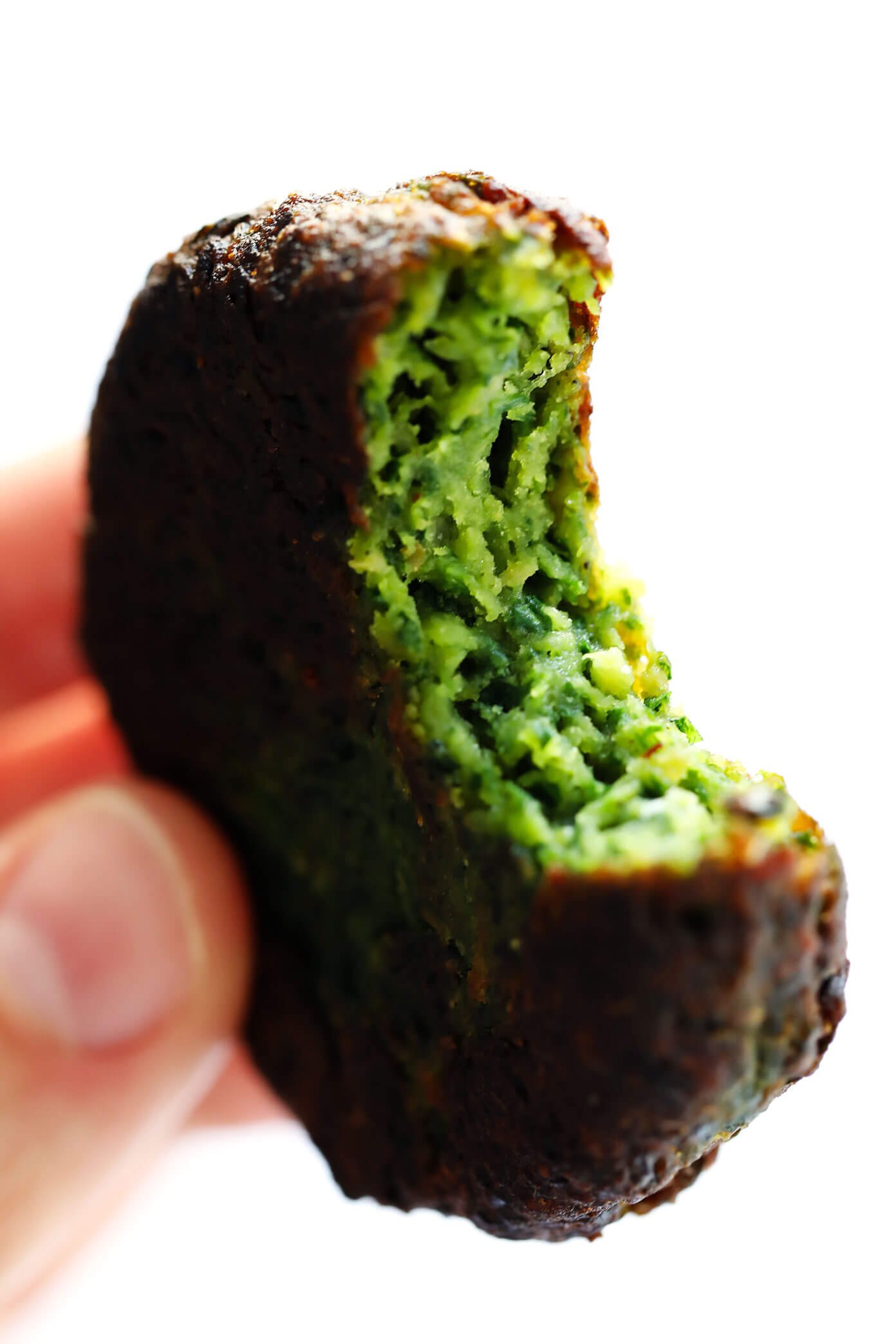 Falafel FAQ:
How to bake falafel: Bake for 30 minutes at 375°F on a greased baking sheet, flipping once halfway through.
How to deep-fry falafel: Either using a deep fryer — or just filling a stockpot with a few inches of oil — heat oil to 375°F.  Carefully lower the falafels into the oil and fry for 3-4 minutes, or until deep golden and crunchy on the outside.  Transfer falafel to a tray lined with paper towels to drain.
How to freeze falafel: You can freeze cooked falafel in a sealed container for up to 3 months.  But I recommend dough before baking, if you can.  Form the dough into a ball and wrap it tightly in plastic wrap, then freeze for up to 3 months.   Then once you're ready to make the falafel, let the dough thaw in the refrigerator for 24 hours.  Then shape into patties and pan-fry as directed.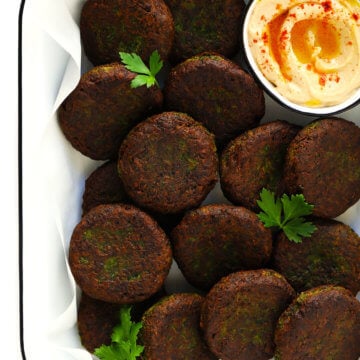 Yield: About 15-18 falafels
Falafel
Learn how to make falafel with this easy homemade falafel recipe.  It's bursting with zesty fresh fresh flavors, lightly pan-fried (instead of deep-fried), and perfect for falafel wraps, salads and other favorite dishes.
Ingredients:
1 (15-ounce) can chickpeas, rinsed and drained
1 cup fresh parsley leaves, tightly-packed
1 cup fresh cilantro leaves, tightly-packed
1/2 cup diced red or yellow onion
1/3 cup flour (such as all-purpose, white whole wheat, chickpea, or a 1:1 gluten-free flour)
1 tablespoon fresh lemon juice
1 1/2 teaspoons baking powder
1 1/2 teaspoons ground cumin
1 teaspoon fine sea salt
1/2 teaspoon black pepper
6 small garlic cloves, peeled and roughly chopped
4-6 tablespoons high-heat oil (such as avocado oil, grapeseed oil or vegetable oil)
for serving: pita bread, chopped lettuce, sliced red onions, sliced tomatoes, tzatziki sauce, tahini sauce and/or hummus
Directions:
Add chickpeas, cilantro, parsley, onion, flour, lemon juice, baking powder, cumin, salt, black pepper and garlic to a food processor.  Pulse until the mixture reaches a coarse crumb texture, stopping partway through to scrape down the sides of the bowl if needed.  Transfer mixture to a sealed container and refrigerate for 1-2 hours or until chilled.
Lay a large sheet of parchment paper on a work surface.  Using a spoon or a medium cookie scoop, measure out 2 tablespoons of the dough and roll it into a ball with your hands.  Place the ball on the parchment paper, and gently flatten it slightly with your hand so that it is about 1/2-inch thick.  Repeat with the remaining dough until all of the falafel disks are prepared.
Heat oil in a large cast-iron or heavy-bottomed skillet over medium-high heat until it is shimmering.  Carefully transfer 4 or 5 falafel disks to the hot oil and fry for 2-3 minutes per side, or until both sides of the disk are browned.  Transfer to a paper-towel lined plate to drain.  Repeat with the remaining falafel disks, adding extra oil to the pan if need be.
Serve the falafels immediately while they are warm and crispy.  Or freeze in a sealed container for up to 3 months.
Note: This recipe requires 10 minutes prep time, plus 1-2 hours time to chill the falafel before cooking.


All images and text ©Gimme Some Oven
If you make this recipe, be sure to snap a photo and hashtag it #gimmesomeoven. I'd love to see what you cook!
This post contains affiliate links.