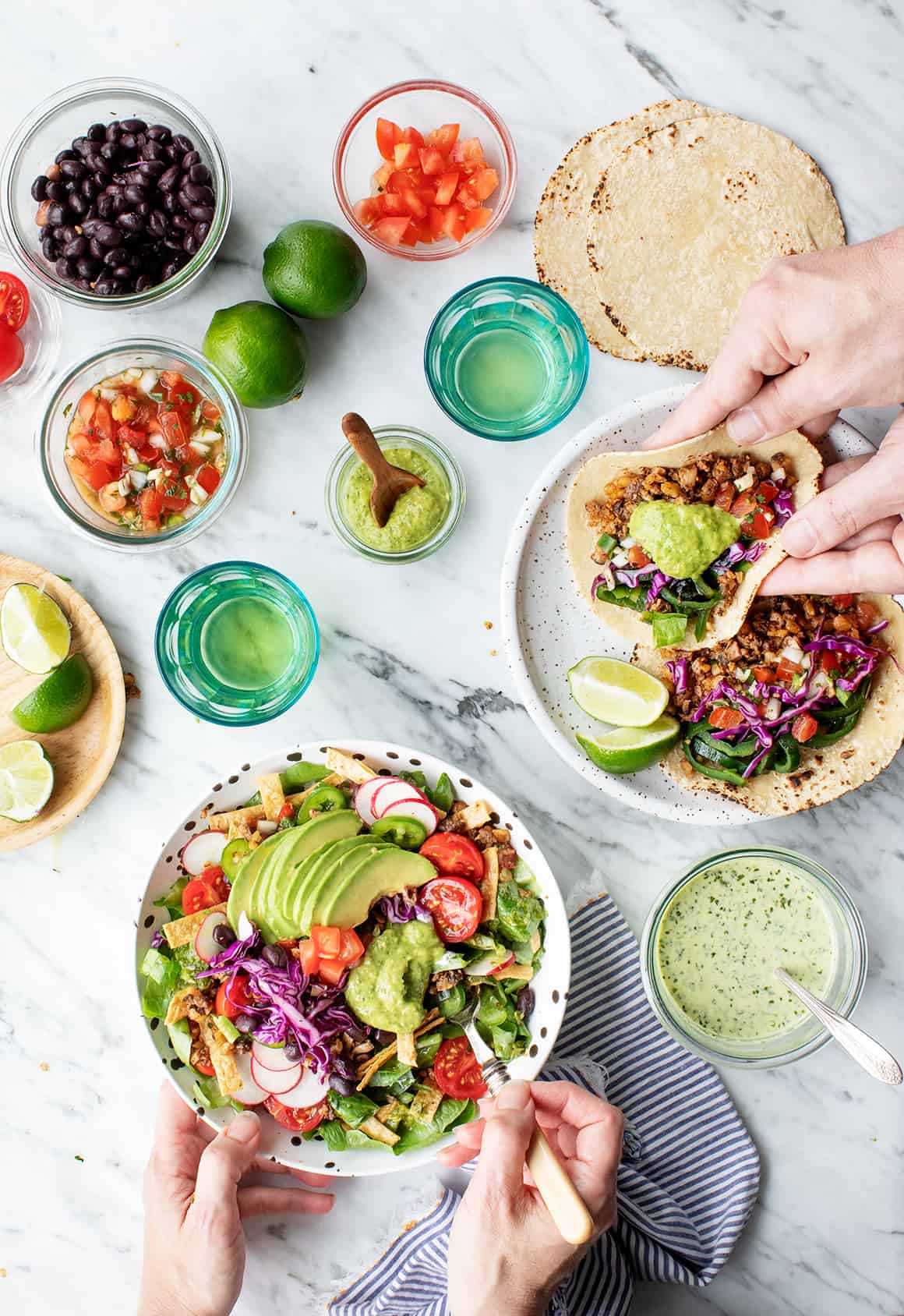 Jack and I really love food, but of course you know that by now. We started this blog out of a shared passion for visiting farmers markets and tackling kitchen projects. While I'm the one that does most of the cooking, we always always always sit down and enjoy dinner together (well, except Tuesdays, the night he goes to comedy class). Spending time at the table together is our favorite time to relax and decompress from the work day. It's a time for me to tell silly stories, and it's a time for him to test out his jokes so that I can pretend to laugh at them.
For this post, we're partnering with Sub-Zero, Wolf, and Cove, celebrating their philosophy that extends far beyond the kitchen and encourages us to live deliciously. It's an invitation to put your phone down, pick up your fork, and gather around delicious food. We're excited to be partnering with Sub-Zero, Wolf, and Cove again because we are obsessed with their appliances. Cooking in our new Chicago home has been fun on the powerful Wolf cooktop, food storage is a dream in the Sub-Zero refrigerator, and we love how clean our dishes come out of our new Cove dishwasher.
So speaking of cooking food, storing food, and spending time with your loved one, here's a little his & hers meal prep strategy with a few dinner ideas for two. Having recently moved from Austin, Jack and I have a shared love for taco-type meals. We used to spend countless warm evenings sitting on patios over homemade chips and spicy, herb-flecked salsas, so that's what inspired us to make this "Taco Night" themed meal that can be mixed and matched to suit our individual cravings. If he feels like a burrito and I feel like a salad, we can spend the evening together cooking the exact same group of components, even if we want to assemble slightly different meals. What's best is that by prepping these components once, we have leftovers that we can continue to mix and match throughout the week.
Over the years, we've found this kind of meal prep to be a really fun way to share time in the kitchen and still make food that suits our different preferences. Instead of cooking one meal for dinner, we make a set of components that can work in multiple meals for multiple tastes. Here's how it goes:
Pick a theme! I chose "Taco Night" meal prep.
I chose "taco night" as a theme because it's flexible, plus tacos are always a fun dinner idea for two. The components are easy to make, and they can turn into so many meals. Chopped veggies, beans, fresh pico de gallo, and a yummy cilantro sauce can create countless combinations of these main meals:
Tacos (obviously)
Salads
Grain Bowls/Veggie Bowls
Burritos
Migas
End of the week frittatas

Meal prep 3 to 4 easy recipe components that can be made ahead.
It's important to make sure the amount of prep is easy enough to accomplish on a Sunday or Monday night so that you don't  spend your entire weekend meal prepping. *Bonus points if you delegate tasks to your partner. For example, Jack can char the peppers while I prep the pico de gallo.
We prepped the following for our "taco night" meal:
Shiitake Taco "Meat"
Charred poblano and red pepper strips

…and prep and/or organize your supporting ingredients.
Supporting ingredients don't need to be cooked, but it's handy to have them washed, chopped, and ready to go. Also, don't slice your avocados before you're ready to eat – I only did that for the picture.
Here's how I prepped my components!
Washed salad greens
Shredded red cabbage
Rinsed beans
Sliced radishes

Optional Step: Clean out your fridge ?
When I take the time to do this type of meal prep, I find it helpful to clear the clutter out of the fridge so that I can actually see the fruits (or veggies) of my labor. By no means does my fridge always look so tidy, but I find it cathartic to calm the chaos that happens after an especially busy week of recipe testing. I use glass containers and I store my prepared food items at eye level. Greens, veggies, and citrus get stored in the lower drawers – the Sub-Zero drawers keep produce fresh for an exceptionally long time. Scallions and herbs also keep amazingly well in the drawers, so I'll store them there or in glass jars with just an inch of water if I'm trying to make my fridge feel fresh and pretty (remembering to replace the water daily).

Time to eat!
Everything is prepped, so now you can each make your own meals according to your hearts' desires. On this particular evening, I made a taco salad and Jack made tacos. (pictured above)
The next day, I made tacos for lunch and the following day, we added potatoes and eggs for some breakfast burritos. (pictured below). Over the weekend, I used up the last of the pico de gallo to make migas.

I've listed all of these components in the recipe below – use it as a template and adjust quantities to suit your own family's needs. If you want the taco "meat" to last all week, double it! And as always, feel free to riff off of these ingredients. Add rice to make burrito bowls or switch up the veggie situation – one night we poured the cilantro sauce over black bean and rice bowls with grilled broccoli.
Let me know if you have any go-to dinner ideas for two!
Meal Prep Dinner Ideas for Two
Author: Jeanine Donofrio
Recipe type: main dish
1 tablespoon extra-virgin olive oil
8 ounces shiitake mushrooms, stemmed and diced
1 cup crushed walnuts
1 tablespoon tamari
1 teaspoon chili powder
½ teaspoon balsamic vinegar
Sea salt and freshly ground black pepper
2 cups diced tomato (2 to 3 small tomatoes)
¾ cup diced white onion
½ cup chopped fresh cilantro
¼ cup fresh lime juice
2 garlic clove, minced
1 jalapeño pepper, stemmed and diced
½ teaspoon sea salt, more to taste
2 cups fresh cilantro
1 garlic clove
¼ cup lime juice
2 teaspoons maple syrup or honey
½ teaspoon ground coriander
½ teaspoon sea salt
½ cup extra-virgin olive oil
1 avocado or ½ cup greek yogurt to make a creamy sauce
Red peppers and/or poblano peppers, for charring
Salad Greens
Shredded Red Cabbage
Black Beans or Pinto Beans
Sliced Radishes
Avocados
Limes for squeezing on everything
Tortillas and crispy tortilla strips
Make the Shiitake Taco "Meat." In a medium skillet, heat the olive oil over medium heat. Add the mushrooms and cook, stirring only occasionally, until they begin to brown and soften, 3 to 4 minutes. Stir in the walnuts and lightly toast for 1 to 2 minutes. Stir in the tamari and the chili powder. Add the balsamic vinegar and stir again. Remove from the heat and season with salt and pepper to taste. Store leftovers in the fridge and reheat as needed.
Make the Pico de Gallo. In a small bowl, combine the tomato, onion, cilantro, lime juice, garlic, jalapeño, and salt. Stir to combine. Chill until ready to use.
Make the Cilantro Lime Dressing/Sauce: In a food processor, place the cilantro, garlic, lime juice, maple syrup, coriander, and salt and pulse to combine. With the blade running, pour in the olive oil and process until smooth. Make your dressing creamy by adding avocado or greek yogurt and pulse to combine. Chill until ready to use.
Char the peppers. Heat a grill pan on the stove to medium heat. Place the peppers and let them char for 4 to 5 minutes per side, until the peppers are soft and each side has black grill marks. (Alternatively, you could roast them in the oven until soft). Remove from the grill, remove the stem and ribbing, and slice the peppers into strips. Store leftovers in the fridge and serve cold or reheated.
Use these components to mix and match meals as you like!
3.4.3177
Special thanks to Sub-Zero Wolf, and Cove for partnering on this post!