This recipe is sponsored by V&V Supremo®
Here, take a chip, because it's elote queso o'clock which happens to be my FAVORITE o'clock of the summer.
This queso, man. This queso is a grill favorite (elotes) and an app favorite (queso) all bubbled up together in one skillet:
a creamy, classic, smooth-melting queso base
fresh jalapeños and garlic
roasted corn
cilantro
chili powder
queso fresco cheese*
*no such thing as too much cheese.
Grab a handful of lime-drenched chips and YOU ARE IN BUSINESS.
A very important element in any queso is, obviously, the cheese.
You guys have used this cheese before, right? I occasionally stock up on the essentials at Costco, so there is a 100% chance that at any given time, you will find the world's largest bag of V&V Supremo® Chihuahua® Brand Quesadilla Cheese in my refrigerator.
This stuff is just THE BEST. And being that it is actual, real, delicious cheese that melts smoothly and perfect for Mexican recipes? It wins over processed cheese every time. No further discussion necessary.
Smooth melt, mild flavor, and quality ingredients. V&V Supremo® Chihuahua® Brand Quesadilla Cheese is the one you want.
(You don't have to shop at Costco to buy it – although purchasing a hugely huge bag of it is very advisable. Use this handy finder to see where you can pick it up. While you're there, check out their other awesome Mexican-inspired recipes.)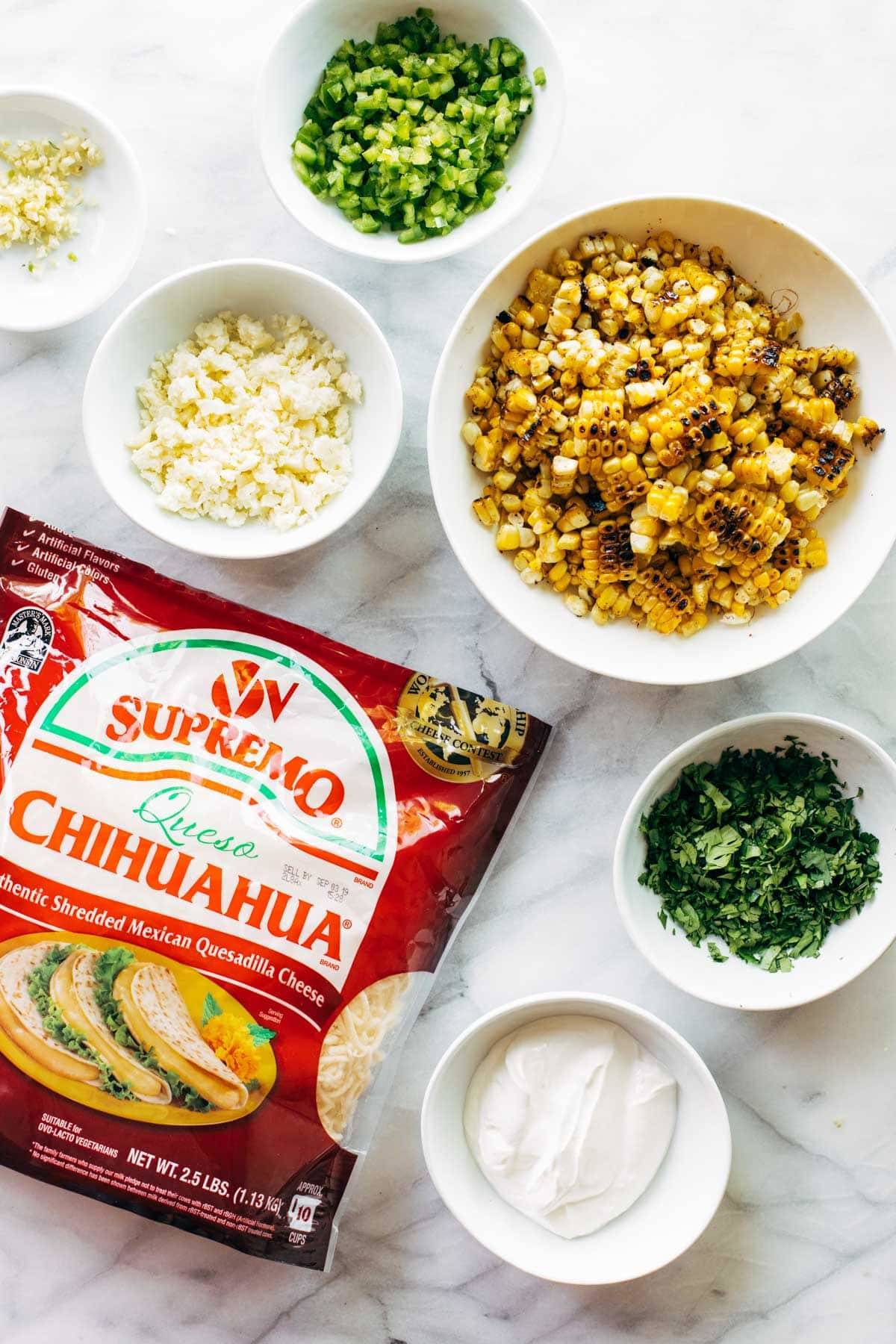 So melty cheese, roasted corn, fresh cilantro, jalapeños and garlic, queso fresco and limey chips – here it all is.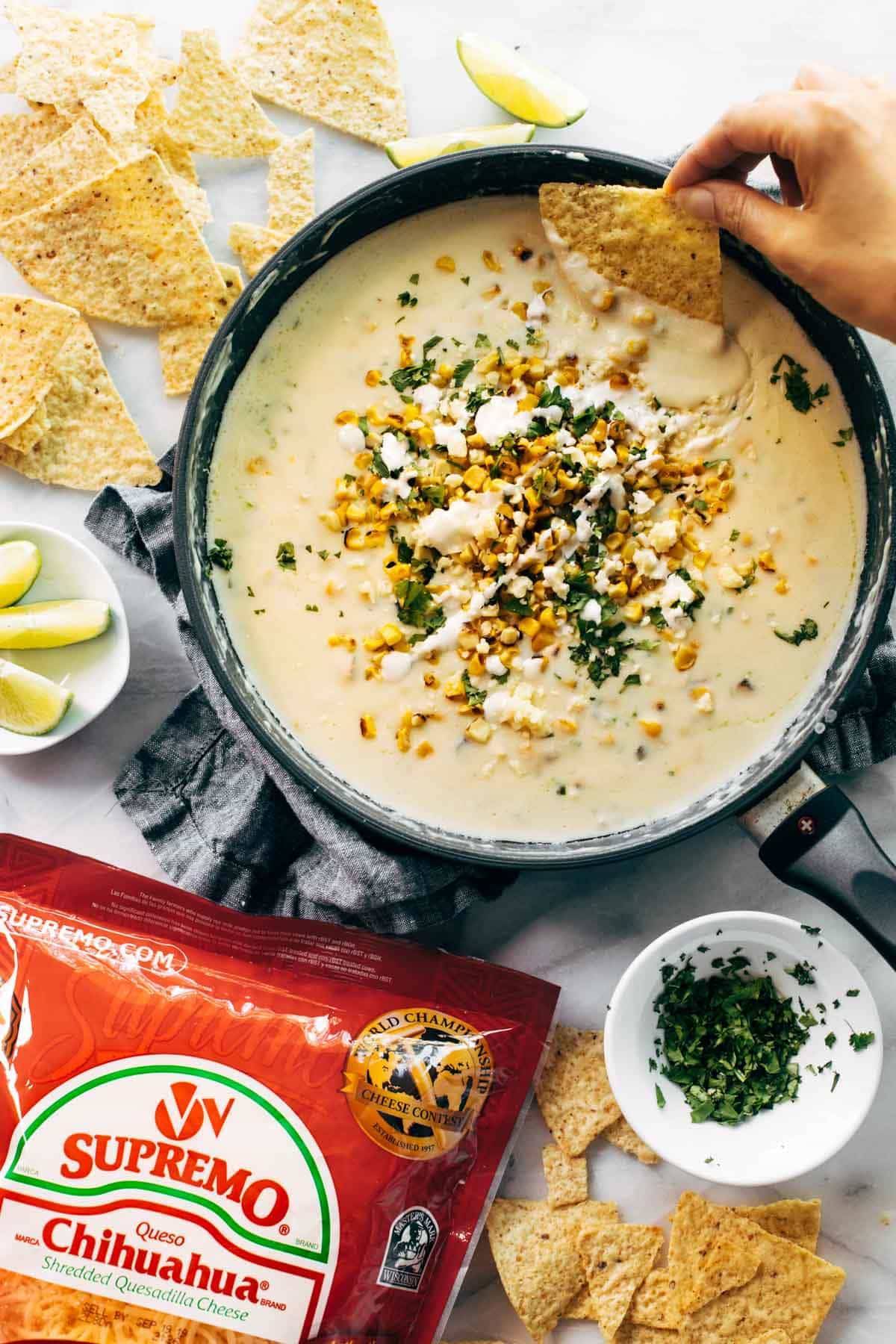 Your summer plans (and mine, totally mine) summed up in one glorious photo:
Add a drink and a pair of sunglasses and go ahead living your best elote queso life. Because that's what it's all about.
Elote Queso
---

Author: Lindsay

Prep Time:

10 minutes


Cook Time:

15 minutes


Total Time:

25 minutes


Yield:

6

–

8

people could easily share this

1

x
Description
Elote Queso! A grill + app favorite all bubbled up in one skillet. Creamy melty queso, charred roasted corn, fresh jalapeño and garlic, and some cilantro and chili powder. YUM.
---
Scale
Ingredients
Elotes Queso:
2 tablespoon

s butter

1 tablespoon

olive oil

1

jalapeño, minced

2

cloves garlic, minced

2 tablespoon

s flour

1 1/2 cup

s milk (more as necessary)

1 cup

shredded V&V Supremo® Chihuahua® Brand Quesadilla Cheese

1 teaspoon

salt

2

–

3

ears of corn, roasted (

2 cup

s)

1/4 cup

fresh cilantro, chopped

1/4 cup

V&V Supremo® Queso Fresco
chili powder
Extras:
limes to squeeze over chips
CHIPS duh
---
Instructions
Garlic and Jalapeño: Heat the butter and olive oil in a large skillet over medium heat. Add the jalapeños and garlic and sauté for 5-10 minutes, until very soft and fragrant (but don't burn or brown the garlic).
Flour, Milk, and Cheese: Add flour and stir until everything is coated – about one minute. Add the milk slowly and whisk until a smooth bubbly mixture comes together. Remove from heat and stir in the Chihuahua® Brand Quesadilla Cheese until smooth and melty. Low and slow!
Topping and serving: Season with salt and stir in most of the corn. Arrange a little "elotes pile" on top: remaining corn, cilantro, queso fresco, and chili powder. Best served warm with tortilla chips for dipping! YUUUUUM.
---
Notes
Milk: Evaporated milk, 2% milk, or whole milk work best here.
Making Ahead / Reheating: It will thicken as it stands. Pop it in the oven or put it back on the skillet if you need to sauce-it-up again! Sometimes a little extra milk or liquid helps, too. It works really well to make this ahead of time and just wait to top it with the elote stuff until right before serving.
Corn: Lots of options here. You can pan roast it to get the browned crispy bits. You can grill it. You can also buy frozen pre-charred or pre-roasted corn from several mainstream grocery stores! Easy.
Sour cream: Also a delicious addition! You can stir a little bit into the queso or drizzle some over the top.
Lime: I prefer NOT to put the lime juice directly into the queso. I like to just squeeze the lime over the chips and then you'll have really puckery chips to go with the smooth, creamy queso.
Recipe Card powered by
Thank you to V&V Supremo® for sponsoring this post!