This post is in partnership with ALDI.
Now that the 4th of July has come and gone, summer is in full swing. Not only are we (finally) seeing sunny skies and warm weather, but we've also had a lot of visitors in the last few weeks. Jack's sister was in town for the 4th, and his parents were in a week earlier. We've had friends visiting as well!
With company in the house, I always like to have a few good appetizer ideas up my sleeve. Different people like to eat at different times, and I never want guests to starve while they wait for dinner to be served. In the past, I've made my own hummus or served avocado toast, but with the amount of people we've had coming and going in the last few weeks, I decided to go a different route this year.
This summer, ALDI is launching creative new hummus flavors all season long. When I saw the range of options – Jalapeño Lime, Rosemary Sea Salt, Ranch, and more – I knew that these spreads would be my entertaining hack for summer appetizers.
Rather than spending time in the kitchen blending up my own hummus or worrying about avocado toast getting brown, I used these new, flavor-packed hummuses from ALDI as the base of these crostini appetizers. With the yummy hummuses already made, I could spend less time in the kitchen and more with our guests. And instead of thinking about making hummus, I could focus on showcasing the wonderful produce we have this time of year.

I paired each hummus with simple, fresh ingredients, and let me tell you, these crostini pack a huge punch of flavor. I found all the ingredients at ALDI, so they're affordable entertaining options. But best of all, these crostini appetizer ideas are really easy to assemble. Our summer guests will vouch for how delicious they are, too!

My Easy Crostini Appetizer Recipes
I tried six of the new ALDI hummus flavors for these appetizer recipes, and I developed a fresh topping combination for each. Here are my new go-to summer appetizer ideas:
Greek Salad Crostini – A cube of feta, kalamata olives, cherry tomatoes & cucumber make a tangy, briny & crisp topping for Mediterranean hummus.
Cool Cucumber Ranch Crostini – I top a slather of the Ranch hummus with cucumber ribbons, lime juice, and chives.
Corn Ceviche Crostini – My favorite! We LOVE the crisp, bright mixture of corn, chiles, red onion & lime over zesty Jalapeño Lime hummus.

Strawberry Caprese Crostini – Have you every tried eating hummus with something sweet? For this crostini, I use the ALDI Park Street Deli Classic hummus, and I swap a strawberry for the tomato in the caprese trifecta. Let me tell you, the sweet/savory combination is absolutely delicious!
Roasted Grape & Feta Crostini – Another sweet pairing, and another favorite! Juicy roasted grapes & earthy Rosemary Sea Salt hummus are a match made in heaven. A tangy crumble of feta and sprigs of thyme are the perfect finishing touch.
Beet, Avocado & Chia Crostini – This one couldn't be simpler – it's just a dollop of sweet beet hummus, a few slices of creamy avocado, and a sprinkle of chia for crunch. I love the bold colors in this combo!
If you have leftover hummus after making these summer appetizers, use it in a chickpea shawarma wrap or an easy veggie wrap. Of course, all these hummus flavors are good with fresh veggies & crackers, too.

If you love these appetizer ideas…
Head to ALDI to find all these fresh ingredients and bold hummuses at great prices. And if you try these easy appetizers, comment below with your favorite!
Hummus Crostini Appetizers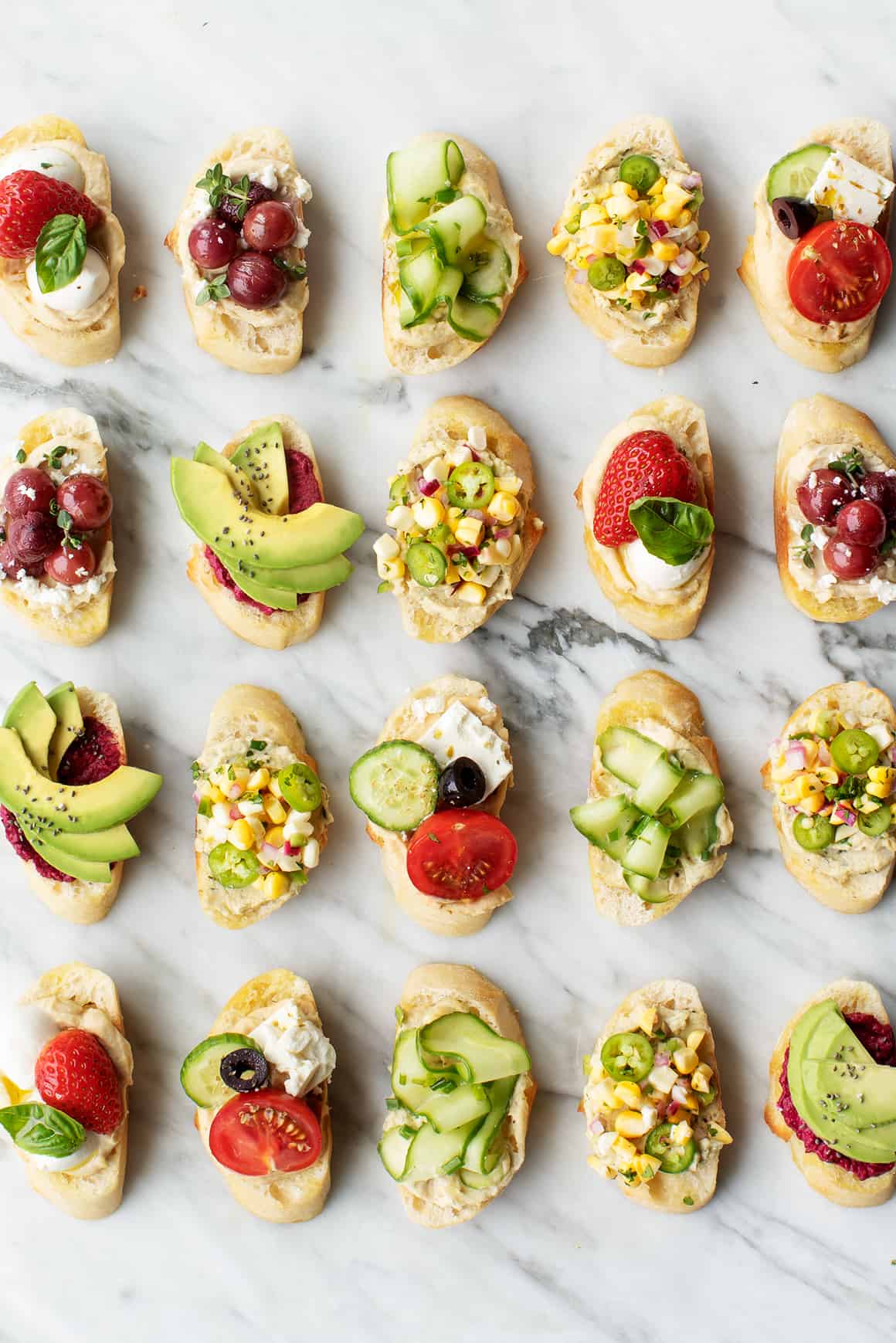 Author: Jeanine Donofrio
Recipe type: appetizer
Specially Selected French Baguette, sliced and toasted
½ cup sweet corn kernels
2 tablespoons minced red onion
½ teaspoon minced jalapeño
2 teaspoons minced cilantro
1 tablespoon lime juice
¼ teaspoon sea salt
Park Street Deli Jalapeño Lime Hummus
Park Street Deli Rosemary Sea Salt Hummus
Organic red grapes
Simply Nature Extra Virgin Olive Oil, for drizzling
Sea salt
Happy Farms Feta Block, crumbled
Thyme leaves
Park Street Deli Mediterranean Hummus
Cherry tomatoes, sliced
Mini cucumbers, sliced
Park Street Deli Kalamata Olives, halved
Happy Farms Feta Block, sliced
Simply Nature Extra Virgin Olive Oil, for drizzling
Pinches of Simply Nature Oregano
Park Street Deli Ranch Hummus
Mini cucumbers, peeled into ribbons
Simply Nature Extra Virgin Olive Oil, for drizzling
Lemon, for squeezing
Sea salt
Chopped chives, optional
Park Street Deli Classic Hummus
Strawberries, sliced
Priano Fresh Mozzarella, sliced
Basil leaves
Simply Nature Extra Virgin Olive Oil, for drizzling
Park Street Deli Beet Hummus
Avocado, sliced
Lemon, for squeezing
Simply Nature Chia Seeds, for sprinkling
Sea salt
In a small bowl, combine the corn, onion, jalapeño, cilantro, lime juice, and sea salt. Chill until ready to use. Assemble crostini with the hummus and spoonfuls of the ceviche.
Preheat the oven to 375°F and line a baking sheet with parchment paper. Arrange the grapes on the baking sheet and drizzle with olive oil and sprinkle with salt. Roast for 7 to 10 minutes or until soft and bursty. Assemble crostini with the hummus, roasted grapes, sprinkles of feta, and thyme leaves.
Assemble crostini with the hummus, cherry tomatoes, cucumbers, olives, and feta. Drizzle with olive oil and sprinkle with oregano.
Assemble crostini with the hummus and top with cucumber ribbons. Drizzle with olive oil, squeeze a little lemon juice, and sprinkle with sea salt and chives, if using.
Assemble crostini with the hummus, top with strawberries, mozzarella, basil, and a drizzle of olive oil.
Assemble crostini with the hummus, top with avocado, a squeeze of lemon juice, a pinch of chia seeds, and a pinch of salt.
Note: the Corn "Ceviche" and roasted grapes can be prepared in advance and stored for 2-3 days in the fridge.
3.4.3177