No, really, this is the best cherry pie EVER. Nothing hard or secret about it – it's a classic! Notes included in the recipe for using sour OR sweet cherries.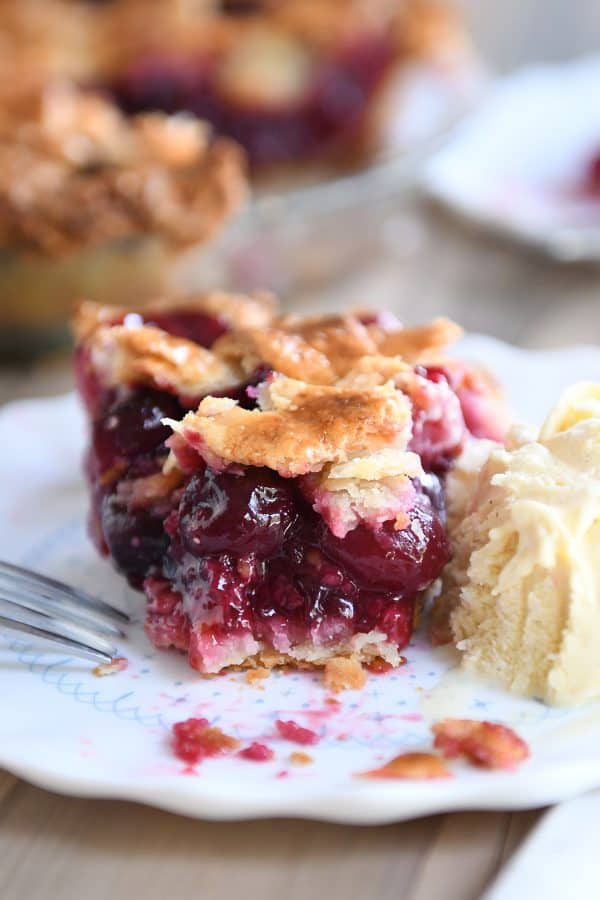 Cherry pie. It's my favorite. It is the pie I can't resist even when I'm already stuffed to the gills. I love the tart sweetness. The bursting cherries. The buttery, flaky pie crust. There are other fruit pies that don't hold my attention, but cherry pie has my whole heart.
A few years ago, I decided homemade cherry pie did not appear in my life as frequently as it should, and I resolved to change that by establishing it as a tradition. If it's tradition, it has to happen right? So I decided every 4th of July (or within a week or so if we are traveling), we needed homemade cherry pie. (And let's be honest, most Thanksgivings, too.)
It took me a few years to get this cherry pie perfectly perfect, but this is the version I'm sticking with forevermore. It's straightforward. It's simple. And the flavor is the best I've ever tasted (and trust me, I've eaten a lot of cherry pie in my day).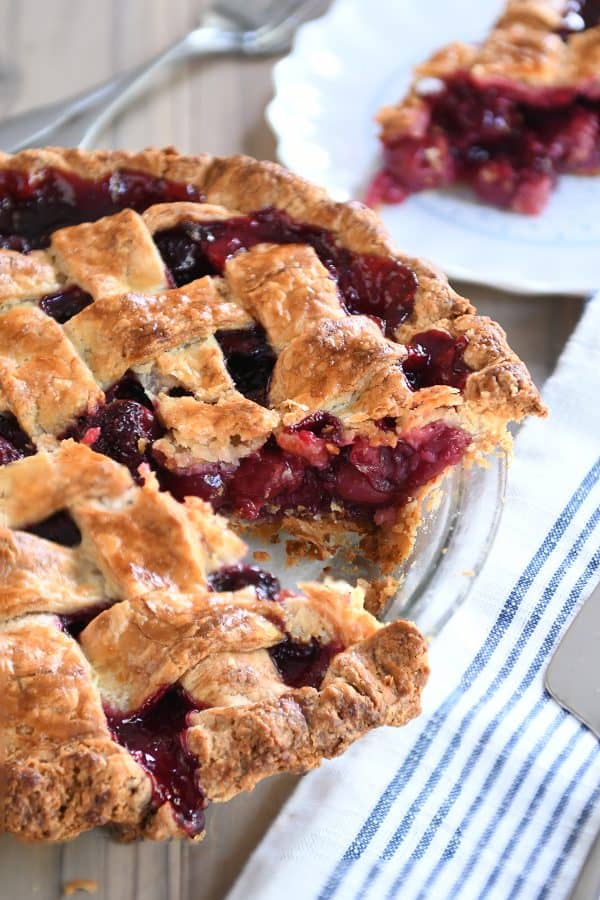 We are going to pretend I don't already have a cherry pie recipe in the archives. That recipe is almost 10 years old; chalk it up to cherry pie maturity (and a decade of taste testing), but today's recipe is 1,000 times better. Promise.
Homemade pie can seem really intimidating. I get it! It's not exactly the quickest thing to whip up on your average Tuesday night. But if you plan a little time, work with fresh, delicious ingredients, and keep everything cold, cold, cold, you're going to be making pie like a rock star before you know it. 
I'm going to walk you through the steps of making this homemade cherry pie today. Not because it's hard…but just because sometimes a visual how-to can make all the difference so you can go from "no way, not me, homemade pie is the devil" to "I think I've got this; oh yeah, I'VE GOT THIS!"
There's a lot of information in this post. Read it. Absorb it. Think about it. Take some deep breaths. And then go make the best cherry pie of your life.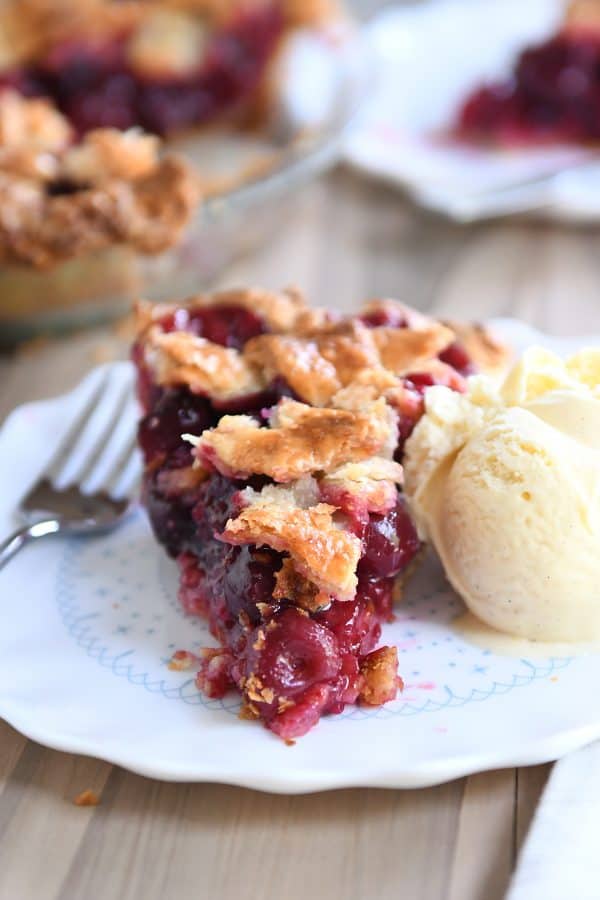 I have a lot of pie crust tutorials/boot camps/lectures already on this site, so I'm not going to get into the nitty gritty of how to make pie dough on this post. 
But I will say that for this cherry pie (and all other pies), I use one of two pie crust recipes:
For the pictures in this post, I'm using the sour cream pie crust. The flavor and tenderness and flakiness is so, so good. To get started, you'll want to roll the bottom crust to about 12-inches in diameter and gently place in the bottom of a 9-inch pie plate. Trim the dough leaving 1/4-inch excess beyond the rim of the pie plate.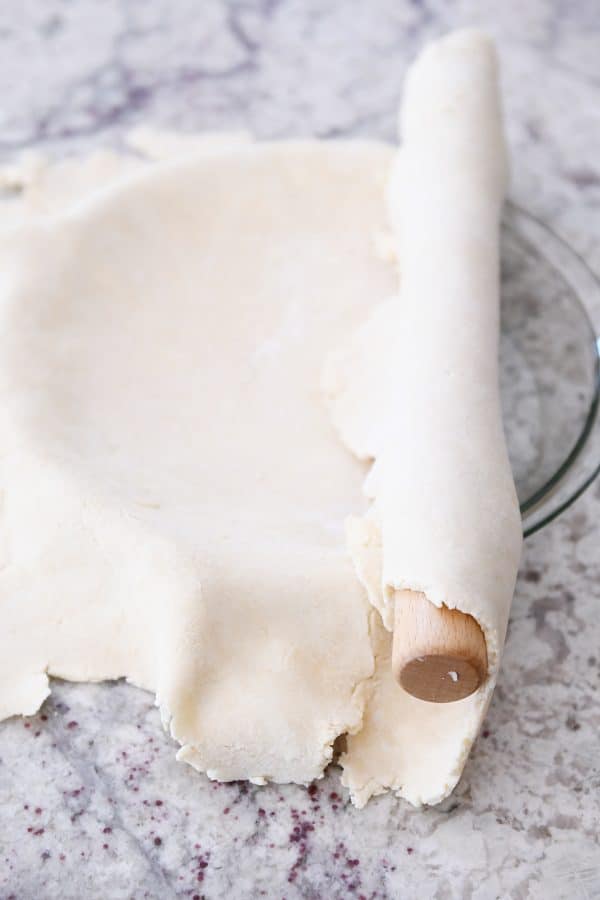 Homemade cherry pie filling! Could life get any better? 
I include many of these same details below in the recipe, but I'll outline them here, too:
I've tested this recipe using sweet, dark cherries. The sugar level in the recipe is counting on the cherries being perfectly ripe and naturally sweet. If the dark cherries you are using are on the tart side, you might want to increase the sugar just a bit.
I haven't tried Rainier cherries, although they usually substitute really well for dark cherries in terms of sweetness and flavor.
I also haven't used sour pie cherries because they are rather hard to find fresh where I live (and the canned varieties scare me off a little because, hello, mushy cherries).
The good news is, I hear it's pretty darn easy to convert a cherry pie from using sweet, dark cherries to sour pie cherries.
To substitute sour pie cherries, try, decreasing the lemon juice to 1 teaspoon (don't leave it out completely) and increase the sugar to 1 cup (or slightly more, depending on how sweet you want the pie).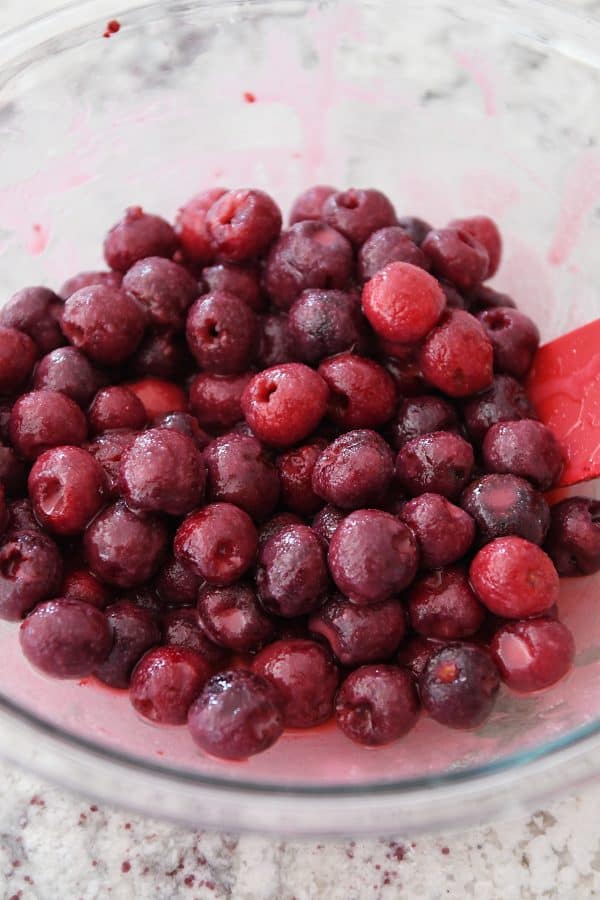 I haven't tried frozen cherries (yet!), but I think they could be used with pretty good results as long as they are thawed and very well drained before using. They might be a tad bit softer after the pie is baked – but if they are good quality prior to freezing, chances are, it stands a good chance of working. 
The filling of this cherry pie recipe is as simple as combining all the ingredients together in a bowl and letting it hang out while you get the pie crust in the pie plate. We have a lot of u-pick cherry farms near us; maybe that's what's increased my love for cherry pie? Very possibly. 
You can bet just about every homemade pie maker has a pretty strong opinion about what should be used to thicken the filling. Flour. Cornstarch. Tapioca. Clearjel. Fasting and prayer.
I'm not out to make enemies over the subject, but after loads of testing (and so.many.cherry.pies), I stand firmly by the recipe below. I'm not saying this thickener lineup should be used for every fruit pie ever made, but for this cherry pie, it's money. 
Tapioca flour/starch + a little bit of cornstarch. The combination creates a perfectly set cherry pie filling that isn't cloudy or glumpy with weird gelatinous blogs hanging around.
I know tapioca flour isn't the most common pantry ingredient in the world (we happen keep it on hand 24/7 for this Brazilian cheese bread that gets made at least weekly), but it's worth grabbing for this pie recipe. It's widely available in many grocery stores, even my small town grocery store, in the baking aisle (Bob's Red Mill is a popular brand) and definitely available online. 
Does using tapioca flour vs 100% cornstarch make a difference? YES! It's what transitioned my cherry pie from pretty good to really amazing. 
As I mention in the recipe below and already once above, keeping the pie dough chilled is the key to success. Warm pie dough is a recipe for disaster. 
Roll the top crust out to a 12- or 14-inch circle and cut 10-12 thick strips. Scoop the pie filling into the pie plate and get to work on that lattice crust!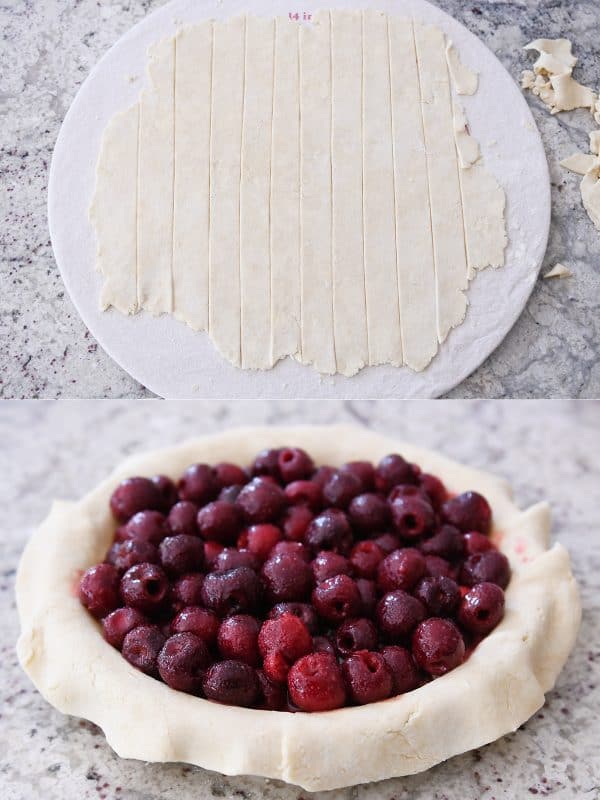 Yes, you can bypass the lattice crust and just slap on a whole top crust, cut a few vents and toss in the oven.
But where's the fun in that? Plus, I submit that creating a lattice-topped pie might be one of the most satisfying endeavors of my life. And also, cherry pie JUST NEEDS A LATTICE TOP. 
You can see from the quick little collage below that it's really just a matter of lifting the right pie dough strips in order to lay down a horizontal lattice strip…and repeating that several times. It doesn't have to be perfect. The strips don't all have to be the exact same size. Pies should have personality! 
Just go for it. You'll be glad you did.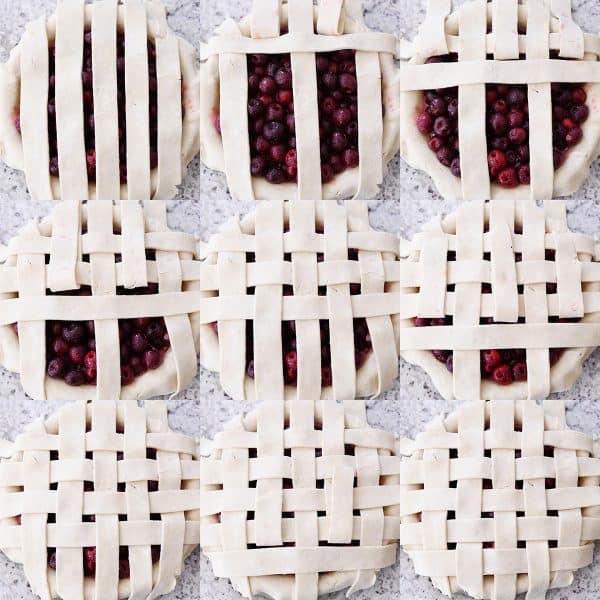 Once the lattice top has been lovingly and carefully assembled (work quickly so the pie strips stay cold and don't get warm and melty in your grubby little hands!), trim the lattice strips evenly with the bottom crust.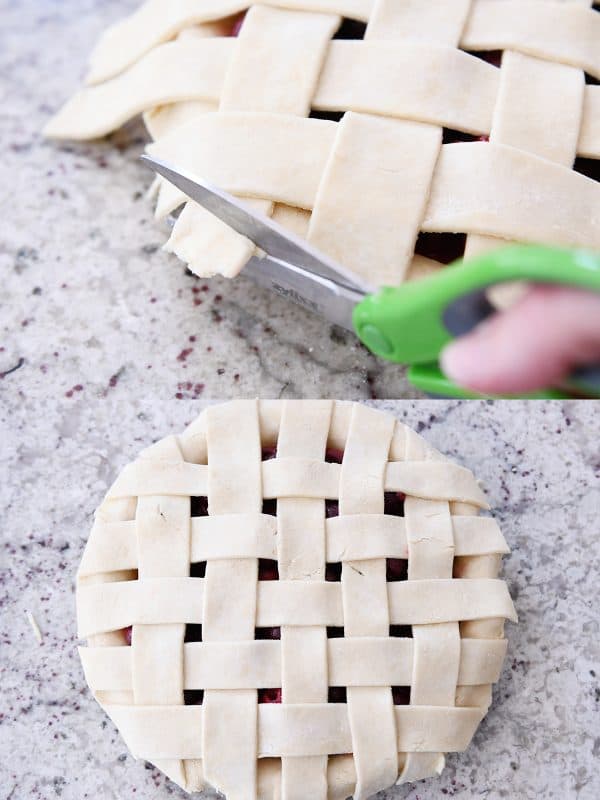 Now take the bottom crust and roll/fold it up and over creating a lip that sits right on the edge of the pie plate. Press gently toward the inner edge of the pie to seal the edges and trap the ends of the lattice strips.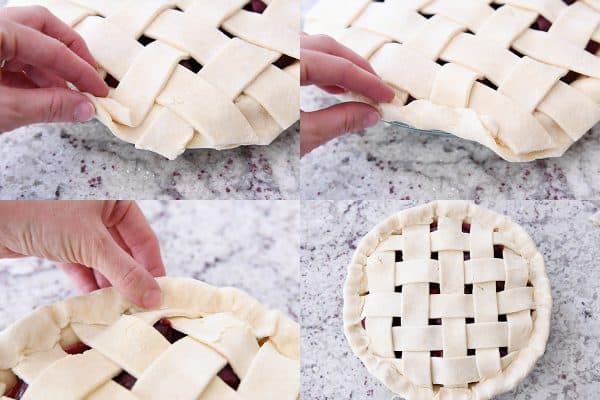 With that thicker edge, you can flute the edges of the pie all the way around. Again, this is another aspect of homemade pie making that doesn't have to be perfect. And it's also another area that should go quickly so the warmth of your little fingies doesn't melt the butter in the pie crust.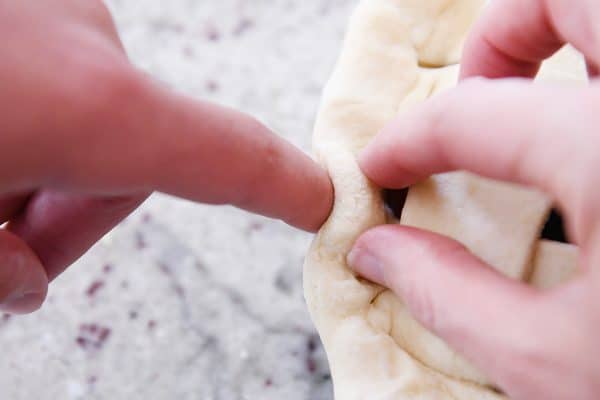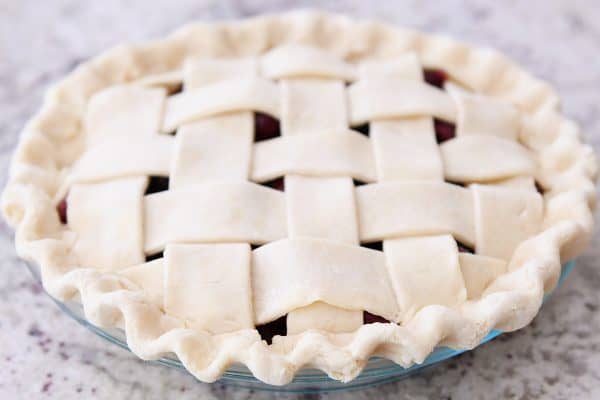 Refrigerate that pie for at least 30 minutes! An hour is even better. You want to make sure the pie crust is really, really cold. I wouldn't let it hang out in the fridge much past an hour – the risk of a soggy bottom crust is not worth it, in my opinion. 
I like to brush the top of the pie with a simple egg wash. This is optional. But it greatly enhances the ability of that pie to get the perfectly shiny/golden vibe going on that definitely increases the pie rock star feelings.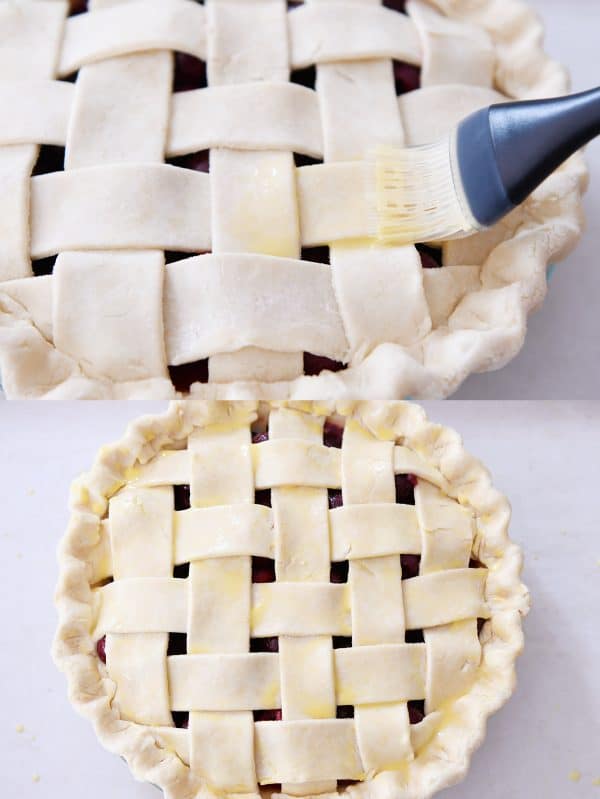 Pop that pie on a foil- or parchment-lined baking sheet (trust me, it probably will bubble over a bit – totally normal – and easy cleanup will be your friend). Bake it at 400 degrees for about an hour. Watch closely. Every oven differs a bit in oven temp.
If the top or outer crust is over browning but the bottom crust (looking through a glass plate) or filling needs more time, tent the top of the pie with foil to continue baking. 
Now for the hard part. As appealing as it is to dig into warm pie, if you don't want a soupy mess running all over your plate (and probably your pants), let the pie cool. It doesn't have to cool completely, but I recommend a 2-3 hour cooling period so the filling has time to set up.
If you cut into it too early, you're going to cry big buckets of tears and insist the recipe is flawed or that I was totally off on my thickener soapbox. Cooling it for the right amount of time means perfect pie. And if I'm being honest, I actually prefer my cherry pie at room temp. It's the best.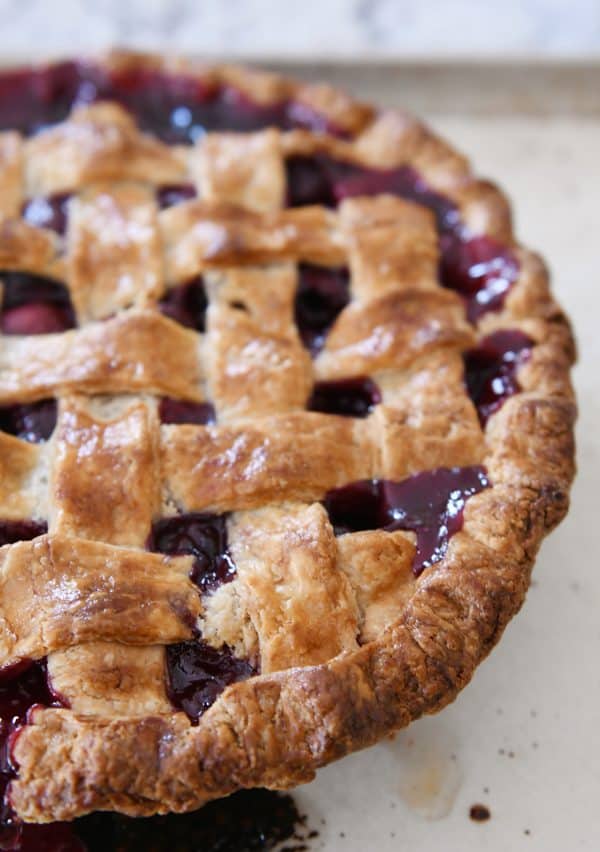 Ok, there you have it! My favorite cherry pie in the history of ever. 
I wouldn't consider myself the best pie maker in the world, and I certainly don't make pie on the weekly, but I've come to really love the pie making process (even the frustrating moments).
There's just something magical and so utterly self-confidence boosting about taking a homemade pie out of the oven. It's the closest I've ever come to hearing angels sing in my kitchen.
And embarrassing as it is to admit, I've actually been known to say these words as I stare lovingly at the piping hot pie in my oven mitt clad hands: "oh my gosh, I'm amazing." Homemade pie will do that to you.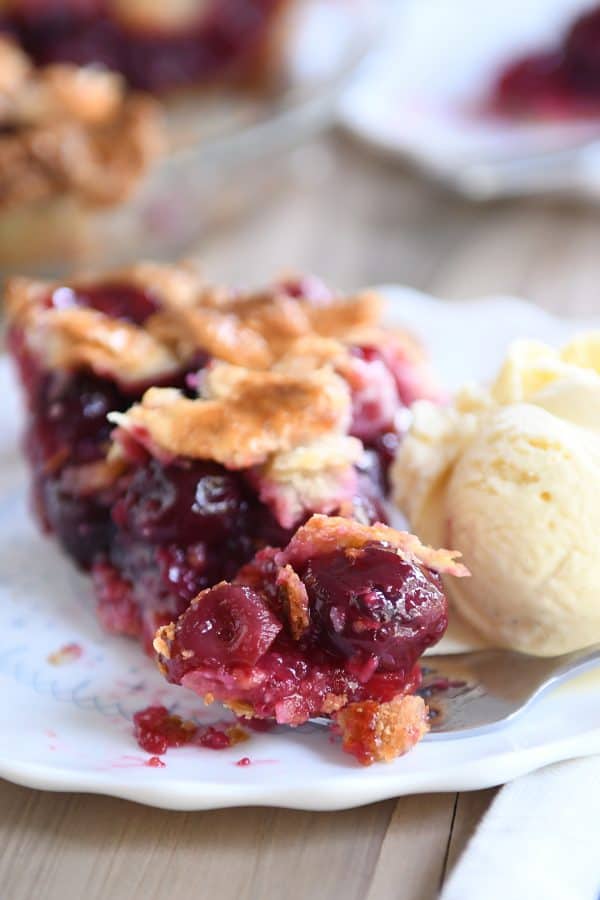 Here is a quick list of all the tools/ingredients I use for this cherry pie (and for most of my pie-making endeavors). The right tools make all the difference. Affiliate links included for products I've purchased from Amazon.
Now go make yourself some cherry pie!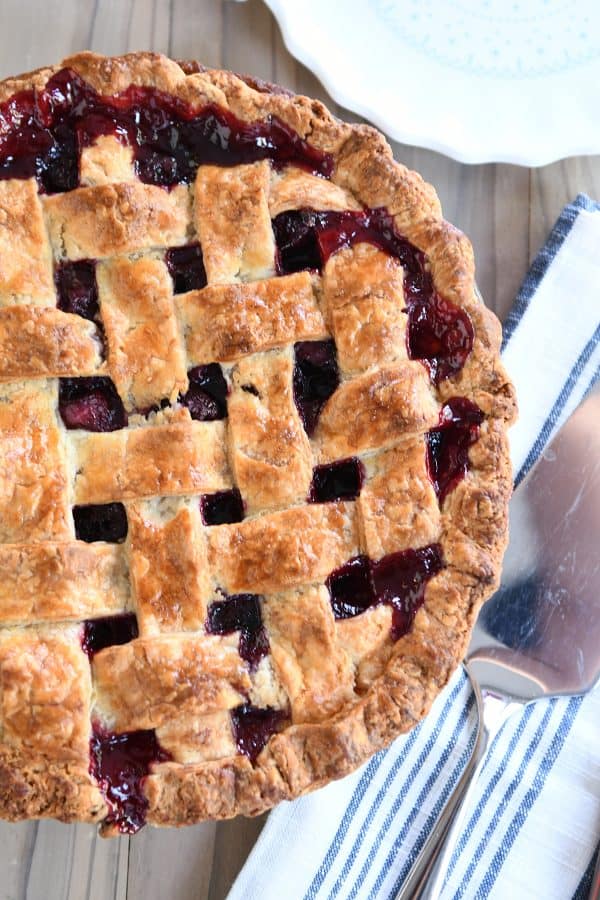 Yield:
9-inch pie
Prep Time:
30 minutes
Cook Time:
1 hour 5 minutes
Additional Time:
3 hours 30 minutes
Total Time:
5 hours 5 minutes
Ingredients
Double crust 9-inch pie dough (see note for recipes)
For the cherry pie filing:
5 cups (about 28-30 ounces) pitted sweet, dark cherries – you'll start with around 2 pounds whole fruit (see note for sour pie cherries)
2 tablespoons fresh lemon juice (from 1-2 medium lemons)
1/4 teaspoon almond extract
3/4 cup (5.75 ounces) granulated sugar
1/2 teaspoon coarse, kosher salt (use 1/4 teaspoon for table salt)
1/3 cup (1.5 ounces) tapioca starch/flour (see note)
1 tablespoon cornstarch
1 tablespoon butter
Egg wash:
1 egg yolk
2 teaspoons water
2 teaspoons cream or milk
Instructions
Keep all ingredients/pie crust as cold as possible throughout the making process to ensure the most delicious pie ever! Roll out bottom pie crust according to pie dough recipe instructions and place in the bottom of a 9-inch pie plate (I use a glass pie plate). Trim edges leaving 1/4-inch excess from outer rim of pie plate. Refrigerate until filling is ready.
For the filling, in a large bowl, combine the pitted cherries, lemon juice, almond extract, sugar, salt, tapioca starch and cornstarch. Mix until well combined. Set aside.
Roll out top crust to 10-inch diameter and cut into 10-12 strips (I like to cut thicker 3/4- to 1-inch strips).
Scoop cherry pie filling evenly into refrigerated bottom crust, scraping out all the sugar and liquid. Dot the top with 1 tablespoon butter (pinched or cut into small pieces).
Weave strips on top of the filling for a lattice crust (see above pictures in post for how-to). Trim lattice strips evenly with bottom crust. Fold bottom crust up and over evenly with edge of pie plate and press/pinch to seal. Flute the edges of the pie crust.
Refrigerate the pie for at least 30 minutes or up to 1 hour to make sure the top crust is completely chilled.
Preheat oven to 400 degrees F. Place the pie on a parchment or foil-lined baking pan. Bake for 50-60 minutes until the crust is golden and the filling is bubbly and thickened (will thicken more as it cools). The exact time will depend on type of pie plate, thickness of crust, if pie was refrigerated, etc.
Let the pie cool for 2-3 hours before serving (if it's too warm, the filling will be soupy). The pie can be covered and kept at room temperature for 2-3 days.
Notes
Pie Crust: I use either this recipe or this recipe for flaky, easy to work with pie dough.
Cherries: I have not tried this pie with frozen cherries; if doing so, I highly recommend thawing and draining thoroughly before using. For sour pie cherries, decrease the lemon juice to 1 teaspoon and increase the sugar to 1 cup (or more, depending on how sweet you want the pie).
Sugar: For any type of cherry, the exact amount of sugar really depends on the sweetness of the fruit. Even dark, sweet cherries can be quite tart depending on when they were picked. The 3/4 cup sugar called for in this recipe for dark, sweet cherries assumes the fruit is perfectly ripe and sweet. If they are slightly underripe and a little more tart, increase the sugar by 1/4 cup.
Almond Extract: I normally do not like almond flavor in hardly anything – I almost always leave it out if it's called for in a recipe, but I promise, the almond extract is everything in this recipe! That small 1/4 teaspoon adds the best complimentary flavor to the cherries. Don't leave it out!
Tapioca Flour/Cornstarch: I like a pretty firm cherry pie filling and after a lot of experimenting I really prefer this lineup of tapioca flour with a little bit of cornstarch. It gives the best texture without being glumpy and globby. Tapioca flour/starch is pretty easily found in the baking aisle of most grocery stores (definitely in stores with bulk bins); can also be ordered online. Alternately, you can grind minute tapioca or other tapioca pearls until finely ground.
Make-Ahead: Pie can be made start to finish and cooled 1-2 days ahead of time. Cover well and keep at room temp. Warm in the oven (250 degree oven for 10-15 minutes) or individual pieces in the microwave. I haven't frozen the unbaked or baked pie.
Recommended Products
As an Amazon Associate and member of other affiliate programs, I earn from qualifying purchases.
Recipe Source: from Mel's Kitchen Cafe
Disclaimer: I am a participant in the Amazon Services LLC Associates Program, an affiliate advertising program designed to provide a means for me to earn fees by linking to Amazon.com and affiliated sites.