This Squash Casserole is a classic side dish recipe! Creamy, cheesy, and loaded with yellow squash, this is the perfect side to serve with weeknight dinners or take to BBQs! A Southern favorite!
I am always looking for a great side dish in the summer. Actually, I am always looking for great side dish recipes all year long. And this Squash Casserole is a perfect example of not only a great seasonal recipe that is amazing served with BBQ, but can also double as a meal for Meatless Monday.
I am all about a side dish, and will regularly pass up on the main dish to eat a whole plates of sides. That's why BBQs are amazing! My plate will consist of Potato Salad, Southern Pecan Bread, Southwest Quinoa Salad, and Squash Casserole!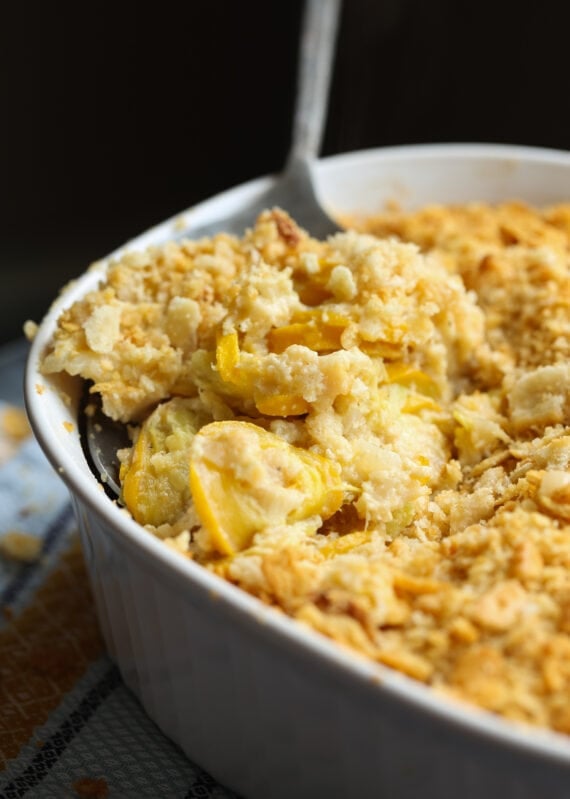 Baked Yellow Squash Casserole is a Classic Side Dish!
You know I love a casserole recipe. I have many on my site, and find they are an easy way to pack everything into one dish and call it a meal. On busy weeknights, casserole recipes can be a real time saver! And an amazing thing about this squash casserole recipe is that while it's great served with a chicken recipe, it's also really easy to turn it into a meal! Add a little shredded rotisserie chicken and you have a whole meal in one place!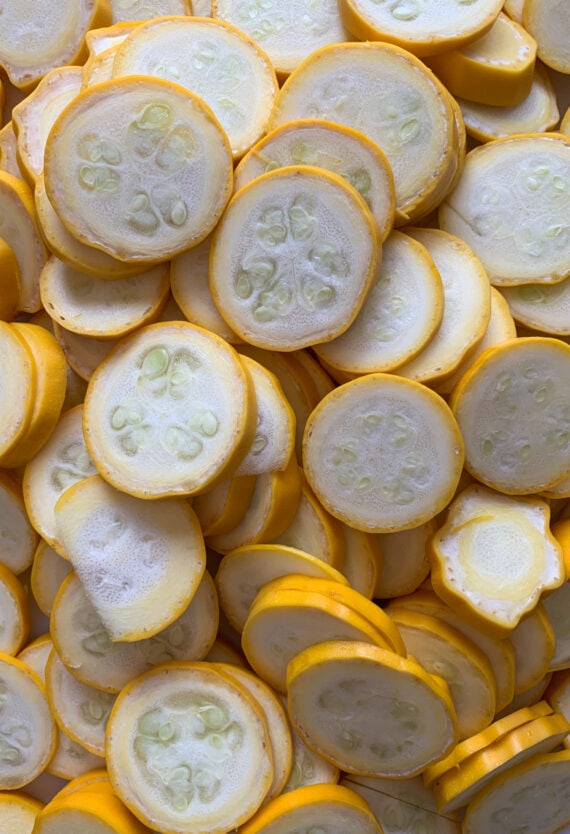 How To Make Squash Casserole
I am all about a recipe you can make ahead, and this is perfect to prep ahead and pop in the oven when you're ready to serve, which is why it's great for BBQs, entertaining, or potluck dinners.
What Kind of Squash Do You Use?
The best thing about this recipe is it's a great way to use squash in the summer months when it's in season! You can use all yellow squash like I did here, or you can use all green squash (zucchini) OR use a combo!
You can even use diced butternut squash in the fall, which is delicious!
How Can I Make This Casserole Ahead?
Making this ahead is super easy. Prep all your ingredients as stated in the recipe, assemble the casserole, cover it with plastic wrap and refrigerate until it's time to bake! You can pull it out of the oven about 20 minutes ahead to take the chill off and add a few extra minutes onto the bake time to make sure it's warmed throughout!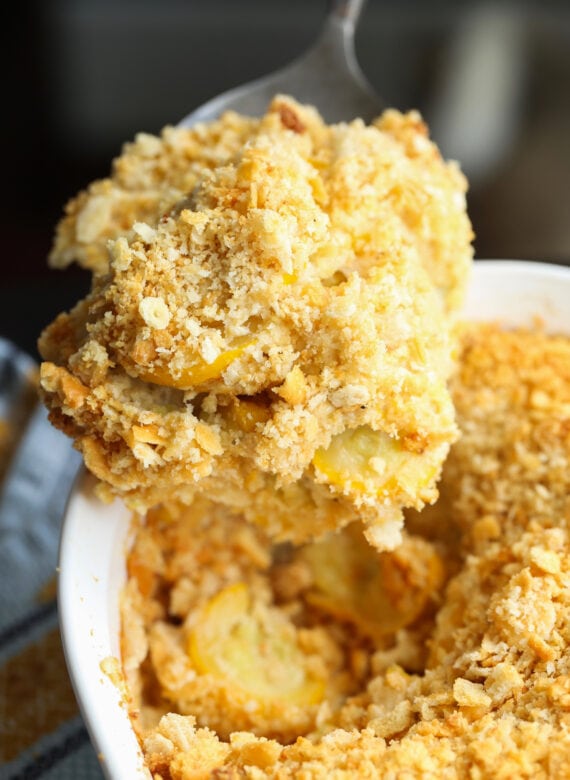 What Can You Serve With Squash Casserole?
I've said a few times that this is a great summer recipe when yellow squash is in season, which makes it a great side dish for BBQ, burgers, or anything on the grill! BUT it's pure comfort food that can absolutely be enjoyed anytime of year!
Serve It With: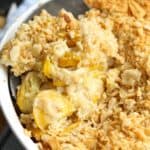 ---
Description
This Squash Casserole is a Southern favorite side dish recipe and perfect for the summer months when your garden is full!
---
Ingredients
4 tablespoon

s butter, divided

3

pounds yellow squash (about

5

medium), sliced into 1/4- inch rounds

1

 small yellow onion, diced

2

 cloves garlic, minced

2 teaspoon

s kosher salt, divided

1 teaspoon

fresh ground black pepper

1/4 teaspoon

cayenne pepper

1 teaspoon

dried thyme

2

 large eggs

1 cup

 sour cream

1 cup

grated cheddar cheese

1/2 cup

plus 2 tablespoons
grated parmesan cheese, divided

2

sleeves Ritz crackers, divided
---
Instructions
Preheat oven to 350°F. Lightly coat a 2- quart baking dish with nonstick spray. Set aside.
In a large skillet over medium heat melt 2 tablespoons butter. Add the onions to the skillet and cook until they begin to soften, 3 to 4 minutes. Add the squash and cook until the squash is tender, stirring occasionally. Add in the minced garlic, 1 teaspoon salt, black pepper, cayenne, and thyme and cook for 2 more minutes. Remove from the heat and drain any liquid.
In a large bowl whisk together the eggs, sour cream, cheddar cheese, 1/2 cup parmesan cheese until combined.
Add the squash into the sour cream mixture and stir to combine. Mix in 1 cup of the crushed Ritz crackers.
Pour the mixture into the prepared pan.
Melt the remaining 2 tablespoons of butter in a large bowl. Stir the remaining Ritz crumbs and 2 tablespoons of Parmesan cheese into the melted butter to combine. Spread this on top of the squash mixture.
Bake for 25-30 minutes until golden and bubbly. Serve warm.
---
Notes
Store airtight in the refrigerator for up to 3 days
Keywords: cookies and cups, squash casserole, side dish recipe, yellow squash, summer recipe