This Thai Cucumber Salad recipe is a healthy side dish that's easy to make, and full of the most delicious fresh and zesty flavors!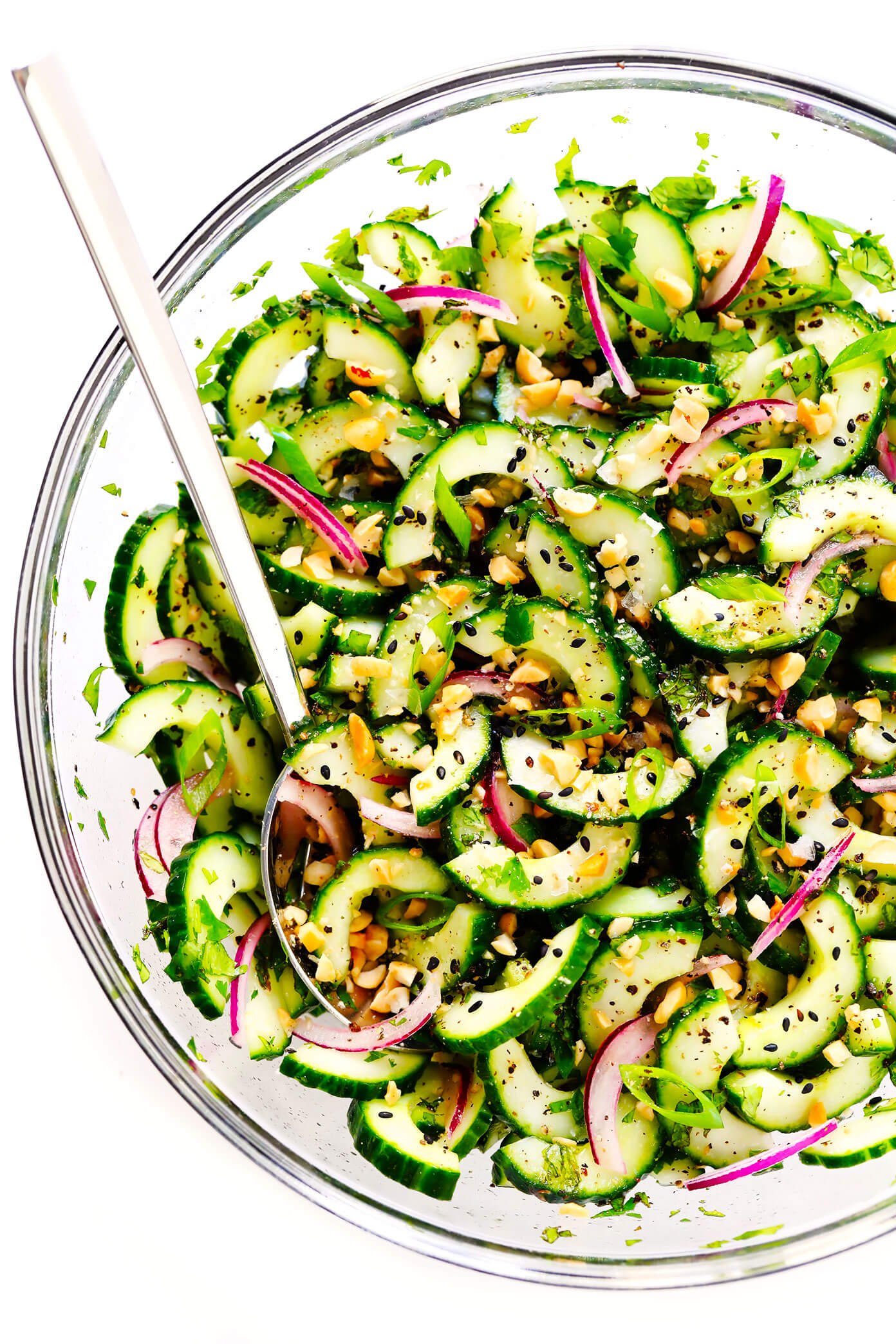 Anyone else been craving a cool cucumber salad during these hot and toasty summer days?  Or hey, maybe trying to figure out how the heck to celebrate that first crop of cukes harvested from your garden?  Or, who knows, maybe you just happen to be on the search for a new side dish to serve with that favorite stir-fry or noodle dish or fried rice that you make on repeat each week?
Fear not, this Thai Cucumber Salad recipe is here for you. ♡
It's one of those always-reliable, quick-and-easy, back-pocket recipes that can be pulled out for any number of occasions.  And I'm telling you — from potlucks to picnics to our weekly Pad Thai nights — this Thai cucumber salad recipe has a way of always hitting the spot.
I'm especially partial to this recipe because it's quick and easy to whip up, and can also be prepped up to a day ahead of time if you'd like.  It's also brightened up with lots and lots of fresh cilantro and mint, which — if you're lucky — may also be hanging out in your garden this time of year.  This Thai cucumber salad recipe also happens to be naturally gluten-free and vegetarian (and can also be made vegan), which is especially great if you happen to be serving this one to a crowd.  But more than anything, it just tastes so light and flavorful and refreshing and delicious.
Let's make some!
Thai Cucumber Salad Ingredients:
To make this Thai Cucumber Salad recipe, you will need the following ingredients:
Cucumbers: I would recommend using English cucumbers (or mini Persian cucumbers) for this salad.  Feel free to scoop out the seeds if you would like.
Onions: We will use a mixture of red and green onions in this salad.
Fresh herbs: I love adding lots and lots of fresh mint and cilantro to this salad.  But if you don't have both herbs on hand, feel free to just pick one.
Peanuts: I love the crunch and flavor of chopped peanuts (or cashews) in this salad.  But if you have a nut allergy, feel free to omit the nuts and add in sunflower seeds or pepitas (or omit the nuts/seeds entirely).
Thai Dressing: Made with lime juice, avocado oil (or any neutral-flavored cooking oil), rice vinegar, fish sauce, garlic and your desired sweetener.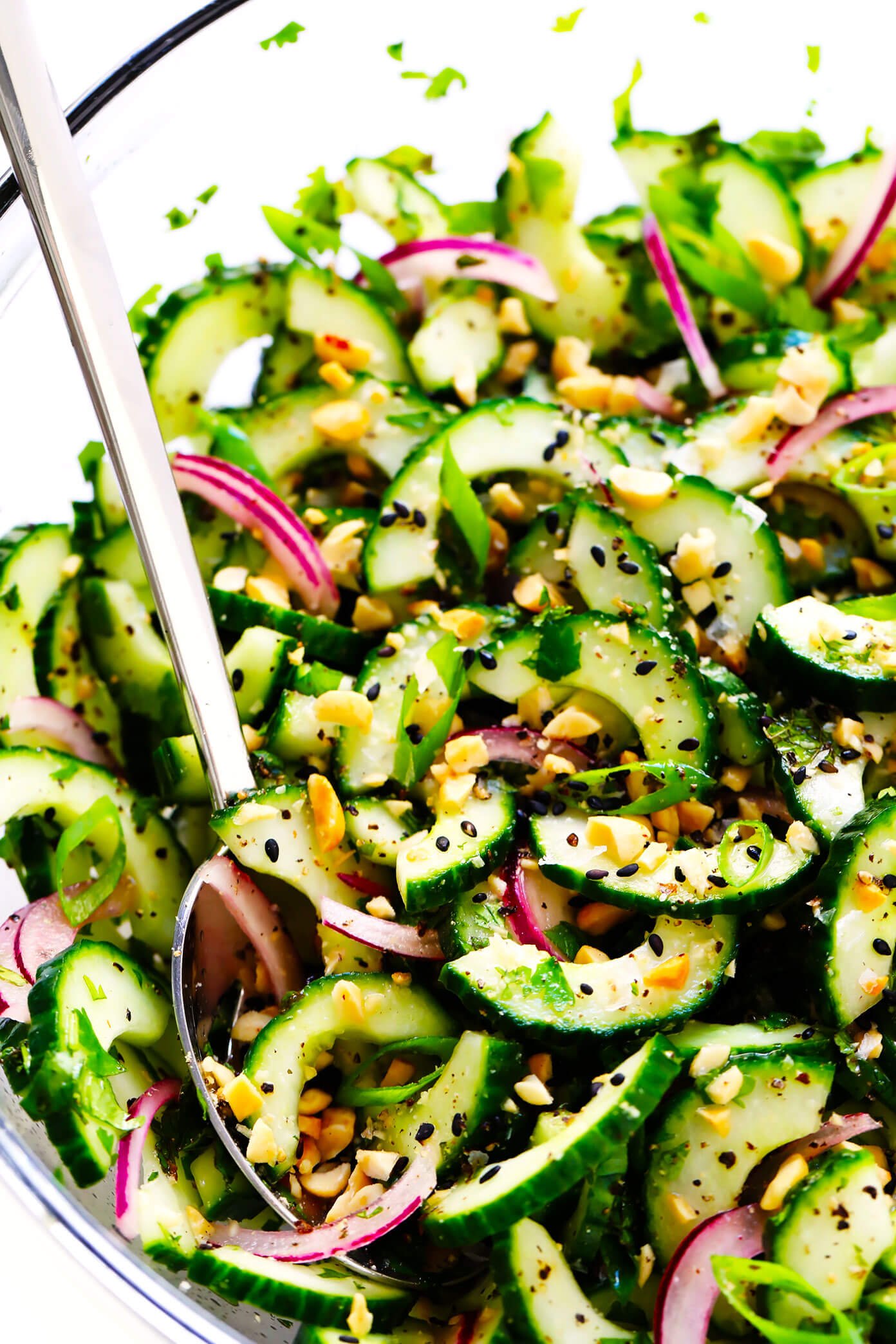 How To Make Cucumber Salad:
So easy!  To make cucumber salad, simply…
Prep the dressing.  Whisk all of the ingredients together in a small bowl or measuring cup until combined.
Chop, slice, and dice.  Chop up all of those veggies, herbs and peanuts.
Toss everything together.  Combine all of your salad ingredients and dressing in a large mixing bowl, then give everything a good toss to combine.
Serve or chill.  You can either serve the salad right away, or let it chill in a covered container in the fridge for up to 1 day before serving.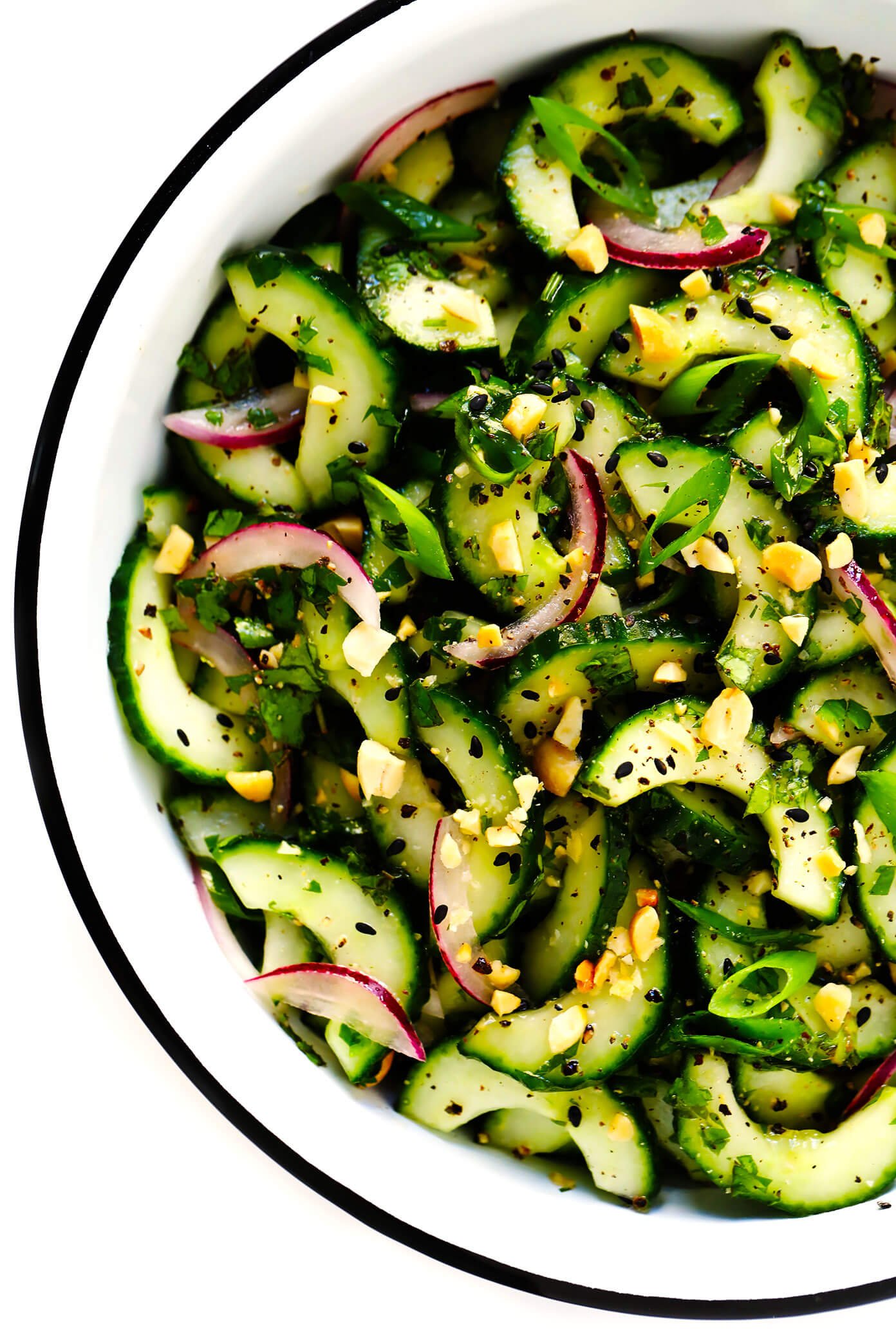 Possible Variations:
Want to tinker around with this cucumber salad recipe a bit?  Feel free to…
Add avocado: A diced fresh avocado would be a delicious addition here.
Add Thai basil: If you happen to have some sweet Thai basil on hand, it would also add some amazing flavor to this cucumber salad.
Add extra veggies: Shredded carrots, cabbage, or edamame would also be nice additions if you would like to add some veggies.
Make it spicy: Add in some sliced Thai bird chiles or crushed red pepper flakes if you would like to give this salad some heat.
Smash those cucumbers: For a different texture and vibe, try smashing instead of slicing your cucumbers!  Just slice a cucumber in half lengthwise, and place it cut-side-down on a cutting board.  Place a large chef's knife on top, and gently smash until the cucumber has been broken up into bite-sized pieces.
---
Scale
Ingredients
Cucumber Salad Ingredients:
2

English cucumbers, halved (and seeded, if you prefer)

2

green onions, thinly sliced

half of a

small red onion, peeled and thinly sliced

1/2 cup

chopped fresh cilantro

1/2 cup

chopped fresh mint (optional)

1/2 cup

chopped peanuts
optional toppings: toasted sesame seeds, crushed red chili flakes
Dressing Ingredients:
3 tablespoon

s fresh lime juice

2 tablespoon

s avocado oil (or olive oil)

2 tablespoon

s rice vinegar

1 tablespoon

fish sauce

1

small clove garlic, minced or pressed

1

–

2

tablespoons sweetener (such as maple syrup, honey or brown sugar), to taste
---
Instructions
To make the dressing, whisk the lime juice, oil, rice vinegar, fish sauce, garlic, and your desired amount of sweetener together in a small bowl until combined.  (Or add all ingredients to a mason jar, cover and shake vigorously until combined.)
Combine the cucumbers, green onions, red onion, cilantro, mint and peanuts in a large bowl.  Drizzle evenly with the dressing, then toss until combined.
Serve immediately, garnished with your desired toppings.  Or cover and refrigerate for up to one day, then serve the salad chilled.
---