It's getting to be my favorite time of year for produce. Peppers, zucchini, and corn are coming into season, and tomatoes and peaches are just around the corner. Around here, it's been too hot to turn on the oven, so we've been taking advantage of our summer bounty by making kabobs with gorgeous grilled vegetables.
To make kabobs, you can grill just about any vegetable that can fit on a skewer, but in my opinion, peppers, summer squash, onions, mushrooms, and corn are the best vegetables to grill. Cut into similar-sized pieces, they all cook at about the same rate. And when you slide them off the skewer, you get a mouthwatering mix of textures and flavors – the mushrooms are meaty, the corn is crisp, the squash is soft, and the peppers and onions are nicely sweet. Drizzled in a punchy sauce, they become a delicious summer meal that you can make in about 20 minutes from start to finish.
How to Make Kabobs with the Best Grilled Vegetables
Want to make perfectly charred, super flavorful grilled vegetable kabobs? Check out these tips before you fire up the grill:
Cut everything to a similar size to ensure even cooking. Plus, you'll be able to get multiple vegetables (aka more flavor) into each bite!
Use metal skewers. Wood skewers burn easily on the grill!
Flip halfway. This one may seem obvious, but it's important. Good grilled vegetables have a little char on all sides, so make sure you rotate your skewers halfway through cooking. We usually grill ours for around 8 minutes per side.
Season before and after cooking. To give my grilled vegetable kabobs maximum flavor, I season them with olive oil, salt, and pepper before I put them on the grill. Afterwards, I season to taste and drizzle them with a tasty dressing, sprinkle with fresh herbs, and serve them with a sauce.
Don't skip the sauce. Grilled veggies are good on their own, but a flavorful sauce can take them over the top. See below for my best suggestions!




What to Serve with Grilled Vegetables
Grilled vegetables are one of my favorite summer cookout sides. If you already have the grill going for veggie burgers, mushroom burgers, or black bean burgers, putting on a few grilled vegetable kabobs is an easy way to complete the meal. These skewers would also be a yummy side with BBQ Jackfruit Sandwiches, Oyster Mushroom Po' Boys, or a hearty salad like my couscous, orzo, pasta, or potato salad.
Alternatively, make them the main meal! Drizzle the finished grilled vegetables with tangy Greek salad dressing and serve them alongside lots of pita and tzatziki sauce. Not in the mood for tzatziki? Pesto, cilantro lime dressing, or chipotle sauce would all be great sauces to go with your kabobs.
Save leftover grilled vegetables and sauce for making sandwiches throughout the week! Head over to this post to see my best meal prep tips.

If you love these grilled vegetables…
Try my grilled asparagus, grilled corn on the cob, grilled corn salad, grilled avocado, or Mexican street corn salad next!
Grilled Vegetable Kabobs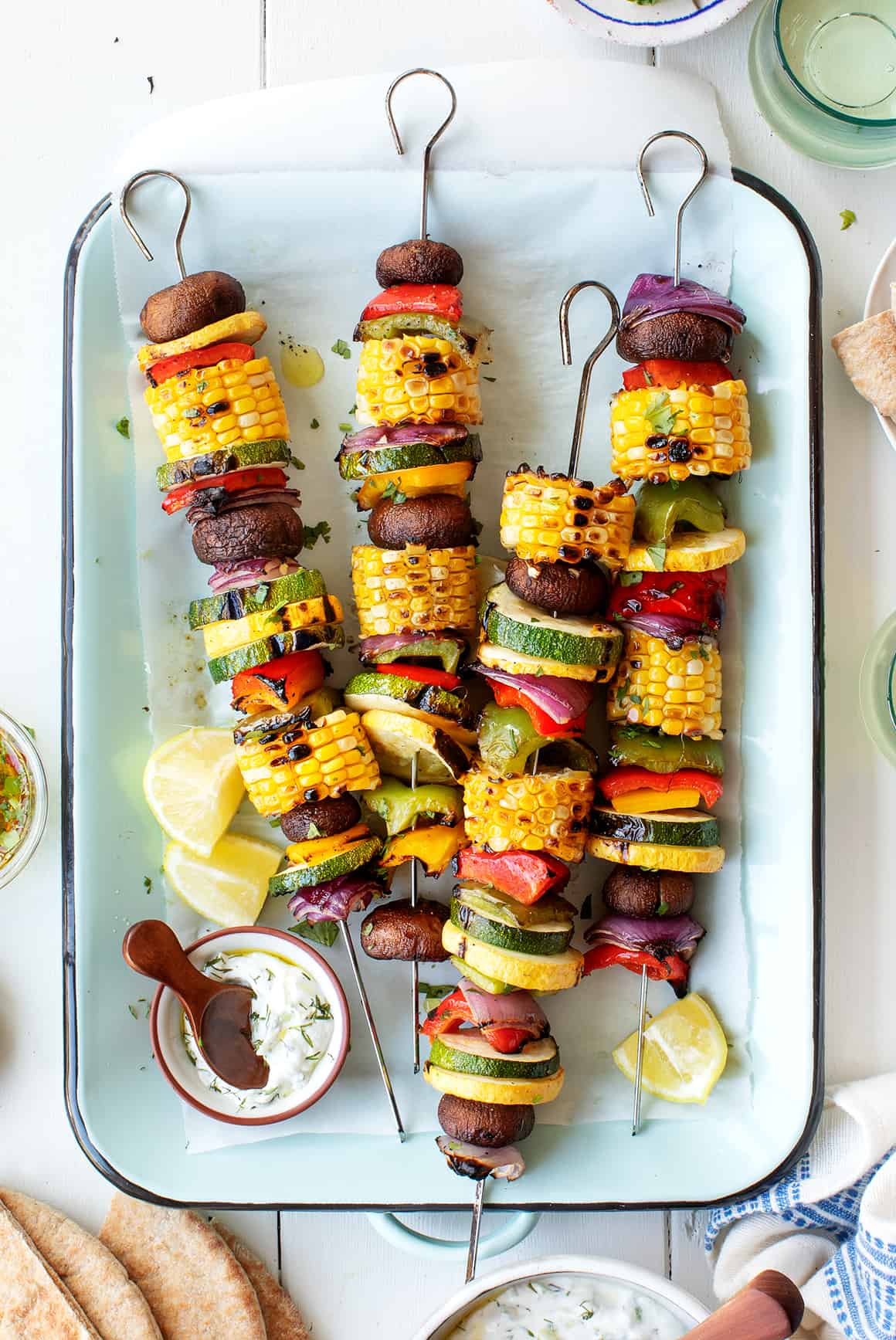 Author: Jeanine Donofrio
Recipe type: main dish
1 yellow squash
1 zucchini
8 ounces cremini mushrooms, stemmed
1 small red onion
1 red bell pepper
1 green bell pepper
1 ear fresh corn, cut into 1-inch rounds
Extra-virgin olive oil, for drizzling
sea salt and freshly ground black pepper
tzatziki, pesto, or Greek dressing for drizzling/serving
Heat a grill to medium-high and spray with nonstick cooking spray. Arrange the vegetables onto metal skewers drizzle generously olive oil, salt, and pepper. Grill the skewers for 8 minutes per side or until the vegetables are charred and tender. Remove from the grill, season to taste, and serve with desired sauce or dressing.
3.4.3177