This 5-Ingredient Burst Tomato Spread recipe is super easy to make and tastes amazing served warm with crusty bread.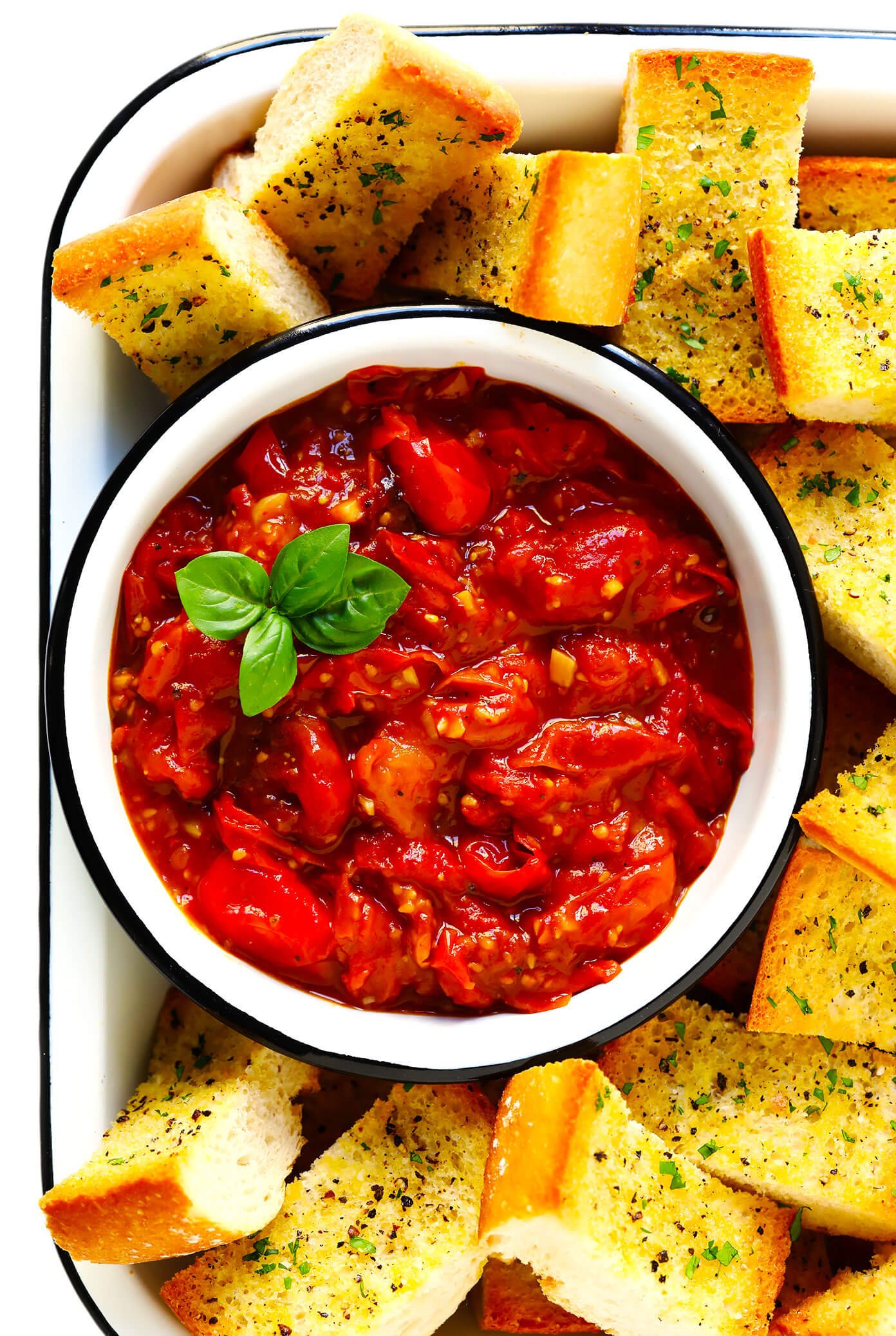 Oh my goodness, you guys, my mom made the most amazing tomato spread last week. ♡
I happened to be back home in Wichita visiting my family for the weekend.  And per usual, my mom knocked herself out cooking up a gorgeous welcome home dinner for all of us to enjoy together out on the back patio on a warm summer night.  But of all the delicious dishes she made, this magical tomato appetizer ended up being the dish that absolutely stole the show.
I couldn't quite tell what it was at first glance — was it a sauce, or a spread, or a filling, or a compote, or a dip?!  Technically, I suppose it could be served any number of ways, but Mom introduced it that night as a warm tomato spread.  And we quickly found that when served atop a slice of crusty bread — kind of like a warm bruschetta — this tomato spread was downright irresistible!
Naturally, I immediately asked my mom for the recipe and was surprised to learn that she had made it with just 5 easy ingredients — olive oil, garlic, cherry tomatoes, balsamic vinegar and a tiny pinch of crushed red pepper flakes.  The tomatoes are simmered down in a sauté pan until they work their magic and eventually burst to turn into a rich, warm, soft tomato sauce.  Then when seasoned with lots of garlic and a splash of balsamic, and reduced until the sauce has thickened into a luscious spread, I'm telling you — it's impressive how flavorful these five simple ingredients can be!  That said, you're more than welcome to toss some fresh Italian herbs into the mixture if you would like.  Or my mom also recommends adding in a teaspoon of sugar if you would like a slightly sweeter spread.  Up to you!
However you make this spread, I can just promise that it is a fantastic way to put a harvest of ripe summer tomatoes to use.  Let's make a batch!

Burst Tomato Spread Ingredients:
Alright, a few quick notes on ingredients.  For this burst tomato spread, you will need…
Fresh tomatoes: Specifically, either fresh cherry tomatoes or grape tomatoes for this recipe.  Their small size makes it easy for the tomatoes to burst and cook down quickly, and their natural sweetness makes flavor of this spread downright irresistible.
Fresh garlic: I recommend mincing three large cloves of garlic to give this recipe a nice garlicky kick.  But feel free to use more or less if you prefer.
Balsamic vinegar: Since the vinegar is basically a finishing sauce for this recipe, I recommend using a high-quality balsamic if possible.  I just like a small drizzle in this recipe (about 1 tablespoon), but feel free to double that if you would like it to be extra balsamic-y.
Sweetener: My mom really recommends adding a teaspoon of sugar (or your desired sweetener) to this dip to balance out the acidity of the tomatoes and vinegar.  But my cherry tomatoes were already super-sweet, so I skipped this step.
Italian herbs: If you happen to have some fresh basil, oregano or rosemary on hand, by all means, chop up a few tablespoons and stir it in!  If you don't, you're welcome to add in a few teaspoons of Italian seasoning.  Or honestly — Barclay and I forgot to add in any herbs the first time we made this dip, and it was still totally delicious with just the tomatoes, garlic and vinegar.
Salt and pepper: As always, for seasoning.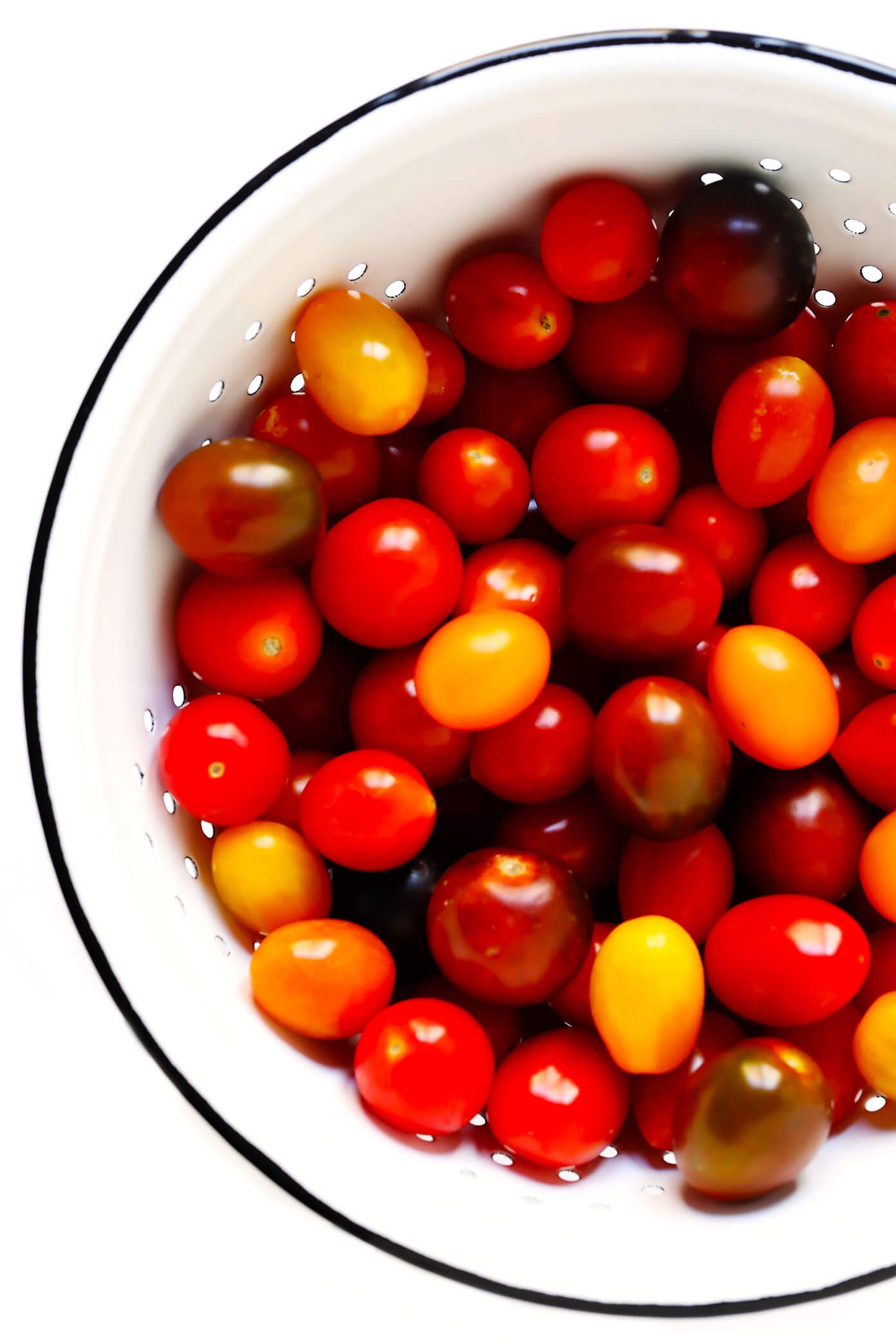 How To Make Burst Tomato Spread:
To make this burst tomato spread, we will simply…
Sauté the garlic and red pepper flakes. In a large sauté pan in a few tablespoons of olive oil.  Note that we just want the garlic to be lightly sautéed, since it will continue to cook a bit more once we add the tomatoes.
Simmer down the tomatoes. Next comes the most important part — letting the tomatoes work their magic!  We will just add them to the mixture, cover the pan, let the tomatoes cook until their skins burst open and release their juices to form a tomato sauce.  Once the tomatoes have all burst, let the mixture cook uncovered to reduce the juices a bit until the spread reaches your desired consistency.
Season.  Add in the balsamic, plus any sweetener and/or Italian herbs you might be using, and stir until combined.  Then taste and season with S&P as needed.
Serve warm. With your favorite crusty bread…and enjoy!
Full ingredient list and directions included in the recipe below.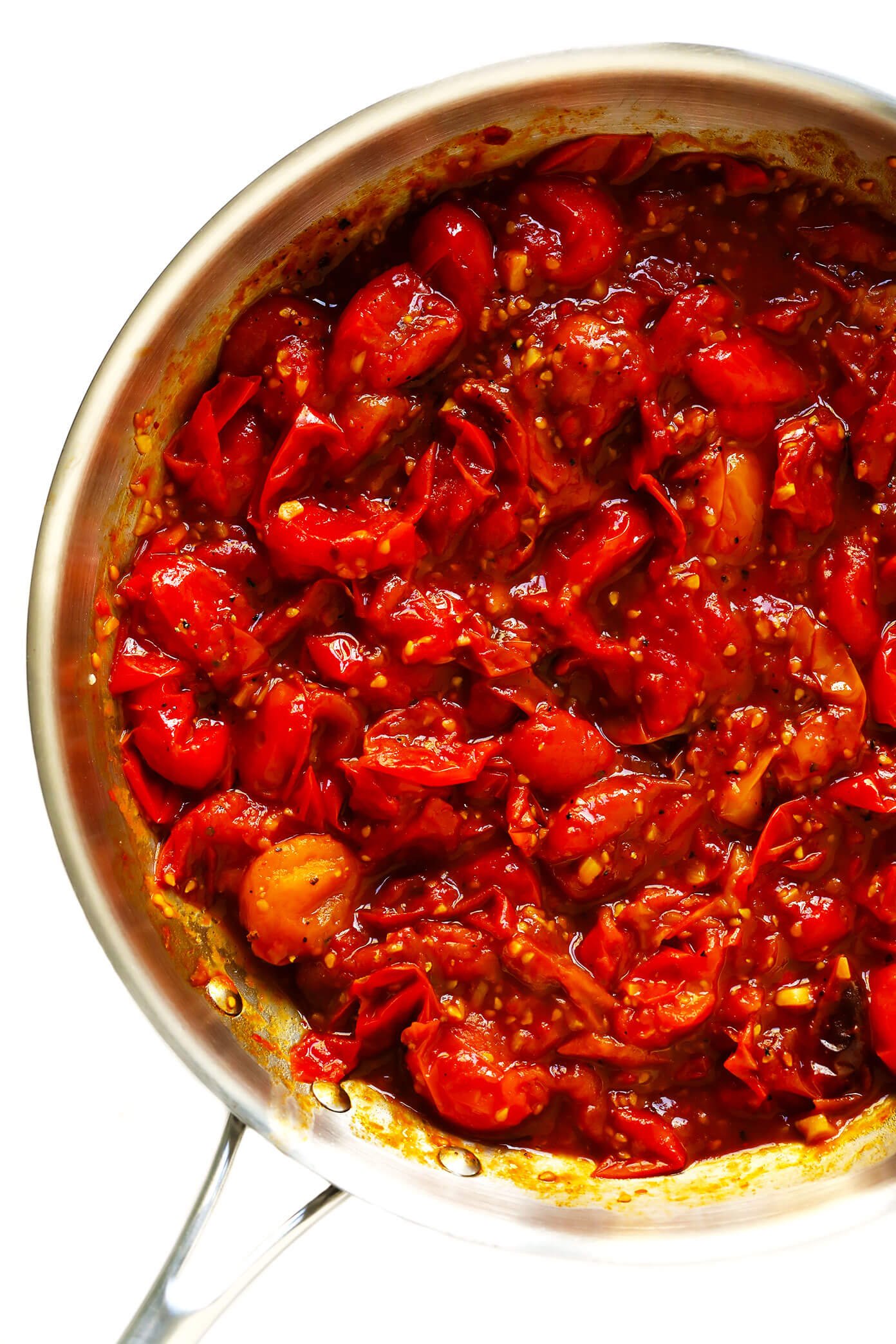 Possible Variations:
Want to mix things up with this tomato spread?  Feel free to…
Make it buttery: My favorite trick when making warm tomato spreads and salsas — stir a pat (just a tablespoon or so) of cold butter into the hot dip just before serving.  It will make it extra creamy and glossy and delicious!
Make it spicier: To kick this up a notch, feel free to double (or triple) the amount of crushed red pepper flakes.
Make it herbier: As mentioned above, feel free to chop up a few tablespoons of your favorite fresh Italian herbs to add to this spread (such as basil, rosemary, thyme, parsley, etc).  Or if you don't have any fresh herbs on hand, a few teaspoons of Italian seasoning would also be a delicious addition.
Use red wine vinegar: If balsamic isn't your thing, this spread would also taste great with a splash of red wine vinegar.
Add fun toppings: Feel free to add a sprinkle of freshly-grated Parmesan cheese, some chopped fresh basil, toasted pine nuts, an extra sprinkle of crushed red pepper flakes, and/or an extra sprinkle of freshly-grated black pepper as a topping for the spread before serving.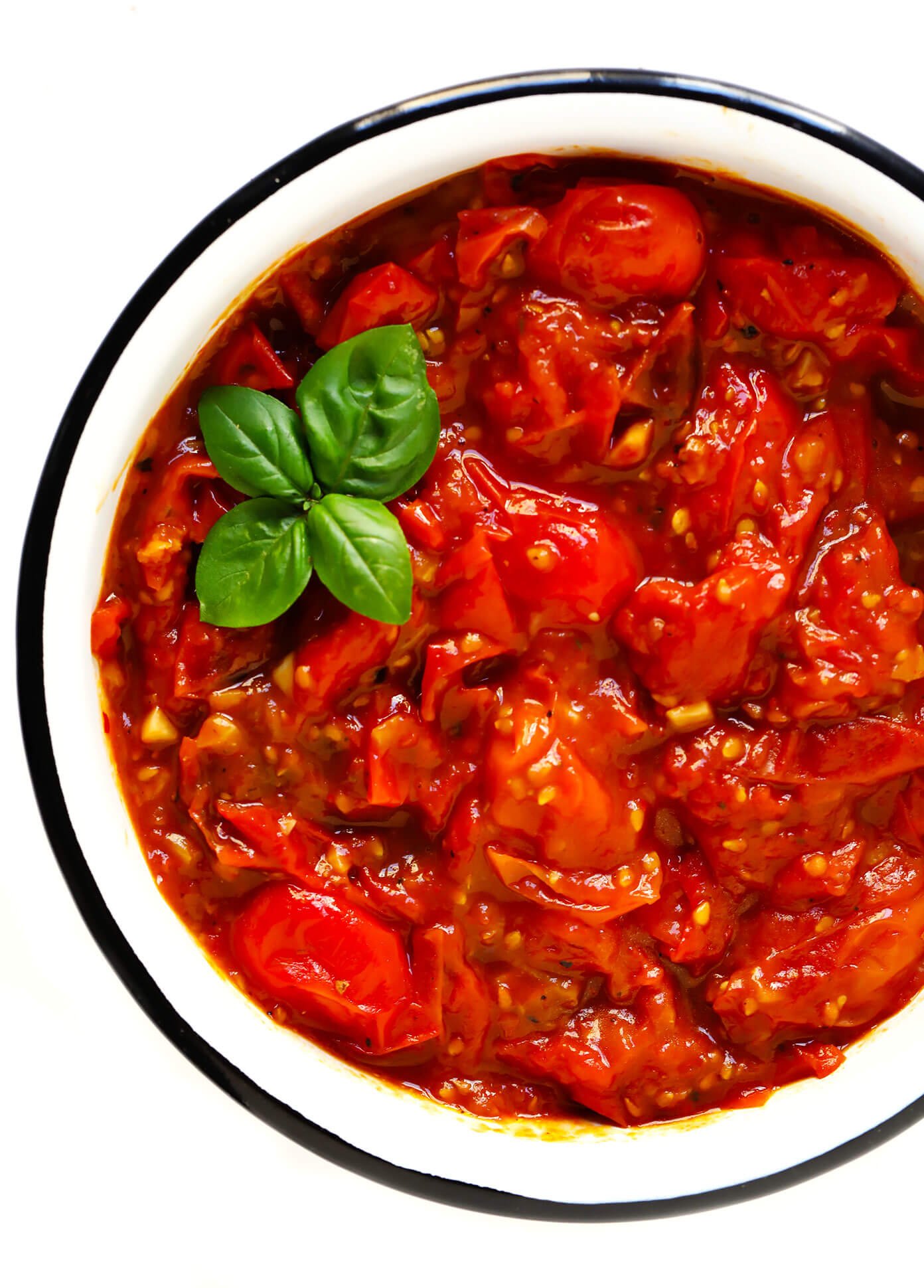 More Favorite Dips & Spreads:
Looking for more great dips or spreads?  Here are a few more of my faves: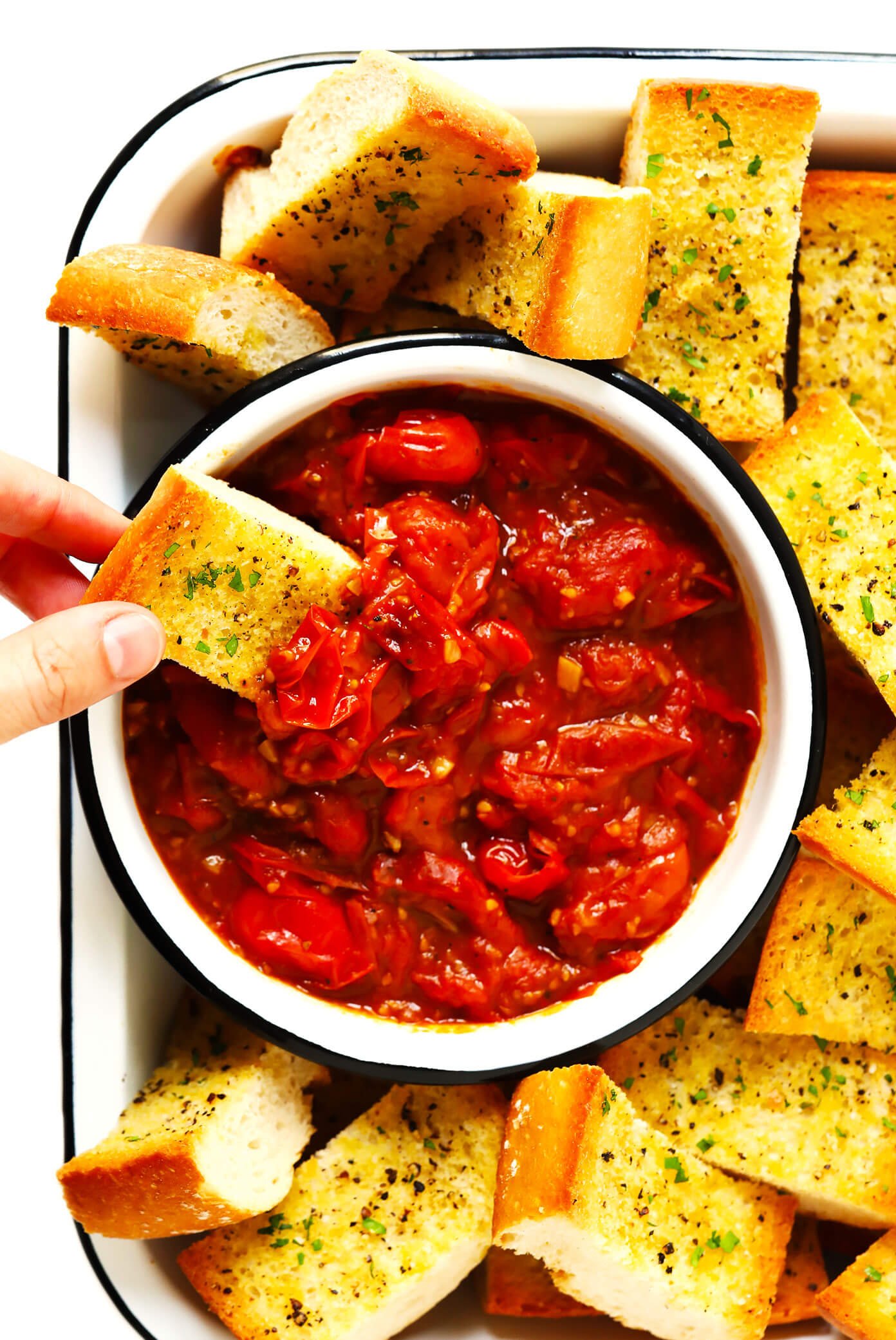 ---
Description
This Burst Tomato Spread is easy to make with 5 main ingredients and tastes amazing served warm with crusty bread! See note above for possible ingredient variations plus ways to serve this spread.
---
Scale
Ingredients
2 tablespoon

s olive oil

3

cloves garlic, peeled and minced

1/4 teaspoon

crushed red pepper flakes

2

dry pints (

4 cup

s) cherry tomatoes or grape tomatoes

1

–

2

tablespoons balsamic vinegar
(optional) 1 teaspoon brown sugar (or your desired sweetener)
fine sea salt and freshly-cracked black pepper, to taste
---
Instructions
Heat oil in a large sauté pan over medium-high heat.  Add garlic and crushed red pepper flakes and sauté for 1 minute, stirring occasionally.
Add in the tomatoes and stir to combine with the garlic.  Cover the pan and continue to cook, stopping to stir the mixture occasionally, until all of the tomatoes have burst and released their juices to form a sauce, about 6-8 minutes.  Continue to simmer the mixture uncovered for an additional 3-4 minutes, or until it reaches your desired consistency.  (Note that the spread will thicken a bit as it cools.)
Reduce heat to low.  Add in the balsamic, plus any sweetener and/or herbs (if using), and stir until combined.  Taste and season with salt and pepper, as needed.
Serve warm with your favorite crusty bread.